Spirit Airlines Sizes: Luggage, Seats…
This post was last updated on September 5th, 2023 at 07:02 am
Spirit airlines world is much easier to navigate if you know what to expect. Their luggage policy is quite straightforward but things might get funny if you don't know what to expect.
What are the disadvantages of wrong-size luggage?
Even a minimalist with the lightest luggage must know what he is dealing with. He may not be caught by the weight of the bag but by its dimensions. The wrong weight will usually lead to extra unsolicited expenses. You will end up paying for being overweight at the airport if you don't want to part with any of your luggage. If you are unable to pay the extra charges, then you will have to just remove and throw things out of your load. It's either you pay up or you trash things out.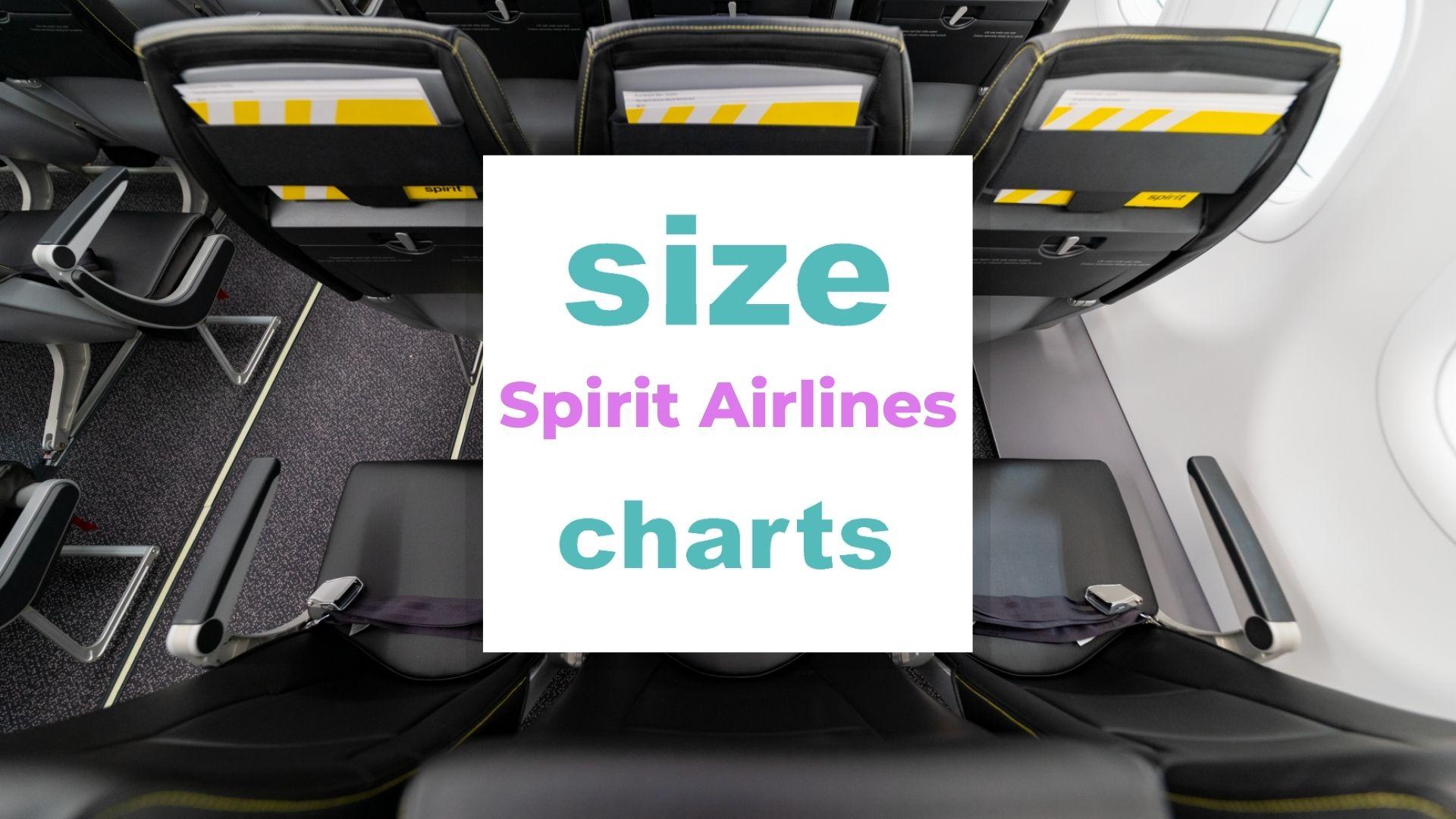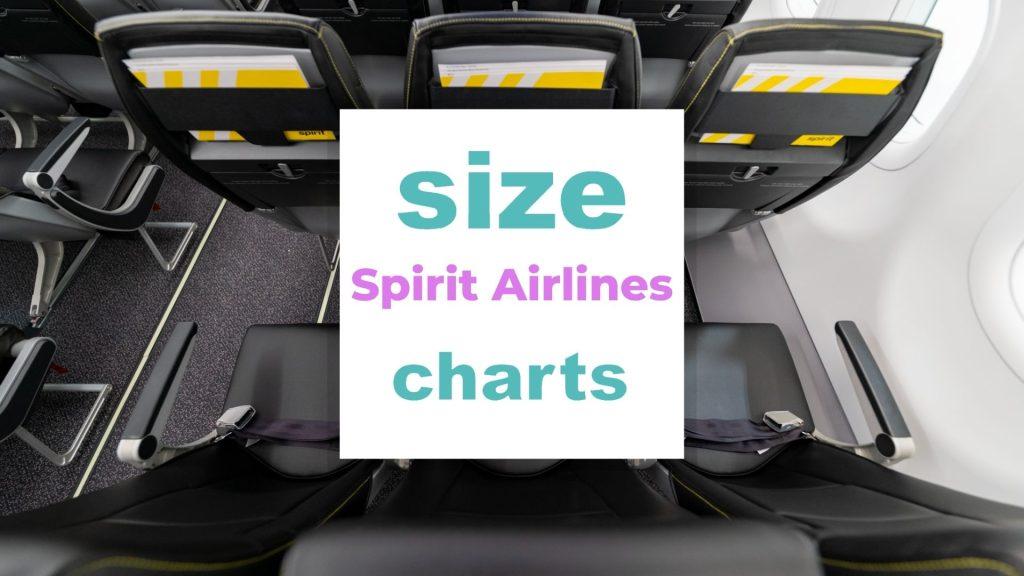 Oversize is a bigger problem than being overweight. If your problem is the fact that your bags are physically too big. Then you definitely have to buy a new bag at the airport. Failure to do so, then you have to let go of the entire bag. If you are able to afford the new bag, then there is the possibility that the new bag won't be able to contain everything you have packed in the definitely larger bag (your original bag).
Now that you are scaling down, things might just suddenly seem larger and not fit in your new bag. Save yourself the trouble and try to be familiar with the luggage sizes before you travel.
Jump right into the Frequently Asked Questions
Related: SAS Airlines Sizes: Luggage, Seats…
Spirit Airlines Sizes Table of Contents
Spirit Airlines Bag Sizes
Related: Copa Airlines Sizes: Luggage, Seats…
The carry-on weight limit for Spirit airlines is 40 pounds (18 Kg). The maximum carry-on luggage size for the most basic ticket (basic economy ticket) is about the same as the size for the checked bags. The difference is just that checked bags have a higher weight limit, might lead to an airport ticket refund or extra load fees, and don't affect seat selection.
USASpirit Airlines, Alaska Airlines, Hawaiian airlines, and a few more airlines are popular names among the frontier airlines of North America. Spirit is a pretty budget airline and probably the largest ultra-low-cost carrier. Although Spirit is not the cheapest airline out there, positioning America's much-loved airline is a lifetime mission for the budget carrier.
Here are the luggage sizes of Spirit Airlines.
| | | |
| --- | --- | --- |
| Luggage Designation | Max Dimensions (In) | Max Dimensions (Cm) |
| Personal Item | 18×14×8 | 45×35×20 |
| Carry On Bags | 22×18×10 | 56×46×25 |
| Checked Bags | L+B+H = 62+ | L+B+H = 158+ |
| Overweight | L+B+H=70+ | L+B+H=190+ |
Spirit Airlines Seat Sizes
Related: Aegean Airlines Sizes: Luggage, Seats…
The seats on Spirit airlines generally do not have video options and WiFi connectivity. They also seldom have power options. These are all easy to ignore because Spirit is a regional airline and many of her trips don't necessarily require these add-ons.
All of Spirit's planes are Airbuses and there is more than one layout for each aircraft. The pitches and widths of the seats are below. Each layout is signified with the letter "L".
| | | | | |
| --- | --- | --- | --- | --- |
| Airbus | Pitch (In) | Pitch (Cm) | Width (In) | Width (Cm) |
| 319 L1 | 36 | 91 | 20 | 51 |
| 319 L2 | 28-34 | 71-86 | 17.75 | 45 |
| 320 L1 | 36 | 91 | 20 | 51 |
| 320 L2 | 28-34 | 71-86 | 17.75 | 45 |
| 320 L3 | 28-34 | 71-86 | 17.75 | 45 |
| 320Neo L1 | 36 | 91 | 20 | 51 |
| 320Neo L2 | 28-34 | 71-86 | 17.75 | 45 |
| 321 L1 | 36 | 91 | 20 | 51 |
| 321 L2 | 28-38 | 71-97 | 17.75 | 45 |
Frequently Asked Questions
What are the bag sizes for Spirit Airlines?
There are three tiers of loose-fitting luggage sizes that Spirit Airlines consider. The personal item, the carry-on luggage, and the checked luggage.
Personal items are things like a purse, fanny pack, backpack, briefcase, and the like. There is a 22-pound weight limit (10 Kg) on bags that qualify as personal items.
Full-size carry-on bags are measured in the same manner as checked bags. Mobility devices like wheels and handles are included as part of the measurement. Almost every travel insurance does not cover personal items.
What size bag is free on Spirit?
The typical ticket allows personal item sizes of about 22 pounds (10 Kg) and about a linear measurement of 40 inches (100 cm). Carry-on luggage weight is considered as every item on board with the passenger. This means that your personal item allowance is also part of your carry-on weight.
Is Spirit strict about the carry-on size?
Yes, they are a tiny bit strict. Most traditional carriers have a baggage policy that contains some sort of carry-on size restrictions for each passenger's carry-on item.
An online check shows that Spirit is more concerned about mass and dimensions than they are about any other detail. As long as you stick within the right range, you will be fine.
Is a backpack a personal item for Spirit?
Yes, it is. Just like Turkish airlines or Hawaiian airlines, Spirit has baggage allowances for items that the passenger will need for daily life. These items are expected to fit into containers or pouches that are easy to carry on the person.
Luckily for everyone, backpacks fit beautifully into this category. There is however a clause. While the backpack is itself a "personal item", there might be some items that need to be declared.
The declaration is based on the nature of the item and the time of purchase. Airport purchases may need to be declared if they pass a certain quantity or financial value.
Is weight important for bags on Spirit Airlines?
Not necessarily. For the majority of flights, the size limits of bags are based on physical dimensions. However, in the case of an oversize or overweight, baggage fees are decided by the extra amount by which the bag is oversize or overweight.
Oversize is when the bag is too large in dimensions. While overweight is when the bag is too heavy. Weight is important only when you want to avoid going overweight.
How does Spirit Airlines handle bags that are too big?
When bags have exceeded the maximum size allowed by a light ticket (the base ticket price) then the airline uses what we may call a baggage fee calculator.
An online web check shows that a bag that is overweight by 41 – 50 lbs (18 – 23 kg) is a $59 increase to the base ticket price, meanwhile, 51 – 100 lbs (23 – 45 kg) costs $99. Oversize of 63-80 linear inches (158-203 cm) is $100. Special items over 80 linear inches (203 cm) are charged at $150.
How does Spirit handle special items?
Special items are things that the passenger wishes to take with him in a particular manner or for a particular purpose. They may or may not be an item on board the plane with the passenger. Popular among these items are things like pet carriers, sports equipment, elaborate musical instruments, child safety seats, and assistive devices for disabled passengers.
Sometimes, child safety seats might not be allowed on board if there are already arrangements for child seats among the seat assignments on that particular flight. By the way, your carry-on luggage sizes are not affected by your special items. Some important special items are as follows:
1. Car seats for infants: One car seat will be accepted per child as checked baggage at no charge. These items are not considered part of the guest's baggage allowance. Car seats may be carried on board the aircraft if a seat has been purchased for the child; one child per car seat.
To be accepted for use on board, car seats must be FAA approved. Car seats may not occupy a seat in an exit row, the row in front of or behind an exit row, or any seat equipped with an inflatable seat belt.
2. Pets and animals: Spirit Airlines does NOT accept pets in cabins for travel on international flights except in the case of service animals when permitted by the international destination. On domestic flights (between two points within the United States or between the United States and its territories), for an extra charge, Spirit will only accept domesticated dogs, cats, and in some cities rabbits and small household birds (including parrots, finches, canaries and parakeets). Birds that are not considered household birds and will not be accepted are farm poultry, waterfowl, game birds, birds of prey, or flightless birds.
A service fee is collected for each pet carrier. Unaccompanied Minors are not permitted to travel with pets. A pet carrier containing a pet counts towards the guest's carry-on baggage allowance. Only one pet container, per passenger with a confirmed reservation is permitted.
A maximum of two similar pets (e.g., two dogs, two cats) may travel in one container provided the animals are small enough to be accommodated in one pet carrier. The pet(s) may NOT be removed from the container during transit.
A maximum of six pet containers are allowed per aircraft cabin. The container must be inspected and approved by Spirit and able to fit underneath the seat in front of the guest traveling with the animal. This means a maximum container size is 18" x 14" x 9" (45.72 cm x 35.56 cm x 22.86 cm) in overall dimensions. The total weight of the pet along with the carrier should not be more than 40 pounds (18 kg).
3. Service animals: Spirit accepts for transportation, without charge, service dogs if they meet the requirements. No other type of service animal will be accepted apart from service dog. More than two service animals per guest will not be accepted. The service dog must be accommodated in accordance with FAA safety regulations.
The service dog must be able to fit on your lap if the dog is smaller than a two-year-old child or fit within your foot space without blocking the egress of any other guest or leading to fellow passenger complaints. If the dog is in a pet carrier, the pet carrier must meet the requirements above. Spirit Airlines does NOT accept animals as cargo or as checked baggage.
To travel with a service dog, you must submit the U.S. Department of Transportation (DOT) Service Animal Air Transportation Form attesting to the dog's health, training, and behavior at least 48 hours before your flight. Spirit's Guest Care Department will notify you upon document approval. The form may be completed at the airport if you purchased your reservation within 48 hours of departure.
4. Fragile/Perishable Items: These are only accepted if a Spirit employee is made aware of such item, and a release is signed that indemnifies Spirit against liability for damage to, loss or spoilage of, or delay in delivery resulting in damage to, loss or spoilage of such items. Failure to alert Spirit of fragile/perishable items in baggage may result in denial of loss or damage claims.
Fragile or perishable, and otherwise unsuitable as checked baggage, and are subject to the conditions of acceptance set forth above include things like bicycles, blueprints, cameras, ceramics, china, crystal, dolls, figurines, flash equipment, flowers, glass or glass containers, lenses, maps, mirrors, models, paintings, perfumes, liquids, bottles, musical instruments and equipment, kites, surfboards, seafood, plants, sculptures, strollers, trophies, vases, folding wagons and wines. Perishable items include, without limitation, items such as fruit, vegetables, meats, fish, poultry, bakery products, other forms of food, flowers, floral displays and plants, and similar articles requiring maintenance at specific temperatures such as medicine.
5. Miscellaneous: This is the final category and it is the end of the line. These are items that may or may not qualify as special items. They may need to be inspected and evaluated before being designated as a special item or not. This class includes things like alcohol, artistic items (paintings, statues, sculptures, etc), camping gear, etc.
Does Spirit Airlines have a special luggage program?
Spirit airlines do have a program for military officers and airline staff. Hundreds of flight attendants don't have to worry about baggage prices during their week of travel. However, to remain on the list of low-cost carriers, they have to sum up their luggage as many hours before departure as possible.
Lastly, there is the program that Spirit calls the "Military bag policies". The policy is designed to show appreciation to the US military personnel for their service. If the military personnel is on active duty, then they will be provided with two free checked bags and a free carry-on, in addition to the already free personal item.
The U.S. military member should arrive at least two hours before departure. This is early enough to have their bags checked first at the counter, and present their U.S. military ID. Things will be easier if they signify at the time of booking that they will be traveling as active military personnel. This might not be easy or even completely impossible during an online booking. The best option will be to get there early enough and settle things out at the airport.
Learn more about Spirit airlines sizes and more (video)
How will I avoid overweight or oversize bags?
To avoid being overweight, we will strongly suggest that you measure your bags at home as you pack them. Start with packing the important things first. Measure the bag after the important things are in. Then add everything else based on the weight allowance that you have remaining.
A small bag can be measured using a bathroom scale. Stand on the scale without the bag and not your weight. Then get off the scale and pick up the bag. Holding the bag, now step back on the scale and note your new weight. The weight of the bag is the difference between the two weights.
Oversize requires a different approach. Get a measuring tape, preferably a fabric one. The fabric tape is easier to edit and hold. Measure the bag as it you are measured in a cardboard box. This means that you should always hold the tape straight and not bend it at any moment. No matter the crease or edge of the bag, always hold the tape straight and taut. Imagine that a straight metallic rod is been held against the bag, and you are actually measuring the rod.
Set the bag on a flat surface like a tiled floor or a solid table. Without moving from one spot measure the length, height, and width of the bag. Change the spot you are standing and move to another side of the bag and take the three measurements again. If you get different measurements, use the larger set of measurements. Remember to measure handles and wheels as well
Conclusion
Spirit Airlines Inc. uses the same luggage size restrictions for both domestic flights and international flights. The only major difference between domestic and international flights is the allowance for pets. Airline certificate information shows that pets are allowed only on domestic flights and not on international ones.
There is a low rate of complaints for Spirit Airlines. This is an achievement for an airline that comes from the same part of the world as the airlines that usually have industry-high complaint rates. A large portion of complaints includes luggage pick and checking during claims. Spirit has done everything possible to simplify the luggage process.
We wish you the best in Spirit flight possible. Please share the article and leave a comment. Your participation will be very spiritual to us.
Picture in this post is by Forsaken on Unsplash
Related to Spirit Airlines Sizes