Wiper Blades Size chart by type, model and brand
This post was last updated on September 25th, 2022 at 05:50 am
A windshield wiper, windscreen wiper, or wiper blade has the function of keeping the windscreen clean. Moreover, they have a back-and-forth movement that wipes snow, rain, water wiper fluid, and other debris from the front window of automobiles. Wiper blades size is different by type and usage, which we will explain in this article.
Wiper blades are divided into three major types;
Traditional frame wiper blades – is made up of a solid metal frame and a rubber element. Furthermore, the cost of rubber blades is quite affordable, has an outstanding durability and its suitable for most weather conditions.
Modern beam wiper blade – are quite costly compared to other wiper blades cause of assistive features that traditional rubber blades do not posses. The features are maximum durability, resistance to extreme weather conditions and are high wipe performance beam blade because of their curved frameless design.
Hybrid wiper blades – have strengths of both the traditional blades and beam blade. In addition, they have a protective aerodynamic design to prevent clogging and are suitable for all weather conditions.
Moreover, performance of the wiper blade is dictated by the types of blade material being used: silicone and rubber. However, silicone blades have an extended lifespan and a higher performance than rubber blades.
One of the differences in wiper blades is in the type of wipers; they include; conventional wiper blade, hybrid blades and flat blades.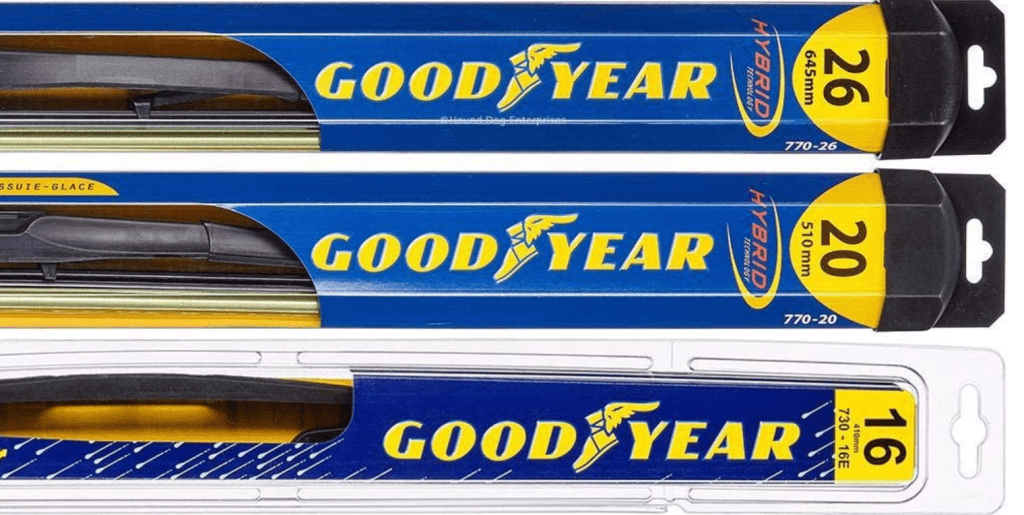 Looking for car cover size charts?
Discover the Wiper Blades Size Chart
Windshield wipers provide a critical safety feature especially when driving in bad weather therefore having a guide chart showing different sizes of wiper blades assists an individual to pick the right sized blade for their vehicle.
The windshield wiper blade has its measurement in inches and wiper sizes ranges from 10 to 32 inches. The right size of ones blade is always written on the automobile's handbook because when you choose that is too short it wont fully clean your screen therefore reducing your field of vision.
The table below represents a general size chart of Michelin wiper blades.
Michelin Windshield wiper size chart
Bosch icon wiper blades size
The table below indicates the windshield wiper blade size chart for one of the most famous type of wiper blade brand with the vehicle model.
PIAA Super Silicone Wiper Blade size
The table below represents wiper blade size chart of a silicone wiper blade.
Crystal Clear blades
The table below illustrates the wiper blade size guide chart available in crystal clear.
TVS Car Accessories
Below is a table showing the various wiper blade sizes available in TVS brand and their car models
How to choose the right wiper blade size for you
A handbook usually contains wiper blade sizes for your motor vehicle. If it's not available remove the wiper blade and measure it using a tape measure.
When the wiper blade gets damaged or it gets worn out you must always replace it with the same size, do not use one that is too big since they are prone to wear out quickly and the small ones will leave gaps not wiping the entire screen.
In addition, it is advisable to be checking the windscreen wipers often and replacing them with new ones cause buying low-cost wipers is not advisable since they wear out easily due to their inferior quality.
Related: Car cover size chart: a complete guide by car size,
How to determine the right windshield wiper blades size?
Conclusion. 
With so many options and differences seen when searching for a wiper blade that best suits your needs is a bit complex therefore to simplify the process of purchasing one without any inconveniences there are a number of factors that one should consider.
Durability – silicon wiper blades are much better in performance than rubber blade since they are impervious to extreme weather conditions.
Wiping performance – silicone wipers have a hydrophobic layer with every wipe therefore water will stick on the surface of the 
Brand – Some brands offer higher  quality replacement of wiper blades
Size – wiper blades are usually in different sizes therefore you must check that are defined in the manufacturers manual.
Those are just some of the options available others are equally as important to the ones mentioned above.
Finally, replacement of wiper blades every six months is warranted. As long as you are consistent on replacing your wipers no extra spending will be needed to buy long lasting wipers any type of conventional wiper blade is suitable.
If you enjoyed reading this article, please don't hesitate to leave a comment below! 
Picture in this post by Nate Johnston on Unsplash
Related Car size charts