License Plate Size US Dimensions
This post was last updated on February 13th, 2023 at 11:26 pm
A license plate is a metal or plastic plate that is attached to a vehicle. The plate contains a number that is assigned to the vehicle by the DMV. The number on the plate is used to identify the vehicle and its owner. In most states, the license plate is attached to the front of the vehicle. In some states, the license plate is attached to the rear of the vehicle. License plates are typically made of aluminum or steel (skip straight to the license plate size chart).
Some states require that the plate be reflective so that it can be seen at night. The plate may also contain a raised or embossed design, such as a state seal or motto. The requirements for license plates vary from state to state.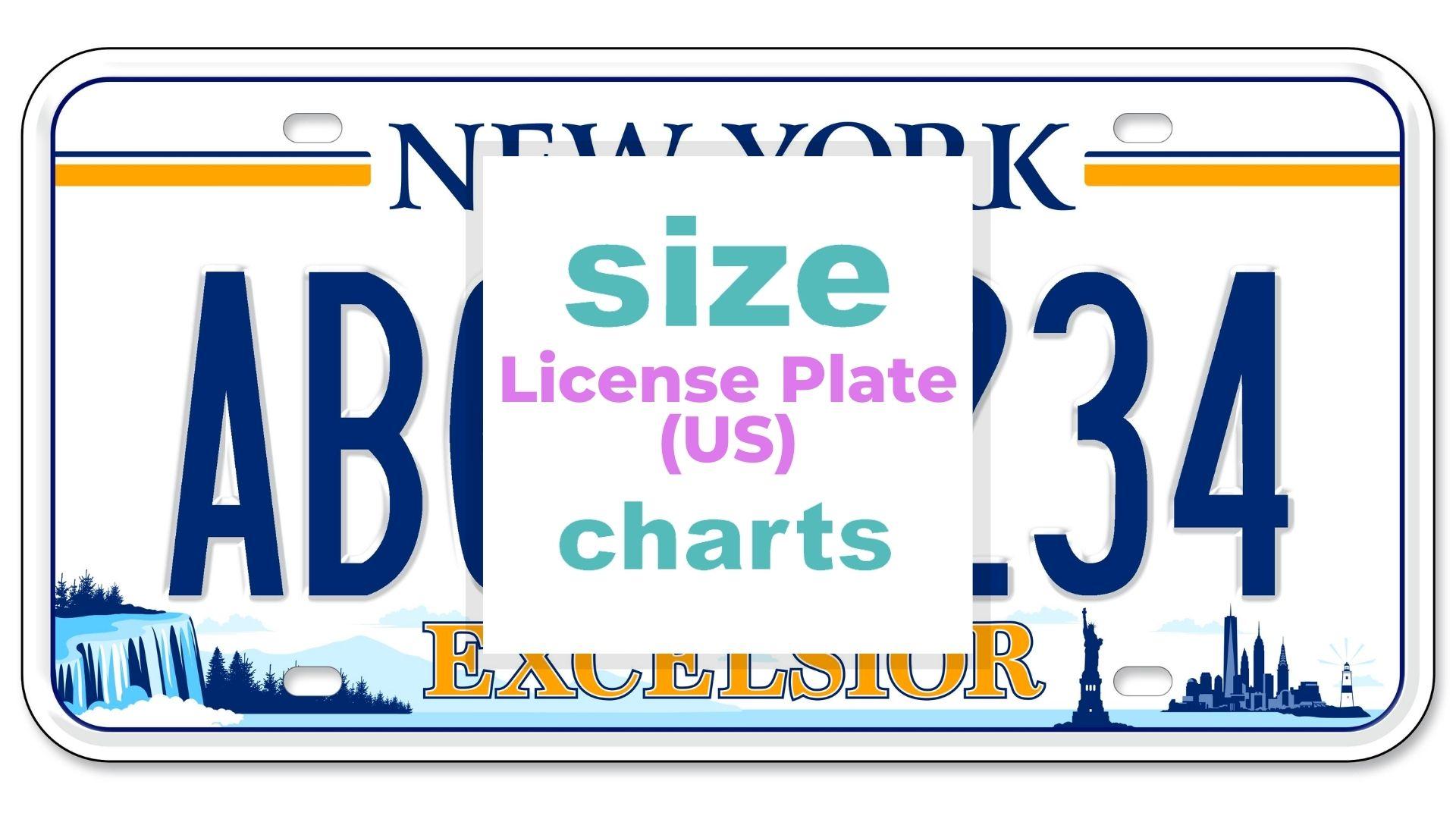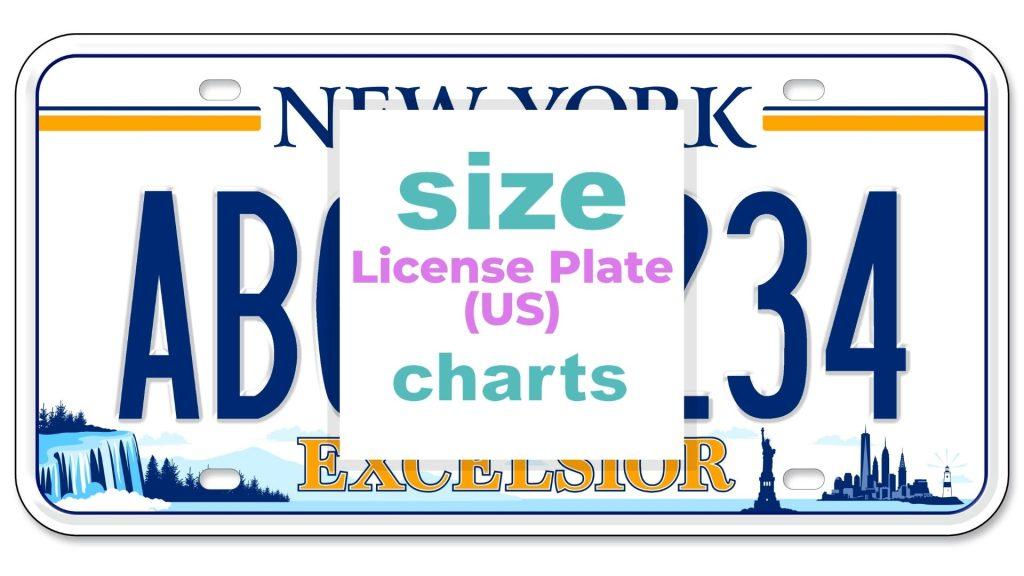 In the United States, license plates are regulated by each state. As a result, there is no standard size for license plates. However, most states use a 6-inch by 12-inch plate. Some states, such as Michigan and Pennsylvania, use a larger plate, while other states, such as Florida and New York, use a smaller plate.
There are also a few states that have specialty plates, such as motorcycle plates or vanity plates. Regardless of the size or type of plate, it is important to understand the basics of license plate sizes in the US.
Let's look at some of the most commonly asked questions about US license plate sizes.
Jump right into the Frequently Asked Questions
Related: Car Tire Size Chart And Sizing Guide, Tesla Tire Size By Model and Year, Jeep tire size, Honda tire size, Trailer tire size , Michelin Tire Size Chart, Chevrolet Tire Size Guide for Different Models , Wiper Blades Size chart by type: what size are my wiper blades ? , Trailer Ball Size Chart – Know What Works Best for your trailer/rv
License Plate Size Table of Contents
License plate size charts
Related: Michelin Tire Size Chart, Continental Tire Size Chart
| | | |
| --- | --- | --- |
| Type | Dimensions (inches) | Dimensions (cm) |
| Automobile, commercial, and trailer | 12 x 6 | 30.5 x 15.2 |
| Motorcycle | 7 x 4 | 17.7 x 10.1 |
| Motorcycle ( Minnesota only ) | 7-3/16 × 4-3/16 | 18.3 × 10.6 |
Frequently Asked Questions
Do all states have the same-size license plates?
As of 2016, all states in the US have license plates that are at least 6 inches by 12 inches, with the exception of Hawaii, which has plates that are 6 inches by 6 inches. All states also have numbers and letters on their license plates.
However, beyond these similarities, there is a great deal of diversity in license plate design. Some states choose to include their state motto or nickname on their plates, while others feature scenic images or historical landmarks. In terms of size, the largest license plates are found in Oklahoma and Indiana, which both have plates that measure 6 inches by 24 inches.
Meanwhile, the smallest plates are found in Connecticut and Utah, which both have plates that measure 4.5 inches by 20 inches. Ultimately, while all US states have similarly sized license plates, there is a wide range of variation in terms of design.
What size are California plates?
In the state of California, license plates are 6 inches by 12 inches. While California's license plate size is average, the state does have a unique feature on its plates: a month sticker. In addition to the standard year sticker, California license plates have a sticker indicating the month of expiration.
This allows police officers to more easily identify expired registration tags. As a result, drivers in California can expect their license plates to be slightly larger than usual and to feature an additional sticker.
What is the size of a Texas license plate?
In Texas, license plates are 12 inches wide and 6 inches tall. The letters and numbers on the plate are 3 inches tall and 5/8 of an inch wide. The state name, "Texas," is printed across the top of the plate, and the phrase "Friendship State" is printed at the bottom. The slogan "Drive Friendly" is also printed on the plate, along with a silhouette of the state of Texas. The background of the plate is blue, with white letters and numbers. Overall, Texas license plates are easily recognizable and have a simple yet attractive design.
So why are Texas license plates printed "Friendship State"? Well, In 1836, the Texas Revolution ended with the founding of the Republic of Texas. For the next nine years, Texas existed as an independent nation before it was annexed by the United States. During this time, Texas formed a number of important relationships with other countries, including France and Mexico.
These alliances were symbolized by a simple phrase printed on Texas license plates: "Friendship State." The phrase reminds drivers of the value of teamwork and cooperation, values that are essential to the state's identity. In a world that is increasingly divided, the message of friendship is more important than ever. It is a reminder that we all have more in common than we realize, and that we can achieve great things when we work together.
Check out this video to learn more about Texas license plates
What is the size of an Ohio license plate?
Ohio license plates are made of aluminum and measure 12 inches by 6 inches. They have a blue background with white letters and numbers. The state's name, "OHIO," is printed at the top of the plate, while the county name is printed at the bottom.
The county name is abbreviated to two letters, except for Cuyahoga County, which is abbreviated to "CUY." The letters "I," "O," and "Q" are not used in the county abbreviation to avoid confusion with the numbers "1" and "0." In addition, Ohio license plates have a reflective coating that makes them visible at night.
The coating is applied to the entire plate, including the state name, county abbreviation, and serial number.
What size are Illinois plates?
Illinois license plates are made in two different sizes. Standard license plates measure 6 inches by 12 inches, while vanity plates measure 6 inches by 12 inches. Vanity plates have a slightly larger border than standard license plates, which allows for more characters to be printed on the plate.
The vast majority of Illinois license plates are standard plates, while vanity plates make up less than 1% of all Illinois license plates. For drivers who want to personalize their vehicle, vanity plates provide a way to do so. However, for most drivers, a standard Illinois license plate is all that is needed.
The width of the Illinois license plate was put at 5 inches in 1916, 4 inches in 1922, and back to 5 inches in 1934 before a standard 6-inch x 12-inch plate was adopted in 1956. This standard plate size is consistent with other state license plates and is still used today. The change in 1916 was made in order to save money on steel during World War I.

The reduced size in 1922 was due to the fact that many cars were now using smaller bumpers and the smaller plate size looked proportionate. In 1934, the width increased back to 5 inches so that the state could add embossed lettering to the plates which made them easier to read.

The final change to the standard 6" x 12" size occurred in 1956 and has remained unchanged since then. While the specifics may have changed over the years, the Illinois license plate has retained its iconic shape and size.
Learn more about US License plate size and other facts (video)
What are the different types of California license plates?
California offers about four different types of license plates, each with its own benefits and requirements. Here are the most common types:
Standard: This is the default, general plate that you'll find with most cars. The California standard license plate is white with blue characters. The plate has the word "California" at the top and the registration number in the middle. The state name and flag are at the bottom. There is also a graphic of a mountain and coastline on the left side of the plate.

The design was introduced in 1963 and has remained largely unchanged since then. More than 30 million cars in California have this license plate design. The standard license plate can be personalized with a unique combination of letters and numbers.

Special interest license plates: These are also available for drivers who want to support a particular cause, such as the arts or the environment. For example, the art plate benefits California arts programs, while the environment plate helps fund environmental protection efforts.

Other plates support causes such as children's healthcare and wildlife conservation. Whether you're a California native or just visiting the state, special interest license plates are a great way to show your support for the things you care about. These plates usually come with an additional fee that is used to fund the corresponding program.

Special license plates: These are also available for certain groups of people, such as veterans or members of the legislature. California's special license plates are a reflection of the state's diverse history and culture.

The cost of a specialty plate varies depending on the type of plate, but all proceeds from the sale of California's specialty plates go to support various causes and programs throughout the state. They offer a unique way to show your support for California while also celebrating its rich history and culture.

Decals and placards: The decals and placards of license plates can be obtained for special purposes, such as disabled persons parking or bicycling. Like all other license types, California's decals and placards are available at California DMV offices, and drivers can also purchase them online.

California's decals and placards program is a great way for California drivers to show their support for Veterans, the disabled, and other important causes.
Learn more about California license plates history (video)
What does the black license plate mean?
In the United States, a black license plate typically indicates that a car is a vintage vehicle. For many car enthusiasts, this is an attractive feature, as it can add to the vehicle's aesthetic appeal. In some cases, black license plates may also be issued to cars that are registered as historically significant.
However, there are a few states that have passed laws exempting vintage cars from certain regulations, such as emission testing. As a result, owning a vintage car with a black license plate can be a practical and stylish choice.
Conclusion
By knowing the average size and dimensions of a license plate, you can be sure that your car will be in compliance with your state's regulations. In addition, if you are ever pulled over for a traffic violation, it is helpful to know how large your license plate should be. This information can be used to contest the ticket if necessary.
Ultimately, understanding the basics of license plate sizes in the US can help you avoid costly traffic tickets and ensure that your car is in compliance with state regulations.
Is there anything we may have missed out on? Any further questions or clarifications regarding the sizes and dimensions of US license plates? Please ask in the comments and kindly share the article if you found it helpful.
Picture in this post is by Mick Haupt on Unsplash
Related to License Plate Sizes