LS2 Helmets Sizes for adults and kids
Selecting an LS2 helmets sizes are not always simple. It is not only a matter of choosing a great design that you will enjoy, but you should not overlook the importance of size fit.
When you are buying, ensure that it will fit your size to safeguard your face and head from risks since if your head is subjected to accidents and injuries, you might suffer severe brain damage. Furthermore, knowing how well an LS2 helmet fit defines how much security you receive.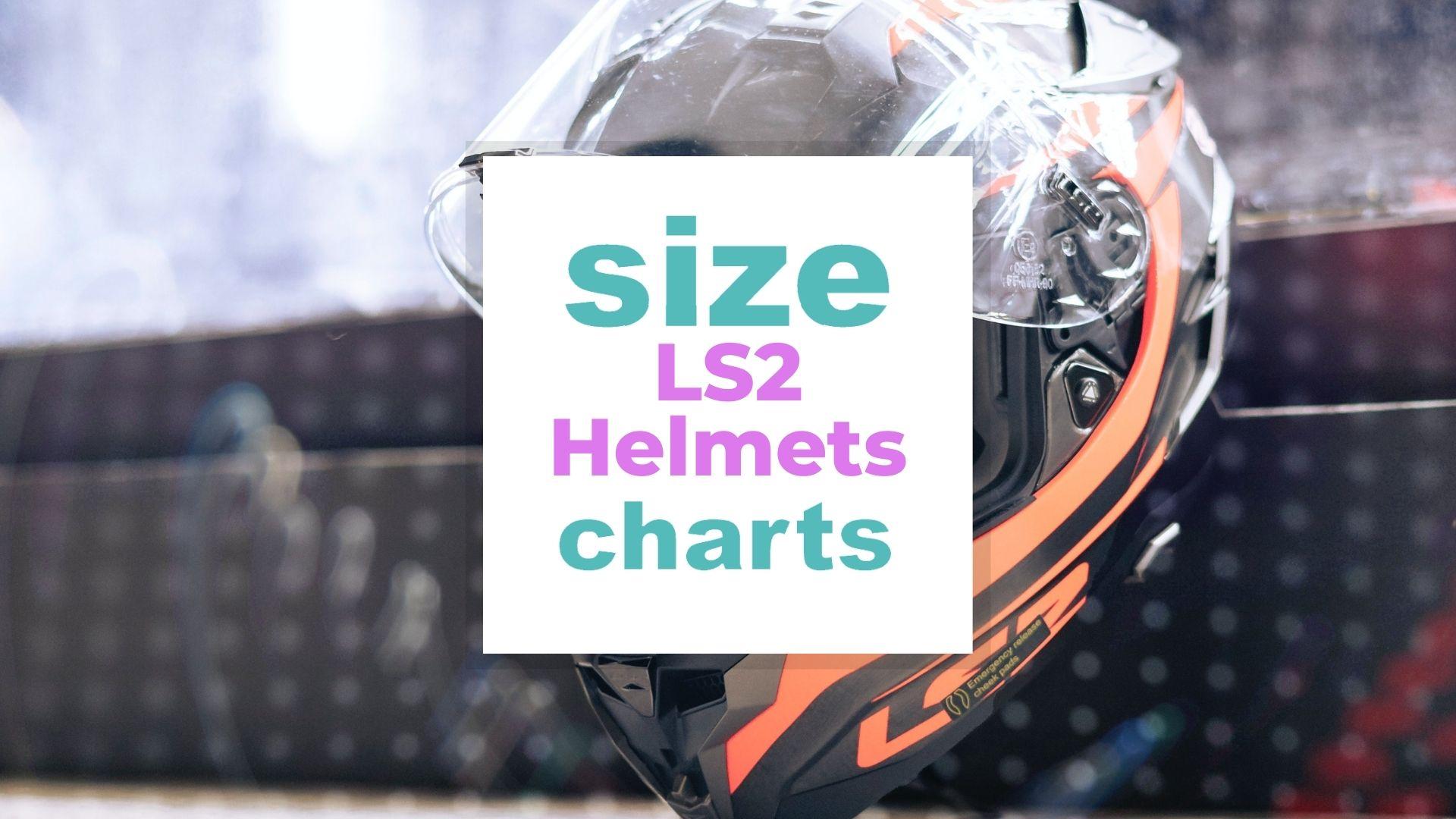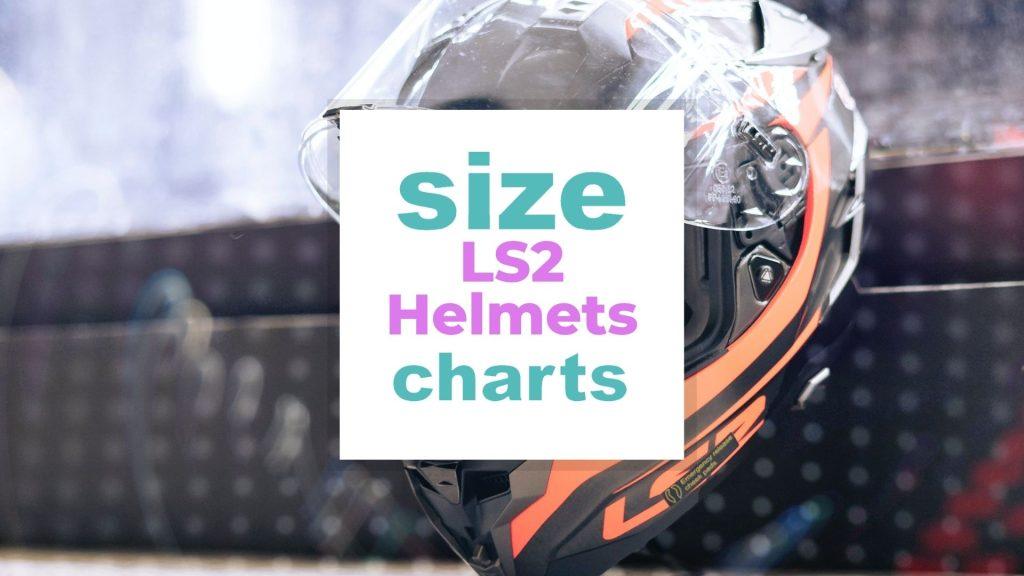 The barrier protection lining of LS2 helmets has been mainly created to control the impact's force, allowing it to be securely shifted away from the head. There should also be no more than an inch of space between your head and your helmet, as this may work against you in the event of an impact, making the helmet slam on your head.
In addition, when purchasing LS2 helmets, remember the convenience and comfort the proper fit will provide. Read on to learn about LS2 helmet size charts and how to choose the best one for you.
Jump right into the Frequently Asked Questions
Related: Motorcycle helmet size chart : fitting and dimensions for safe riding
LS2 Helmets Sizes Table of Contents
LS2 Helmets Size Charts
Related: Shoei Helmets Sizes
When selecting a new LS2 helmet, it is critical to ensure that it fits properly. The wrong fit of your helmet may cause you an uncomfortable feeling and leave unsightly red markings over your forehead once you pull off your helmet.
They are also significantly less efficient if you make a U-turn in the front.
LS2 Helmet Size Chart For Adults
Related: Bell helmet sizing chart – Helmet sizes for youth, women and men
| | | |
| --- | --- | --- |
| Helmet Size | Head Circumference (cm) | Head Circumference (in) |
| 2XS | 51- 52 in | 20.08- 20.47 cm |
| XS | 53- 54 in | 20.87- 21.26 cm |
| S | 55- 56 in | 21.65- 22.05 cm |
| M | 57- 58 in | 22.44- 22. 83 cm |
| L | 59- 60 in | 23.23- 23.62 cm |
| XL | 61- 62 in | 24.02- 24.41 cm |
| 2XL | 63-64 in | 24.80- 25.20 cm |
| 3XL | 65- 66 in | 25.59- 25.98 cm |
| 4XL | 67- 68 in | 26.38- 26.77 cm |
| 5XL | 69- 70 in | 27.17- 27.56 |
LS2 Helmet Size Chart For Kids
| | | |
| --- | --- | --- |
| Helmet Size | Head Circumference (in) | Head Circumference (cm) |
| S | 49- 50 in | 19.29- 19.68 cm |
| M | 51- 52 in | 20.08- 20.47 cm |
| L | 53- 54 in | 20.87- 21.26 cm |
How To Get The Right Size Of LS2 Helmet?
Related: Skateboard helmet size chart and fitting guide
When purchasing an LS2 helmet, you must first choose the proper size. Take a measuring tape and wrap it over your head just above the ears, across the forehead, and around the back, over the bumpy part of your skull.
This will provide you with the information you need to determine if a given helmet is small or large, allowing you to purchase the correct one after making your decision. The following are some considerations for getting your LS2 helmet to fit correctly.
The Head Shape
Helmets are made to match the rider's head size and shape, so knowing what sort of LS2 helmet would better suit your requirements is critical. Humans have the three most prevalent head shapes: long ovals, intermediate ovals, and round ovals.
Take a snapshot of your head from the top to determine your head shape. Ensure you carefully push your hair down since it may disguise the outline of your scalp.
Moreover, there are many things to consider when selecting the finest LS2 helmet for your head. There isn't a one-size-fits-all option because everybody's head size and shape differ.
However, you may get the right fit by determining your head shape and circumference in centimeters or inches to select an appropriate size to buy.
The Squeeze Test
Polystyrene cushioning is used on the interior of the shells of LS2 helmets to accumulate impact and safeguard your head. This must be relatively tight fitting since if there is a space between it and your skull, the exterior shells of the helmet will accelerate toward your head and produce an impact.
So, if you put on a new LS2 helmet, it should fit snugly. Not so tight that it pushes your ears against your neck and compresses the blood from your head once you put it on, yet fairly tight.
The polystyrene padding must also contact your entire head without creating pressure spots. Ensure the helmet is secure on your head by wearing it for a couple of minutes.
The Twist Test
Your LS2 helmet mustn't rotate on your head. Crashes tend to twist helmets, and if the helmet is too slack, it will do just that.
So, when wearing a new helmet, try twisting it. It must remain in place.
The Loosening
The liner of a newer LS2 helmet may loosen with wear as it gently tightens. So, if you acquire a new helmet, it must be snug enough to keep it from shifting about and being too stiff, yet not too tight, with the understanding that it will relax gradually during the first couple of months.
Check to see whether you feel comfortable wearing the helmet.
Prepare to be less at ease at home when using a helmet than you would be without it. Nonetheless, you must feel comfortable wearing one for the 30-40 minute testing.
Moreover, wear your LS2 helmet more frequently to stretch it in quicker. This allows the helmet to adjust to the shape and size of your head for a more snug and secure fit.
Learn more about LS2 Helmets Sizes and types (video)
Frequently Asked Questions
1. How do you measure for LS2 helmets?
Follow these tips for measuring an LS2 helmet:
Step 1. Get a tape measure and wrap it over your head or the helmet's head to determine the size. Directly measure from the widest point and keep a record of your dimensions.
Step 2: Compare the measurement to what is listed on the size chart.
Step 3: Another option to spare yourself from the tedious work is to examine your old or prior helmet, assuming it fits you properly in all the correct spots. Repeat the preceding steps until the final product is the desired size.
2. How do I know if LS2 helmets are too big?
Your LS2 helmet is too big if you cannot feel the inside foam slightly pressing your cheeks. It is also uncomfortable for you to wear on your travels.
3. What is the size of a sizeable LS2 helmet?
The large LS2 helmet has a head circumference of 59- 60 in (23.23- 23.62 cm) for adults and 53- 54 in (20.87- 21.26 cm) for kids.
4. Are there more shapes of LS2 helmets?
There are various LS2 helmet shapes available depending on what type and kind you wish to buy.
What to do if my helmet is too big?
If your helmet is too loose over your face, you might be able to add larger cheek padding. Thicker cheek pads may assist fill the space surrounding your face and minimize wind noise.
Using a small bandana beneath your helmet could also be an idea if the helmet feels a bit slack around the crown and top of your head. This allows several riders to attain a tighter fit, but you should be careful if you choose this.
Conclusion
The above guide is a simple procedure to follow when selecting and purchasing an LS2 helmet. This article was created for individuals interested in learning how to buy and correctly fit a motorcycle helmet. It shows users how to measure their heads and select the proper helmet shape for the appropriate size and fit.
Finally, following the instructions in this tutorial is worthwhile since the final result will be a perfectly fitted helmet.
Furthermore, helmets naturally alter sizes. When your helmet fits correctly, this natural shift will be beneficial, resulting in a bespoke fit. If you do not like how your helmet fits and wish to change it, try buying a new one instead. If you have additional queries or questions, please leave a comment.
Picture in this post is by Julián Amé on Unsplash
Related to LS2 Helmets Sizes