Arai Helmets Sizes
Selecting a helmet entails more than determining your size and preferred color scheme. The purchase of a helmet will genuinely safeguard your head in the case of a collision, and having the correct fit of your helmet defines how much protection it can offer. In addition, a Department of Transportation rating system is only effective if the helmet is sized correctly (skip straight to the Arai Helmets Sizes).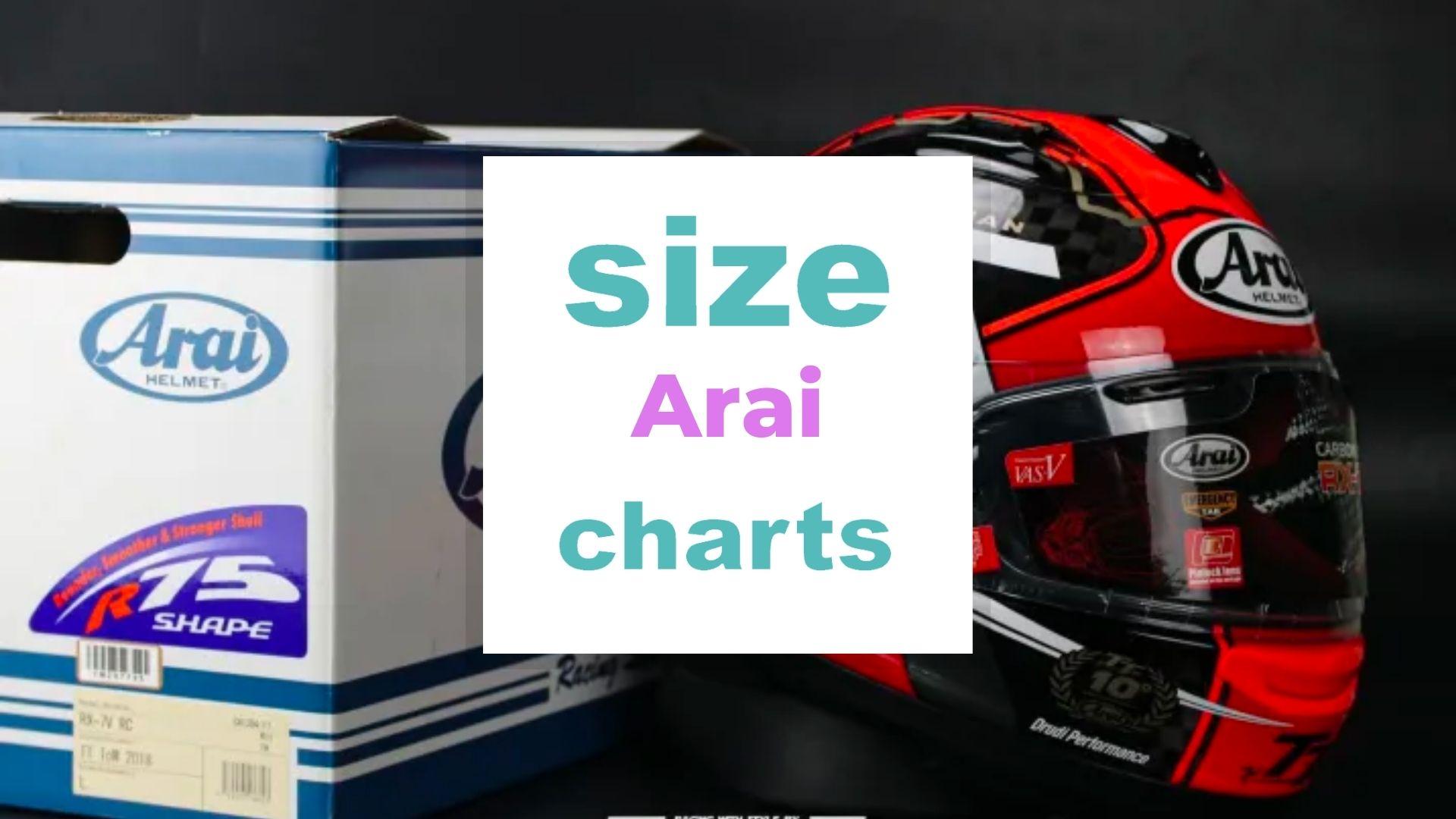 What is your helmet used for?
If your head with the helmet is hit, the impact-absorbing lining material is intended to take the pressure. But if there is excessive space between your head and the helmet, you effectively invite a collision with your protective gear. Moreover, if the lining material does not fit nicely on your skull, it will not operate properly.
On the other hand, the helmet would be unpleasant if the Arai helmet is excessively tight due to the small space. It will become annoying and uncomfortable, or you will just quit wearing it. A proper fit avoids these difficulties and enables the helmet to function correctly. See this post to know how to get the right Arai helmet size.
Jump right into the Frequently Asked Questions
Related: AGV Helmets Sizes
Arai Helmets Sizes Table of Contents
Arai Helmet Standard Size Chart
Related: LS2 Helmets Sizes
Appropriate helmet fitting is critical to a helmet's effectiveness when in an accident. The Arai helmet should remain firmly on the head to function effectively, and measuring the head is merely the beginning of the sizing process. Moreover, because of differences in form, skulls that seem similar if measured with a measuring tape might not always suit the same size helmet.
In addition, you might take your first measurement using a cloth or tiny metal measuring tape. A string may also be used, which can then be set against a tape measure. Measure the head circumference at a location one inch above the brows in the front and at a place in the rear of the skull that yields the biggest measurement.
Obtain several measurements and select the biggest one. See the chart below for the Arai helmet size.
| | | |
| --- | --- | --- |
| Arai Helmet Size | Head Circumference (in) | Head Circumference (cm) |
| 2XS | 20.07-20.47 in | 51 – 52 cm |
| XS | 20.86-21.25 in | 53 – 54 cm |
| S | 21.65-22.04 in | 55 – 56 cm |
| M | 22.44-22.83 in | 57 – 58 cm |
| L | 23.22-23.62 in | 59 – 60 cm |
| XL | 24.01-24.40 in | 61 – 62 cm |
| 2XL | 24.80-25.19 in | 63 – 64 cm |
| 3XL | 25.59-25.98 in | 65 – 66 cm |
How Do I Choose The Correct Arai Helmet Size?
Related: Shoei Helmets Sizes
The primary reason for purchasing the Arai helmet is for security and headgear in the case of a collision. To give optimum safety, your helmet should be well-fitted and comfortable. Furthermore, even if the chin straps are tightened, an ill-fitting Arai helmet might fall off in a collision.
Head Shape
While human skulls come in an endless range of forms and sizes, the majority of us fit into one of the following categories:
Oval– The most popular head shape is an oval, often a long oval.
Round– The rounded form of the head is broader in the center, towards the temples.
Egg Shape– Various motorcycle rider head shapes are shaped like an egg, which is wider at the top and thinner at the bottom.
Many of us could have a mix of these head shapes since it is possible to have unlimited variations of these forms. Luckily, numerous helmets are made with internal geometries corresponding to these egg, round, or oval head classifications.
Arai Helmet Sizing
Measuring the Arai helmet size is as easy as finding a well-fitting cap. The distinction is in how the helmet goes over the motorcyclist's head. A tailor's measuring tape is the finest instrument for this. It is elastic enough to fit around the motorcyclist's head and is labeled in handy degrees for precise sizing.
Utilize it to determine which helmet size is best for you:
Measure the forehead by wrapping the tape measure around the largest region of the head, which is about over the ears and approximately a half-inch above the brows for many people. Allow a buddy to assist you with this step to ensure the most accurate measurement.
Measure the length and match it to the Arai helmet size chart. Because every producer has sizing that is unique to its versions, it only depends on the size chart generated for the Arai helmet under consideration.
Check out this video to learn more about Arai Helmets
How Do You Find The Best Arai Helmet With A Comfortable Fit?
Related: Bell helmet sizing chart – Helmet sizes for youth, women and men
When trying on an Arai helmet, the essential thing to pay attention to is the force on the top of your skull and forehead.
The Arai helmet is too tiny for me.
The overall fit must be comfortable, but if you notice tightness on your forehead and heavy pressure on the top of your head, then it is too tight, and the size is too tiny for your skull. In addition, if you sense tightness on the cheek pads, this is normal since the cheek pads could ease or stretch after use.
The helmet is too large for me.
If you first put on the Arai helmet, you perform testing by moving your head; if the Arai helmet allows you to move, the size is too large for you.
Motorcyclists with oval, projecting head shapes should make an exception; you could feel space at the side of the helmet. However, your forehead may have force until red lines are pushed into your forehead.
Frequently Asked Questions
1. How do I know my Arai helmet size?
Begin by measuring your skull to determine the size you need. Measure your head circumference over the tiny hump at the rear of the head, over the ears and eyes, and on the forehead, then check the measurement where the tape connects. Fit the measurement.
2. Why are there different sizes of Arai helmets?
Arai's utilization of diverse shell forms for various models and varying shell sizes is another distinguishing feature. The G-shell, for example, is designed for a more rounded human head, while the L-shell is intended for longer, narrower faces. Arai has even created differently shaped outer and inner shells for various continents!
3. Do Arai helmets fit true to size?
Arai helmets are usually smaller than Bell helmets. So a Bell can fit in a Medium while an Arai requires a Large.
4. How many shell sizes does Arai make?
Arai employs up to six distinct shell sizes to provide the correct fit for the user's head. The smallest shell is XXXS, which comes in sizes 49-50. Most versions have one shell size for every two sizes, ranging from XS (53-54) to XXL (63-64).
5. What size is a 54-58 cm Arai helmet?
Arai helmet sizes 54-58 vary from extra small to medium. More information may be found in the sizing chart above.
6. What size is a medium Arai helmet?
A medium-sized Arai helmet measures 22.44-22.83 inches (57-58 cm).
7. Do Arai helmets expire?
To maintain optimal safety, Arai advises updating your helmet seven years following the date of production and five years following the date of acquisition.
Conclusion
A motorcycle helmet represents the most efficient and crucial security item a rider can purchase. In the case of an accident, no other item of motorcycle equipment offers greater safety or a better return on your money. This shows why an Arai helmet must not be purchased based on price or look but on the best-fitting Arai helmet that they can get.
Moreover, a more pleasant and well-fitting Arai helmet functions best since they make you more awake and attentive, resulting in a better ride. Not just for a few seconds, but for hours, if not days, while you experience the particular excitement that only a motorbike can provide. Various shaped inner and outer shells are required to accomplish this precise fit.
Arai also provides this fantastic option with removable cheek cushions and comfortable lining materials for a more tailored fit. They offer various fit choices, so it is almost impossible not to have a great personalized fit for every rider. If you have additional questions or queries, please leave a comment!
Picture in this post is by Sam Carter on Unsplash
Related Arai Helmets Sizes