Wig Sizes and Different Types
A wig is a complete or partial artificial covering of natural or synthetic hair worn to enhance one's appearance. Wigs can be made from real hair, artificial hair, or a combination of the three. The term "wig," a contraction of the longer "periwig," first appears in print in Shakespeare's The Two Gentlemen of Verona. For religious or practical reasons, some people choose to cover their baldness with wigs rather than undergo expensive surgical procedures (skip straight to the wig sizes).
The circumference of the head is the standard for determining wig sizes. Start at the top/middle of the head at the hairline, then measure back just over the ear, around the back of the neck, and up over the other ear to the center of the forehead with a flexible tape measure. It is VERY IMPORTANT to remember that circumference is not the sole relevant metric. Noting both the front and back of the head is important.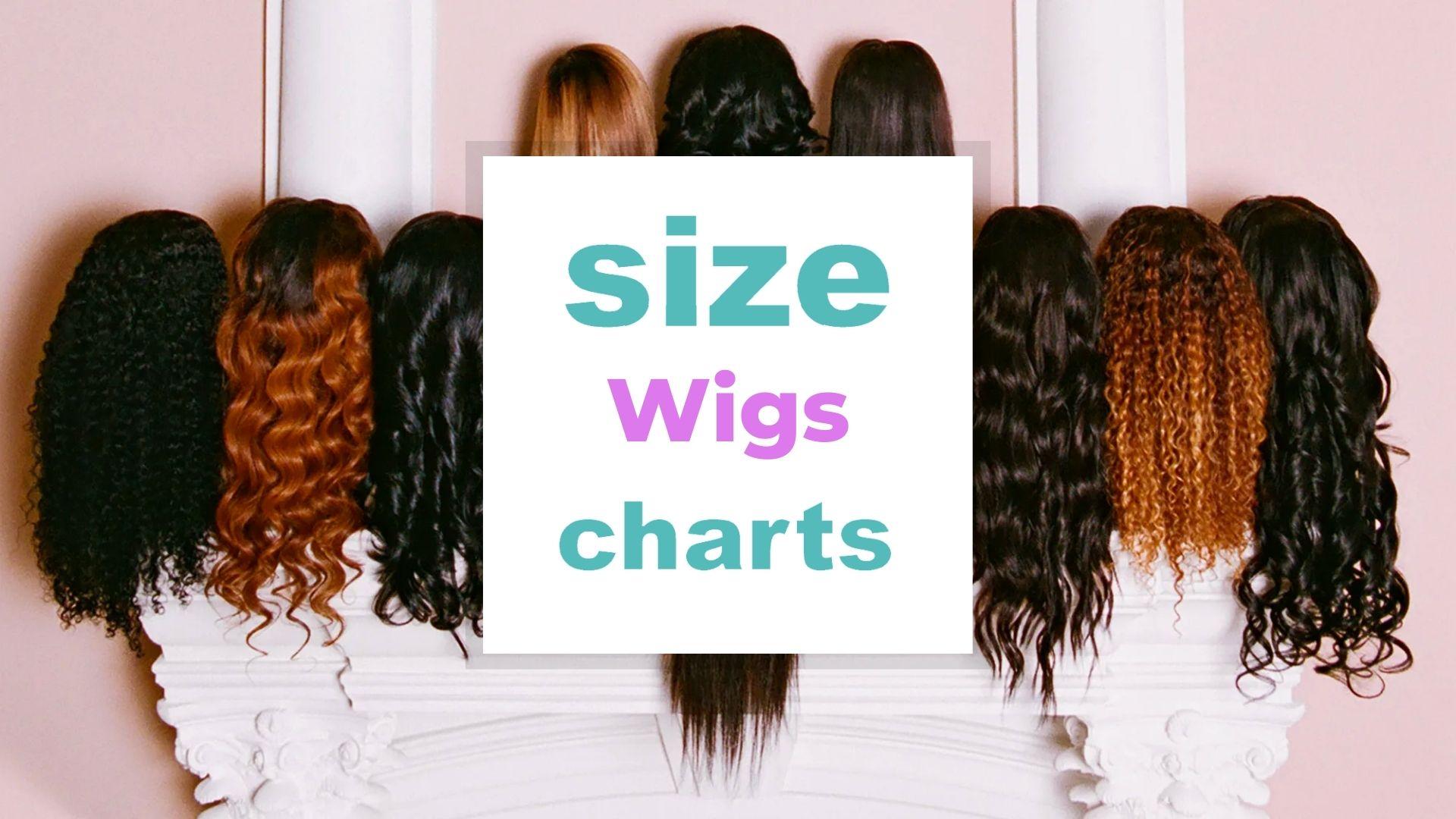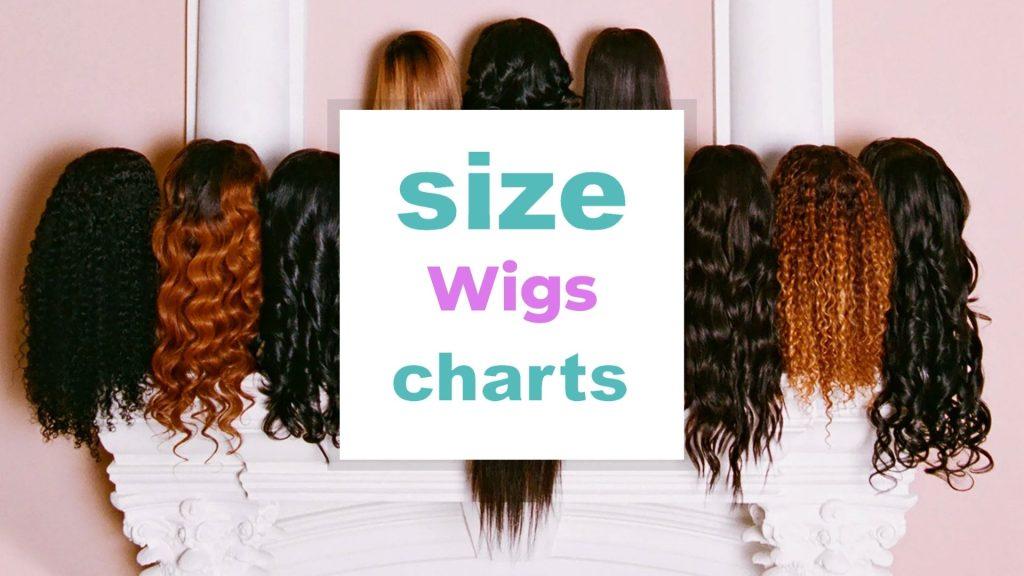 If you need to bring in your cap for wig alteration, you may find many shops that specialize in wigs that are qualified to work on most types of hand-tied and wefted caps. The measurement charts provided by wig shops are an excellent resource for learning how to measure a wig.
It's likely that most people won't fit neatly into any of the aforementioned groups. It's possible, for instance, that you have a normal chest measurement but are short in the torso and tall in the head. When in doubt, go with the bigger number. We can alter your caps in our other locations and bring them in for you.
Learn how to measure yourself for a wig and find out what options you have in this post. Check out our wig sizing guide to learn about the differences in sizing between different manufacturers.
Jump right into the Frequently Asked Questions
Related: Comhats Hat Sizes
Wig Sizes Table of Contents
Wig sizes chart
Related: Wallaroo Hat Sizes for Adults and Kids
| | |
| --- | --- |
| Cap size | Circumference |
| Child/Petite | 19 in 48.3 cm |
| Petite | 21 in 53.3 cm |
| Petite/Average | 21.5 in 54.6 cm |
| Average | 22 in 55.8cm |
| Large | 23 in 58.4cm |
Cap size chart
Related: Hat size chart and conversion table
| | | | | | | | |
| --- | --- | --- | --- | --- | --- | --- | --- |
|   | XXXS | XXS | XS | S | M | L | XL |
| Circumference | 51 cm 20.1 in | 52 cm 20.5 in | 53 cm 20.9 in | 54 cm 21.3 in | 55 cm 21.7 in | 56 cm 22.1 in | 57 cm 22.5 in |
| Forehead to Nape | 29 cm 11.4 in | 30 cm 11.8 in | 31 cm 12.2 in | 32 cm 12.6 in | 33 cm 13 in | 34 cm 13.4 in | 35 cm 13.8 in |
Lace wig cap size chart (standard)
Related: Lanzom Hat Size for Adult and Kids
| | |
| --- | --- |
| Small | circumference 21 – 21.5 in / 53.34 – 54.61 cm Front to nape 13.5 in / 34.3 cm Ear to ear across forehead 11 in / 27.94 cm Ear to ear over top 12 in / 30.48 cm Temple to temple around back 14 in / 35.56 cm Nape of nape 5 in / 12.7 cm |
| Medium | circumference 22 – 22.5 in / 55.88 – 57.15 cm Front to nape 14.5 in / 36.83 cm Ear to ear across forehead 11 in / 27.94 cm Ear to ear over top 12.5 in / 31.75 cm Temple to temple around back 14.5 in / 36.8 cm Nape of nape 5.5 in / 14 cm |
| Large | circumference 23 – 23.5 in / 58.42 – 59.7 cm Front to nape 15.5 in / 39.4 cm Ear to ear across forehead 12 in / 30.5 cm Ear to ear over top 13.5 in / 34.3 cm Temple to temple around back 15.5 in / 39.4 cm Nape of nape 6 in / 15.24 cm |
Full-size wig size guide
Related: Cowboy hat size chart for men, women and kids
 
Circumference
Ear to ear
Front to back
Wig measurements



1. Using a fabric measuring tape, hold the measuring tape at the front hairline

2. Follow hairline circumference to the base of the hairline at the nape

3. Continue around the head, back up to the front starting point

1. Establish "top of head point" by measuring 7″ back from the front hairline

2. Hold the measuring tape at HAIRLINE at top of the ear

3. Measuring across "top of head point", continue down to HAIRLINE at top of the opposite ear
1. Hold the measuring tape at the front hairline.

2. Follow a straight line down the center of the head, ending at the hairline at the nape
CHILD
20 in 50.8 cm
12 in 30.48 cm
12 in 30.48 cm
PETITE
21 in 53.34 cm
13 in 33.02 cm
13.25″ in 33.66 cm
PETITE / AVERAGE
21.25 in 54 cm
13.25 in 33.66 cm
13.75″in 35 cm
AVERAGE
21.5 in 54.61 cm
13.5 in 34.3 cm
14.25 in 37.47 cm
AVERAGE / LARGE
22.25 in 56.52 cm
13.75 in 35 cm
14.75 in 37.47 cm
LARGE
23 in 58.42 cm
14 in 35.56 cm
15.5 in 39.4 cm
How to choose the right wig size
Related: Childrens Hat size chart and conversion table
A well-fitting wig is essential for looking and feeling like your best. This is essential background reading if you've ever purchased a wig only to discover it didn't fit properly or kept falling off.
This article guide will teach you how to accurately measure your head with a fabric tape measure and select the correct wig cap size. What's even better? It only takes a few minutes to measure your head, and that time will be well spent on a high-quality wig.
It is essential to find the correct cap size for your wig. Nobody enjoys waiting for their wigs to come only to discover they are too big or too little to wear. Even though the standard sizes are suitable for most individuals, we recommend measuring your head before ordering a wig.
Correct wig measurements are vital for a good fit, just like the size for a new top or pair of shoes. The first step in purchasing one of our many stunning wigs is learning how to measure your head for a wig. It's a simple process that will guarantee your wig fits you perfectly.
Manufacturers of wigs may vary the sizes they produce, but if the wig you're interested in has adjustable straps, this sizing chart will serve as a solid starting point. If it's the right size and you can tweak it to perfection, it'll fit you perfectly.
Wig size measurements
It might be difficult to know where to start when trying to determine your wig size because of the wide variety of options. Here is a good overview of the most common wig sizes and each meaning.
Average wigs
Wigs typically measure between 54 and 57 centimeters in circumference (21.25 to 22.5 inches). Approximately 90% of clients fall into a standard wig size range, so you'll have more options if you fall within this range.
Petite wigs
The length of these wigs ranges from 51cm to 54cm (20 to 21.25 inches). You won't be limited in your wig selection because there are currently over 160 options for small wigs. Remember, there is up to an inch of change room at the back of the neck.
Large wigs
Size greater than 57cm (22.5 to larger than 57cm (22.5 to 24 inches). There are over fifty wigs in huge wig sizes, and they come in a wide variety of beautiful designs and colors. The nape has a generous inch of slack for customization.
How to Determine the Proper Wig Size
Related: Columbia Hat Sizes for Adults and Youth
First, you'll need to learn how to measure your head circumference and length to get a wig that fits properly. The optimum fit can be achieved by taking six separate measurements of your head while holding back any stray hair.
Measurement of the circumference
Your hair should be longer from the front of your head to the back of your neck.
The hairline on the forehead should extend from ear to ear.
Crossing the top of your head from ear to ear
Put your hands behind your head, temple to temple
The hairline at the nape of the neck, in the back
These figures are what you'll need to find the perfect wig size online. Just as when you go shopping for clothes, the different measurements correspond to different aspects of the wig. The better those dimensions are, the better your unit will fit.
Taking the circumference of the Head
Perhaps the most common method of determining a suitable wig size is by measuring the wearer's head circumference. Here's how to determine a person's head circumference:
Beginning in the middle of your forehead, bring one end of the tape behind one ear and continue down until it rests at the base of your neck. Wrap it over the back of your neck and behind your other ear. Cross the tape's ends at the middle of your forehead, right above your hair. Keep track of the numbers.
From the front to the back
Here are some guidelines for taking a head measurement:
1) With your hair pulled back in the middle of your forehead, rest one end of the measuring tape there.
2) Grasp it by the two ends, then draw it over your head, so that it hangs down the back of your head, and then wrap it around the base of your hairline at the nape of your neck.
3) Note the results of your measuring.
Measure the circumference Across your forehead
One of the most crucial aspects of measuring your head for a wig is taking a measurement across your forehead, where your hairline usually sits. In order to get this value:
Wrap the tape around, tape the hairline to the adjacent ear and keep track of the numbers.
Measure over the Top
Just do the following to get an accurate measurement of your head:
Tape the end over one ear.
Starting at one ear, wrap the tape around your head.
Keep track of the numbers.
Take a Circumferential Measure around the back
In selecting how to measure your head for a wig, it is easy to forget this vital measurement. To accomplish this: Start by putting the end of the tape measure on your temple, just below your eyebrow.
Take hold of one end, and starting at one temple, wrap it around your head in a clockwise direction until it reaches the other temple. Make sure the tape is horizontal and not sloping. Finally, keep track of the numbers.
Find Your Nape Size
The nape of the neck is the last area to be measured. The wig's foundation will settle here. Intending to quantify: The end of the tape measure should be positioned behind the ear, and the tip of the tape should rest against the bottom of one earlobe. Wrap the tape around your head from the nape to just below the other ear. Keep track of the numbers.
Find Your Perfect Wig Size
Taking the measurements was the challenging part; you did a great job. Applying those figures to wig sizes is the next step. It's possible that different wig manufacturers use somewhat varied sizing rules, but wigs fall into the following categories, regardless of the brand:
Most 360 lace wigs, lace front wigs, and high-quality ready-to-wear wigs have combs and straps that may be adjusted for a secure fit. Achieving optimal hair dimensions is straightforward even if your measurements don't fall neatly into these categories.
The type of wigs which will suit you best
The next step is to select the style of wig you want to buy. There are positive aspects to each option; therefore, think about your preferences and financial constraints before making a final choice. As it can be styled using a blow dryer and other heated tools, human hair provides the most realistic appearance and the greatest styling versatility.
However, it usually costs more and requires more effort to maintain. However, with careful care, these wigs can last significantly longer than their synthetic equivalents.
Most synthetic types don't require any preparation before being worn and are far less expensive than natural ones. However, synthetic wigs cannot be styled using heated equipment, limiting your options for altering their appearance. Synthetic hair can be a fantastic alternative if you want to start a wig collection or if you need a short-term solution to get you through a terrible haircut or chemotherapy.
Combinations of synthetic and human hair offer a satisfying middle ground. For instance, the Envy hair products are made with a mixture of heat-friendly fiber (70%) and human hair (30%), making them resistant to heat to 356°F (180°C). They may style them in a wide variety of ways, making them superior to synthetic wigs. Even though they are more expensive than 100% synthetic wigs, many blends cost far less than their 100% human hair counterparts.
Learn more about wig sizes (Video)
Frequently asked questions
1. How do you know your wig size?
Using a measuring tape, take a circle that starts at the front of your hairline and goes around your head to the back of one ear, around to the back of the other ear, down to the base of your neck, and back up to the front hairline again. Using this information, you can find the right wig for your head size.
Take notes on your measurement and refer to our size chart for guidance. Cap sizes vary by brand, and some wigs may not come in your particular size.
2. What are the most common wig sizes?
The "Average" size wig is the most common one purchased because, regardless of an individual's height, weight, or body type, it can comfortably accommodate 97% of all customers. If the circumference of your head falls somewhere between 21.25 and 22 inches (52 and 54 cm), then you should purchase a wig in the Standard/Average size.
3. Where does an 18-inch wig stop?
Longer hairstyles are increasingly popular among women, and we consider wigs with a length of 18 inches or more the industry standard. It is versatile enough to be worn in a variety of fashionable ways and is long enough to cover your shoulders.
4. What's the average wig size?
| | | |
| --- | --- | --- |
| SIZE | CIRCUMFERENCE | FRONT TO BACK |
| AVERAGE | 21.5 in 54.61 cm | 14.25 in 36.195 cm |
5. What does 4 * 4 mean in wig sizes?
A 4×4 is a measurement with a width of four inches and a height of the same. The first number represents the horizontal width, and the second number represents the vertical height (from the forehead to the back). By doing so, you can create sections that are 4 inches wide and 4 inches long.
6. Are wig sizes One size fits all?
Wigs do not come in a universal size, i.e. one size fits all; in order to select the wig, you will need to measure the circumference of your head. Wigs can be purchased in a range of sizes, including petite, regular, and larger. Although wig sizes may differ depending on the manufacturer, most models come with adjustable straps that make it possible to achieve a more customized fit. The average length of a wig is anywhere between 21.25 and 22.5 inches (54-57 cm).
7. What is a 13×4 frontal wig?
A lace front wig with a 13″x4″ part has lace that is 13 inches long in the front and 4″ inches deep in the part. The lace wraps around the entire hairline.
Conclusion
A well-fitting wig should be close, but not too tight, against the scalp. You should be able to tell that you have a wig on, but that knowledge shouldn't come with any discomfort or annoyance. Your head shouldn't be pounding from it either. If you want to make sure your wig will fit, it's best to take measurements in advance.
We hope you now feel more at ease with determining your wig size and ordering the wig. We want to see you looking and feeling fantastic, so we want to make sure your wig fits properly so you don't have to worry about it slipping or giving you a headache.
Thank you for reading our article. If you enjoyed reading our article kindly share it with others and for questions leave them in the comment section.
Picture in this post is by Maria Lupan on Unsplash
Related to Wig Sizes