Comhats Hat Sizes
A Comhats hat is a head covering used for warmth, style, shade, or safety. We can also wear it as a part of a uniform. A cap is a hat without a brim, and it can occasionally have visors. The term "helmet" is frequently used to describe a protective cap.
Hats might be small and unnoticeable or enormous and noticeable, composed of a single piece of fabric or stitched, and soft or stiffened. Pom-poms, fruit, feathers, ribbons, and diamonds can all be used as hat decorations. Some hats even have stickers and autographs as decorations.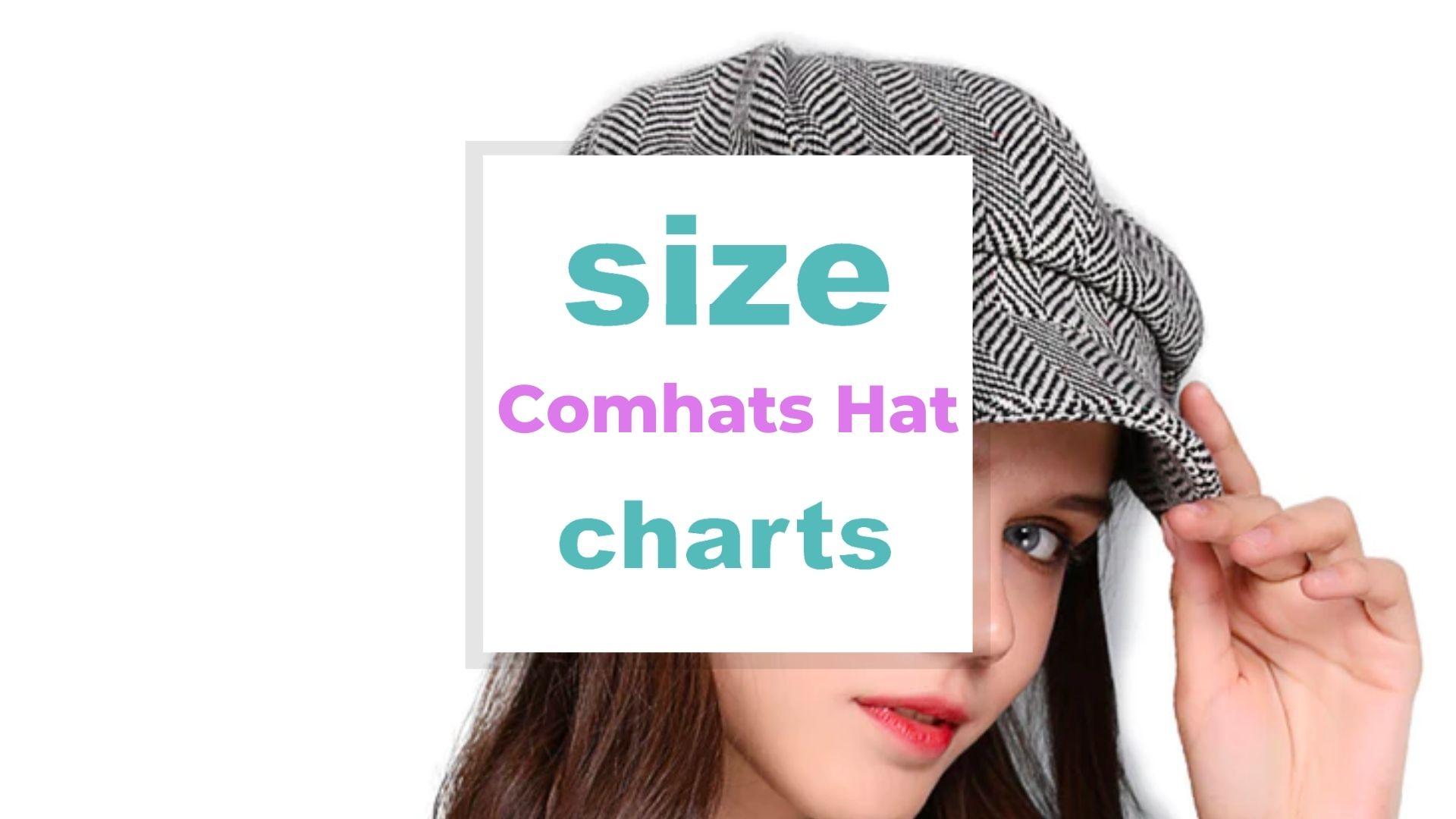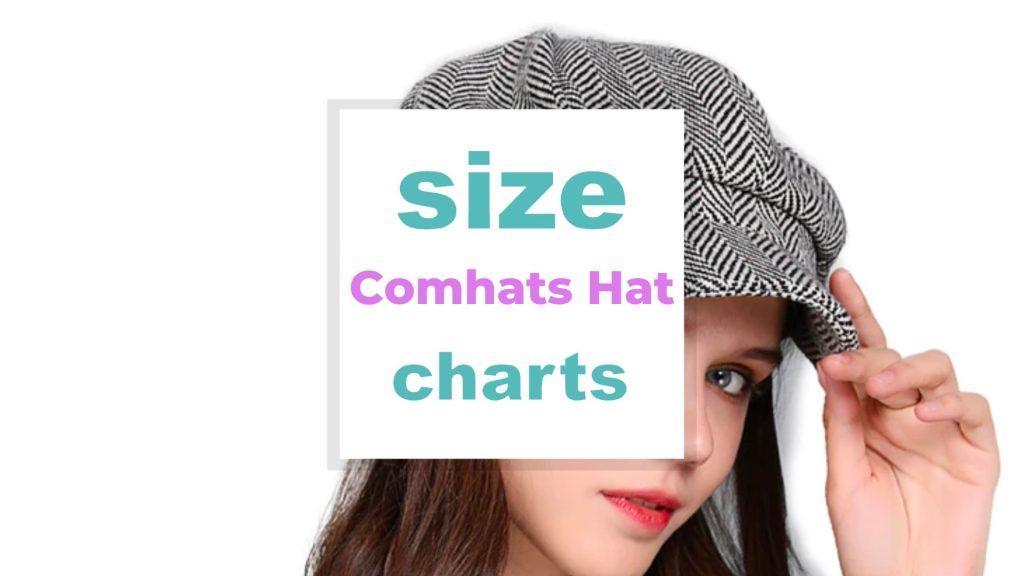 How to find the perfect hat style and material:
A Comhat's hat components all serve a purpose. The various parts of a hat add to the wearer's entire experience, whether it be through comfort, shade, or simple visual appeal. It's helpful to be familiar with common hat terminologies and forms, the most popular hat materials, and the various styles available before deciding which type of hat best suits the style and function you're searching for.
With these specifics, you can distinguish between hats like the fedora and trilby that are similar but have different purposes. In order to assist you to choose your ideal style, we've broken down the anatomy of a hat and provided useful information on various hat materials and terminologies.
Jump right into the Frequently Asked Questions
Related: Wallaroo Hat Sizes for Adults and Kids, Hat size chart and conversion table
Comhats hat sizes Table of Contents
Comhats hats adult size chart
Related: Lanzom Hat Size for Adult and Kids
| | | | | | |
| --- | --- | --- | --- | --- | --- |
| Head Circumference | | | | Adult Hat Size | |
| Inches | Centimeters | Fitted | Easy Fit | Sized Stretch Fit | Stretch Fit/Adjustable |
| 21 1/4 in | 54 cm | 6 3/4 | Small (S) | Small/Medium (S/M) | |
| 21 5/8 in | 55 cm | 6 7/8 | Small (S) | Small/Medium (S/M) | |
| 22 in | 55.9 cm | 7 | Medium (M) | Small/Medium (S/M) | One Size Fits Most |
| 22 3/8 in | 56.8 cm | 7-1/8 | Medium (M) | Medium/Large (M/L) | One Size Fits Most |
| 22 3/4 in | 57.8 cm | 7-1/4 | Large (L) | Medium/Large (M/L) | One Size Fits Most |
| 23 1/8 in | 58.7 cm | 7 3/8 | Large (L) | Medium/Large (M/L) | One Size Fits Most |
| 23 1/2 in | 59.7 cm | 7 1/2 | XL | Large/XL (L/XL) | One Size Fits Most |
| 23 7/8 in | 60.6 cm | 7 5/8 | XL | Large/XL (L/XL) | |
| 24 1/4 in | 61.6 cm | 7 3/4 | XXL | Large/XL (L/XL) | |
| 24 5/8 in | 62.5 cm | 7 7/8 | XXL | | |
| 25 in | 63.5 cm | 8 | XXL | | |
Comhats hats children size chart
Related: Childrens Hat size chart and conversion table
| | | | | | |
| --- | --- | --- | --- | --- | --- |
| Head Circumference | | Children's Hat Size | | | |
| Inches | Centimeters | Fitted | Easy Fitted | Stretch Fitted | Kids |
| 18 1/2 in | 47 cm | x | x | x | x |
| 19 in | 48 cm | 6 | XSM | x | x |
| 19 3/8 in | 49.2 cm | 6 1/8 | S | x | x |
| 19 3/4 in | 50.2 cm | 6 1/4 | S | S/M | x |
| 20 1/8 in | 51 cm | 6 3/8 | M | S/M | x |
| 20 1/2 in | 52 cm | 6 1/2 | M | S/M | x |
| 20 7/8 in | 53 cm | 6 5/8 | L | L/XL | x |
| 21 1/4 in | 54 cm | 6 3/4 | L | L/XL | x |
| 21 5/8 in | 55 cm | 6 7/8 | XL | L/XL | x |
| 22 in | 55.9 cm | 7 | | | x |
How to choose the right Comhats hats size
Related: Cowboy hat size chart for men, women and kids
Comhat sizing comes in three general sizes; Here, SM, MD, LG, XL, and occasionally 2 & 3X sizes are the most often used sizes. Half sizes are the second most popular size we offer on our website. SM/MD and LG/XL are the only sizes that are typically available.
There are even 2X sizes occasionally. The actual size in inches or centimeters is the more conventional exact measurement. You typically find this usual size on more expensive hats.
Men's Comhats hats
There are two standard sizes for men's hats and caps: numerical sizing and alpha sizing (small through extra large). Men's hats may occasionally be available in one size fits all. Hats that are one size fits all will typically fit heads that are medium/large or have a circumference of 21.5 to 23 inches.
The first step you should take when looking for hats with numerical or alpha sizing is to precisely measure your head using the instructions below. Use our hat sizing chart to choose the size after measuring your head's diameter.
Women's Comhats hats
Women's hats often come in one size that fits most. This shows that they produce the design in a single size that may be adjusted to fit a variety of head sizes between 21.5 and 22.25 inches in diameter. Despite this, hat sizes differ from designer to designer.
Certain hats will fit a smaller or larger head depending on the style. They may adjust some hat designs and come with an inside drawstring or band to help keep the hat in place.
For a woman, fashion may be just as important as functionality, and at Hats Unlimited, we work to balance the two by providing a huge selection of hat styles, sizes, and colors. We have everything you need in one spot, including baseball caps, fedoras, sun hats, and hats with floppy brims.
Kids Comhat hats
Parents are well aware that nothing is more crucial than looking after and defending their child. This is especially true for providing your loved one with sun protection. Your little one will stay trendy and protected from the sun with one of our wonderful selections of hats for kids and babies.
For your children's utmost protection and comfort, several of the hats have high UPF (Ultraviolet Protection Factor) ratings and soft fabrics. We provide a wide selection of knit caps besides the UPF types for youngsters and some more stylish choices like fedoras and ivy caps.
How to Measure Your Head
You should first get a measuring tape or a 25-inch string and ruler to determine your hat size by measuring your head.
After gathering your materials, complete these three quick and simple steps:
1. Measure your head: Wrap it evenly around your head until it overlaps, using your string or measuring tape. Keep it about 1 inch above your ears for the most precise measurement.
2. Find your size: After measuring the circumference of your head, measure the length of the string or measuring tape on your ruler.
3. Use our comhat size chart: Take your ruler measurement and look up the equivalent size on the chart to get your hat size. We often give the measurements on these charts in centimeters and inches. Adult hats typically range in size from 53 to 58 cm. We advise sizing up to the nearest 1/8-inch if your measurement falls between two sizes.
The hat's sizing tape can then adjust size if necessary. Although there is an industry standard, it is crucial to remember that every hat manufacturer is unique.
Depending on the firm that made the hat, there may be differences and discrepancies in sizing. To make sure you have the right fit, it's crucial to measure your head and consult the hat's specific sizing guide.
Finding the Right Hat at Comhats
Comhats are committed to assisting you in locating the type and size that you need, whether you visit one of several retail stores. They have a variety of size options either small or larger size for their product details. Using a tape measure to get your actual hat size and determine your head shape. Always go for an eye-catching style, for comhats summer hats.
Check out this video to learn more related to comhats hat sizes
Frequently asked questions
1. What are Comhats hat sizes?
Small: 54 to 55 cm or 21 1/8 to 21 1/2 inches.
Medium: 56 to 57 cm or 21 7/8 to 22 1/4 inches.
Large: 58 to 59 cm or 22 5/8 to 23 inches.
Extra large: 60 to 61 cm or 23 1/2 to 24 5/8 inches
2. How do I know my Comhats hat size?
Measure the circumference of your head by evenly wrapping a measuring tape or piece of string around it until it overlaps. For the most precise measurement, keep it about 1 inch above your ears.
3. How tight should a fitted hat be?
For the cap to fit around the head, it must be deep enough. The cap should fit your head size as closely as possible without being too tight, with a little extra leeway to prevent uncomfortable tightness. I never wear loose-fitting hats since they are so easy to lose.
4. What size hat does the typical male wear?
Different regions have different head shapes and sizes. The most popular size for men is 7-3/8, whereas the standard size for women is 7-1/4.
5. What hat size is large?
The "entry-level" large hat size is 7 1/2, but extends up to size 9 hats and beyond because the average head size for males is size 7 1/4 and for women is size 7, respectively. Large hat sizes are sometimes denoted by ranges such as 2XL, 3XL, and 4XL to ease hat sizing.
6. Will a comhats hat stretch over time?
It will naturally expand out when you wear a hat, and you'll become accustomed to the fit. This will allow you time to assess whether it feels too tight, too loose, or if adjustments are unnecessary at all.
7. Is a 23-inch head big?
A head larger than 23″ 3/8 would be considered large in the hat world.
Conclusion
Refer to our straightforward return policy if you accidentally ordered the wrong size hat or decide after placing your order that you'd prefer something else. If you notify us within 30 days of delivery, you may return or exchange any of our hats. We usually process returns in 14 business days or less after receiving the return slip and the hat.
Picture in this post is from Anil Sil Iti
Related to Comhats hat sizes