Ryanair Sizes: Luggage Allowances, Seats…
Ryanair luggage size requirements address different types of passengers, mostly priority passengers, and non-priority ones. A Ryanair cabin bag can fit many items, depending on your packing skills and the type of items you're carrying (skip straight to the Ryanair Sizes).
In any case, Ryanair has specific rules in terms of what kind of luggage/baggage you can take on board, and what should be checked in. Learn more about Ryanair Sizes in the article below!
Jump right into the Frequently Asked Questions
Related: China Southern Airlines Sizes, TUI Airways Sizes: Luggage, Seats…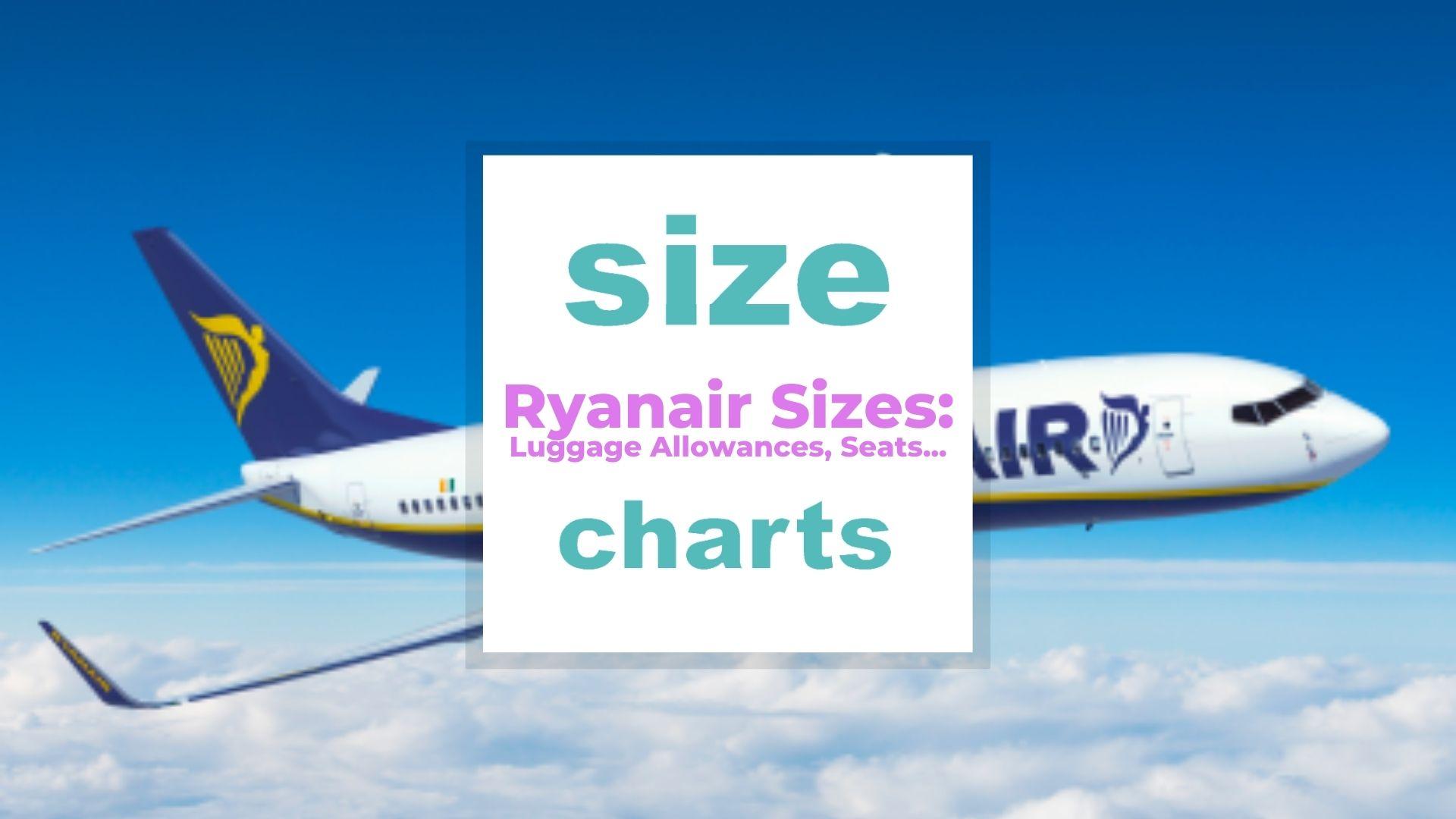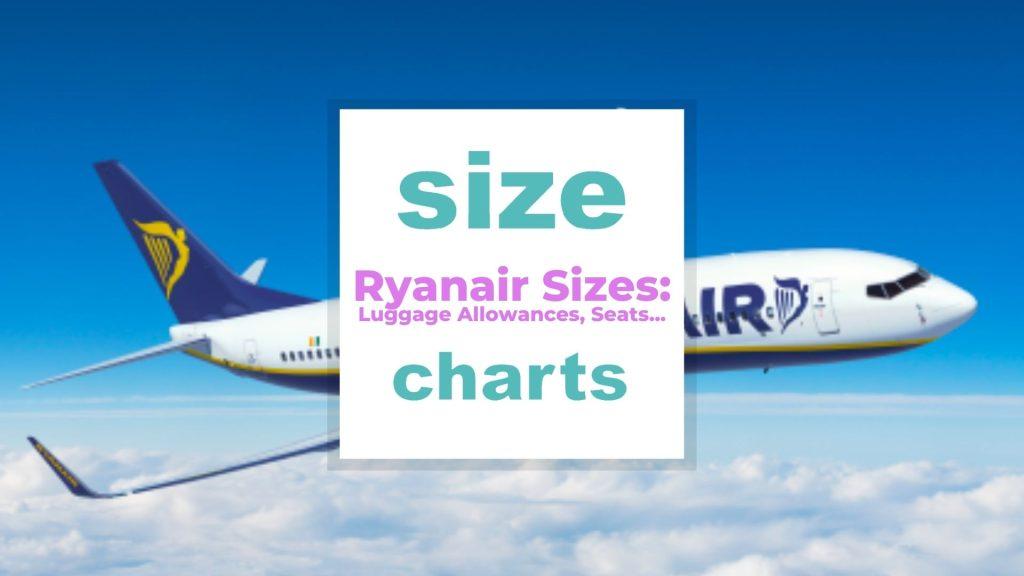 Ryanair Sizes Table of Contents
Ryanair size charts
Related: Air Canada Sizes: Luggage, Seats…, American Airlines Sizes: Luggage, Seats…
Ryanair luggage Allowance
Class
Dimensions (cm)
inches
Weight (Kgs)
Lbs
Cost
Best Match
Cabin Baggage Allowance
40cm x 25cm x 20cm
16 x 10 x 8
10kg
22 lbs
Free
Aerolite Holdall Cabin Luggage
Checked Baggage Allowance
55cm x 40cm x 20cm
22 x 16 x 8
10kg
22 lbs
Online: €6
Aerolite Lightweight Hard Shell Cabin Suitcase
(priority) = ( both cabin & checked )
 
 
 
 
Online: €13
 
Checked Baggage Allowance
81cm x 119cm x 119cm
32.4 x 47.6 x 47.6
10kg-20kg
22 – 44 lbs
Online: €25
 
Airport: €40-€50
 
Excess Baggage Allowance
81cm x 119cm x 119cm
32.4 x 47.6 x 47.6
30kg
66 lbs
Online: N/A
 
Airport: €11 per kg
 
Seat sizes
Related: Etihad Airways Sizes: Luggage Allowances, Seats…
| | | | | | | |
| --- | --- | --- | --- | --- | --- | --- |
| Seat | Type | Width (inch) | cm | Pitch (inch) | cm | Location |
| Standard | Leather | 17 | 42.5 | 30 | 75 |   |
| Front Seats | Leather | 17 | 42.5 | 30 | 75 | rows 2-5 |
| Extra Legroom Seats | Leather | 17 | 42.5 | 32 – 34 | 80 – 85 | (Available at seats 1A, 1B, 1C, 2D, 2E, 2F, and rows 16-17. |
What size are Ryanair cases?
Related: Aeroflot Sizes: Luggage Allowances, Seats…
Ryanair luggage size requirements address different types of passengers, mostly priority passengers, and non-priority ones. Non-priority passengers only carry a small Ryanair bag of 40x20x25cm. Priority passengers, on the flip end, are at an advantage to carry one more bag measuring 55cm x 40cm x 20cm with a weight of up to 10kg or 22 pounds.
The above options are viable when traveling as one person. The checked baggage 81cm x 119cm x 119cm has a weight allowance of between 10 and 20kg whereas excess baggage 81cm x 119cm x 119cm can weigh up to 32kg.
If you're traveling as a family, the airline has a FamilyPlus option. This is where kids get free tickets as you enjoy a 40kg luggage weight requirement. Each passenger can bring on board an additional 10kg free Ryanair under-seat bag. That said, you want to make the most out of the airline's hand luggage policy by using every square inch of your bag.
A Ryanair cabin bag can fit many items if you know the right way to pack it. You can replace your heavy towel that would drastically eat into almost half the size of the bag with a microfiber towel that can be folded to the size of a tissue. Take time to choose items that you will really need. If you have more luggage to carry, you have the option to buy an extra bag which you'd better buy when booking rather than at the airport.
What are the general luggage size guidelines for Ryanair?
Related: Air France Sizes: Luggage, Seats…
One small Ryanair bag measuring 40cm x 20cm x 25cm is free of charge and can be used to carry all your personal valuables for a small trip. Anything more than this size may attract fees to have the bag checked in.
If traveling with an infant younger than 23 months, you're allowed to bring on board a 5kg baby bag. Older kids who are sitting on their own seats will have a 10kg baggage allowance.
If bringing along musical or sports equipment, its weight must not exceed 20kgs.
Passengers with priority and 2 cabin bags bring along a bigger bag than the 40cm x 20cm x 25cm, 10kg bag. The extra bag is 55cm x 40cm x 20cm in size.
While big people or passengers looking for comfort can secure the emergency exit seats, only 16-year-olds and older, people who don't need any form of special assistance, and their size does not require an extender seat belt or an extra seat may be allowed in.
If your luggage is overweight and exceeds the required baggage dimensions, you can either buy another bag at the airport or pay an extra fee for your current bag to be checked in.
What size bag is free on Ryanair?
Related: Turkish Airways Sizes: Luggage, Seats…
40x20x25 cm bag. The size comes in different shapes depending on the client's preferences. Regardless, the bag should fit under the seat in front of you. A good example is the Aerolite cabin bag. This is a sturdy, hold-hand, cuboid-shaped bag that is comfortable to carry and fits pretty well under the seat.
The bag can carry all your valuables including electronic gadgets, passports, and money, without taking the shape of the items. The bag has outer pockets where you can place items that you'd need from time to time during the flight.
A Ryanair free bag is big enough to carry up to 3-day's exchange of clothes if they are well-packed and lightweight. For instance, a white shirt or black shoes would go with all of your outfits. Look for accessories that could match all your outfits as well, instead of bringing on board all of them and ending up not using them.
But what if your bag weighs more than the airline's requirements for free baggage? Your bag will be placed on hold as you face a fee of 50 euros or more.
Learn more about Ryanair Sizes in the video below
Frequently Asked Questions
How strict is Ryanair about the carry-on size?
Ryanair is famously more strict than any other airline in Europe when it comes to travel size. The airline is so strict that even if you're within their baggage requirements, you might attract problems for some petty infractions.
You realize that it pays to come prepared than having to repack at the floor in front of judgemental stares from other passengers. You can be forced to trash some items because they just can't be allowed on board.
While Ryanair allows for carry-on bags, the farthest you can go is 22 pounds. This means that even a gram above this weight will have your bag on hold and force you to pay a check fee at the gate.
In many instances, you may carry the correct carry-on bag size but still, find yourself in problems with the baggage handlers. This happens when you carry a soft-sided bag instead of a hard-cased one. A soft-sided bag will bulge at one side or lean forward when placed in an upright position.
Instead of having problems when you thought you were safe, why not get a sturdy or hard-cased Ryanair carry-on bag whose shape will be constant and size not altered by what's inside?
What are Ryanair sizes in terms of priority and 2 cabin bags?
One bag is 40cm x 20cm x 25 cm and has to fit under the seat in front of you. The other bag's dimensions are 55cm x 40cm x 20cm. This is mostly a wheelie bag weighing not more than 10kg and can fit into the overhead locker. This option only goes for priority passengers who would like to travel a little more heavily. The option comes with added costs and can be more or less affordable, depending on when you choose to go for the option.
When booking, the bags are way cheaper and will help you save about 20 euros. However, shifting to this option late will take you through so much hassle from getting very expensive bags and added costs to having them checked in. Note that the earlier you book for this option the more cost-effective it will be.
Besides, passengers can choose to carry along their musical instruments. Ryanair only allows for small instruments such as cello, violin, guitar, and the like. This happens when you purchase an extra seat on which you will place the instrument. You'll be required to indicate the instrument you're bringing on board and enter "EXTRA" as its first name and its name for example "VIOLIN" as the surname.
How big are economy seats in Ryanair sizes?
There are different Ryanair seat sizes per class. The economy class seats are 17" (43.2 cm) wide, which is the distance from one armrest to the other. The seat's pitch (distance from the back of the seat to the tray table) measures 30 inches or 72 cm. The seat depth is 22.8 inches (58 cm) and 27.2 inches or 69 cm in height.
People with a regular body size will comfortably fit in there. The seat also has a good leg room that's 101.6 cm (40 inches) in measurement. You don't need to worry about this if you're taller because you have the option of booking a front seat or getting an extra legroom seat. Additionally, the seats don't recline, which makes it a little bearable for tall people.
The seatbelts are 30 inches long, some being extendable for the sake of huge people. Moreover, you can book an extra seat if you crave more comfort. The legroom of the seats in the emergency exit section is bigger to make it easy to stand and leave during emergencies. The seats are, however, restricted to healthy adult passengers. You may also get a seat if you're not as huge as to need a seatbelt extender.
How wide are the seats in Ryanair sizes?
Ryanair seats are 43.2 cm wide. This is enough space to accommodate an adult with a regular body size or a kid with a big body. If you're big-bodied, be sure to get an extra seat. The booking happens up to 2 hours before the flight but the earlier the cheaper and more seamless the booking will be.
When booking your seat, you'll see the "Reserve a seat" option. Click on the option and select the seat on the seat map. The price of the seat will pop up and the box representing the seat will be highlighted with a different color. If you like the price, go ahead to make payments so that your extra seat is reserved.
The bigger the seat or legroom the more costly it is. Likewise, getting a front seat will force you to add a few euros to the price you'd pay for standard seats. These seats are in high demand and difficult to secure when booking so late.
What are the toiletries sizes for Ryanair?
There are strict limits on Ryanair toiletries sizes. A passenger is only allowed to carry specific liquids, gels, and aerosols in transparent and re-sealable plastic bags measuring 20cm x 20cm. The bags are required to have a capacity of 1 liter (nothing more).
Each liquid must not exceed 100ml (3.4 ounces). The toiletries should adhere to the 3-1-1 requirements. Mind you that toothpaste and some accessories like lipstick and mascara are considered liquids.
Hence, you might not carry as much liquid as you need. To avoid the pain of leaving your accessories in the airport's trash cans, carry only what you would need for the trip.
What are the Qantas seat sizes per class for Ryanair?
Ryanair economy class has some comfy Qantas seats with a 30 inches pitch (76.2 cm) and a 43.7 cm width. The seats have an added comfort option as they recline up to 5 inches backward. The headrest is also four-way adjustable.
The business class seats provide as much comfort as you would need to unwind after a hectic morning or day. Designed with the Qantas' Marc Newson style, the seats are 55 cm (22 inches) wide (the distance between armrests) and have a pitch of 37 inches or 94cm in width.
Passengers also have extendable legroom and a footrest attached to it. For this option, you're able to book an extra seat about 2 hours before the lift-off.
Conclusion
If you're tired of paying extra fees every time you fly, remember that baggage size is everything. Use lightweight, hard-cased bags that will not change in shape to attract these fees. This bag will also fit the metal case perfectly. However, remember that a hard-cased bag is a little heavier than its soft-cased counterpart. Using soft-cased bags is only safe if your items have a stiff fabric to make the bag have a definite shape.
Choose wisely what you want to end up with. Priority passengers too will need to stick with the baggage requirements and not have even an inch more than the required size.
Please ask any questions you might have in the comments and we'll be happy to assist.
Picture in this post is by Kevin Hackert on Unsplash
Related to Ryanair sizes