How to adjust your Birkenstock for Great Fitting
This post was last updated on September 4th, 2023 at 09:05 pm
Why Birkenstock uses 2 widths?
We're all human beings and come in different sizes, including our feet. Most of the Birkenstock models come with adjustable straps: in this post, we go deep in how to adjust your Birkenstock for a great fitting
As one of the most comfortable sandals on the planet for decades, Birkenstock offers the original footbed in two widths:
– Regular width: For normal to more robust feet,
– Narrow width: For small to slender feet.
The right fit partly realizes a constant daily comfort guarantee.
Your feet remain in the proper position and, as a result, prevents pressure points, aching feet, or even the severe misalignment of your feet.
You can consult the complete size guide and conversion chart on the dedicated Birkenstock page.
Use of the Birkenstock shoes
Birkenstock evolved from a sole comfort sandal brand into a multidisciplinary footwear brand.
The sandals are used as house, walking, daily, or work shoes in hospitals.
Casual and daily Life shoes can be adjusted with its' very recognizable straps.
Shop the full range of Birkenstock Classics like Arizona, Boston, or Zurich here.
The pages and collection for professional use can be found here.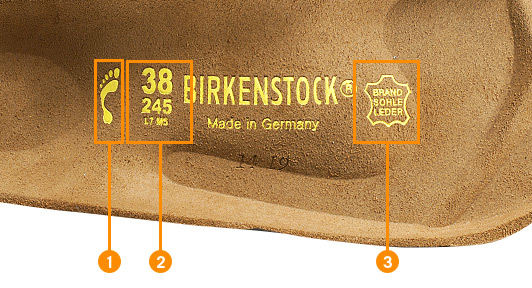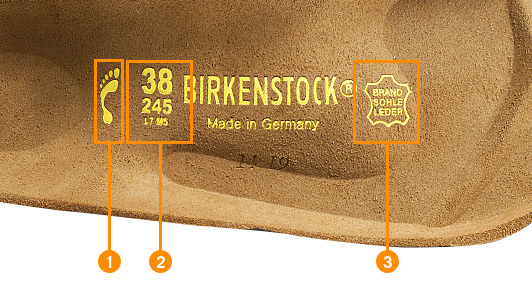 The label indicates the width indicator icon (Narrow or regular)
The European size
The Metric size in Millimeters
The US Size where L stands for Ladies and M stands for Men
Leather insole sign
Here's how you properly adjust your Birkenstocks
Your Birkenstocks have finally arrived? Or you're buying your Birkenstocks at your local shoe store?
Take your new favorite pair out of the blue shoe box and open all the straps.
Slide your feet into the footbed with the straps open.
You'll know you have the right fit if there's a few millimeters of space at either end of your foot. Your feet should also comfortably fit within the shaped footbed and not come over the edges.
Fasten the straps: the straps should hug your feet without being too tight or leaving pressure marks. Make sure you don't fasten the ankle strap too tight; otherwise, your feet will slide too far forward.
Walk a few steps: If the straps are too tight or loose, adjust them once more. You'll know they fit perfectly when you have comfortable freedom of movement, and there's no friction between your feet and the edges of the footbed.
New Birkenstocks love to be broken in! Don't wear the shoes for more than a few hours at first until you get used to the footbed. Then gradually wear them for a bit longer until you're so comfortable in them you'll never want to take them off again!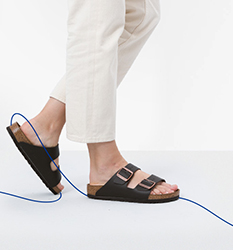 How do the Birkenstock Sandals and shoes fit?
Birkenstocks tend to be spacious. The first time you try them on, your sandals might feel big. Most people are okay with a regular fitting, but if your foot moves side to side when you walk and adjusting the strap does not help, you better choose a narrow fit.
A general conclusion is that after wearing the Birkenstocks for a couple of hours, you never want to take them off. They are fitting perfectly when you find your size.
Should you consider to size up or down with the Birkenstock Sandals?
The Birkenstock Sandals fit true to size. Considering a size up or down is really a personal choice and depends mainly on understanding where your arches touch your sandal.
That is the key to correct fitting.
Is the Birkenstock Sandal a comfortable shoe?
Yes. No extra info is needed. The company is 225 years + on the market, and comfort is their middle name.
The dedicated Birkenstock Size Charts:
The picture in this post is by Birkenstock