Printable Shoe Size Chart – How Do I Measure my Foot Size?
This post was last updated on April 14th, 2023 at 02:58 pm
A printable shoe size chart is the best way to have an accurate shoe size measurement before going shoe shopping. A printable shoe sizing guide is always in PDF format and can always be opened, viewed, and printed with an Adobe Acrobat reader. A preview of each chart is presented below and a link is provided to the proper format.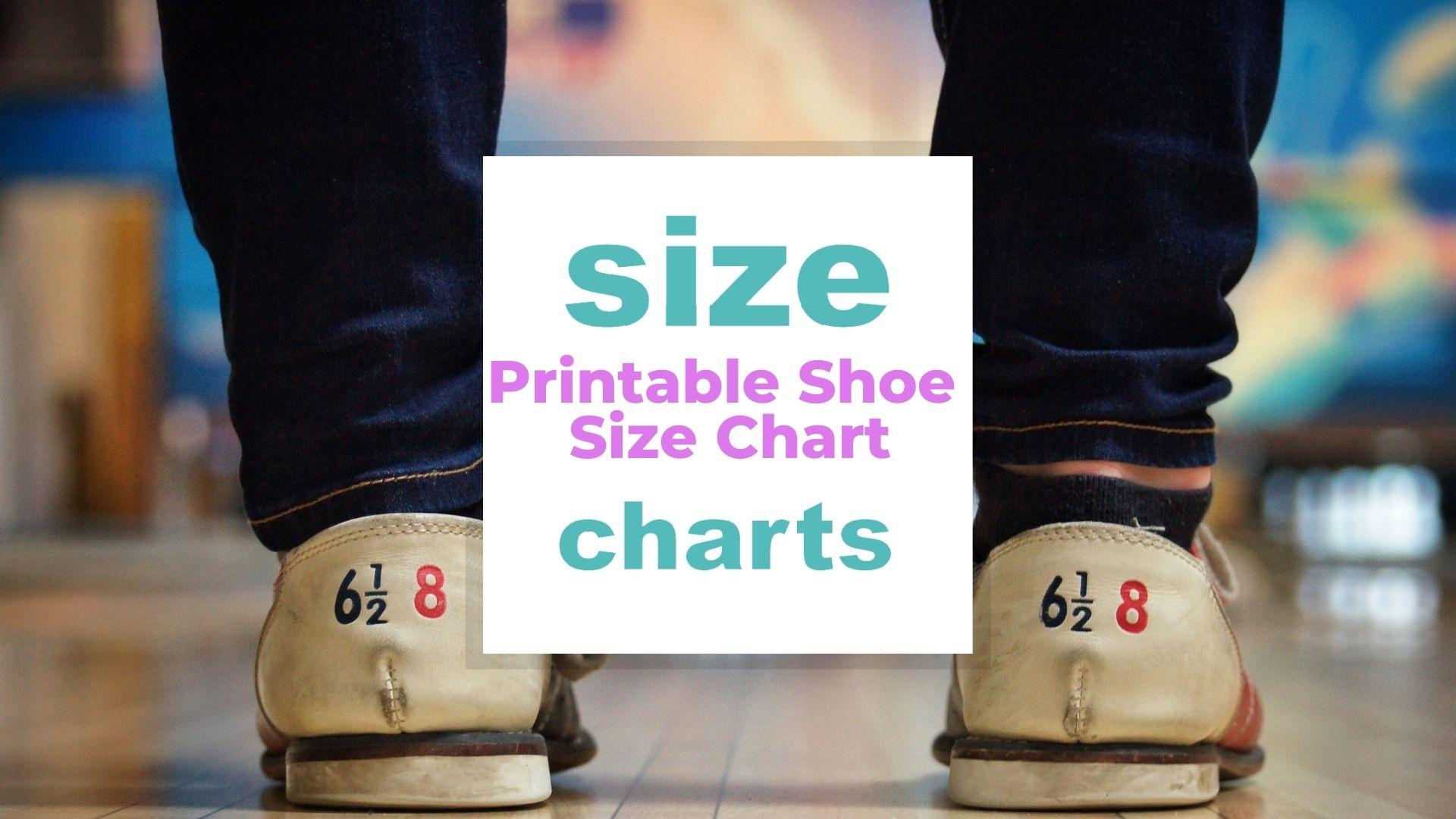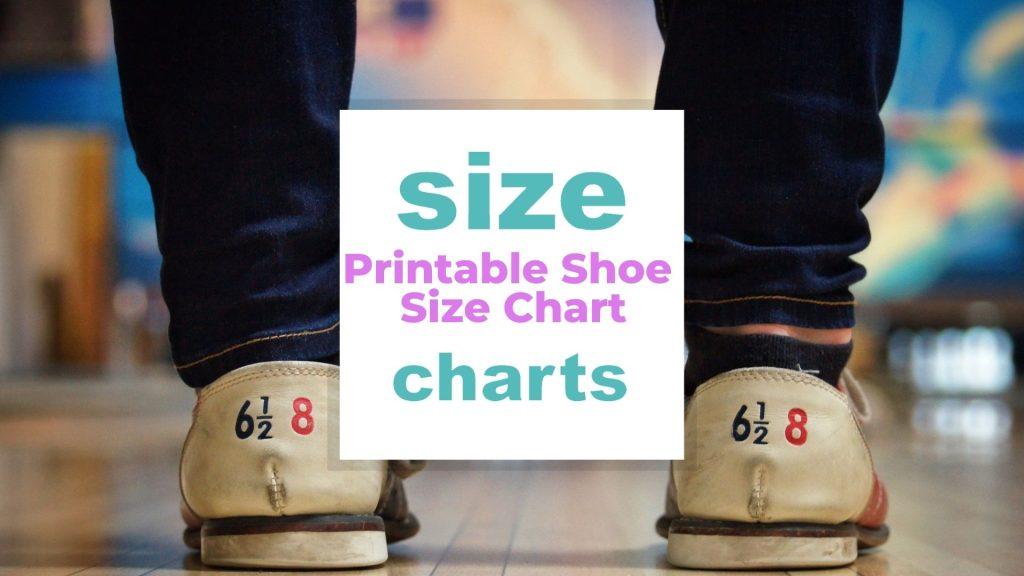 Jump right into the Frequently Asked Questions
Related: Printable Ruler In Cm: Make it Yourself, Printable Measuring Tape: Do It Yourself, Printable ruler in inches with free download and tips, Printable Ring Size Chart and Measuring Tips
Table of Content of Printable Shoe Size Chart
Printable Shoe Size Chart for Children
Related: A Guide To Birkenstock Kids Size Charts, Skechers Kids shoe size Charts, Youth shoe size chart – US – UK – EU sizing, Guide for Nike kids shoe sizing
A printable baby shoe size chart and a printable toddler shoe size chart are best printed in several copies. You might have to measure more than once to get the correct size shoe for children.
This guide to shoe size is from the Zappos kid shoe segment. It was handpicked out of dozens of kids' shoe size guides due to its confirmed efficiency by shoe sellers and shoe stores. This is the preview of the chart and the pdf file that you should print is right here.
Printable Shoe Size Chart For Men
Related: Carhartt Workwear size chart for men and women, New Balance nurse shoes size – all sizing charts for nursing shoes, Shoes for crews size chart for men and women's work shoes
Shoe size systems of adult shoes are all based on the average foot width of a healthy foot. Narrow and wide shoes comprise a smaller market segment and are best measured in a shoe store.
Here is a preview of one of the best charts around. The chart from Roadrunner Sports can be printed here.
Printable Shoe Size Chart For Women
Related: Guess Shoe Size Chart, Balenciaga Track Size Chart and Fitting, Heels size for wide feet – with easy to use sizing guides and charts
Women with flat feet are usually worried about wearing the wrong shoe sizes. Flat feet don't count as deformed feet. Any previous foot pain has to do more with using your feet. Flat feet naturally get tired quickly, but look on the bright side, they provide a better equilibrium.
Flat narrower feet manage to give more stability than arched wider feet. A printable chart can still find your shoe size, irrespective of the style of the shoe.
Here is a preview of the chart from Roadrunner Sports and the actual chart can be downloaded and printed here.
How do I print the charts?
Related: How to Stretch Your Shoes That Are Too Tight
To save yourself the hassle of having to print regularly and trying repeatedly. It is advisable to try these few tips.
1. Print just one to check if your printer's default settings are ok.
2. If the default settings are good enough, the "credit card" section will be exactly the shape and size of a typical credit card. In this case, feel free to print as many copies as you need and use the chart as it is.
3. If the credit card doesn't fit properly into the space marked for a credit card, then print again but this time select "fit to page" as your scaling option. Since you are using an A4 paper (International standards) or letter size paper (ASCII standards) the entire page will be able to scale the charts properly.
You must also print the actual pdf file and not the images on this article. The images here are for reference purposes only.
How can I measure my shoe size at home?
Related: How To Measure Your Foot Size & Width, Different Shoe Sizing Systems explained, Understanding Shoe Sizing: a complete guide with easy to use size charts
To measure your foot length at home you can use the conventional methods or you can use the printable size charts here.
To use the size chart, try to follow these tips on shoe sizing:
1. Print the chart out on an A4 sheet of paper or a letter-size sheet of paper. The difference between the two paper sizes won't affect your foot measurement. Any other sizes of paper will affect your foot measurement.
2. Print two copies every time you print, one for each foot.
3. Measure both feet every time you use a printable shoe chart and always use the larger foot to decide the size of the pair of shoes you buy.
4. To increase accuracy, measure your feet regularly, some suggest once every six months.
5. Keep your foot parallel to the lines that your feet will be on top of. Shoes tilted to one size are a good recipe for buying the wrong shoes.
Learn more about how to measure your foot at home (Video)
Frequently Asked Questions
How do you calculate shoe size?
Printable shoe size chart templates don't have to calculate anything to know your true shoe size. That is the beauty of a printable chart. Just print, place your foot in the chart and go buy the shoe with the same number on the shoe as the chart shows. If the chart is in a different foot measurement, you might have to use a shoe conversion chart. We have included one of such charts, just in case.
Is there an app to measure my foot size?
FeetMeter App from VisTech is a simple and accurate app for foot measurement and shoe size estimation. Then there is Xesto Fit, a 3D foot sizing app recommending shoe sizes across about 200 brands. Users can scan their foot size using the iPhone FaceID camera.
If you are using android, FeetMeter is still a good and valid option.
Conclusion
Remember to print more than one of the sheets and to measure both feet. Luckily enough the charts we provided are not footed-sensitive. They can be used interchangeably with either of your feet. If you print a shoe chart that can't be used interchangeably, there is an easy way out. These types of feet-specific charts usually have the shape of either of the feet mapped out on it.
First, measure the feet that are mapped and then turn the paper to the other side and using the other side measures the other feet.
Well, that is all there is to using a printable chart. If we missed anything, please let us know with a comment, and please share with the article.
Picture in this post is by Manki Kim on Unsplash
Related to Printable Shoe Size Chart