A Guide To Birkenstock Kids Size Charts
This post was last updated on September 29th, 2022 at 09:28 pm
If you want to combine comfort, robustness, and aesthetics in a pair of shoes, Birkenstock is the one for you! To maintain and promote healthy feet in the best possible way, your kid's Birkenstock sandals must fit perfectly. The German brand is known worldwide; it will satisfy your girl's or boy's tiny feet. Birkenstock children's shoes are popular with parents looking for the best for fragile, fast-growing feet. This post will help you find the right fit in the Birkenstock Kids size charts.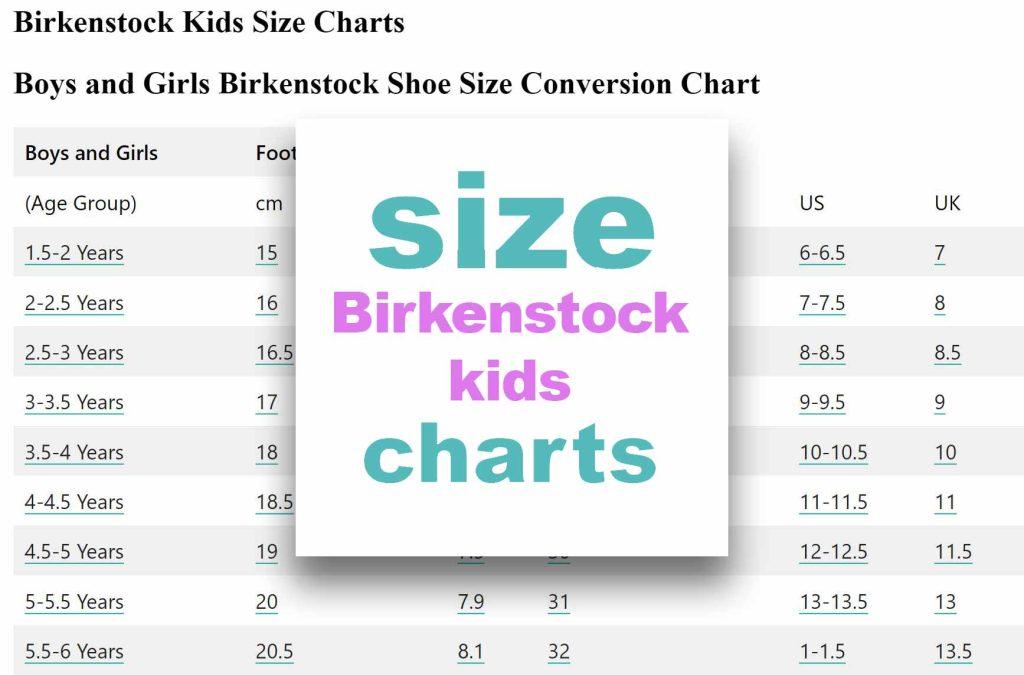 2 Methods to get the best Birkenstock Sandal size for your newborn, infants or kids: There are two proper methods to find out the accurate sandal size of your newborn or kids.
Birkenstock Kids Size Chart Summary:
Method number 1: Birkenstock Size Charts and Size Conversion
The first method is to read the charts and get the proper idea of Birkenstock sizes for your newborn or kids. The charts will help you to get a better understanding of your newborn baby's or kid's shoe sizes based on their ages.
The shoe size of your newborn baby or kids may vary from the information given in the chart. The age indication is only as a reference because some babies or kids grow very fast and some grow slower than normal babies or kids, that's why there may be some variation of results. Then apply the second sizing method below.
<< Check the Birkenstock size guide for the whole family size charts here >>
Get yourself a pair of kids Birkenstocks
Recommended Retailers selling a big selection of Birkenstock kid's sizes shoes by size-charts.com
Related: Kids Shoe Size by Age: get your child's shoe size with easy size-charts
Birkenstock Kids Size Charts
Kids Gizeh, Arizona, Milano and Mogami birkenstock size conversion
Boys and Girls Birkenstock Shoe Size Conversion Chart
Recommended Retailers selling a big selection of Birkenstock kid's sizes shoes by size-charts.com
Women's to Kids Birkenstock Shoe Size Conversion Chart
Birkenstock Shoes Size Conversion Chart for Kids: Width
Recommended Retailers selling a big selection of Birkenstock kid's sizes shoes by size-charts.com
Birkenstock Shoes Size Conversion Chart for Teens and Women: Width
Birkenstock Kids size charts explained (video)
About Birkenstock
The German shoe brand Birkenstock is characterized by 100% natural materials to manufacture comfortable footwear that adapts to the foot's natural shape and lasts much longer. Birkenstock's special insoles allow the body's weight to be distributed evenly over the foot's entire sole, offering comfort and complete freedom of movement. One of the keys to Birkenstock's success is that it offers the possibility of choosing the Birkenstocks Toddler shoe size, as usual, and the most appropriate length for the toes, thus achieving the perfect shoe for each foot. The Birkenstock brand also offers the possibility of being fashionable with its varied collection of shoes for kids. You can find sandals, clogs, flip flops, mules, and many more options.
Why is it Important to Buy Right Sized Footwear for Your Kids?
Footwear serves two functions. The first refers to the protection it gives to the foot when it comes into contact with the ground. The second is to the support or support to maintain an adequate posture of the organ. But, when used improperly, it can cause irreversible negative consequences in gait or bad posture acquisition such as deformities, trauma, abuse, and injuries.
If the Birkenstock Newborn shoe size is small, lacking support and muscle retractions are generated. The march is going to be painful and ineffective. By removing the shoe, you can generate pressure areas that injure the skin or tissues after the shoe.
Shoe and the Ideal Size
The sole of the baby's foot is made up of fatty tissue, ligaments, and cartilage; for them, the use of shoes made of fabric is recommended to protect them from the cold and possible injuries. 
Generally, after the year, they begin to walk. As they grow, the muscles become more robust, and collective motor control develops. 
For walkers, the shoes should be more resistant and cover both the ball of the foot and the heel. The shoe should be half an inch longer than the child's foot. Thus, there must be a centimeter of space, from the tip of the child's toe to the shoe front, so that the toes can move freely.
After 3 or 4 years, as the little one rests on the ground, the plantar arch forms. At this stage, in addition to making the measurement described above in Birkenstock kids shoe size guide, the Birkenstocks Toddler shoe size can be calculated. 
Forms and Materials
At the age of 1-5 years, kids should wear shoes that have an elevation in the internal arch, a buttress in the internal part, and an elevation in the back of the foot (behind). That is to say, that they are type boots.
Best Birkenstocks Kids Footwear to Buy
Birkenstock Rio Kids Eva Rubber Pool Sandal
Your child will have his foot well supported with these water sandals thanks to the double buckle closure. BIRKENSTOCK launches every summer its rubber pool and beach shoes with strap on the upper and on the instep with buckle adjustment. The sole is anatomical, light, and non-slip. They are available in different colors, blue, navy, silver, fuchsia, green, and orange. To combine with swimsuits or bikinis, Birkenstock water sandals are super comfortable thanks to the anatomical sole. They can be put into the water thanks to the support.
Birkenstock Arizona
The absolute classic with two straps under the Birkenstock sandals, which we found quite late. We bought the first pair in Hamburg in the Birkenstock store. We wanted to try the real leather version instead of the usual Birkoflor. The hold is pleasantly firm thanks to the two straps, so Birkenstock Arizona is also great for long walks and excursions. The leather feels harsh than the Birkoflor. Still, you can see scratches more quickly, which is actually quite lovely, especially with leather. This model has become a loyal companion on vacations and trips.
Walk On Clouds with the Children's Birkenstock
You know children; they have the art of the nickname. So, we are not surprised if they name their favorite sandals the "Birks." Like us, they love their quirky look and unrivaled comfort. Made from natural materials, all models are designed so that our children's feet are perfectly supported. From the first walking steps to the first bike rides with friends, they are present. Girls love the contemporary look of colorful sneakers. Boys put on high sneakers that have nothing to envy their father's desert boots.
A summer without "Birks" Is Like A Vacation without Ice Cream
On sunny days, Birkenstock sandals follow them step by step. Girls love multicolored models. Their vibrant colors go perfectly with their hair barrettes and incidentally with their shorts and top. The coquettes, to imitate mom, will prefer silver leather thongs and white soles to put on with a white dress. And your little guys, never stingy with 400 shots, will shoe a classic model with beige Bermuda shorts and a checked shirt. Birkenstock shoes are a state of mind, a lifestyle marked by freedom and relaxation.
Recommended Retailers selling a big selection of Birkenstock kid's sizes shoes by size-charts.com
Frequently Asked Questions about Birkenstock Children's Shoes
Do podiatrists recommend Birkenstocks?
Yes. Most podiatrists recommend Birkenstock footwear.
Do Birkenstocks mold to your feet?
Yes. Birkenstocks do mold to your feet with wear. How? Birkenstock footbeds are made of natural matarials like cork and latex which, with wear, mold to your foot's own shape. This will make your Birkenstock shoes even more comfortable the more you wear them.
What Are The Appropriate Shoe Sizes For A Newborn?
The first shoes that we put on the newborn baby start in size 16 and go up to size 19 or 20! From the age of nine months, your baby will begin to lean on the floor and want to take their first steps, so the time to put on baby shoes with soles. This phase begins to take its first steps until the two years that it walks with total freedom. We will have gone through sizes from 16 or 18 to size 24.
What Footwear Should We Avoid For The First Steps?
Avoid all kinds of shoes without support, since at this stage, apart from being for aesthetics, they need shoes that support them and can walk without forced postures. Boots with a cane that is above the ankle should also be avoided.
Do not abuse sports shoes or water shoes such as flip-flops or sandals. This type of children's footwear must be worn on necessary occasions.
How Should Baby Shoes and First Step Shoes Be?
In baby shoes, it is vital to consider the width and instep of the baby's foot to choose the right Baby Birkenstocks shoe size according to the closure. For babies with narrower or wider feet, buckle, Velcro, or lace closures will fit better than button ones, leaving the latter for babies with standard width feet. The first steps and crawling stage is one of the most important in the growth and development of your baby, so reasonable first steps baby shoes should accompany it according to this moment. 
What Sizes Are BIRKENSTOCK Children's Shoes Available In?
BIRKENSTOCK sandals, clogs, and lace-up shoes are available in all standard sizes. Customers can choose between two widths to experience the optimal fit in the BIRKENSTOCK online shop. Most BIRKENSTOCK children's shoes are available in "normal" and "narrow" widths. Very delicate children's feet benefit particularly from this. When buying, you should make sure that the foot is embedded in the footbed shape and that there is still room for the toes. When walking or standing, neither toes nor heels should be constricted.
How to measure your feet for Birkenstock kids sizing?
How do i know my kids' Birkenstock size?
How to understand shoe width with more parameters can be found here.
Find out How to measure your shoe size correctly here.
10 easy steps to measure your feet correctly:
Measure your feet in the afternoon.
Your feet swell during the day. It's best to measure your feet at their fullest
Stand When Measuring
When in a wheelchair there's no pressure on the feet, so it's unnecessary to stand up.
Wear socks
In many shoes you most probably wear socks. Make sure you wear socks when you measure your feet.
In case of Birkenstocks, your kids mostl don't wear socks, so you can skip this step.
Be precise
Measure both feet
Measure your left and right foot separately as they're not the same length. Take the biggest measurement to determine your shoe Size
Stand on your piece of paper
Keeping your body weight over your foot, trace a thin line around the outside of your entire foot.
Start drawing
When drawing the line, hold the pen perpendicular to the ground.
Measure the length of your feet
Measure vertically down the length of your foot tracing. This is your foot length.
Find your width fitting by drawing or with measuring tape
Measure horizontally across the widest part of your foot tracing. This is your foot width.
Determine your shoe size in the conversion charts
Start from the measurement in inches or centimeters and define your size in the charts for your children
Tips For buying Birkenstocks for newborn or kids:
Tip number 1)
You must add 0.3 – 0.5 inches in the original size of the baby's shoe. It is because babies grow faster and give their feet enough space to grow well. Don't restrict them because it can cause serious problems in the long term.
Tip number 2)
It is better to choose the longest measurement you got in measuring shoe size for your newborn babies or kids. 
Tip number 3)
Newborn babies and kids grow faster, so make sure to measure their shoe size often. It is also recommended to measure the shoe size of your newborn babies or kids repeatedly after 2-4 months.
Tip number 4)
If you plan to wear shoes along with socks to your Newborn babies' or kids, you must measure the shoe size after wearing the socks to get the idea of additional width and length for proper fit.
Tip number 5)
It is advised to identify and make sure the standard sizes are correct for you because standard sizes may vary from country to countries such as the US, UK, or European size.
Tip number 6)
AS we guided you about Different standards of shoe sizing. Make sure to remember that that UK shoe sizes are usually just one-half size lower than US sizes.
Recommended Retailers selling a big selection of Birkenstock kid's sizes shoes by size-charts.com
Nike Kids Shoes Sizing FAQ
Which shoe size is recommended for a 2-year-old and 3-Year-Old kid?
The recommended shoe size for 2-year-old kid for both boys and girls are US 6C according to a foot length of 5 1/4″.
Generally, you can expect a 3-year-old shoe size to be between 8-10 in little kid shoes or toddler shoes, but we always recommend measuring their foot properly to make sure you have selected the right size shoe for their particular needs.

Which shoe size is recommended for 4-years-old and 5-Year-Old kids?
The recommended shoe size for 4-years-old kid for both boys and girls is US11 according to a foot length of 6 7/8 inches and 12.5C for a 5-Year-Old kid. we always recommend measuring their foot properly to make sure you have selected the right size shoe for their particular needs.

What Age Do newborn babies' or kids Feet Stop from Growing?
As usual, girls foot grows by the age of 13. But in the case of boys, it usually takes longer to grow, so their feet usually keep on growing until the age of 15 years.
How Fast Do newborn babies' or kids Feet Grow?
Newborn babies foot grows about 1 inch/year until the age of 2 years. Then from the age of 2 years – 5 years, their foot grows about 0.75 inch's/year and from the age of 6 years – 11 years grow about 0.5 inch's/year. That's why we always recommend measuring their foot properly to make sure you have selected the right size shoe for their particular needs.

How Many Sizes Does A Child's Foot Grow in A Year?
The growth of a child's foot depends on the age and health of your kid. we always recommend measuring their foot properly to make sure you have selected the right size shoe for their particular needs.

Picture in this Birkenstock Kids Size Guide is from Birkenstock.com
Related to Birkenstock kids Size charts