Birkenstock Children Size Chart and fitting
This post was last updated on March 29th, 2022 at 12:53 pm
Learn all about the Birkenstock Children Size Chart and fitting guide on this post.
The Birkenstock sandals are world-famous for their quality and comfort, including for our kids.
A Birkenstock sandal is the must-have for boys and girls in the summer.
A full size chart page is dedicated to Birkenstock here, including the width dimension.
How to measure your feet? you can learn it here
The Birkenstock Children size chart and fitting guide is the same for boys as for girls.
Birkenstock Shoes Size Conversion Chart: Width
How to use the Birkenstock Children Size Chart?
The sandals of Birkenstock are open footwear. This means one's foot is not held by the whole upper and has, by consequence, space to move.
The length size chart indicates a from and to dimension in centimeters.
If the measured dimension is in between to and from, you have found your size.
Use that size to determine the width.
Birkenstock models come in 2 widths: regular and narrow.
The regular width is suitable for normal to more robust feet and is indicated by the outlined foot symbol.
The narrow width is suitable for narrow to slender feet and is indicated by the filled-in foot symbol.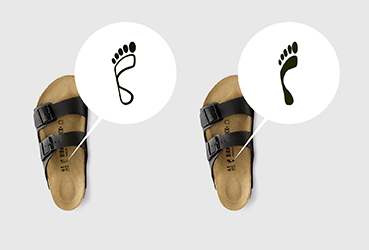 An example:
You have measured your daughters' feet and she has a 170mm length and 75mm width. The Birkenstock sandal you should buy is 27 Regular.
The dedicated Birkenstock Size Charts:
The Picture in this post is of Birkenstock : shop their collection here