Golf Glove Size Chart for Adults & Kids: How to Know the Right Size?
This post was last updated on April 19th, 2023 at 08:01 pm
A crucial component of modern golf is gloves. Both amateurs and professionals frequently use gloves to improve grip on the club, which leads to better shots. You must decide which hand you wish to wear your glove on first. Right-handed golfers should wear their gloves on the left hand, whereas those who are left-handed should wear them on the right hand. That's exactly why the golf glove size chart comes in very handy!
The average Golf Glove size
Golf gloves are typically 8 to 10.5 inches for men and 7 to 8.5 inches in length for women. Small, medium, large, XL, XXL, XXXL, XXXL, and occasionally XXXXL are the most common sizes.

Golf Pro International
Finding your size is the second step in choosing the best glove for you. Today, glove manufacturers provide a wide range of sizes, making it possible to select a glove that perfectly fits you. There are cadet sizes, which feature shorter and larger fingers, and ordinary sizes. Even though the glove has a name that may make it sound like a kid's glove, the Cadet features a special fit feature to ensure that it fits your hand.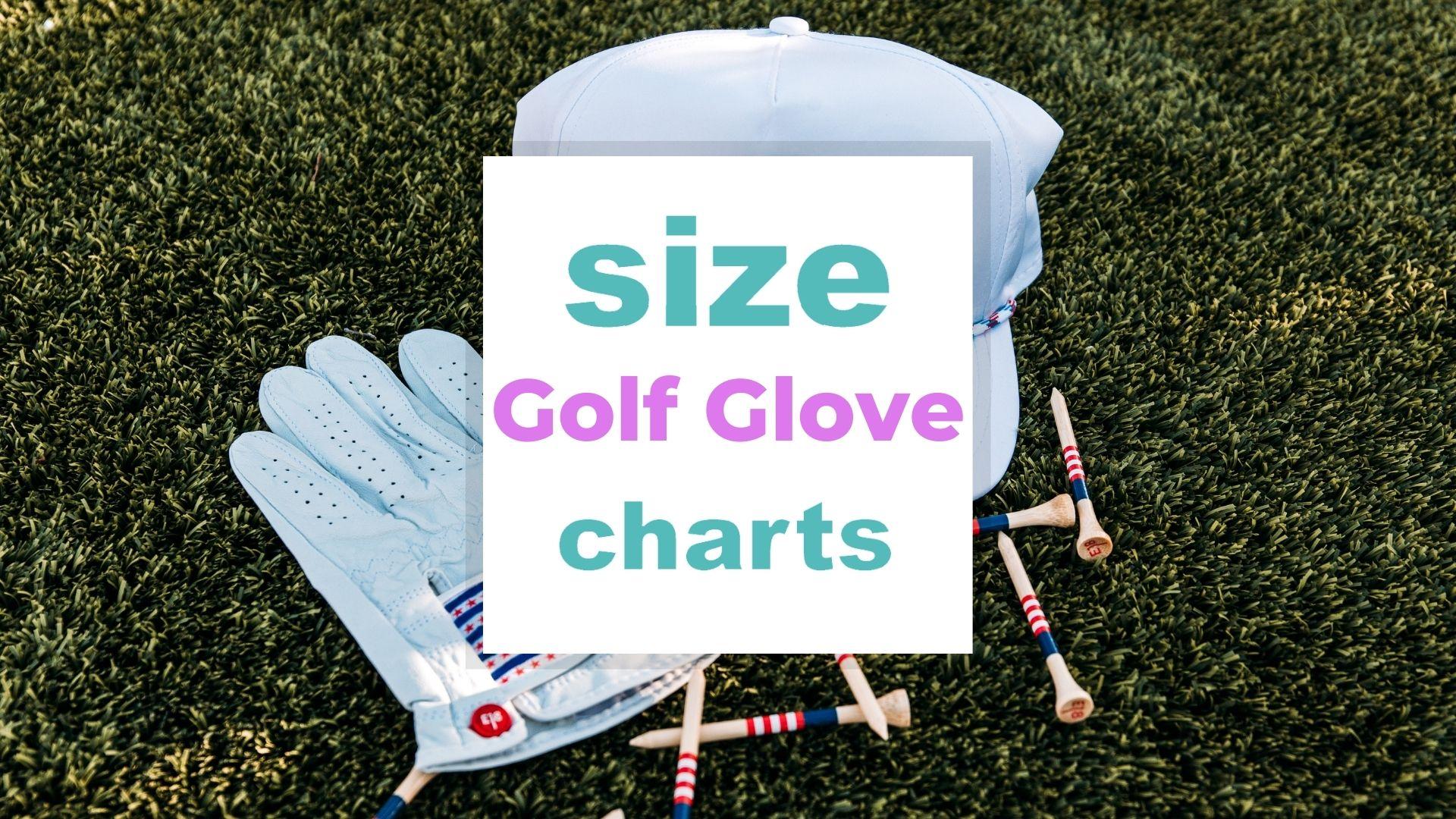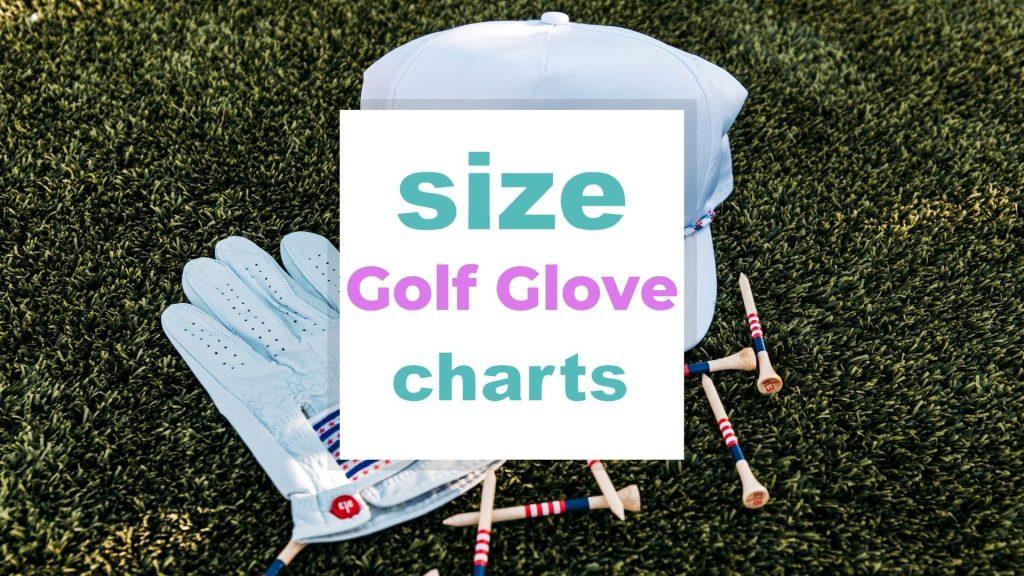 Additionally, various materials may be used to create any of these sizes. Leather and synthetic leather are the most prevalent of these materials. The nicer and more expensive gloves available are entirely made of leather, and as the price of the gloves decreases, more and more synthetic material is visible on the glove. Regardless of your specifications, there is a glove that will suit you well; just be sure to know the right size before you buy it.
Jump right into the Frequently Asked Questions
Related: Average hand size charts for men, women and children
Table of Content of Golf Glove Sizing
Golf Glove Size Chart
Related: Gloves Size chart and fitting guide, Work Gloves Size Chart – How To Find Work And Safety Glove Size, Boxing Glove Size Chart: How do I know my Boxing Gloves Size
Women Golf Glove Size
| | | |
| --- | --- | --- |
| Size | Width (CM) | Length (CM) |
| S | 17 – 17.7 | 16.7 – 17.2 |
| M | 17.7 – 18.3 | 17.2 – 17.8 |
| L | 18.3 – 19 | 17.8 – 18.5 |
Men Golf Glove Size
| | | |
| --- | --- | --- |
| S | 19.3 – 20.1 | 19 – 19.6 |
| M | 20.1 – 20.9 | 19.6 – 20.3 |
| ML | 20.9 – 21.8 | 20.3 – 21 |
| L | 21.8 – 22.4 | 21 – 21.8 |
| XL | 22.4 – 23 | 21.8 – 22.5 |
| 2XL | 23 – 23.7 | 22.5 – 23 |
How To Choose The Right Golf Glove Size
Related: Skiing Gloves Size Guide – Determine Your Glove Size, Teen And Kids Gloves Size Chart – How To Find the best Glove Size, Average Finger Size: Find Out Your Finger Size
A golf glove that is properly sized should be snug across the palm and fingers, with no slack material. If you do, you may want to size down or try a Cadet glove in your size. You shouldn't have additional material sticking out at the top of your fingers. 
Start by measuring the distance between the base of your palm and your middle fingertip for sizing. You'll likely fit into a youth-sized glove, which measures between 6.25 and 7 inches if your measurement is less than 7 inches.
The Best Golf Glove Size For You
A properly fitting golf glove is crucial. Always keep in mind that your glove is making touch with your clubs. Your hand may shift within your glove if it doesn't fit properly, which could affect your swing. 
Your glove should have the same snug fit as a second skin. It should fit snugly across the palm and fingers with no loose material. 
The hands should fit comfortably. The top shouldn't have any excess material. A few men's gloves are available in cadet sizes. These gloves have fingertips roughly one centimeter shorter than those of standard gloves. 
Different sizes are available for golf gloves. Make sure to measure to determine your size accurately.
Identifying your Golf Glove size: 
Measure around the knuckles of your gloved hand. Measure your left hand if you are a right-handed person. If you are left-handed, measure your right hand instead. 
By measuring from the crease of your wrist to the tip of your middle finger, you may determine the length of your hand. 
Always refer to the brand's sizing chart to ensure you are purchasing the right size. If you're in doubt about your size, go with the smaller one. Also, remember to check the size of your gloves regularly. Sizes and hands can vary.
Learn more about how to find the right golf glove size for you (video)
How To Measure Your Palm And Finger
The Hand measurement chart for golf gloves in men, women's and kids' sizes
| | | |
| --- | --- | --- |
| Suggested Glove Size | Middle Finger Length | Palm Width |
| Kids M (6 to 9 years old) | 2.5-3" | 5.25-5.5" |
| Kids L (9 to 12 years old) | 3-3.25" | 5.75-6" |
| Women's S | 3.25" | 7" |
| Women's M | 3.5" | 7.25-7.5" |
| Women's L | 3.5-3.75" | 7.5-8" |
| Men's S | 3.25-3.5" | 7.75-8" |
| Men's M | 3.5-3.75" | 8-8.25" |
| Men's M/L | 3.75" | 8.5-8.75" |
| Men's L | 3.75-4" | 8.75-9" |
| Men's XL | 4-4.25" | 9-9.25" |
| Men's XXL | 4.25-4.5" | 9.25-9.5 |
Frequently Asked Questions
How To Know What Size Golf Glove You Need?
Your palm, excluding the thumb, should be wrapped with the measuring tape slightly below the knuckles. Inches should be used to measure glove size. To the nearest half-inch, round up. We strongly advise buying a glove size up for Proper Cloth (for example, if your hand measures 8.5′′, get a size nine glove).
Is Glove Size 7 Large?
7 fits between XS and S in men's sizing while S to M in women's.
What Size Is 23 In Golf Gloves?
It is XXL.
Should A Golf Glove Be Tight?
It's important to remember that gloves should initially fit snugly but have the flexibility to stretch, within reason, to fit the hand.
Why Do Pro Golfers Take Their Gloves Off To Putt?
Virtually all golfers who remove their golf gloves before putting will tell you that they do so for a lighter feeling in their hands or a reduced grip pressure.
Conclusion Golf Gloves sizing
When it comes to golf gloves, the fit is crucial. If it's too big, it could rub and hurt unnecessarily. If the glove is too tight, it can tear. Additionally, since you'll be using your golf glove frequently and it's essential for controlling your club while you're swinging, you must get the best design for you. 
A golf glove that is properly sized should be snug across the palm and fingers, with no excess material. When choosing which golf gloves to purchase, there are several factors to consider, including kind, brand, and design. However, like with most other equipment, how well it fits you is the most crucial component of a golf glove. 
Standard sizes for golf gloves are available, and some brands also offer customized sizing. Regular and youth sizes for golf gloves are separated into two groups. So use the above chart to determine which is best for you. 
If you have any concerns, feel free to comment.
The picture in this post is by Brandon Williams on Unsplash
Related to Golf Glove Size Chart