Skims size chart for underwear or shapewear for women
This post was last updated on June 12th, 2022 at 09:33 am
Skims are designed in a unique way for all body types, whether you are petite or plus size. The collections range from underwear for both men and women, shapewear, dresses, swimsuits, loungewear, pants, leggings, hoodies, robes, shorts, to slips. Getting your size correct with Skims will increase the level of comfort while wearing underwear or swimwear. Learn all about it in the skims size chart for women.
The shades are equally unique and varied. They include; marble, bone, light heather grey, creme, taupe, shell, gold, topaz, bubble gum, dusk, orchid, lavender, neon pink, and raspberry. The skims sizes range from 32A to 44D for bras and XXS to 5X for other wears. If you have the measurements, finding suitable skim wear is quite easy.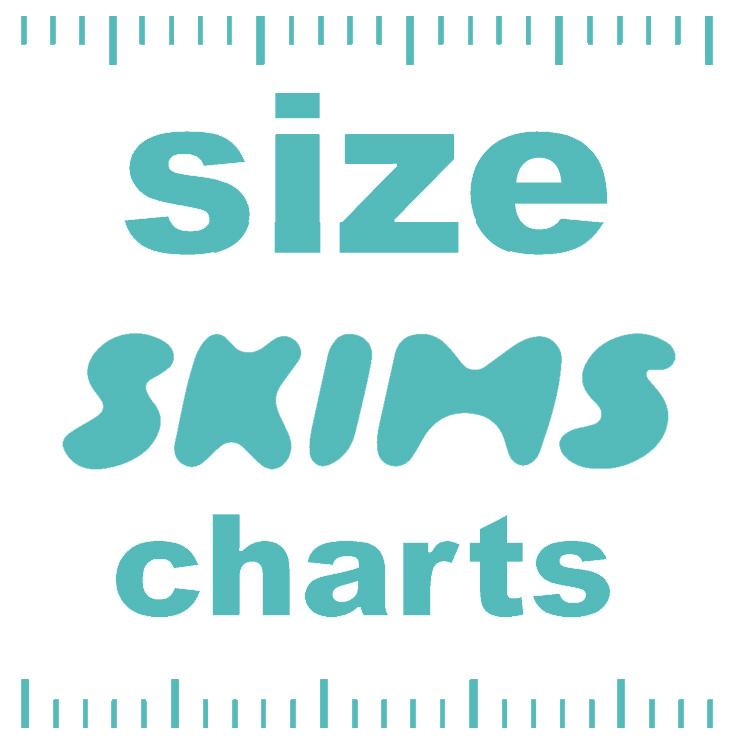 In terms of materials, skims are made of different fabrics. Contour seamless thong bodysuit, for example,  is knitted with stretchy fabric and has medium compression. It has a seamless construction that holds and shapes the body beautifully. The skims waist trainer is soft and smooth, made of a fabric that is ultra-thin and high-tech neoprene. Most of the waist trainers out there are made of rubber and latex. Prices range from $18 to $98.
Why it is Important to Know the Right Size Before You Buy SKIMS
Shopping becomes convenient when you, as a buyer, are aware of the right size before you buy skims. This will save you time that would otherwise have been wasted in returns. Additionally, skims are tight and stretchy.  So if it's too tight on you, it becomes uncomfortable. 
Skims also tend to run small for plus-size body types, especially when the compression level is medium. So when you have the right measurements at your fingertips, you can ascertain which skims will fit you perfectly since skims are true to size.  
SKIMS Size Chart?
A SKIMS size chart is a visual presentation of skims sizes and corresponding body sizes. There is literally a chart for a wide range of sizes for various skims categories including underwear, shapewear, swimsuits, footwear, and loungewear. Four main measurements characterize the size chart; bust, waist, hips, and dress size.
The SKIMS size chart also varies with country. For instance, there is a size chart for the UK and a SKIMS chart for Australia. In the standard skims size chart, if a slipper Euro size (EU) is 35, the UK size is 1.5 or 2.
The greatest advantage of the skims size chart is that it helps customers save time while shopping for underwear, shapewear, or loungewear. This is a good way to cut down on the number of returns.  
SKIMS Size Chart examples (XXS to 4X)
XXS to 5X SHAPEWEAR
Sizing for shapewear styles that are available in jump sizes from XXS/XS to 4X/5X.
| | Dress Size | Bust Size | Waist (IN) | Hips (IN) |
| --- | --- | --- | --- | --- |
| xxs/xs | 00, 0, 2 | 30 – 34.5 | 23.5 – 26 | 31 – 34 |
| s/m | 4, 6, 8 | 35 – 39.5 | 26.5 – 32.5 | 34.5 – 40 |
| l/xl | 10, 12, 14 | 40 – 46.5 | 33 – 39 | 40.5 – 45.5 |
| 2x/3x | 16, 18, 20 | 47 – 53 | 39.5 – 45 | 46 – 53.5 |
| 4x/5x | 22, 24, 26 | 53.5 – 57.5 | 45.5 – 50 | 54 – 58 |
XXS-4X BRAS
Sizing for wireless bra styles that are available in sizes XXS to 4X.
UNDERBUST MEASUREMENT
BAND & CUP BRAS
Sizing for underwire bra styles that are available in band & cup sizes 32A to 44D.
UNDERBUST MEASUREMENT
CUP CONVERSION
How to Choose the Right SKIMS Size
To determine the right skims shapewear size, you must have three measurements: the hips, the high-waist, and the low-waist. For measurements, the tape measure must be held and placed in a straight manner. Choose a thigh shaper if your hips are more comprehensive than your bust and shoulders. The shapewear size should be the same as the size of your hips. If your tummy measurement is more than your hips, choose a waist slimmer or a high waist slimmer whose measurement matches your waist size. 
You need the waist and hips measurement to determine the right panty size. To get the right swimsuit size, measure your bust, hips, and waist (both high and low). To buy the loungewear size, measure your bust, waist, and hips. Once you get these measurements, compare them with the skims size chart to place an order for the correct size.
The Best SKIMS Size for You
How do I know my skims size?
Skims shapewear measurement
A full clothing size body measurement guide is here
To get the right size for Skims shapewear you need a soft measuring tape. Take your measurement in your underwear. It will take about 2 minutes.
Place the tape three-point above the waist to get the high-waist measurement.
Place the tape approximately 12 cm or 4.7″ below the waistline for the low waist.
Place and hold the tape 22 cm or 8.7″ below the waist (the point where the hips are wider) to get the hips' size. 
Pro TIP: For your panty size, try to bend sideways to form a crease around your waist and take the waist measurements with a straight tape. Place the tape around the broader part of the hips and note the measurement.
Skims swimsuit size measurement
To measure your bust, place the tape on the broader part of your bust. Hold the tape on your last rib for your natural waistline, place tape just 22 cm below your waist to get the hips width (at the widest point), place your tape at one shoulder, and then move it across the bust to the point in between and then move it across to the other shoulder for torso measurement.
Do Skims Run Small?
Yes, skims run small. This is intentional in order to achieve a compressive look and feel. Always select a size up if you prefer more comfort for everyday wear.
Are Skims True to Size?
The true-to-size of skims depends on the body size, the type of skim wear, and skim compression level. Except for loungewear, skims are made to give a second-skin feel, so they must be tight.
On Tiktok, Andria Barich stated that skims make people have low self-esteem since they become way too small. However, as per the skims size charts, skims are true to size. To be comfortable in your skims, you must size up. 
Size chart Comparison – Skims & Spanx
The size differences between Skims and Spanx sizing, regarding the size range is pretty straight forward. Skims offers more size options than Spanx. Spanx sizes usually go from XS to XL, whereas Skims has XXS to 4XL.
Skims size: XXS – 4XL
Spanx size: XS -XL
Skims sizing explained
Conclusion
Like any other clothes that vary in size, skims also vary. Before you order a skim, you need to have the right size in place. Body shape and size ultimately matter in skim selection. Some pieces in the different collections run small on some body types, and some fit other body types well. Skims are true to size. You only need to know the fabric, body shape, and size, then pick what works best for you. Customers can choose from various sizes, shades, and compression levels.
Related Underwear and shapewear size charts