What is my Sports Bra Size? (Plus Size Charts)
This post was last updated on June 25th, 2023 at 04:05 pm
A great sports bra will provide the support and lift you need while you exercise. You should choose one that is designed to keep you cool and dry during your workout. A sports bra is made to be comfortable and support your body, but still, look good while doing so. Discover the below expert sports bra plus size with an easy to use size chart. Nike has a great line of plus-sized sportswear so check out the full size charts review here, brands like Lululemon or gymshark offer great sports bras.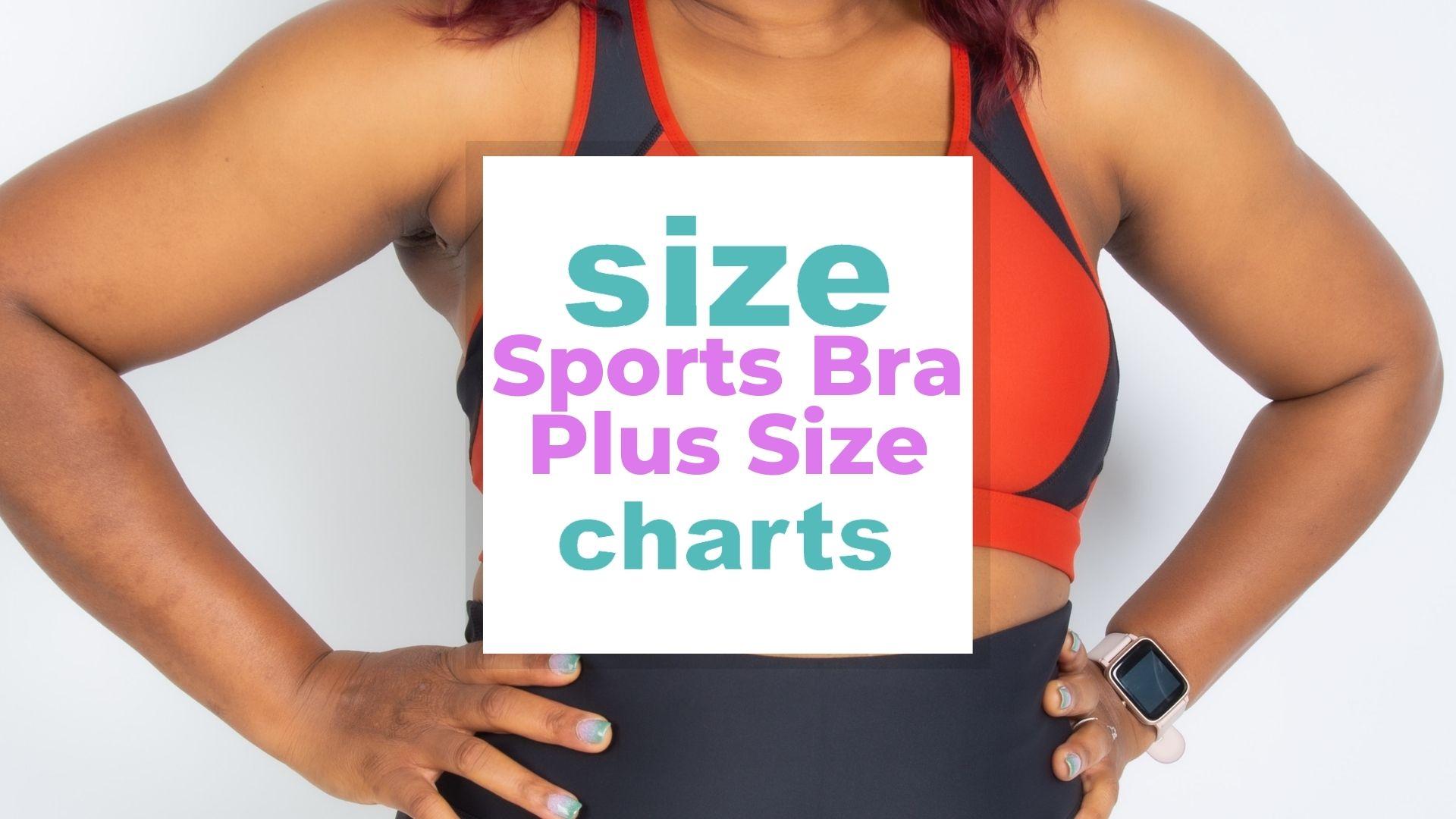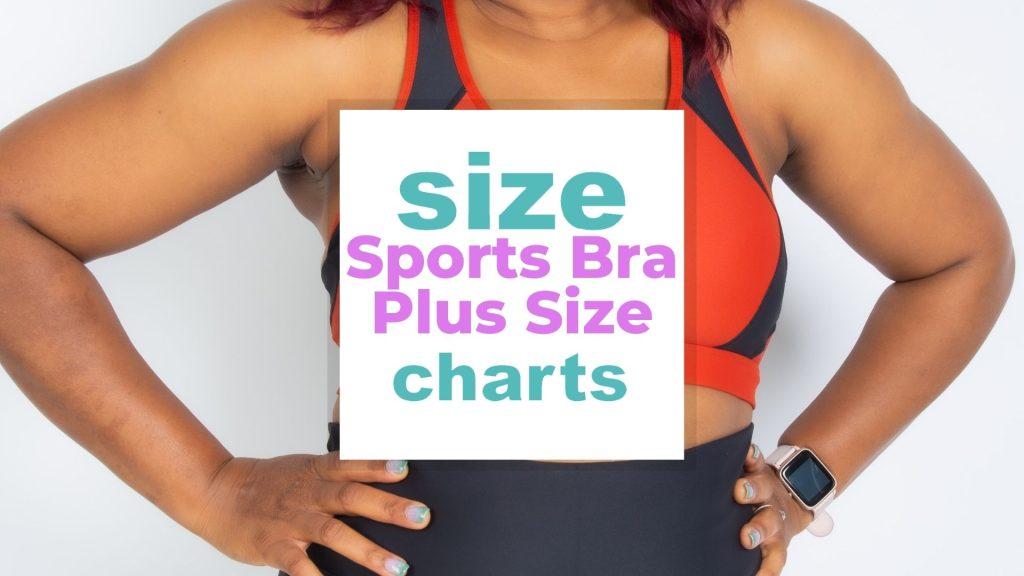 Table of Content of Sports Bra Size Plus Sizing
What are sports bras and Why is a good sports bra plus Size important? 
A plus-sized sports bra is one created for women with large boobs. This is informed by the fact that most women with large boobs have a hard time finding the right sports bra. Some styles are too tight, gaping in all the wrong places, or simply don't come in your cup size. Fortunately, there are many plus-size sports bras out there.
A good sports bra plus size should fit comfortably, but it's important to consider fit when you're buying one. Look for a bra that doesn't have a wide band, which might not give your breasts enough support. Alternatively, you might want a smaller band with more support.
If you have a large bust, a plus-size sports bra should fit snugly. Regardless of your size, the underband should be comfortable. The underwire should cover the entire breast shape. The material should be breathable to reduce irritation when you sweat. The best ones have no problems with these factors. But if you are worried that you might have a bigger boob than usual, look for a higher-quality bra.
Sports bra plus size chart
Using a sports bra plus size chart is extremely important. You can use it to compare your size to a wide variety of different bra styles, sizes, and colors. Often, the more sizes that are shown on the chart are actually the same as your actual size. However, you may have to adjust the measurements slightly for the bra to fit properly. You can use a soft tape measure to get the measurements. 
Here is an example for fitness bras;
| | | | | | | |
| --- | --- | --- | --- | --- | --- | --- |
|   | 80 | 85 | 90 | 95 | 100 | 105 |
| A |   | – | S | M | L | . |
| B |   | XS | S | M | L | XL |
| c | xs | S-CD | Mou M-CD | LouL-CD | XL ou XL-CD | 2XL-CD |
| D | . | S-CD | M-CD | L-CD | XL-CD | 2XL-CD |
| E | – | M-EF | L-EF | XL-EF | 2XL-EF | 3XL-EF |
Why it is important know the right size before you buy sports bra plus size
When buying a plus-size sports bra, it is very important to know your size. If the cup does not fit perfectly, it will cause discomfort and pain. It should also be comfortable and not cause any chafing. Choosing the right size will prevent pain and unnecessary irritation.
Most sports bras have different cup sizes, and the band size will vary from brand to brand. To determine the correct size, measure your bust and waist and consult a brand's sizing chart to find the correct fit. It is also important to try on a couple of different sizes before making your final decision. The best way to know your bra size is to try them on before you buy them. 
A sports bra should fit comfortably. The band should be snug around the ribcage without rubbing or touching your breast tissue. To check the fit, turn your body sideways and place two fingers between the band and your breast. If you are unhappy with the way your sports bra fits, look for a smaller band or a smaller cup size. A sports bra should also fit properly if it is a tight one.
How to choose the right sports bra plus size
Finding the right sports bra plus size can be a challenge. You have to consider your body type, the amount of support you need, and your activity level to get the correct fit. Here are some tips for buying the right one. Read on to find out how to choose the best one for you. We'll talk about a few things to look for. You can also check the label to see if it says "for larger women."
A good sports bra fits snugly. It should be comfortable, but it should be loose enough that you can fit a finger between it and the fabric. You should choose one with adjustable straps or band to fit your shape. Another helpful tip is to consider the activity you'll be doing. For example, if you're playing basketball or doing yoga, you'll want a sport bra with firm support. If you're doing some light yoga, you'll want a wire-free bra.
What is the best size sports bra?
A good sports bra should feel Snug, but not too tight: A sports bra should fit tighter than a regular bra but shouldn't restrict breathing; you should be able to fit two fingers between the straps and your shoulders. Avoid wrinkles: The fabric of the cup should be smooth. Wrinkles in the fabric are usually an indication that the cup is too big.
The best sports bra plus size for you
There are a variety of different plus-size bras on the market. It is important to find one that fits you properly, feels attractive, and doesn't cost too much money. The most important factor is to consider the shape and fit of your bust and your budget. You should be able to wear a bra that fits your size without having to spend too much money. 
The most ideal sports bra should be able to give you support at different points in your life. The band should fit snugly on your chest, and it should not be too big or too small. For extra comfort, you should have adjustable straps and good back support. You can also choose a sports bra that has removable mats. These bras can be hand-washed or machine-washed and they are available in three different colors.
Some of the best sports bra plus size options you can find in the market today include front zip sports bra plus size, front closure sports bra plus size, sports bra plus size zipper front, high impact sports bra plus size, underwire sports bra plus size, racerback sports bra plus size, push up sports bra plus size, front fastening sports bra plus size etc. Cotton sports bra plus size is a popular one in terms of material. 
How to measure, how to find your sports bra plus size size
To find the right cup size, measure around the bust and rib cage. The difference between the two measurements is the band size. To ensure you buy the correct size, compare the measurements to a chart.
Start by wrapping a measuring tape around the fullest part of your bust. This is the point furthest away from your body. Next, round your measurement to the nearest inch. If your bust measurement is 32 inches, then you should buy a size medium. A 34-inch band would be suitable for a size large. 
What size is XXL sports bra?
XXL sports bra is often the largest size. It is recommended to get one with a slightly smaller cup size than your regular bra size. This is especially true if you have a big bust. For the band and straps, go for a band size of 36 or less.
You will also want to check the cup size label on the sports bra to make sure it fits correctly. Depending on the brand, you may find that the XXL is a better fit than your normal bra. The XXL sports bra should fit snugly. There is no room for expansion. It should fit well. The straps should be comfortable and not too tight. It is also important to choose the right style for your body t
How to measure your sports bra size?
The most common question women ask about sports bras is how to measure yourself for the correct size. There are various ways to do this even though many brands offer a handy size chart to assist with the decision-making process. To begin, you must remove your daily bra and strip it down to your underwear. Then, use a measuring tape to find the underband of your sports bra. Place the tape parallel to the floor, under your bust, and on your rib cage. You can then determine your "band size".
To determine your correct size, you must know your bust size and ribcage measurement. To determine your bra size, subtract your ribcage measurement from your bust measurement. From there, multiply the two measurements by 2.50 inches. To determine your sports bra size, round up to the next larger size.
The underbust measurement should be 32″ below the bust line. For the bust size, you should round it up to the next whole number. Your rib cage measurement should be 30.5″-32.5″ wide. Then, you should subtract this number from your bust measurement. The difference between the two is your band size.
Sports bra sizing explained for big breasted women
Conclusion
Choosing the right Sports Bra in a Plus Size is a very personal decision. Some women feel more comfortable in larger bust size, while others find that a large bra may cause pain. However, the right choice is very important, as the right sports bra can reduce the pain and improve your athletic performance. Not all sports bras are made equally.
The best sports bra for larger busts is made with a medium to a high level of support. A low-impact activity doesn't need as much support. The right bra will fit comfortably and be appropriate for the person's personal style. A high-impact activity is less likely to cause pain, but you might still want a medium to a high level of support. When selecting a plus-size sports bra, consider your personal style, activity, and shape.  If you are in-between sizes, you can try on various styles and brands of sports bras to find the correct fit.
Please feel free to comment if you have any questions. 
Picture in this post by Glamour
Related Bra size charts (and plus size charts)