Strapless Bra Size Chart and Sizing Guide
This post was last updated on April 7th, 2023 at 09:25 am
Most strapless bras are designed to accommodate a variety of bra sizes, including a range of cup sizes, but there is a limited range of sizes available. A strapless bra with a firm cup and wide shoulder straps will be more likely to provide a smooth, natural fit, regardless of your bra size.
Happy shopping!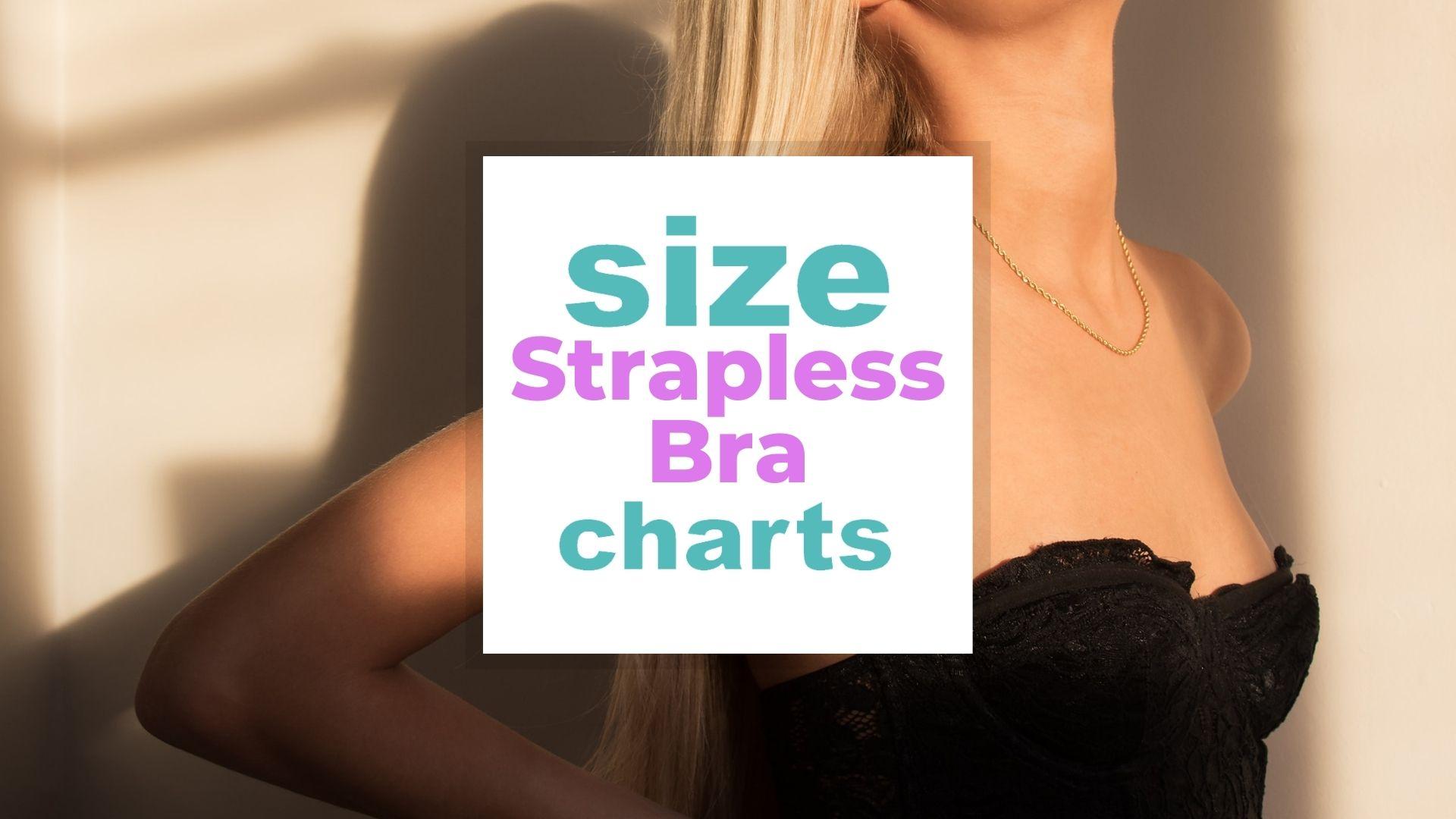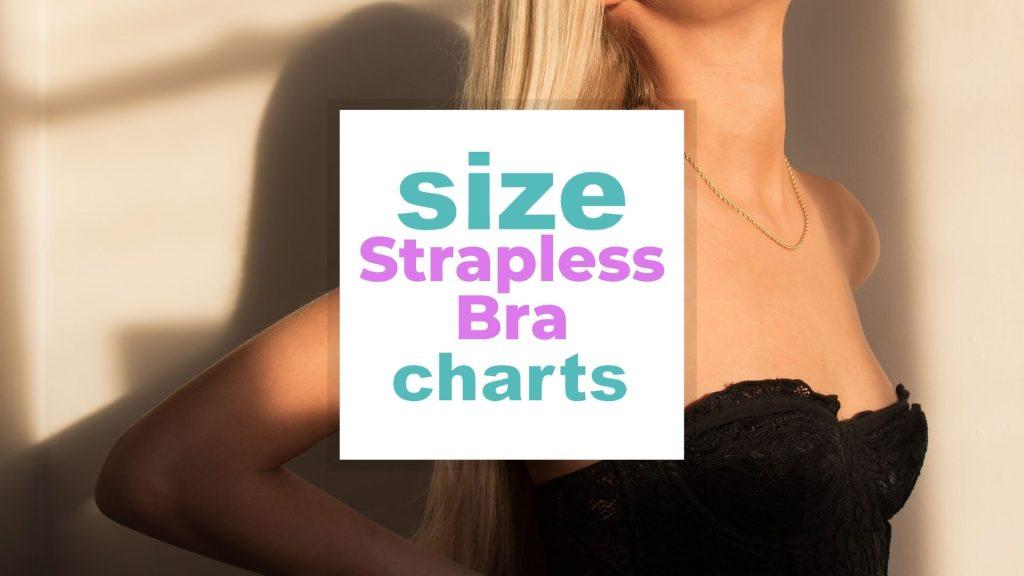 Jump right into the Frequently Asked Questions
Related: Women's Bra Size Chart, Bikini Size Chart and Sizing Guide, Gucci Bra size charts and fitting guide , Victoria's Secret Bra Size Chart, Underwire Bras Size Chart and Fitting guide for all women
Strapless Bra Table of Content
What is a Strapless Bra?
Related: Bralette size Chart And Sizing Guide
A strapless bra is a bra designed to be worn without straps. It is often used as an alternative to a bandeau bra or tube top. Strapless bras come in many different sizes, and choosing the right size is important to ensure a comfortable and flattering fit.
How to Measure Strapless Bra Size
Related: Strapless Bandeau Size Chart And Sizing Guide for women
You first need to measure yourself to find your perfect strapless bra size. Unlike measuring for a regular bra, a few extra steps are involved when measuring for a strapless bra.
Here's how to do it:
Measure around your rib cage just under your bust
Measure around the fullest part of your bust
Subtract the rib cage measurement from the bust measurement. This is your cup size.
If the difference is even, then your cup size is an A. If the difference is odd, then your cup size is a B.
Refer to the chart below to find your corresponding band size.
Once you have these measurements, you can use them to find the perfect bra size for you.
Strapless Bra Size Chart
Related: Breast Size Chart for All Shapes, How to Measure Your Body for Clothing Sizes
So you think you've found the perfect strapless bra? Before you run to the checkout, you need to ensure that it's the right size.
Most women wear the wrong-sized bra, which can lead to discomfort and unflattering bulges. To make sure you're buying the right size, use our conversion size chart below:
Size conversion chart below (US and Canada)
| | | | | | | | |
| --- | --- | --- | --- | --- | --- | --- | --- |
| Size | US&CAN | Waist | | Hips | | Bust | |
| | | INCHES | CM | INCHES | CM | INCHES | CM |
| 2XS | 4 | 25-26 | 63-65 | 35-36 | 88-91 | 31-32 | 78-81 |
| XS | 6 | 26-27 | 66-69 | 36-37 | 92-95 | 32-33 | 82-85 |
| S | 8 | 28-29 | 70-73 | 38-39 | 96-99 | 34-35 | 86-89 |
| M | 10 | 29-30 | 74-77 | 39-40 | 100-103 | 35-37 | 90-93 |
| L | 12 | 31-32 | 78-81 | 41-42 | 104-107 | 37-38 | 94-97 |
| XL | 14 | 32-33 | 82-85 | 43-44 | 108-111 | 39-40 | 98-101 |
| 2XL | 16 | 34-35 | 86-89 | 44-45 | 112-115 | 40-41 | 102-105 |
| 3XL | 18 | 35-37 | 90-93 | 46-47 | 116-119 | 42-43 | 106-109 |
| 4XL | 20 | 37-38 | 94-97 | 47-48 | 120-123 | 43-44 | 110-113 |
| 5XL | 22 | 39-40 | 98-101 | 49-50 | 124-127 | 45-4 | 114-117 |
We recommend using your band size and cup size to find the right fit. For example, if you're a 34B and want a strapless bra for a dress with a low neckline, try looking for a style with a band size of 34 and a cup size of B or C.
How to Choose Strapless Bra Size
Related: Bra Size Chart for Aged Women, Calvin Klein Underwear Size Guide for men, women and kids
It can be a little tricky to find the right strapless bra size, but it's definitely not impossible. Here are a few tips to help you out:
First, you'll need to measure your bust size. Wrap the tape measure around your chest, making sure it's snug but not too tight. Write down this measurement and use it when shopping for strapless bras.
Next, you'll need to decide what style of strapless bra you want. If you're looking for a versatile option that can be worn with various outfits, we recommend choosing a strapless bra with adjustable straps. This will give you some added flexibility when it comes to fit.
If you're looking for a more specific fit, such as one that's perfect for a certain dress or top, try searching for bras with specific cup sizes or band sizes. This will help you find the perfect strapless bra for your needs.
Check this review of how to wear a bra without straps (video)
Frequently Asked Questions
Should You go Down a Size if You are Looking for a strapless Bra?
While it is tempting to go down a size if you are looking for a strapless bra, this is not always the best option. You may find that going up a size will give you a better fit.
Why? Because strapless bras rely on an optimal amount of tension to stay in place, going down a size may result in a bra that is too tight and uncomfortable. Plus, if the bra is too tight it can actually cause spillage and create an unflattering silhouette.
So, while it is important to consider your bust size when looking for a strapless bra, it is also important to find one that fits well in the band and cups. We recommend trying on a few different sizes to find the perfect one for you.
Is there a Strapless Bra for Plus Size Women?
Related: Sexy Lingerie Plus Size Chart for Women, Plus size Intimates Size Chart for your lingerie
So what about strapless bra alternatives for plus size? Most strapless bras are designed for women with an A-C cup size. However, this doesn't mean you can't still find a strapless bra that will work for you.
It's important to pay attention to the band size and the cup size when looking for a plus-size strapless bra. The band size is especially important, as it will help keep the bra in place. So, if you're a plus-size woman with a D or larger cup size, we recommend looking for a strapless bra with larger band size.
One of the most popular strapless bras for plus-size women is the Maidenform One Fabulous Fit Strapless Bra. It has a larger band size and comes in both black and nude, so it will work with just about any outfit.
What is the Largest Strapless Bra Size?
The largest strapless bra size is an N cup. There are a limited number of bras in this size, so it can be difficult to find one that fits well. It is important to note that many women with large breasts sometimes wear bandeau bras that are very similar to strapless bras, only that they do not have closure.
We understand that finding a strapless bra that fits can be difficult, but our sizing guide can help you find the perfect fit for your unique body. And don't forget, our amazing customer service team is always here to help if you have any questions!
Should Strapless Bras be Tighter?
There's a common misconception that strapless bras need to be tight to stay in place. This isn't actually the case a strapless bra that's too tight can be very uncomfortable and end up slipping down.
A strapless bra should fit snugly enough so that it doesn't move around, but it shouldn't be so tight that it's digging into your skin or causing discomfort. So, when trying on a strapless bra, make sure you give it a good snug fit but don't pull it so tight that you can't breathe!
Conclusion
Finding the right strapless bra size can be a challenge, but with this guide, you can find the perfect fit for you. Different brands use different sizing charts, so it's important to know your bra size before you start shopping. Be sure to try on a variety of bras to find the perfect fit and style for you. And always remember that a good strapless bra should stay in place and support all day long.
Picture in this post is from Glamour.com
Related to Bra Size Charts