Push-up Bras Size Chart for Every Woman of Any Size
This post was last updated on April 2nd, 2023 at 07:58 pm
One of the most popular bra styles is the push-up bra. This type of bra is designed to give you a boost in your bust size and cleavage (skip straight to the Push-up bras size chart).
But before finding your perfect push-up bra, you need to know your correct bra size. This guide will teach you how to find your size using a push-up bras chart.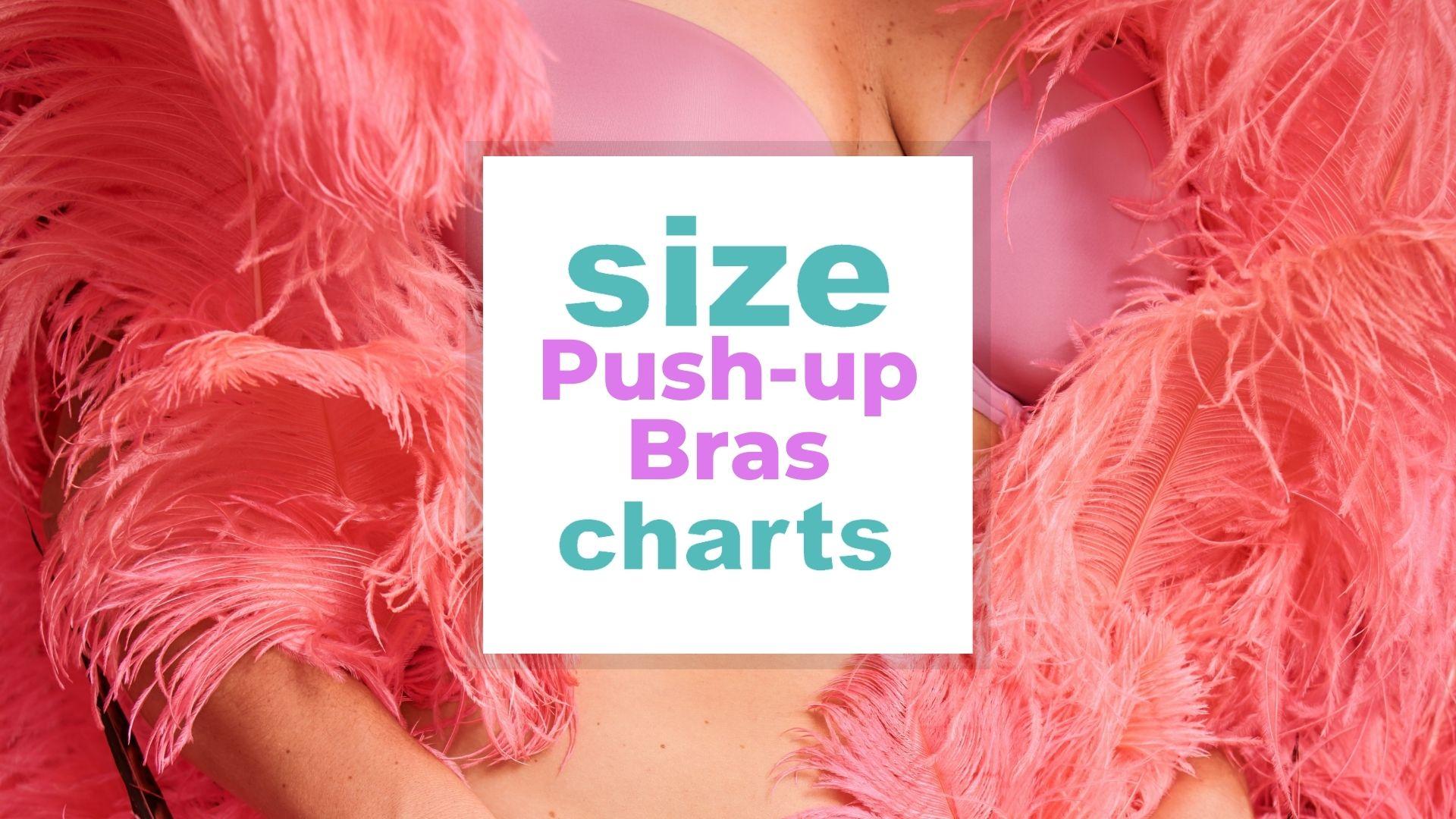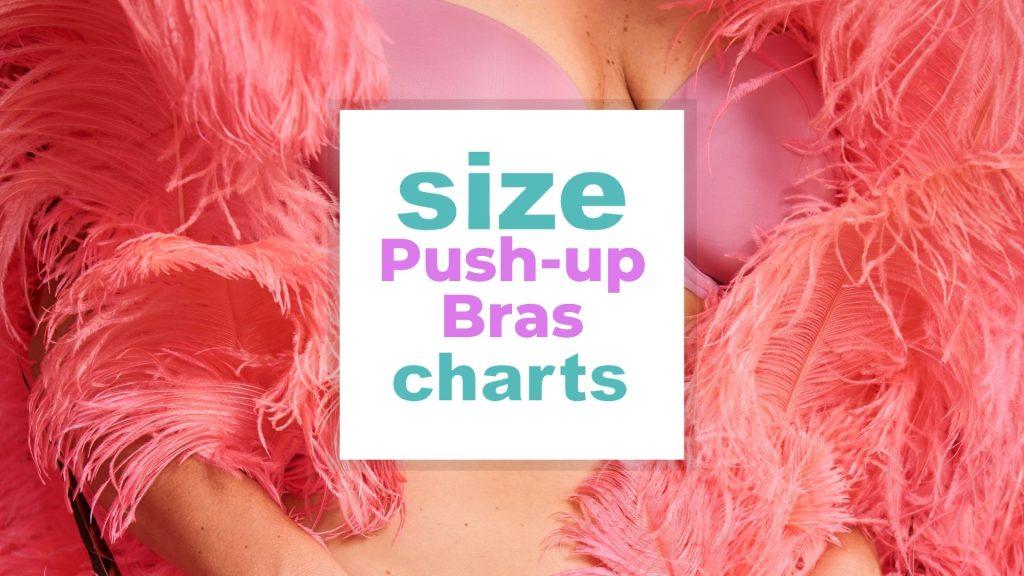 Jump right into the Frequently Asked Questions
Related: Women's Bra Size Chart, Bikini Size Chart and Sizing Guide, Gucci Bra size charts and fitting guide , Victoria's Secret Bra Size Chart
Push-up Bras Table of Content
What Is a Push-Up Bra?
Related: Sports bra plus size charts
A push-up bra is a brassiere designed to push the breasts up and together, giving them a fuller and perkier appearance. Some push-up bras have padding in the cups to enhance the bust size, while others rely on a special design that creates a natural-looking cleavage.
The cups are often constructed with extra padding or silicone to create the illusion of cleavage. The shoulder straps are also typically wider and more supportive than those on a standard bra, to provide more lift.
A good push-up bra should give you a flattering, uplifted silhouette and make your breasts look their best.
How Do I Know What Size Push-Up Bra to Buy?
Related: Bralette size Chart And Sizing Guide
Figuring out your size is key when it comes to push-up bras. Because these bras are meant to give you a boost, you need to ensure they fit correctly. The best way to do this is to use a push-up bras size chart and take your measurements.
Of course, many brands offer their own size chart, so check the size guide on the brand's website before you make your purchase. If you're buying a bra from a store, ask one of the sales associates for help. They will be more than happy to assist you in finding the perfect fit.
In general, most push-up bras will range from a band size of 32 to 38 and a cup size of A to DD. However, it's important to remember that not all bras are created equal, so your best bet is to take your measurements and use a push-up bras size chart.
Quick guide how to measure your Push-up Bras size
Want to read a full article about Bra Sizes and Sisters sizes in bras? We covered it here
Your Band Size
Stand in front of a large mirror wearing a non-padded bra.
Wrap a soft measuring tape around your back at band level, under each arm and around the front.
Measure just above your bust, right about where the straps meet the top of the cup.
Add 4 inches to your measured size and you have your band size (eg : 32″ measured + 4″ = 36 band size)
Check for the number in the Band Size column below.
TIP: Odd number? Round down to the nearest even number.
Your Bust
Keeping the tape around your back at band level
measure at the fullest part of your bust.
Make sure the tape isn't too tight by taking a full breath in and out, allowing the tape to slide to its most comfortable (yet snug) position.
TIP: If the measurement falls on the half inch, round up!
Cup Size is Band Size – Bust Size
Push-up Bras Size Chart and Measurements: Using a Push-up Bras Size Chart
Related: Brami Size chart and fitting guide for all sizes
To start, find your bust size by measuring around the fullest part of your bust. Be sure to keep the tape measure parallel to the floor and snug against your skin. Once you have your bust size, use the right push-up bras size chart to find your corresponding band size.
If your bust size is 36 inches or under, go with a band size of 32 or 34. If your bust size is 37 inches or over, go with a band size of 36 or 38.
So all you need to do is match your current band and cup sizes to the chart's closest values. Once you've found your match, you can explore our range of push-up bras that will give you the perfect lift and support.
Push-up bras size chart
Related: Bra size for breast implants – a full guide to getting your new bra size, Breast Size Chart for All Shapes, How to Measure Your Body for Clothing Sizes
INCHES
Underbust
BAND
30
32
34
36
38
40
42
44
46
24.8-26.4
26.828
28.7-28.7
30.7-32.3
32.7-34.3
34.6-36.2
36.6-38.2
38.6-40.2
40.6-41.8
CUP
Overbust
B
31.1-31.9
33-33.9
353-5.8
37-37.8
39-39.8
40.9-41.7
42.9-43.7
44.9-45.7
46.9-47.3
C
31.9-32.7
33.9-34.6
35.8-36.6
37.8-38.6
39.8-40.6
41.7-42.5
43.7-44.5
45.7-46.5
47.6-48
D
32.7-33.5
34.6-35.4
36.6-37.4
38.6-38.6
40.6-41.3
42.5-43.3
44.5-45.3
46.5-47.2
48.4-48.8
DD
33.5-34.3
35.4-36.2
37.4-38.2
39.4-40.2
41.3-42
43.3-44.1
45.3-46
47.2-48
49.2-49.6
E
34.3-35
36.2-37
38.2-39
40.2-40.9
42.1-42.9
44.1-44.9
46-46.9
48-48.8
50-50.4
CM
Underbust
BAND
30
32
34
36
38
40
42
44
46
46
63-67
68-72
73-77
78-82
83-87
88-92
93-97
98-102
103-107
103-107
CUP
Overbust
B
79-81
84-86
89-91
94-96
99-101
104-106
109-111
114-116
119-121
119-121
C
81-83
86-88
91-93
96-98
101-103
106-108
111 -113
116-118
121-123
121-123
D
83-85
88-90
93-95
98-100
103-105
108-110
113-115
118-120
123-125
123-125
DD
85-87
90-92
95-97
100-102
105-107
110-112 –
115-117
120-122
125-127
125-127
E
87-89
92-94
97-99
102-104
107-109
112-114
117-119
122-124
127-129
127-129
What Are Some Tips for Finding the Perfect Fitting Push-Up Bra?
Related: The Best US Bra Sizes Chart in Inches and Centimeters, Breast size chart for all shapes
A push-up bra is a great way to enhance your bust and create curves where there may be none or less defined. It can also lift you, making you look and feel more confident.
However, it's important to find the right fit to ensure you're getting the most out of your bra. Here are a few tips:
Make sure the band fits snugly around your body when trying on a push-up bra. It should be parallel to the floor and not riding up.
The cups should fully cover your breasts and not be gaping open. If they do, the bra is too small.
The straps should be tight enough so that they don't fall down, but not so tight that they're digging into your skin.
The bra's center should lie flat against your chest and not bulge out. If it does, the bra is too big.
By following these tips, you'll be able to find the perfect fitting push-up bra for you!
Push up bra size calculator
A push-up bra size calculator is a simple measurement tool that can be used to determine the proper size for a push-up bra. The calculator will ask for several different measurements, including the band size, cup size, and strap width. With these measurements, the calculator can determine the correct size for the push-up bra.
In addition to the push-up bra size calculator, please also follow the rest of the types we have outlined here in order to ensure a proper fit.
Is push-up bra size the same as a normal bra?
No, push-up bra size is not the same as regular bra size. A push-up bra enhances your bust and gives you a fuller look.
The cup size of a push-up bra is usually one or two sizes smaller than your regular bra size, so it's important to make sure you're ordering the right size. For example, if you're a 34D, you would want to order a push-up bra in size 32 or 34.
To get an idea of which size push-up bra you need, please use our push-up bras size chart as a guide.
How are push-up bras supposed to fit?
A good push-up bra should fit snugly around your band and cups, with minimal overhang. The cups should also be flush against your breasts without any gapping. If the cups are too large, the push-up effect will be minimized. If the cups are too small, the bra will be uncomfortable, resulting in spillover.
Check the size chart to find your perfect fit, and keep in mind that bras stretch over time so you may need to go down a band and/or cup size if it's been a while since you've purchased a new one.
Once you've determined your band size, it's time to find your cup size. To do this, subtract your band size from your bust size and refer to the table below. For example, if your bust measures 38 inches and your band measures 34 inches, your cup size would be C.
| | |
| --- | --- |
| Cup Size Bust Size | Band Size Difference |
| A | 1 inch or less |
| B | 2 inches |
| C | 3 inches |
| D | 4 inches |
| DD | 5 inches or more |
Learn more about how to measure your bust correctly for a push-up bras (video)
Frequently Asked Questions about push-up bras size
Are there plus-size push-up bras?
While there are push-up bras in a wide range of sizes, unfortunately, there are not many options for plus-size women. This is because many brands design their bras to fit a certain standard cup size and band size, which often excludes those larger than a D or DD cup.
However, a few brands specialize in designing push-up bras for plus-size women, including ThirdLove and Playtex. We recommend checking out their collections if you're looking for a comfortable and supportive push-up bra in a larger size.
Should I size up in a push-up bra?
Women often tend to size up in a push-up bra because they want extra lift and coverage, but this can often lead to an ill-fitting bra that doesn't do its job properly.
Instead, we recommend finding your usual size in a push-up bra and then adjusting the straps and band accordingly. This will give you the most lift and support without having to go up a size.
What is the largest size of a push-up bra?
The largest size of a push-up bra is an F cup. However, some bras go up to an H cup.
Are there push-up bras for petite-size women?
While it's not always easy to find bras in smaller sizes, there are definitely push-up bras out there for Petites. Many brands design petite bras specifically to cater to women with smaller chests.
These bras are designed to give you a flattering and comfortable fit, so you can feel your best all day long.
Do push-up bras make your breasts bigger?
No. A bra won't affect the growth of your breasts. Genes and hormones control breast growth, not what a girl wears. A push-up bra supports your breasts to make them look bigger.
Conclusion
Finding the perfect push-up bra can be tricky, but with this push-up bras size chart guide, you'll definitely be able to figure out your size and find the best style for you. Remember to consider your breast shape and what style of bra will work best with your clothes. And most importantly, have fun trying on different bras and find the ones that make you feel confident and sexy!
Whatever size you are, always ensure that the bra band is snug but not too tight. The straps should also be adjusted to be comfortable but do not slip off. Finally, the cups of the bra should be filled but not overflowing. By following these simple tips, anyone can find the perfect fitting push-up bra.
Picture in this post is by Jon Ly on Unsplash
Related to Push-Up Bras Size Chart