Brami Size Chart and Fitting Guide for all Sizes
This post was last updated on May 26th, 2023 at 07:49 am
It is essential to wear the right-fitting brami size as, just with bras, a wrong fitting brami can bite into the skin and cause embarrassing spills. This article offers a brami chart and sizing guide that helps you determine what brami size is best for you.
Learning all about bra sizes? read here
All you want to know about breast sizes? check it here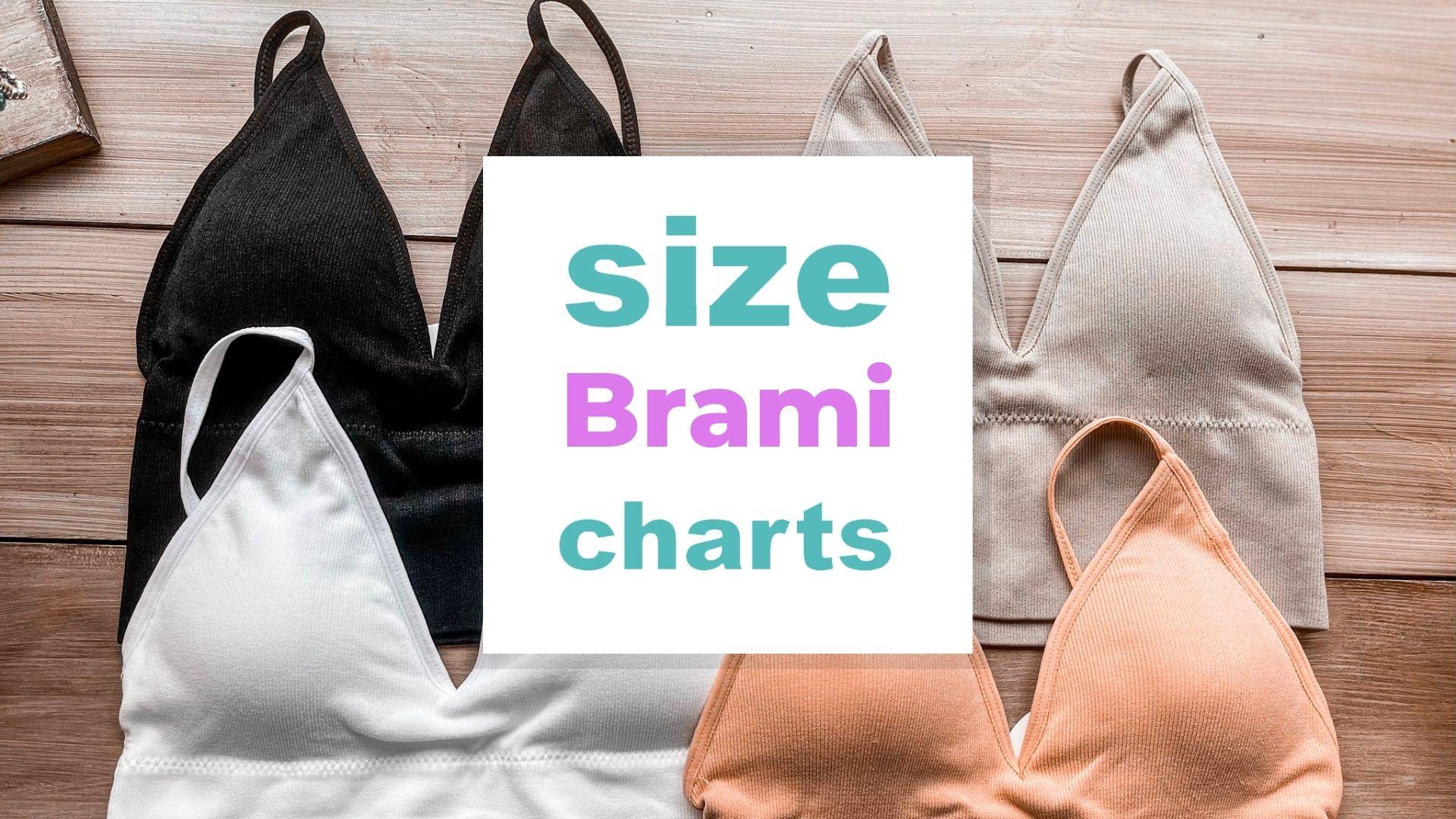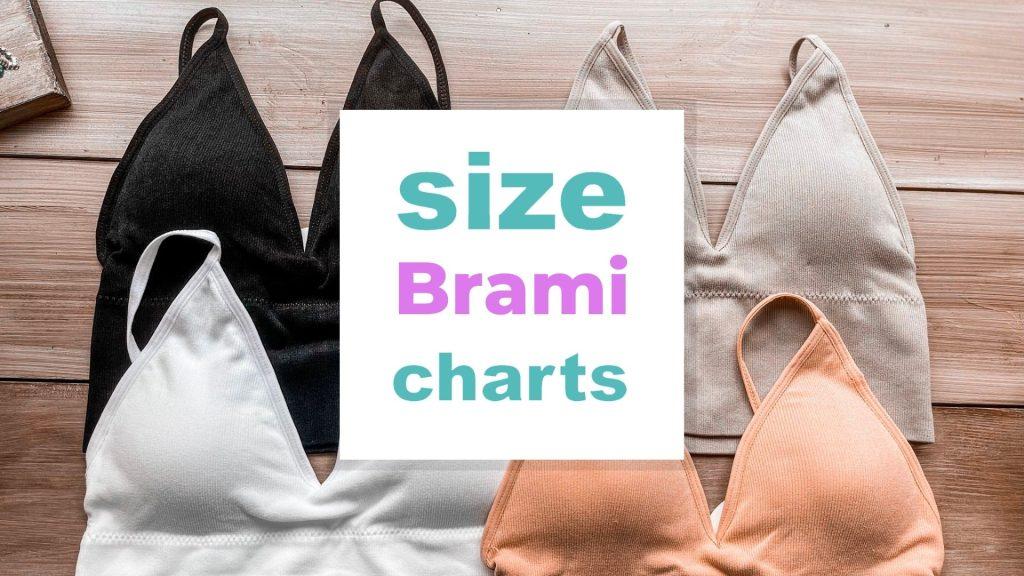 Table of Content of Brami Sizes
What is a Brami?
A product description of a brami describes it hybrid of a bra and a camisole that adds instant femininity to any ensemble while also giving added comfort. The beauty of a brami is its versatility, soft fabric, with various styles and prints to choose from. Bramis can be worn as a bra or a layering piece.
They may also be worn as a standard camisole/top with a lovely leather jacket, a high-waisted skirt, and tights for a superb night-out ensemble. Pair the brami with lounge trousers, sneakers, and a pair of shades for a more relaxed vibe.
Furthermore, the brami provides flexibility that a traditional bra or shirt may not provide, has been discovered to be beneficial for all types of women, and tends to fit everyone regardless of body type.
So do not confuse a brami with a sports bra, if you're looking for sport bra size charts, read here.
(plus size sports bra sizes are handled in a dedicated article here)
Brami Size Chart and Sizing Guide
Cup size
BUST SIZE (in, cm)
30" 76cm
32'' 81cm
34'' 86cm
36'' 91cm
38'' 97cm
40'' 101cm
42'' 107cm
44'' 111
46'' 116cm
50'' 127cm
A
S
M
M
L
XL
XL
XXL
XXL
XXXL
XXXL
B
M
M
M
L
XL
XL
XXL
XXL
XXXL
XXXL
C
L
L
L
L
XL
XL
XXL
XXL
XXXL
XXXL
D
L
L
L
L
XL
XL
XXL
XXL
XXXL
XXXL
DD
XL
XL
XL
XL
XL
XL
XXL
XXL
XXXL
XXXL
DDD
XXL
XXL
XXL
XXL
XXL
XXL
XXL
XXL
XXXL
XXXL
DDD-F
XXXL
XXXL
XXXL
XXXL
XXXL
XXXL
XXXL
XXXL
XXXL
XXXL
G
XXXL
XXXL
XXXL
XXXL
XXXL
XXXL
XXXL
XXXL
XXXL
XXXL
You noticed there are many Plus sizes in the above size chart: learn all about plus sized bras here
How to Use the Brami Size Chart
Shopping for bras and other lingerie may be difficult for many women, so this article aims to make the process easier by assisting you in determining the best bra fit for you.
There are many types of brami to choose from, including the neck brami, tee brami, racerback brami, shine brami, henley brami, T-shirt brami, Bryn brami, brami bralette, neck crop brami and halter brami.
Regardless of the type you buy, however, you don't want to pick a size that's too big or too little for a brami. A too-tight brami will be uncomfortable and may dig into your flesh and lead to several health problems. A too loose brami, on the other hand, will not provide the extra support that they are known for.
You'll need to know your bust size and cup volume to determine which brami size is suitable for you.
Bust Measurement
Measure the most expansive region of your chest with the measuring tape around your back at band level. To avoid measurement errors in metric measurements, keep the measuring tape flat and parallel to the ground.
Take a deep breath in and out and check that the tape is securely fastened to your body; it should not be excessively tight or fall off. In inches, round the number to the following whole number.
Band Measurement
The band measurement is crucial since it determines how tightly your brami wrap around your back. Wear a bralette or an unpadded bra and measure the area's circumference below the center of your chest with a soft tape measure to achieve the most accurate measurement.
While around you, keep the measuring tape parallel to the floor; you may need assistance from a friend or professional. Convert your measurement to the appropriate band size using the table below and round the value to the nearest even number before converting it to inches.
| | |
| --- | --- |
| Rib Cage (inches, cm) | Band Measurement |
| 26-27″ 66-68cm | 30 |
| 28-29″ 71-73cm | 32 |
| 30-31″ 76-78cm | 34 |
| 32-33″ 81-83cm | 36 |
| 34-37″ 86-93cm | 38 |
| 38-41″ 96-104cm | 40 |
| 42-43″ 106-109cm | 42 |
| 44-45″ 111-114cm | 44 |
| 46-47″ 116cm-119cm | 46 |
| 48-49″ 121-124cm | 48 |
Brami Cup Size
Subtracting your band size from your bust size is the most accurate way to get your cup size. You'll be able to determine the difference between your band and bust sizes, as well as the letter cup that corresponds to how high your breasts are lifted over your chest by doing so. After determining the difference between your bust and band, use the table below to get your letter cup size.
| | |
| --- | --- |
| Difference Between Bust & Band (in, cm) | Cup Size |
| 1″ 2.5cm | A |
| 2″ 5cm | B |
| 3″ 7.5cm | C |
| 4″ 10cm | D |
| 5″ 12.5 | DD/E |
| 6″ 15cm | DDD/F |
| 7″ 17.5cm | G |
Brami sizing explained
Conclusion
Hope you found this article on the brami chart and sizing guide helpful. Remember that getting the correct fitting brami is just as important as the right fitting bra. A perfect brami should be snug and allow for easy breathing, not too tight or too loose.
You can easily place orders for your mid-crop length brami in select colors using the size chart above. In addition, the beautiful fabric can serve as the perfect holiday gift for friends.
We love to hear from you, so please leave a comment in the section below, and we will get back to you as soon as we can.
Related Bra and underwear size charts