Period Underwear Size Charts
When it comes to keeping the skin dry and clean during the period, several factors need to be put into consideration: from cost to convenience. One factor that recently became predominant in society is sustainable living, which is constantly getting violated by the design of some of the common-period products. The rise in period underwear has brought a more positive outlook to this part of the narrative (skip straight to the period underwear size charts).
Period underwear is more like everyday panties that one can wear and get adequate protection from the leak and menstrual blood stains. Rather than achieving a day's comfort as one gets with the regular period product, period underwear, especially those designed using organic cotton covers can provide extended protection. Period underwear also provides protection against health conditions like bladder leaks.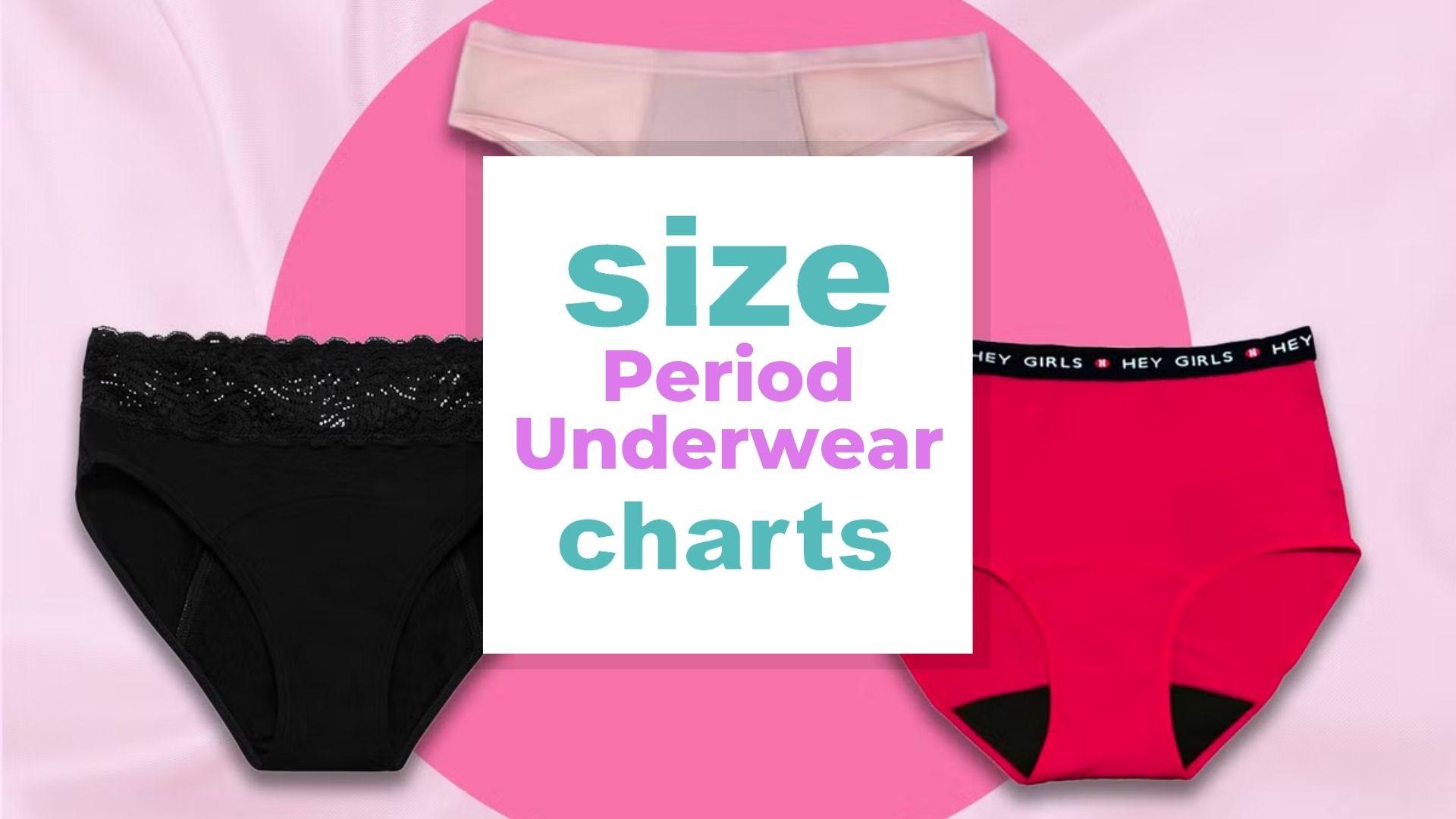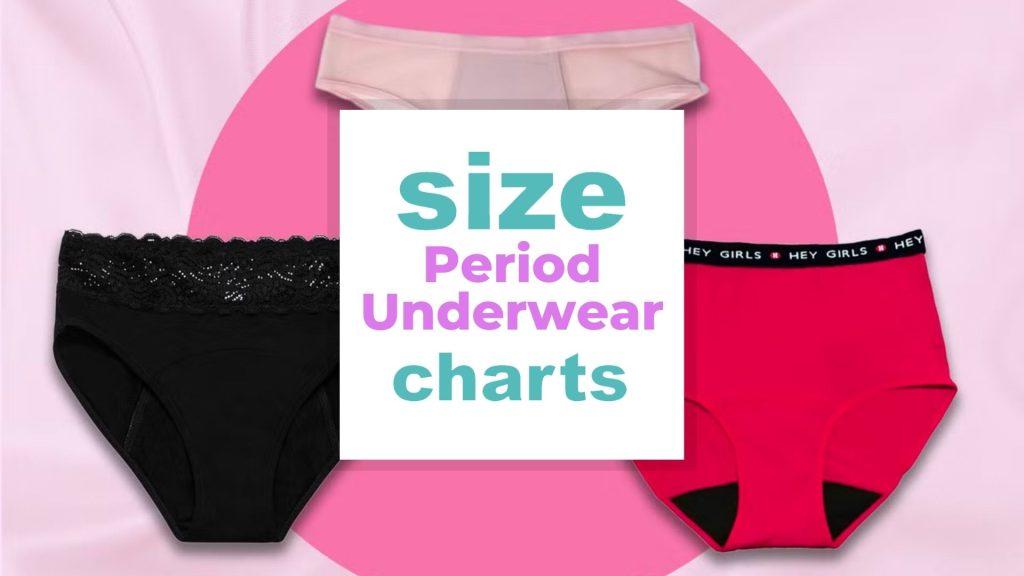 It may interest you to know that period underwear comes in a wide range of sizes and dozens of styles. However, one can become frustrated with these valuable products if the wrong size is purchased. The best experience of comfort and convenience can be enjoyed with the right size of period undies. If you are considering owning one-period underwear, this article walks you through everything you need to know about size and measurements.
The size charts below outline some of the most popular period underwear sizes. Also, adequate answers have been provided to some frequently asked questions about period underwear.
Jump right into the Frequently Asked Questions
Related: Panty Sizes Chart and Measuring Guide for adult and children, Women's Underwear Size Guide Chart And Sizing Guide, Underwear size chart and conversion, Plus size Intimates Size Chart for your lingerie
Period Underwear Size Table of Contents
Period Underwear Size Chart
Related: Hanes Underwear size chart – sizes for men's, women's & Kids' Underwear, Underwear size chart and conversion
| | | | | | |
| --- | --- | --- | --- | --- | --- |
| Size | Numerics | Waist (in) | Waist (cm) | hip (in) | Hip (cm) |
| XXS | 00 – 0 | 22 – 23.5 | 55.9 – 59.7 | 32.5 – 34 | 82.6 – 86.4 |
| XS | 0 – 2 | 24 – 25.5 | 61 – 64.8 | 34.5 – 36 | 87.6 – 91.5 |
| SM | 2 – 6 | 26 – 27.5 | 66 – 69.9 | 36.5 – 38 | 92.7 – 96.5 |
| MD | 6 – 8 | 28 – 29.5 | 71 – 74.9 | 38.5 – 40 | 97.8 – 101.6 |
| LG | 8 – 10 | 30 – 33.5 | 76 – 85.1 | 40.5 – 42 | 102.9 – 106.7 |
| XL | 10 – 12 | 34 – 35.5 | 86.4 – 90.2 | 42.5 – 44 | 108 – 111.8 |
Period Underwear Plus sizes Chart
Related: Women's Bra Size Chart, Bikini Size Chart and Sizing Guide, Skims size chart for underwear or shapewear for women
| | | | | | |
| --- | --- | --- | --- | --- | --- |
| Size | Numerics | Waist (in) | Waist (cm) | Hip (in) | Hip (cm) |
| XL | 10 – 12 | 34 – 35.5 | 86.4 – 90.2 | 42.5 – 44 | 108 – 111.8 |
| XXL | 14 – 16 | 36 – 39 | 91.5 – 99.1 | 44.5 – 46.5 | 113 – 118.1 |
| XXXL | 18 – 20 | 40 – 43 | 101 – 109.2 | 47 – 50 | 119.4 – 127 |
| xxxxL | 22 – 24 | 43 – 46 | 109.2 – 116.8 | 51 – 53 | 129.5 – 134.6 |
Learn more about period underwear size and different types (Video)
Frequently Asked Questions
How do you measure period underwear?
To measure your body size for a pair of period underwear, you'll need a tape ruler, tape measure, or other measuring instruments. However, you need to remember that getting the correct-sized pair of underwear could require a degree of caution. However, when it comes to picking a pair of period underwear, there's a need to exercise greater care to get the best leak protection and enjoy worry-free nights and leak-free period nights.
The first step to take when thinking of purchasing comfortable period underwear that provides complete coverage is to get accurate measurements. First, you need to measure the waist. The waist is the region beneath the navel and the hips. It's best to run the tape measure around this part, ensure it's parallel to the floor and slide it up and down to check how tight it is. The best measurements are the figure that's not too tight or too loose to slide freely.
Ensure it's firm enough to provide the perfect grip that looks like those of your regular underwear in sizes. Once you have the waist measurement, get the hip measurement by wrapping the tape rule around your hip, and ensure to take the measurement around the fullest part of the hip. Once you have the two measurements, the next step is to make use of the size charts above to determine the size that fits perfectly.
Can period undies leak?
No. However, there are some inferior products with materials that don't provide enough protection against leaks. Generally, period undies are made of moisture-trapping layers, followed by padded layers of adsorbent materials that hold the menstrual flow. Finally, there is the leak-resistant layer that prevents fluid leakage. The capacity to prevent leakage varies from one brand to another.
Some brands use sophisticated materials in the design of their period undies, while others use less dependable materials. Besides the materials used in the creation of undies, another very important factor that triggers leakages is the use of oversized or undersized period undies.
It gives room to outflow when it's oversized or squeezes the undies so hard that the fluid breaks from the adsorbent materials in the undies. It is best to stay within the size that provides the best fit.
What underwear is best for the period?
The best underwear for periods are those made of breathable cotton, organic cotton, organic material, or other breathable material as the raw material for the design of the period underwear. These kinds of materials provide comfort and absorbency levels that absorb fluid better than any other material. Also, the brand you purchase must include layers of adsorbents to trap the odor that may result from the menstrual flow.
You should know that menstrual could emit an unpleasant odor when exposed to air and without a means to trap the odor, it could become uncomfortable. Therefore, this should be a prime criterion that determines the period of undies you purchase. One way to make a perfect choice is to read the product reviews of the undies you are considering.
Most times, you'll find more details about the pros and cons of the brand. It should help you make informed decisions.
Does period underwear run big or small?
Most period underwear runs small. The sizes are designed to make room for a future stretch that would result from repeated use. To get a size that fits comfortably, there may be a need to size up. However, sizing up by considerably large inches could result in oversized undies.
Therefore, it's best to opt for an inch or half-inch up when purchasing period underwear. Check the size charts above for more details and size information.
Do you need to size up for period underwear?
Period underwear generally doesn't come true to size, unlike regular underwear. It's always best to go for loose sizes for the sake of comfort. Wearing period undies with fabric too close to your skin could become uncomfortable. Likewise, going for sizes that are too loose may result in leaks.
It's best to opt for a size that fits perfectly: not too tight, and not too loose. The size charts above outline various sizes of period underwear. When using the size charts, if your measurement falls in the middle, it's best to go for a size that's half or an inch higher.
How long can period underwear last?
Period underwear can last anywhere from two to five years, depending on how they are used and the maintenance culture imbibed. This duration of use makes them a much better purchase decision that any other disposable period products such as regular tampons or pads.
Some brands may last longer than five years, while some inferior brands may not exceed one year of active use. However, the standard durability should be in the range of two to five years. It's also best to keep the duration in that range for the sake of proper hygiene and cleanliness.
Why do my period pants leak?
There are several causes of the leak of period underwear. The most common cause is heavy flow. Period underwear is often designed to handle moderate flows to light flows. Unlike regular menstrual products with the capability to handle a wide range of flows, the materials used in the design of period panties are made with Moderate Absorbency.
Another reason you may experience leaks is wearing a size period panties or styles of period underwear that do not provide the Widest Coverage. There is a wide size range of period pants to choose from. However, it's best to pick the styles of period underwear and size that provides the Widest Coverage and protection against leak.
As explained earlier, the size you pick should not provide excessive fit or slack, to avoid squeeze or leak that would release the fluid from the underwear.
Difference between period and regular underwear size?
The major difference between regular undies and period underwear is the design and material used. While period underwear uses general clothing materials, period underwear adopts several layers of adsorbents, which absorb and hold the menstrual blood during the period.
Despite their designs, period underwear is still made with a panty-like fit. Leak-proof materials are also incorporated into the designs to provide extended periods of dryness and comfort to the skin. Check the size charts above for more details about regular-size and plus-size period underwear.

Conclusion 
Period underwear has been around for over two decades now. Besides the cost-effectiveness and convenience, the growing popularity of period underwear also demonstrates that the world is gravitating towards a more sustainable environment. The increasing pollution caused by disposable products like pads and tampons has drawn a rebuke from authorities and climate advocates around the world.
A shift towards period underwear would make a huge difference in the reduction of non-degradable wastes and ensuring social health, personal health & household health. If you want to embrace the use of period underwear, one of the most critical things to bear in mind is size.
The size charts above help you identify the sizes that correspond with your body measurement. With the right size of organic cotton period underwear, you can enjoy worry-free nights. Leave your questions in the comment below and remember to share the article.
Picture in this post is from NBCNews.com
Related to Period Underwear Size