Pepper Bra Size Charts
This post was last updated on January 3rd, 2023 at 04:19 am
Pepper, headquartered in Brooklyn, New York, is a manufacturer of small-cup-size bras which was founded by Jaclyn Fu. Pepper is a revolutionary new bra brand that is helping women with smaller bust sizes finally find the support they need. The goal is to provide women with flattering bras that help them feel confident in their own skin, regardless of their size (skip straight to the Pepper Bra Size Charts).
Women with smaller busts know well how difficult it is to find a bra that properly supports their breasts.
They make pepper bras to accommodate women who wear AA cup, A cup, and B cup sizes, similar to how other lingerie manufacturers target curvaceous women or plus-size bodies. Women with smaller busts like to prefer Pepper bras because of the brand's specific attention to their needs.
This is because it might challenge for many women to find bras in smaller sizes. And even then, their petite busts often leave them with unsightly gaps in the cups and saggy straps.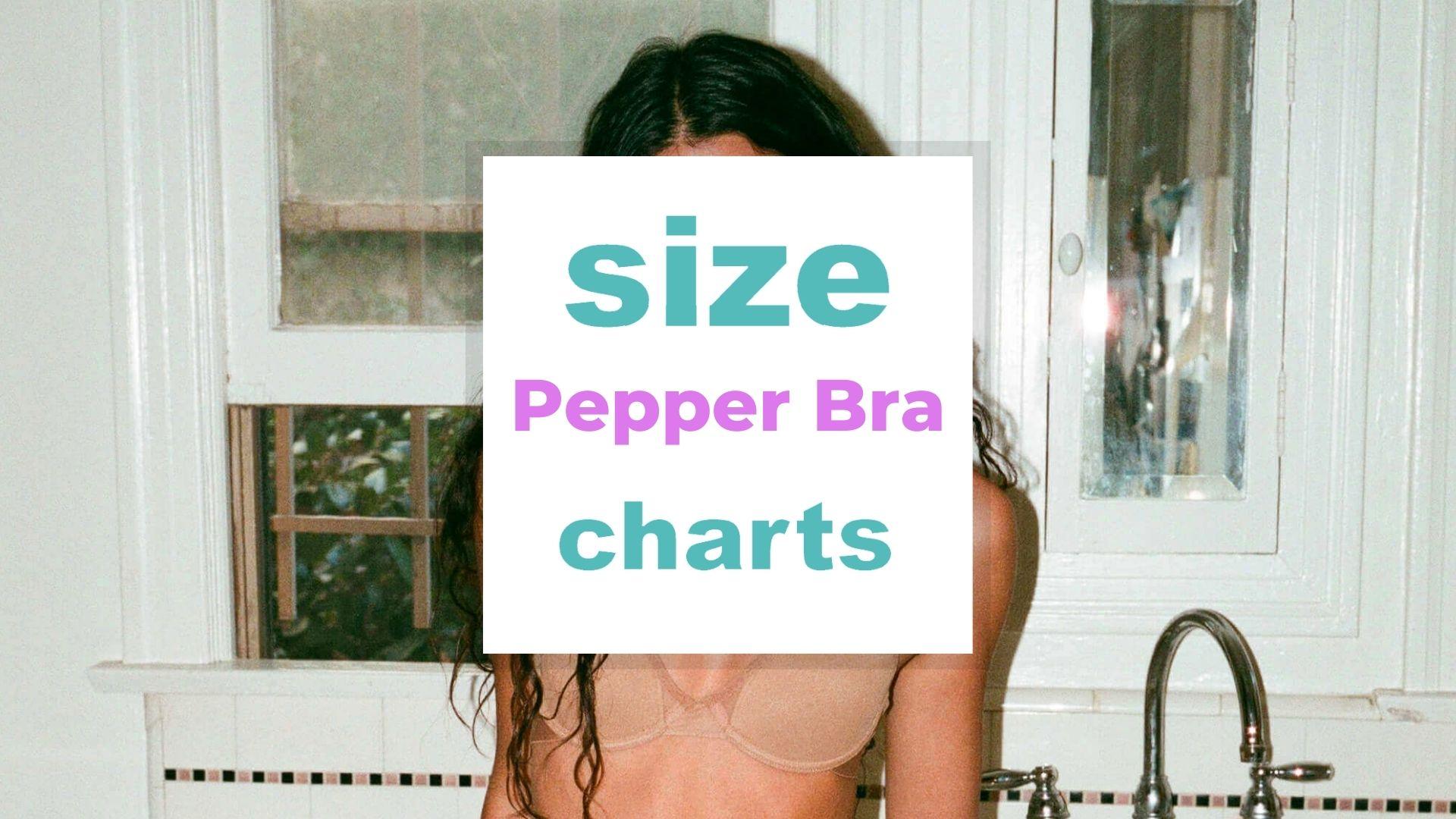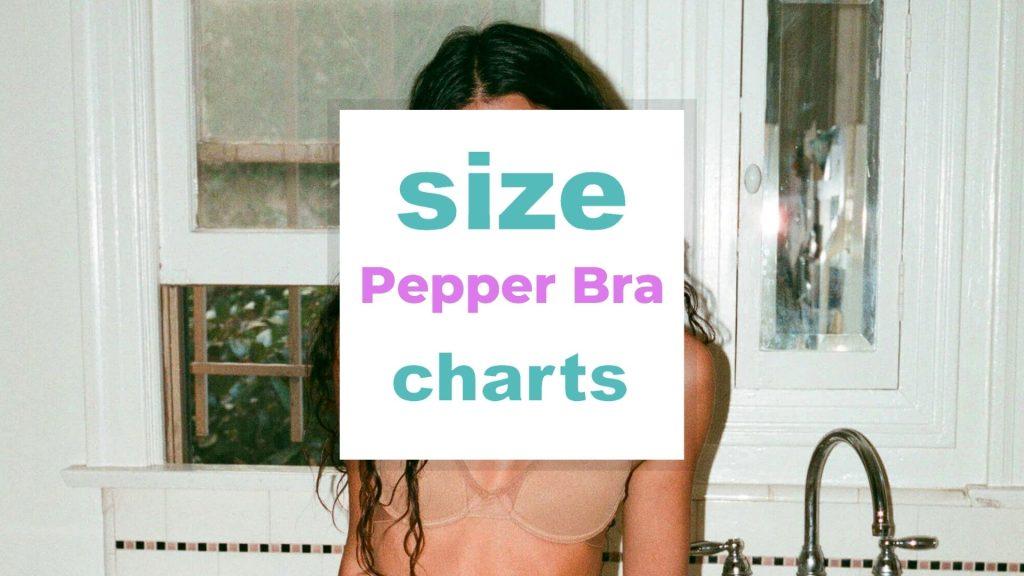 Typical Pepper bra prices are between $50 and $55, which is comparable to what you would pay for a quality bra from Victoria's Secret or another similarly renowned brand. While other, more well-known brands of bras don't put as much emphasis on ethical or environmentally responsible production, Pepper does.
The company's minimal environmental impact is due to it not employing any toxic chemicals during manufacture and using significantly less water than competing brands. Even more impressive is the fact that women make up about 85% of the workforce in their Colombian factory. What a fantastic idea!
Jump right into the Frequently Asked Questions
Related: Women's Bra Size Chart, Bikini Size Chart and Sizing Guide, Gucci Bra size charts and fitting guide , Victoria's Secret Bra Size Chart, Underwire Bras Size Chart and Fitting guide for all women
Pepper Bra Size Charts Table of Contents
Pepper Bra Bottoms Size Chart
Related: Strapless Bra Size Chart and Sizing Guide
| | | | | | | |
| --- | --- | --- | --- | --- | --- | --- |
|   | XXS | XS | S | M | L | XL |
| PANT SIZE | 00 – 0 | 0 – 2 | 2 – 4 | 6 – 8 | 10 – 12 | 14 |
| WAIST | 21 – 23 in 53.34 – 58.42 cm | 23 – 25 in 58.42 – 63.5 cm | 26 – 28 in  66.04 – 71.12 cm | 29 – 31 in 73.66  – 78.74 cm | 32 – 34 in 81.28 – 86.36 cm | 34 – 36 in 86.36 – 91.44 cm |
| HIP | 31 – 33 in 78.74 – 83.82 cm | 33 – 35 in 83.82 – 88.9 cm | 36 – 38 in 91.44 – 96.52 cm | 39 – 41 in 99.06 – 104.14 cm | 42 – 44 in 106.7 – 111.8 cm | 44 – 47 in 111.8 – 119.4 cm |
Pepper bra cup size chart
Related: Bralette size Chart And Sizing Guide
| | | | | | | | | |
| --- | --- | --- | --- | --- | --- | --- | --- | --- |
|   | STEP 2: BUST MEASUREMENT | STEP 2: BUST MEASUREMENT | STEP 2: BUST MEASUREMENT | STEP 2: BUST MEASUREMENT | STEP 2: BUST MEASUREMENT | STEP 2: BUST MEASUREMENT | STEP 2: BUST MEASUREMENT |   |
| STEP 1: RIBCAGE MEASUREMENT | XXS 25 – 26 in 63.5 – 66.04 cm | 30A | 30B |  X | X  | X  | X  | YOUR PEPPER BRA SIZE |
| STEP 1: RIBCAGE MEASUREMENT | XS 27 – 28 in 68.58 – 71.12 cm | 32AA | 32A | 32B |  X |  X |  X | YOUR PEPPER BRA SIZE |
| STEP 1: RIBCAGE MEASUREMENT | S 29 – 30 in 73.7 – 76.2 cm |  X | 34AA | 34A | 34B |  X | X  | YOUR PEPPER BRA SIZE |
| STEP 1: RIBCAGE MEASUREMENT | M 31 – 32 in 78.74 – 81.28 cm |  X |  X | 36AA | 36A | 36B |  X | YOUR PEPPER BRA SIZE |
| STEP 1: RIBCAGE MEASUREMENT | L 33 – 34 in 83.82 – 86.36 cm |  X | X  | X  | 38AA | 38A | 38B | YOUR PEPPER BRA SIZE |
| STEP 1: RIBCAGE MEASUREMENT | XL 35 – 36 in 88.9 – 91.4 cm |  X | X  | X  | X  | 40AA | 40A | YOUR PEPPER BRA SIZE |
How to choose the right Pepper bra size
Related: Strapless Bandeau Size Chart And Sizing Guide for women
The Detailed Instructions
Step 1: Determine your band size.
Take your measurements while exhaling, circling your ribcage with a measuring tape. Wrap the tape evenly and tightly across your back.
Step 2: Determine the Cup size
Measure around the largest part of the bust with a measuring tape. Check that the tape is straight and level across your back.
What size bra do you need?
Band; Fabric loosens up with use, so it should feel fine even on the largest hook. Not wavy or sloping at all; flat and straight. Body type.
Center bridge; For under-wired bras, it lays flat on the sternum. Try a larger cup correct size if the bridge slips off your chest.
Cups; A complete filling of the cups.
Underwire; Fits snuggly against your chest and cradles your breast bud. Keep your fingers out of each other's nooks.
Straps; Modified to prevent shifting or digging in. We recommend periodically adjusting your straps because they will loosen with use.
Top-Rated Pepper Bras
Women of a C cup or larger cannot locate a Pepper bra that is a good fit. They are designed specifically for women with smaller busts and accurate sizes.
You also won't find any really seductive lace designs, patterns, or colors at Pepper just yet. We'd love to get behind this company, but there are only five different types accessible on their website right now, so it's hard to get excited.
So that you may choose the Pepper Bra that is best for you, I'll briefly describe each of the five designs.
Mesh All Your Bra
As one of Pepper's top sellers, the Mesh All You Bra is a must-have item. The bra's curved wires are comfortable and won't pinch, the mesh is ultra-plush and will assist raise your breasts, and the cups are shallow so they won't dig in or protrude.
A bra with softly lined but unpadded cups, like this one, is ideal for the lady who loves her naturally petite breasts but wants to feel comfortable in her own skin.
Limitless Wirefree Scoop Bra
Do you avoid underwire bras in favor of wireless options? One of Pepper's best-selling styles is the Limitless Wirefree Scoop Bra.
The Limitless bra is a moderately supportive option that features a soft, supple fabric, a sheer mesh detail, and removable padding for a customized fit. You may wear this bra to the gym, the dancing studio, or the yoga studio because the elastic band in the back prevents it from riding up.
Check out Pepper's size chart to find the right fit for this wire-free bra, which comes in XXS through XL.
Classic All You Bra
Similar to the Mesh All You Bra, the Classic All You Bra is form-fitting but does not expose as much skin. It's really soft and elastic, making it an ideal base layer. The actual cup size should be well when you wear a Pepper bra. Avoiding alternate sizes is also good for pepper exchange.
Everyday Lace Bralette
The Everyday Lace Bralette, one of Pepper's most lovely bra options, is crafted from delicate lace and lined with three layers of supportive fabric (and nip coverage).
Featuring V-neckline, adjustable straps, and a smooth elastic band that won't ride up your back, this unpadded triangle bralette is a great everyday option.
Laidback Lace Bra
The Laidback Lace Bra, like Pepper's other All You bras, has a trademark fit and is incredibly feminine thanks to the textured lace details. They make it with Pepper's Authentic Lift construction and have a soft, comfy style, making it ideal for layering under a warm sweater or a seductive dress.
This bra comes in a small palette of colors, making it simple to pair with your existing undergarment collection.
Learn more about Pepper Bra Sizes (video)
What are the best bras for my shape?
Related: Breast Size Chart for All Shapes, How to Measure Your Body for Clothing Sizes
Just like with clothes, some styles are more flattering than others on a given person. Full-cup and balconette bras have deeper cups, wider straps, and stronger underwiring, making them better options for women with larger busts. Although some of us who need smaller sizes may lean toward crop tops or bralettes. They're soft, supportive, and flattering since they conform to your bust.
How can I determine what size cup I am?
Wearing your current favorite (i.e. most comfortable) bra for this part is highly recommended by merchants so that your bosoms stay where you want them to be. Take your circumference measurement around your bust line. Then, take your band size and subtract it from your bust size. You can use that disparity to determine your cup size.
For example, 0=AA, 1=A, 2=B, 3=C, 4=D, 5=DD, 6=F, 7=FF, 8=G, 9=GG, 10=H, 11=HH, 12=J, 13=JJ, 14=K, and so on. To get your bra size, add the circumference of your band to the height of your cup, as in 34F. Keep in mind that achieving the correct fit involves a lot more depth than just this one number, such as considering your style and fabric preferences.
Find out what size bra band you need by following these simple steps!
Measure the circumference of your back and beneath your bust, where a bra band would normally sit, with a measuring tape while standing erect and without a bra. Keep the tape moving in a straight line around the circumference. Ideally, it should be snug without being restrictive. Using inches as a measuring stick, the size of the band you need is the even number that results. When determining your size, round up to the nearest even inch if the number is odd.
Frequently asked questions
1. Why are AA cups smaller and DD cups larger?
Given that there are no globally agreed-upon criteria for bra sizes, it's difficult to understand why, for example, an AA cup is smaller than an A cup but the double-lettered cups that follow D (such as DD, EE, FF) are all larger than their original size.
However, some explanations have been proposed.
They initially implemented cup sizing in the United States in 1937, and then in the United Kingdom in 1948. Although 57% of British women are a D cup, that a D is a gigantic "glamour-model" size breast may have originated with the original version's four sizes (A, B, C, D). This is besides the fact that Katie Price claimed to be a DD at the height of her career. According to statistics, the most popular UK bra size is a 36D.
Then, when companies realized four sizes weren't enough to cover the market, they started using extra letters to distinguish between sizes. Instead of an A-, for instance, they opted for the slightly lower AA, and instead of going from a D to an E, they agreed on a DD. An AA cup is one inch smaller than an A cup, while a DD cup is one inch larger than a D cup, with a difference of 2cm to 2.54cm (depending on where you shop).
2. Is Pepper Bras Any Good for you?
No one care if you're an A or a DD cup—if you'd rather not wear a bra, then don't! No one here is qualified to pass judgment. Since we are in the twenties century, wear whatever bra you wish or none.

However, Pepper bras are worth looking into if you need a new bra and you have a chest size of AA, A, or B. You won't find a huge range of styles on their website, but you will find bras that suit your body and flatter your form at a price that won't break the bank.
3. Is A or AA bigger?
An AA cup is one inch smaller than A cup
4. How do bra sizes work?
The band size and cup size are the two sections of a bra's sizing that you need to know in order to find the right one on the store's rack.
5. What is a band size?
The number indicates your band size on the front. What you see in numbers, such as 30, 32, or 34, is the circumference of your rib cage.
6. What's the M size in Pepper?
M is the medium size of the pepper bra size.
7. What does cup size mean?
Keep in mind that the cup size is a measurement of how much larger your breasts are in relation to your rib cage and not volume. A letter without a number is meaningless because it is determined only by the size of your rib cage. The D cup size on a 28 band is smaller than the D cup size on a 40 band.
Conclusion
You've just read the most comprehensive review on the Pepper bra ever written, and I appreciate your interest! I loved writing about this innovative company, which has established itself as a formidable contender in the bra market.
Ask in the comments for a review of yet another fantastic brand of bras if you need one.
Picture in this post is from popsugar.com
Related to Pepper Bra Size Charts