La Senza Bra Size Chart and Fitting Guide for Women's Lingerie
This post was last updated on March 28th, 2023 at 08:34 pm
La Senza is one of those lingerie brands that offer their lingerie products in a limited size range. These limited sizes of lingerie options make some people wrongly suggest that the bra size selection of lingerie sets is also limited. Many people avoid lingerie-themed bras thereby reducing their choice in styles. What if I told you that you can select from loads of styles La Senza offers and still be the right size? (skip straight to the La Senza Bra Size Metric Chart).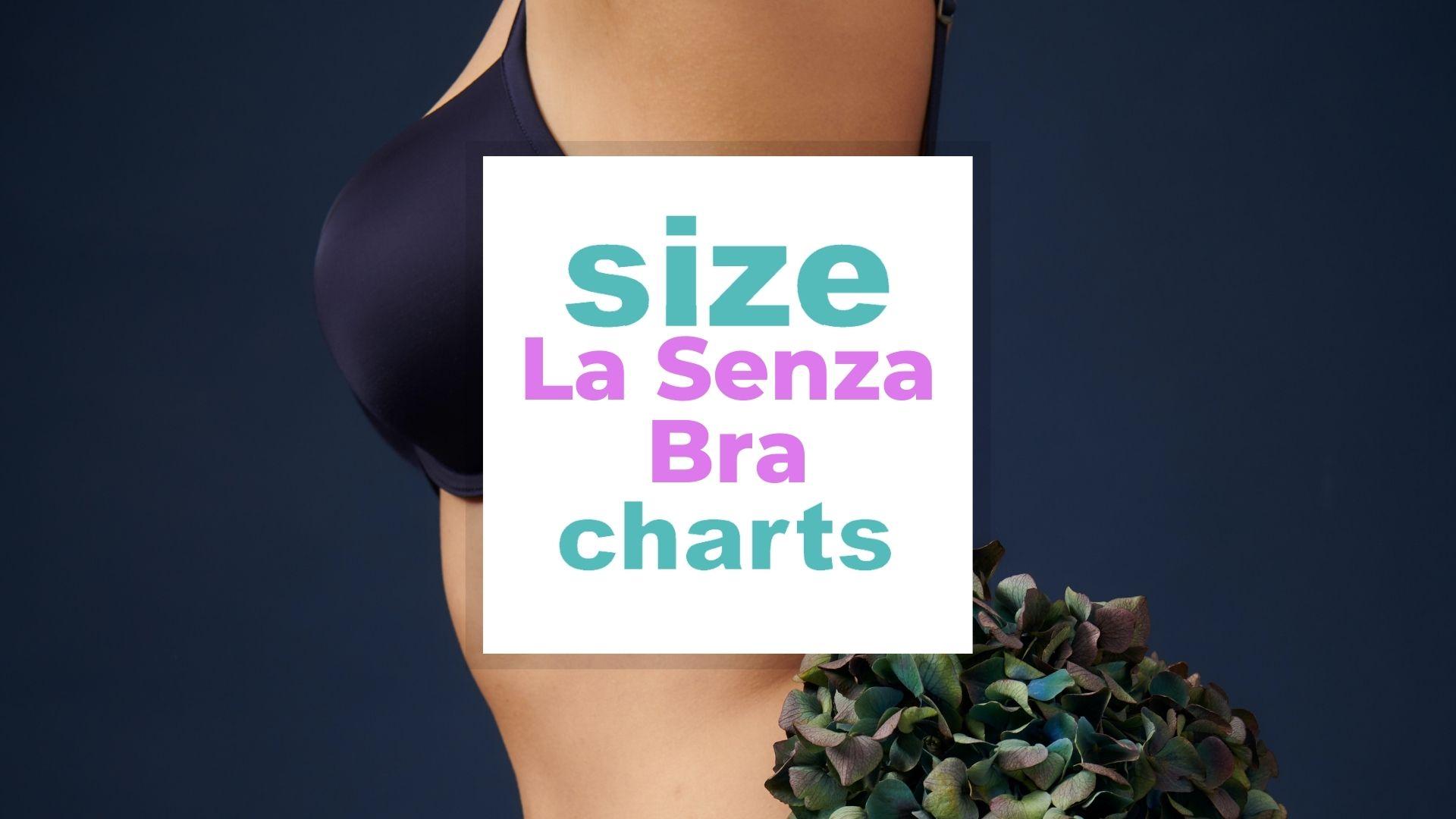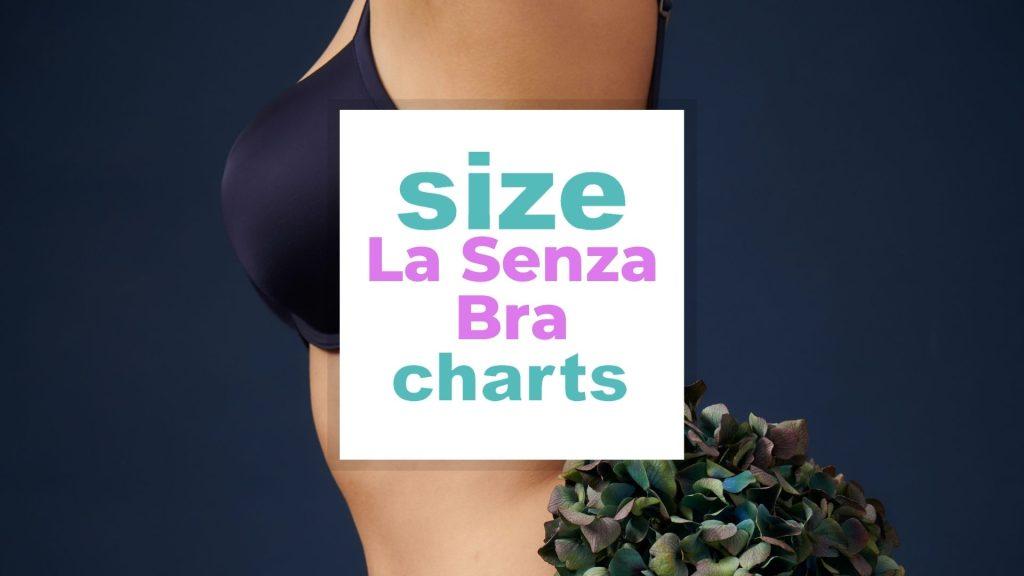 Whether you pick from the cotton collection of matching panties and bras or from a standalone choice of styles like the pushup style, you can always purchase La Senza bras in comfortable sizes.
Jump right into the Frequently Asked Questions
Related: Women's Bra Size Chart, Bikini Size Chart and Sizing Guide, Gucci Bra size charts and fitting guide , Victoria's Secret Bra Size Chart
Summary of La Senze Bra Size Chart
La Senza Bra Size Chart
Related: Brami Size chart and fitting guide for all sizes
The international size chart for La Senza bras and selection of panties are both officially in inches. Even standalone panties and lingerie sets for women are mostly measured in inches. Scroll down if you prefer your measurements in centimeters.
| | | | | | | |
| --- | --- | --- | --- | --- | --- | --- |
| Band Size | 30 | 32 | 34 | 36 | 38 | 40 |
| A | 29.5-30.25 | 32.25-33 | 34.25-35 | 36.25-37 | 38.25-39 | 40.25-41 |
| B | 30.25-31 | 33-33.75 | 35-35.75 | 37-37.75 | 39-39.75 | 41-41.75 |
| C | 31-31.75 | 33.75-34.75 | 35.75-36.75 | 37.75-38.75 | 39.75-40.75 | 41.75-42.75 |
| D | 31.75-32.75 | 34.75-35.5 | 36.75-37.5 | 38.75-39.5 | 40.75-41.5 | 42.75-44 |
| DD | 32.75-33.5 | 35.5-36.25 | 37.5-38.25 | 39.5-40.25 | 41.5-42.25 | 43.5-44.25 |
| E | 33.5-34.25 | 36.25-37 | 38.25-39 | 40.25-41 | 42.25-43 | 44.25-45 |
La Senza Bra Size Metric Chart
Related: Bralette size Chart And Sizing Guide
Not everyone is familiar with inches so we decided to convert and insert some in centimeters.
| | | | | | | |
| --- | --- | --- | --- | --- | --- | --- |
| Band Size | 30 | 32 | 34 | 36 | 38 | 40 |
| A | 74.9-76.8 | 81.9-83.8 | 87-88.9 | 92.1-94 | 97.2-99.1 | 102.2-104.1 |
| B | 76.8-78.7 | 83.8-85.7 | 88.9-90.8 | 94-95.9 | 99.1-101 | 104.1-106 |
| C | 78.7-80.6 | 85.7-88.3 | 90.8-93.3 | 95.9-98.4 | 101-103.5 | 106-108.6 |
| D | 80.6-83.2 | 88.3-90.2 | 93.3-95.3 | 98.4-100.3 | 103.5-105.4 | 108.6-111.8 |
| DD | 83.2-85.1 | 90.2-92.1 | 95.3-97.2 | 100.3-102.2 | 105.4-107.3 | 110.5-112.3 |
| E | 85.1-87 | 92.1-94 | 97.2-99.1 | 102.2-104.2 | 107.3-109.2 | 112.3-114.3 |
Why Is The Right Size Important?
Related: Bra size for breast implants – a full guide to getting your new bra size
You need a pair of comfortable bras, there is a reason they became so popular in the first place. You need something that fits properly.
Apart from being way more comfortable, having a well-fitted bra is also a matter of health, and wearing the wrong bra size can contribute to back shoulder, and neck pain.
'Wearing the wrong bra size can lead to a range of issues, from poor posture and pain to sagging. With a 4cm range of sway in every direction, even something as gentle as walking up the stairs without a bra could be enough to stretch your delicate skin.' – Michael Thomson, CEO, and founder of Pour Moi Ltd.
The larger the breasts are, the more compulsory it is to support their weight. Nursing women especially busty ladies will happily bear witness to the discomfort of free mode. The only women who can truly live a braless life with no remorse are the ones small enough to NOT have much pulp mass. Your entire body needs you to support the twins.
How To Measure For A Proper La Senza Bra Size
Related: Breast Size Chart for All Shapes, How to Measure Your Body for Clothing Sizes
Find Your La Senza Bra size
The first step is to measure your band size:
1. Place the measuring tape around your ribcage, under your breasts. Right where the band of your bra would go when you put the bra on. Pretend as if the tape was your bra band.
3. Make sure it is pulled tight but is not uncomfortable and that the tape is level.
4. Note how many inches you are and add 3 to this measurement. For example, if your ribcage is 31 inches, your band size is 34. If you land on an even number this is your band size.
5. If you land on an odd number, you'll want to round up or round down to the nearest even number based on your build. Round down if you're softer (more "plum") around the band and round up if you're leaner (more "bony") and don't have much give around the band. This is your band size.
The next step is to measure your cup size:
1. Place the measuring tape around the fullest part of your bust. This is usually over your nipples or the "roundest" part of your breasts. You won't need to pull the tape particularly tight for this measurement it just needs to sit flat, but you'll still want to make sure it's level.
2. Make a note of how many inches you are. This will help determine your cup size.
3. Check the chart above and pick the range you best fall in.
Bra Size Chart and Guide explained (video)
Frequently Asked Questions
Does La Senza bra run small ?
Yes, they do. There is no way to sugarcoat it, La Senza runs small in the bra department. Some people have noted that it is more prominent in their padded collection. If you remove the pad, the cups seem to be more of general size. On the La Senza scale, the average woman in the United States wears bra size 30D.
What is the biggest La Senza bra size at la senza?
The largest bra size produced en masse at La Senza is 40E, however, there are larger sizes available as "model sizing". This means they are easily available but produced in smaller quantities per batch.
What is the smallest La Senza bra size?
Officially, the smallest size is a 30A. However, there are bralettes that can double as a bra for smaller sizes up to 28A.
Is La Senza bra size similar to victoria's secret?
No, Victoria's Secret is about one inch longer but the cup is slightly smaller than La Senza.
What is the size of XL la senza bra?
Regardless of the band size, XL for La Senza is used for bras made for cup measurements of 40 to 44 inches.
Conclusion
La Senza has a friendly return policy. Unlike the limited time given to the returns of panties, return requests for bras are much longer. However, if purchased online, standard shipping costs may apply and it may take time before you settle the back and forth. Express shipping fees are higher, but express shipping is faster.
La Senza also offers several fresh deals and limited-time deals of what they refer to as clearance styles. They really put their customer first and therefore buying an annoying size will really ruin the experience.
What do you have to say about La Senza bras? Leave a comment and support a fellow lady. Share the article with those whom you think need to see it.
Picture in this post is by La Senza on twitter on Twitter
Related to La Senza Bra Size