TV Screen Size Chart
This post was last updated on May 26th, 2022 at 06:23 am
TV screens are more than ever a fixed part of our household and office environment. Select the desired size in inches below and view the specifications based on the diagonal in centimeters and inches. View the dimensions of the TV Screen formats in inches and centimeters. The TV screen size Chart has a handy table with every TV size where you can view and compare the diameters. This way you always make the right choice and buy a TV that fits exactly.
If you have a specific question in mind: go directly to the FAQ section below
TV Screen Size Table of Content
TV Dimensions in cm and inches
Buying a TV is a major expense for many people. You also want the TV to meet all your wishes and requirements. You can easily calculate the correct TV Screen dimension through below TV Size tables. The larger a TV, the better the picture is often, but be careful not to buy too large. The size of a TV screen is always shown in inches.
For example, a 40 inch may not seem big, the diameter or diagonal of the screen is 100 centimeters! On the many online shops you can select the number of inches in the menu on the size, then you can read the size in inches or centimeters on the televisions.
How to find the perfect TV Screen Size
Finding the right size of a TV depends on
TV sizes in centimeters and inches
Dimensions of Full HD and 4K quality
Advice on viewing distance and diameter
TV screen sizing
TVs are available in a variety of sizes. As a result, a suitable size is available for every room or space. Are you ready for a bigger TV? If you replace an older one with a new model, you may end up buying a larger screen while keeping the size of the TV the same. This is because the edges are getting thinner and thinner. You, therefore, get more for your money! Also, read the reviews of the different brands.
Usually, at the beginning of the product name of the television, you can see what screen diagonal the model has. For example, from the product name LG 32LM6300 you can deduce that the screen of this TV is 32 inches.
TV Sizes in centimeters
You always see the size of a certain TV in inches. The diagonal of the screen is used for this. The diameter is measured from top left to bottom right. The other way around is of course also possible. In the description of a TV, you can then view the size in centimeters. If you want a TV of a certain size in centimeters, you must first calculate how many inches that is. You can view a handy table of these sizes at the bottom of this page.
Top 3 Televisions selected by size-charts.com
TCL Roku Smart LED TV - 2019 Model
Wi-Fi, USB, HDMI
1080p
LED
32 inches
SAMSUNG Class LED Smart FHD TV
Wi-Fi, USB
1080P
LCD
32 Inches
LG Electronics HD webOS 3.5 Smart TV
USB, HDMI
1080p
LCD
24 inches
TV Screen Size Chart
The size of a TV depends on several factors. The below TV Screen Dimension chart combines the TV sizes with Diagonal – Diameter in inches & centimeters. To complete it the height and width are added in cm and inches.
TV Size in inch
(Diagonal Size)
TV Diagonal in
centimeter
TV Screen Size
Width in cm
TV Screen Size
Width in Inches
TV Screen Size
Height in cm
TV Screen Size
Height in inch
15″
38,1 cm
33,21 cm
13.0″
18,68 cm
7.35″
19″
42,26 cm
40,06 cm
15.75″
23,66 cm
9.31″
22″
55,88 cm
48,7 cm
19.15″
27,4 cm
10.78″
26″
66,04 cm
57,56 cm
22.66″
32,38 cm
12.75″
32″
81,28 cm
70,84 cm
27.9″
39,85 cm
15.7″
37″
93,98 cm
81,91 cm
32.25″
46,07 cm
18.1″
40″
101,6 cm
88,55 cm
34.8″
49,81 cm
19.6″
42″
106,68 cm
92,98 cm
36.6″
52,3 cm
20.6″
47″
119,38 cm
104,05 cm
40.9″
58,53 cm
23.0″
50″
127 cm
110,69 cm
43.5″
62,26 cm
24.5″
55″
139,7 cm
121,76 cm
47.9″
68,49 cm
26.9″
62″
157,48 cm
137,26 cm
54.0″
77,21 cm
30.4″
70″
177,8 cm
154,97 cm
61.0″
87,17 cm
34.3″
TV Screen Size Chart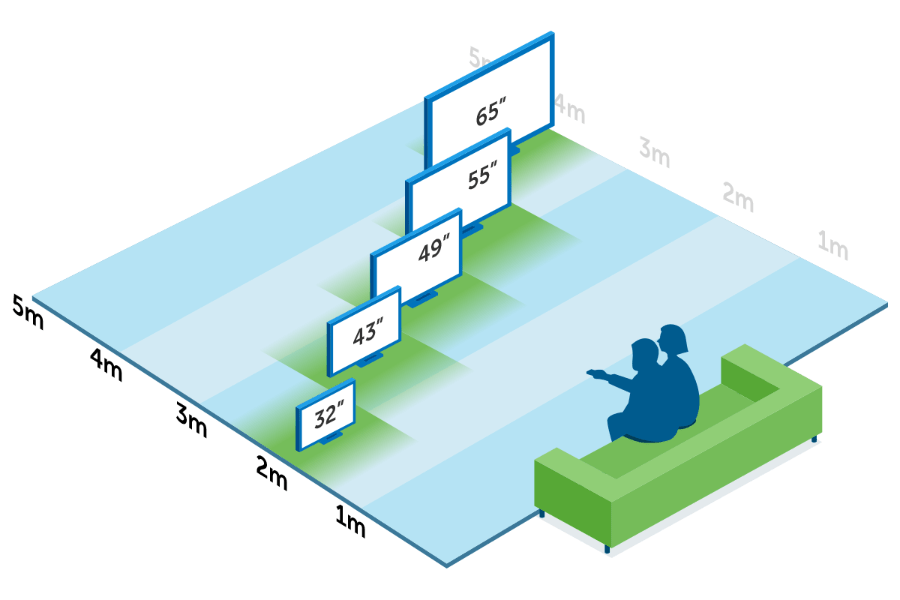 TV Size versus Distance from TV
In general, the distance from the TV to the seat determines the size. As a guideline, you can take that 1 meter is equal to 39 inches. So are you 4 meters away from your TV? Then you need a size of at least 50 inches. Do you watch a lot? Then you can take a larger size.
TV Size versus Distance from TV
TV screen sizing explained
Picture in a post by Rachel Claire via Pexels
FAQ on TV screen sizes
What are standard TV screen sizes?
The common TV screen sizes available today are 32, 40, 42, 46/49 and 55 inch. The choice of the ideal screen size for the best viewing experience mainly depends on the distance between where the TV will be placed and your bed/couch/chair.
How do I measure a TV screen size?
A TV's size is defined by its diagonal length, which comes from measuring from the upper left-hand corner of the actual TV screen to the lower right-hand corner. Most TV screen sizes are expressed in inches.
How do you determine the right size TV for a room?
The evolution of the TV screen technology allows you to sit more close to a 4K or 8K screen compared to older technology, like 1080p. The goal is to see the picture, not the pixels.
| | | |
| --- | --- | --- |
| TV size | Minimum distance for 4K TV | Minimum distance for 1080p TV |
| 40 inches | 40 inches (3.3 feet) | 80 inches (6.7 feet) |
| 42 inches | 42 inches (3.5 feet) | 84 inches (7 feet) |
| 48 inches | 48 inches (4 feet) | 96 inches (8 feet) |
| 50 inches | 50 inches (4.2 feet) | 100 inches (8.3 feet) |
| 55 inches | 55 inches (4.6 feet) | 110 inches (9.2 feet) |
| 60 inches | 60 inches (5 feet) | 120 inches (10 feet) |
| 65 inches | 65 inches (5.4 feet) | 130 inches (10.8 feet) |
| 75 inches | 75 inches (6.25 feet) | 150 inches (12.5 feet) |
| 85 inches | 85 inches (7.1 feet) | 170 inches (14.2 feet) |
Size-charts tip: the viewing distances for 8K TVs will be similar to the guidelines for 4K TVs.
Other Screen Sizing Charts
TV Appearance and models
There are many types of TVs these days. The curved models are relatively new. These models are characterized by the fact that the screen runs in a curve. The advantage of this is that the image is displayed around you, as it were. The model is most suitable for use on a stand and less for hanging on the wall because the corners protrude in relation to the curve.
The TV Screen Size Chart is a summary of the most popular TV sizes in centimeters and inches to help people to determine the right TV Size.