Samsung Headset Size Guide and Specs Compared
This post was last updated on September 4th, 2023 at 09:04 pm
A Samsung headset is a headphone with an integrated microphone used mostly in telephony and radio communication. It connects over a telephone or computer, allowing you to listen and speak hands-free. This gear is common in technical and customer service support centers. It's also available in a version that supports listening to music, depending on your needs (skip straight to the Samsung Headset size chart).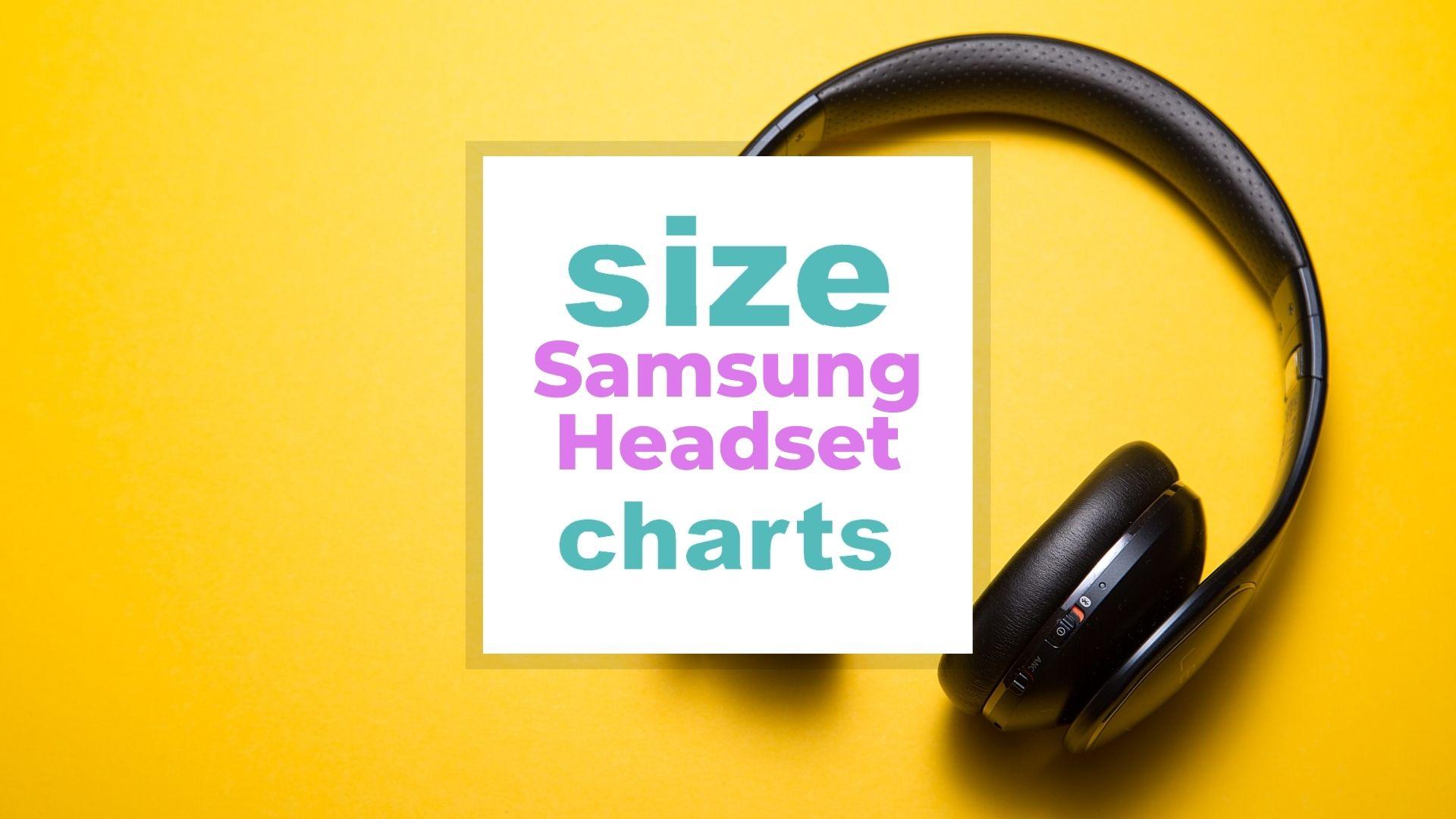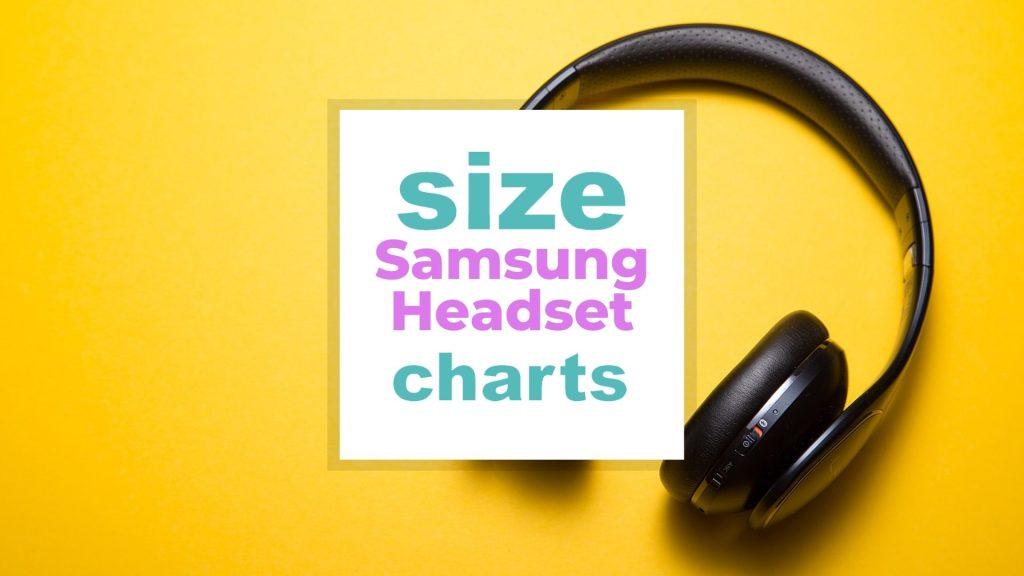 Jump right to the Frequently Asked Questions
Related: Google Pixel 6A size and dimensions guide, Apple Watch size and dimension: all Apple Watch series explained, Apple View VR Size and dimensions of Apple's first VR Headset
Samsung Headset sizes Table of content
Why is a good Samsung headset size important?
Samsung has many headset sizes in the market to ensure every customer finds one that fits like a glove. This is necessary, as you don't want to keep adjusting your unstable headsets whenever you're about to make a statement at an online conference or your favorite song when working out.
With the right Samsung headset size, you get the right microphone size, allowing you to speak without straining. The right headset measurements also fit you comfortably, enhancing your experience in a meeting or the gym.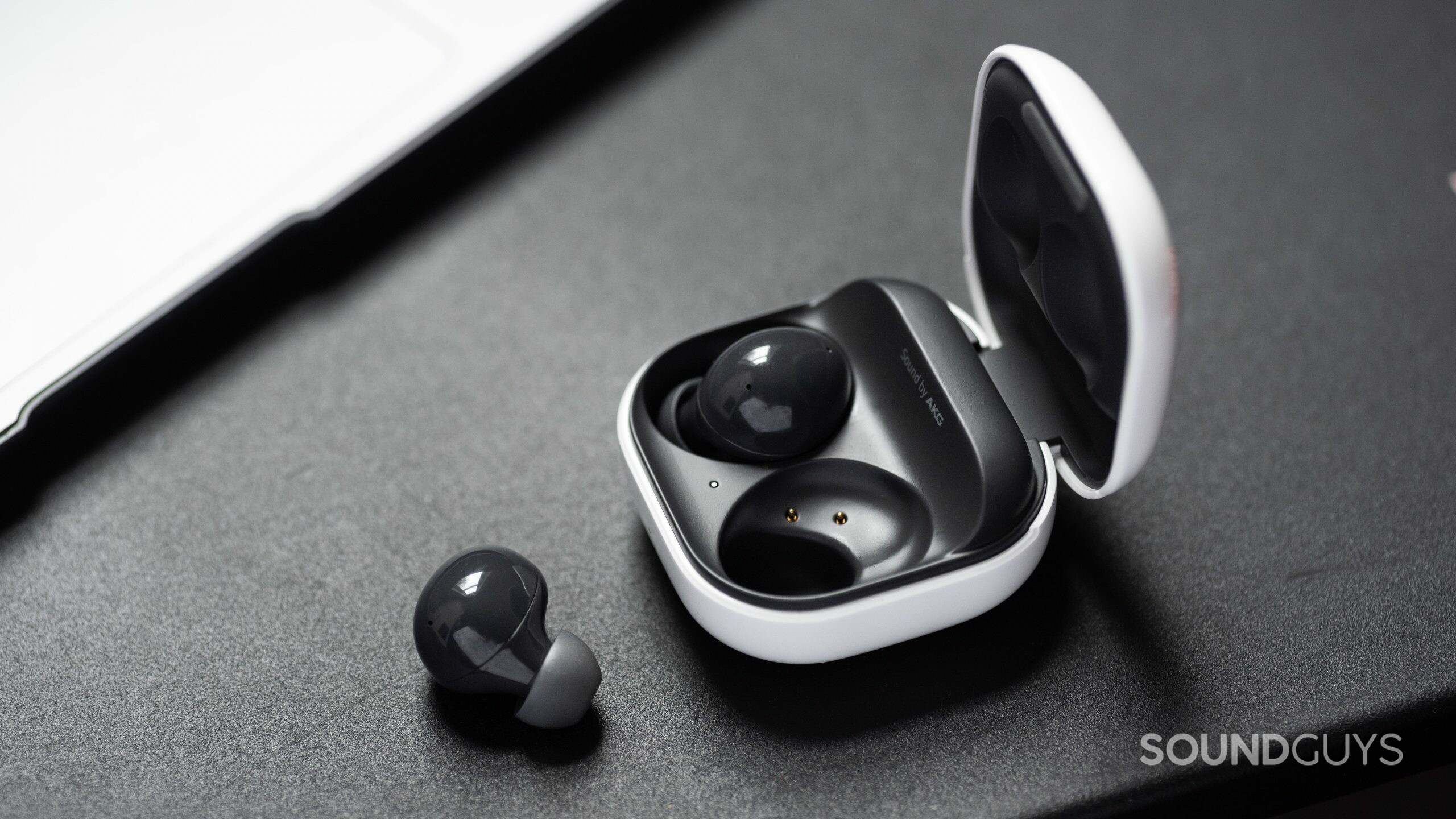 Samsung Headset size chart
Wireless Samsung Headset
| | | | | |
| --- | --- | --- | --- | --- |
| Name | Dimensions | Weight | Speaker Units | Battery Life |
| Samsung Level U | 6.3 x 7.9 x 1 inches 0.16 x 0.2 x 0.03 meters | 4 ounces 113.4 grams | 12 mm 1.2 cm | 10 – 11 hours 0.4 – 0.5 days |
| Samsung Level U2 | 6 x 4 x 2 inches 0.15 x 0.10 x 0.05 meters | 1.45 ounces 41 grams | 12mm 1.2 cm | 18 hours 0.8 days |
| Samsung Advanced ANC Wired Headset | 49.5 x 1 x 1 inches 1.26 x 0.03 x 0.03 meters | 10.4 ounces 294.8 grams | 13 mm 1.3 cm | 16 hours 0.7 days |
Wired Samsung Headset
| | | | |
| --- | --- | --- | --- |
| Name | Dimensions | Weight | Audio Jack Measurements |
| Samsung EHS6AVFWE Headset | 4 X 1 X 3 inches 0.10 x 0.03 x 0.08 meters | 0.32 ounces 9.1 grams | 3.5mm 0.35 cm |
| Samsung (2 pack) Wired 3.5mm Headset | 2 x 0.8 x 1 inches 0.05 x 0.02 x 0.03 meters | 0.6 ounces 17.01 grams | 3.5mm 0.35 cm |
| Samsung EO-EG920LW Headset | 2.4 X 0.8 X 2 inches 0.06 x 0.02 x 0.05 meters | 0.64 ounces 18.14 grams | 3.5mm 0.35 cm |
| Samsung type C Headset | 0.78 x 0.71 x 48.82 inches 0.02 x 0.02 x 1.24 meters | 1.13 ounces 32.03 grams | – |
Galaxy Headset Series
Related: Samsung Galaxy Size Chart
| | | | | |
| --- | --- | --- | --- | --- |
| Name | Buds | Case | Speaker | Playtime |
| Galaxy Buds Pro | 61 mAh 0.061 Ah | 472 mAh 0.472 Ah | 11 mm + 6.5 mm 1.1 cm + 6.5 cm | 5 hours 0.2 days |
| Galaxy Buds2 | 61 mAh 0.061 Ah | 472 mAh 0.472 mAh | – | 7.5 hours 0.3 days |
| Galaxy Buds Live | 60 mAh 0.06 Ah | 472 mAh 0.472 mAh | 12 mm 1.2 cm | 8 hours 0.3 days |
| Galaxy Buds Plus | 85 mAh 0.085 Ah | 275 mAh 0.275 mAh | – | 11 hours 0.5 days |
How to choose the right Samsung Headset size 
Selecting the right Samsung headset size can be challenging because of the different varieties the brand offers its customers. However, evaluating these factors and elements will help you find the best Samsung headset size for your needs.
1. Price
Price is a key factor in any purchase, especially when working on a tight budget. You will come across various Samsung headset sizes and prices. For instance, Samsung EO-EG920LW Wired 3.5mm Headset costs $9.45, and SAMSUNG Level U Bluetooth Wireless costs $39.95.
Suppose you're working on a tight budget; you will need to buy a fairly priced one. First, it's vital to check whether the features you need are in the gear you choose.
2. Wireless
A wireless Samsung headset size allows you to perform different tasks comfortably without having to adjust the headset cords. You can also listen to music or talk in a virtual meeting with your hands-free. They offer you an enhanced experience, regardless of the purpose you want to accomplish.
However, they are considered more expensive, unlike corded gears. For example, Samsung Level U2 Wireless Bluetooth Neckband Headphones cost $52.99, which is high compared to the standard Samsung headset size best buy.
3. Samsung Headset Size and Weight
Are you looking for a workout headset gear that will give you an easy time while squatting or lifting weights? You can get a lightweight Samsung headset like LEVEL Active, which is Bluetooth-enabled. If you've had a constrictive headset before in your outdoor or workout sessions, you know how uncomfortable it can get, hindering you from enjoying your time.
But thanks to Samsung LEVEL Active headset, it has soft Silicon hooks and in-ear tips that come in three sizes for you to fit the ideal one. In addition, the cord is light, making it comfortable for you to move and perform different workout techniques with ease.
4. Samsung Headset Size and Specs
Whether you're searching for a Samsung headset size Bluetooth or a Samsung headset size calculator, it's essential to evaluate the specs you need to accomplish your goals in virtual meetings, indoors, or outdoor activities.
Some Samsung headsets will provide exclusive features such as water resistance for splash during workouts, a controller to alter the volume and tracks, and customizability with apps.

Others will provide luxurious specs like features and notifications set up to void interruptions, micro-USB connection, and Timer. Check out this Samsung earphones and the incredible features it offers you.
5. Function
Why do you need a Samsung headset? Is it for meetings, gaming, or listening to music as you relax indoors? Depending on the goal you want to accomplish, you can get a higher-resolution VR headset for a better gaming experience.
Suppose you want a headset that will serve different occasions and blend with your style, get mobile headsets with a glossy finish or those with several compatible devices.
In addition, outdoor activities and workouts demand extra features like the cancellation of active noise and advanced settings like timers to help you focus on your activity. Hence, you need to grab headsets with function settings like noise cancellation. 
Learn more about Samsung Level On Pro Earphones (video)
Frequently Asked Questions
Is the Samsung headset compatible with all phones?
Samsung headset is not compatible with all phones. Each headset comes with features that only specific devices can support. For instance, Samsung EO-EG920LW Wired 3.5mm Headset is compatible with Galaxy S6 or S6 edge and the Samsung Headset Microphone EO-EG920BW design is suitable for Samsung Galaxy S10, S10e, and S10 Plus.
The superior Samsung Advanced ANC Wired Headset is compatible with S8+ Galaxy, S7 Edge, S7, Note 5, S6 Edge+, S6, and S5. So, depending on your mobile devices, evaluate the specs before purchasing a Samsung headset to ensure it fits your phone or computer.
Can you connect the Samsung headset to the computer?
Some Samsung headsets can connect to your computer, for instance, Bluetooth-enabled gears like LEVEL Active and LEVEL U2 headsets. Other computer-compatible headsets include GENUINE SAMSUNG Premium HiFi Stereo HEADSET and Samsung SHS-150V/W Wired Headset Clear Stereo Headphones Headband, which are available on eBay.
Is a Samsung headset good for gaming?
Specific Samsung headsets are good for gaming. For example, Samsung TWS 11 Wireless Bluetooth Gaming Headset and 3.5mm Plug In-Ear Gaming Headsets. They have good sound quality and exclusive features that create an enhanced gaming experience, including diverse compatibility, volume control, and noise cancellation.
How many Samsung headsets are there?
Samsung offers numerous headsets, including the LEVEL headset series, which comprise LEVEL U, LEVEL U Pro, and LEVEL U Pro ANC. Other Samsung headsets include Virtual Reality headsets, Galaxy Buds2, Galaxy Buds Live, Galaxy Buds Pro, Samsung Galaxy Buds Plus, and TWS 11 wireless Bluetooth headset. With every new Samsung headset series, you can always be assured of a better-balanced sound profile!
What's the main difference between Samsung headsets?
The main difference between Samsung headsets is the features. For instance, some are Bluetooth enabled, and wireless and have additional specs like silicon cost and noise cancellation, while others don't.

Conclusion 
Are you searching for high-end headsets with epic sound and microphone quality? Samsung headset size can offer you a great experience as they have numerous features, including controller tracking and diverse bass range, to alter your music output.
And if you need music gear that will help you focus, the Samsung headset has noise cancellation specs. This feature eliminates wind noise as you jog in the morning and background noise, allowing you to state your opinions clearly in a virtual meeting.
In addition, some of the Samsung headsets are compatible with non-Samsung Qi devices. For instance, Samsung Level U2 supports iOS and Android device models.
Depending on your needs, you can choose a wired or cordless headset. To ensure you find the ideal Samsung headset size, consider the price, features, wireless headset benefits, and weight.
Please drop your questions below if you need clarification on the Samsung headset size.
Picture in this post is by C D-X on Unsplash
Related to Samsung Headset Size