Oculus Headset Size Guide and Specs vs Other VR Headsets
This post was last updated on March 23rd, 2023 at 09:19 pm
Oculus headsets refer to audio gears fitted with a microphone. They are commonly used for gaming and listening to music. As one of the top products in the market, they come with exclusive features to give the headset buyer absolute best-quality VR experiences. However, you need to choose the right headset size to enjoy using it in the long run (Skip straight to the Oculus Headset Size Chart).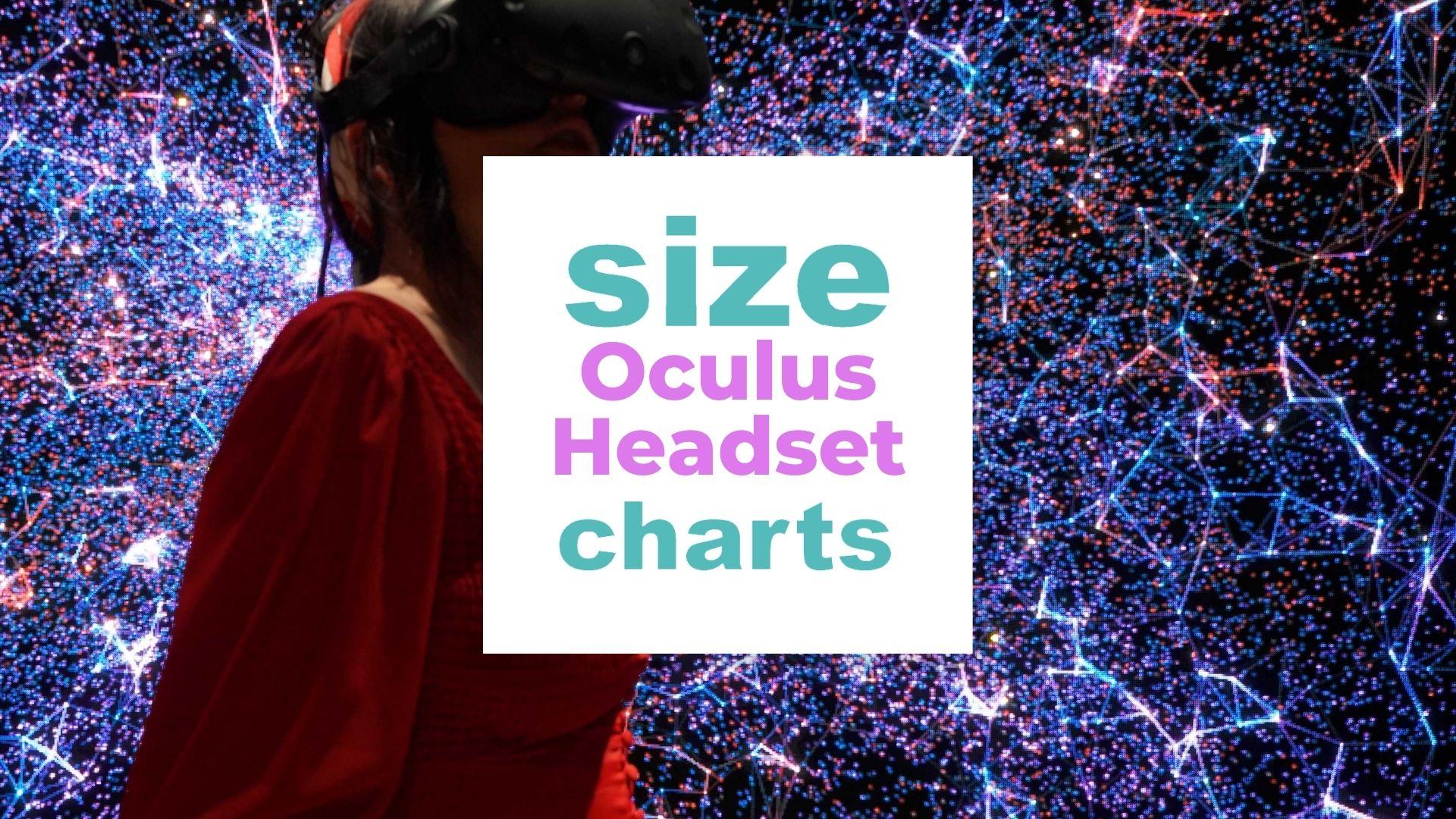 The right headset size fits without constricting or becoming too loose. Hence, you can comfortably play games without adjusting them repeatedly. It also comes with accessories ideal for your mobile phone or a standalone device, offering you classic moments.
Below are Oculus headset size charts to help you make the best buy.
Jump straight to the Frequently Asked Questions
Related: Google Pixel 6A size and dimensions guide, Apple Watch size and dimension: all Apple Watch series explained, Apple View VR Size and dimensions of Apple's first VR Headset, Samsung Headset Size Guide and Specs
Oculus Headset Table of Content
Oculus Headset Size Chart
| | | | | | |
| --- | --- | --- | --- | --- | --- |
| Oculus Headset | Resolution Per Eye | Refresh Rate | Color Space | Memory | Weight |
| Oculus Quest 2 | 1832 x 1920 px 115.38 DPI | 72 Hz 4163784 m/s | 2020 gamut 2.2 gamma | 6 GB 6000 MB | 503 grams 1.11 pounds |
| Oculus Quest | 1600 x 1440 px 93.59 DPI | 72 Hz 4163784 m/s | 2020 gamut 2.2 gamma | 4 GB 4000 MB | 751 grams 1.66 pounds |
| Oculus Rift | 1080 x 1200 px 70.19 DPI | 90 Hz 3331027 m/s | DCI-P3 gamut 2.2 gamma | – | 3991.6 grams 8.8 pounds |
| Oculus Rift S | 2560 x 1440 px 127.7 DPI | 80 Hz 3747405.7 m/s | 709 gamut 2.2 gamma | – | 2685 grams 5.92 pounds |
| Oculus Go | 2560 x 1440 px 127.7 DPI | 60 – 70 Hz 4996540. 97m/s – 4282749 m/s | 709 gamut 2.2 gamma | 3 GB | 453 grams 1 pound |
Oculus Headset Dimensions and Play Area Recommendations
Oculus Headset
Dimensions
Play Space
Playable Area
Oculus Quest 2 Headset Size
7.5 x 4.02 x 5.61 inches
191.5 x 102 x 142.5 mm
9 ft x 9 ft
2.7 x 2.7 m
6.5 ft x 6.5 ft
1.98 x 1.98 m
Oculus Quest Headset Size
6.3 x 8.27 x 3.46 inches
160.02 x 210.1 x 87.9 mm
9ft x 9ft
2.7 x 2.7 m
6.5 ft x 6.5 ft
1.98 x 1.98 m
Oculus Rift VR Headset Size
15.43 x 6.54 x 12.13 inches
391.9 x 166.1 x 308.1 mm
7 ft x 5 ft
2.1 x 1.5 m
–
Oculus Rift S
10.94 x 6.3 x 8.27 inches
277.9 x 160.02 x 210.1 mm
9 ft x 9 ft
2.7 x 2.7 m
6.5 ft x 6.5 ft
1.98 x 1.98 m
Oculus Go
3.94 x 3.94 x 3.94 inches
100.1 x 100.1 x 100.1 mm
–
–
How to choose the Right Oculus Headset Size
Getting the ideal headset size for your needs can be an uphill struggle, especially when you encounter multiple options online or in a store.
If you're wondering which high-end headsets can meet your android phone or smartphone display needs, here are some components and factors you should evaluate to get the Oculus headset size best fit.
1. Design
When selecting the ideal headset size, you have to compare the Oculus headset differences. Check whether the gear offers a virtual reality experience from plastic lenses with a smartphone serving as a screen; this is only possible with cheap and medium-range designs.
With the high-end design, you should expect virtual reality powered by non-mobile devices like external computers or game consoles. Hence, you cannot purchase a high-end Oculus headset with your phone as the display panel.
2. Up-front Price
Oculus headset size and price differ depending on the gear you choose. With cheap Oculus headsets, you will pay a lower upfront cost, while the high-end gears are more expensive. Hence, if you're working on a tight budget, you need to acquire the cheaper Oculus gear.
However, if the expensive gear has better long-run benefits, you can pay a higher amount to enjoy a great gaming experience. Moreover, some headsets come with hidden costs; for instance, you must purchase VR-ready PCs for Oculus Rift.
3. Oculus Headset Size Accessories
Are you looking for more comfort when gaming or listening to music? Then, you need an Oculus headset with a Halo headband or soft strap for easy fitting. These are some of the accessories you should check before purchasing a headset if you need extra comfort.
Suppose you need a circular pair of glasses, fiddly cables, or hologram glasses, ensure you select a headset with all the accessories that fit your needs. Nevertheless, this may mean parting with extra cash!
4. Amounts of Space
Are you planning to grab an Oculus headset size Amazon? To avoid squeezing yourself in one uncomfortable position or having an average gaming experience, assess the space needs of each, then settle for the ideal gear.
5. Controllers
Controllers are key elements in a headset as they help you customize your gaming experience. Oculus headset sizes come with different controllers, such as touch and motion controllers. So, before you purchase your VR gear, consider the type of headset controllers it comes with.
Learn more about Oculus Go Headset (video)
Frequently Asked Questions
What size of the oculus headset am I?
Your ideal headset size fits you comfortably and has your preferred accessories and controllers. It should also meet your space needs and controller preferences.
Is there a difference in the size of the Oculus quest and quest 2?
Yes, there is a difference between Oculus Quest and Oculus Quest 2 dimensions. Oculus Quest headset size measures 6.3 x 8.27 x 3.46 inches, while Oculus Quest 2 measures 7.5 x 4.02 x 5.61 inches.
What's the size difference between Oculus Quest 2 and Oculus Rift?
Oculus Quest 2 is a high-end headset that offers an advanced all-in-one gaming experience, while Oculus Rift demands you connect a VR-compatible computer or PC. In addition, quest 2 comes with a soft strap to provide lightweight luxury for any type of player, while Rift has a halo headband built to offer smooth, longer gaming experiences.
The two have exclusive optic features, with Quest 2 boasting 1832 x 1920 pixels resolution and a 72 Hz refresh rate while Rift has a 2560 x 1440 pixels resolution and 80 Hz refresh rate.
Can you adjust the size of your Oculus headset?
Yes, you can adjust the size of your Oculus headset to fit you comfortably as the Oculus headset comes with flexible accessories, for instance, the soft strap to ensure you fit it easily.

Conclusion
Oculus headsets come with exclusive features to provide a great gaming experience for their buyers. Whether you need wireless or tethered headsets for more focus, Oculus offers you a wide range of options. And if you're working on a tight budget, they have affordable price gears like Oculus Rift.
Are you feeling stuck in your search for the ideal Oculus headset size? Drop your question below for professional assistance!
Picture in this post is by Vinicius "amnx" Amano on Unsplash
Related to Oculus Headset Size