Oakley Sunglasses Size and Fitting Guide: Kids, Small to XL size
This post was last updated on March 23rd, 2023 at 10:23 am
Oakley does not make one size fits all when it comes to sunglasses. An excellent pair of Oakley is designed to be used in places and conditions where it will be difficult to use sunglasses. Their products are also designed to protect the eyes from all possible threats. Threats that are more than just "the sun". This makes it an injustice to refer to them as just sunglasses (skip straight to the Oakley Sunglasses Size Chart).
This great product will all be pointless if an intending customer buys the wrong size. Eyeglass size is the only major difference between every model's varying sizes. Let us show you how simple it is to wear an ultimate Oakley.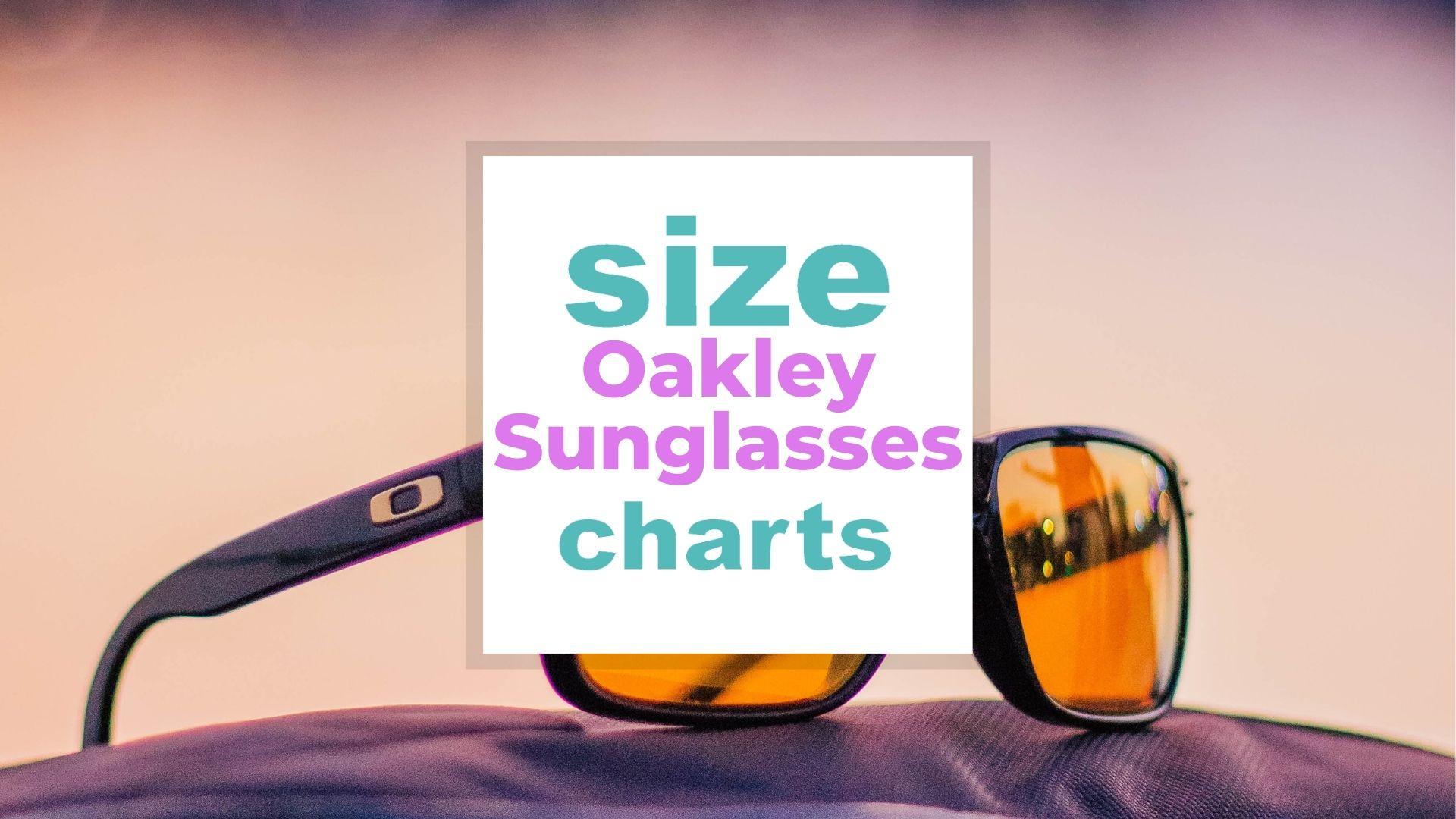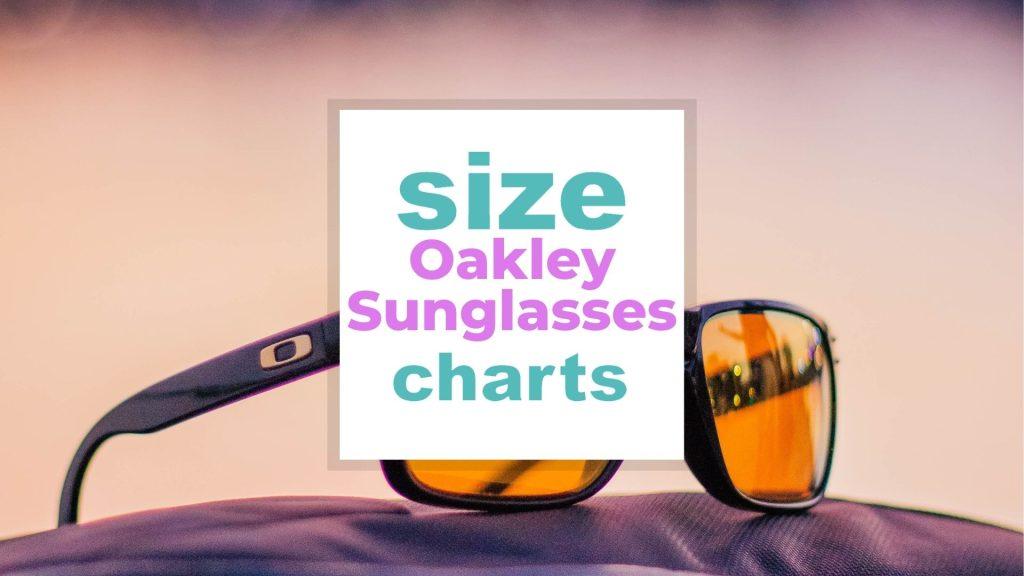 Jump right into Frequently Asked Questions
Related: Sunglasses Size for Kids and adults, with frame – lens – bridge sizes, Wayfarer Sunglasses Size Chart, Carrera Sunglasses Size and Fitting Guide, Prada Sunglasses Size and Fitting Guide
Oakley Sunglasses Table of Content
Oakley Sunglasses Size Chart
Related: Eyeglass Frame Size Chart And Buying Guide
| | |
| --- | --- |
| Oakley Size | Lens Width (mm) |
| Small | 40 – 48 |
| Medium | 49 – 55 |
| Large  | 55 – 60 |
| Extra Large | Above 60 |
Small size Oakley Sunglasses
Asian Fit, XS Oakley sunglasses size or Youth/kids sizes
Frogskins XS Dimensions:
Frame width: 125mm
Earstem length: 133mm
Lens height: 42mm
Lens width: 52mm
Fives Squared Dimensions:
Frame width: 128mm
Earstem length: 133mm
Lens height: 34mm
Lens width: 54mm
Holbrook XS Dimensions:
Frame width: 128mm
Earstem length: 128mm
Lens height: 40mm
Lens width: 53mm
Flak XS Dimensions:
Frame width: 134mm
Earstem length: 123mm
Lens height: 37mm
Lens width: 59mm
Medium size Oakley Sunglasses
Gascan Dimensions:
Frame width: 131mm
Earstem length: 127mm
Lens height: 35mm
Lens width: 60mm
Holbrook Dimensions:
Frame width: 132mm
Earstem length: 128mm
Lens height: 43mm
Lens width: 55mm
Sliver Dimensions:
Frame width: 132mm
Earstem length: 140mm
Lens height: 42mm
Lens width: 57mm
Large Size Oakley Sunglasses dimensions
Sutro Dimensions:
Frame width: 135mm
Earstem length: 140mm
Lens height: 57mm
Lens width: 138mm (Single shield lens)
XL size Oakley Sunglasses dimension
Holbrook XL Dimensions
Frame width: 140mm
Earstem length: 137mm
Lens height: 45mm
Lens width: 59mm
How do I check the authenticity of Oakley Sunglasses?
Related: Ray-Ban Aviator Size Guide
An authentic authorized Oakley eyewear has an SKU written on the inside of the temple arm and starts with OO. The OO is followed by a four-digit number which is the frame model.
After the frame model is a dash and a varying digit of numbers to indicate the colorway and lens size (lens width). This number (lens size) is followed by the Oakley icon and a second number, which is the bridge size.
Lastly, you have a three-digit number that ends everything. This three-digit number is the temple size.
Frequently Asked Questions
How many different Oakley sunglasses models are there?
If we ignore all possible alterations to each individual model, there are a total of 1017 different models. 
How many different Oakley sunglasses sizes are there?
There are 4-base curvature lens option sizes for every pair of sunglasses that Oakley mass-produces. This means that every model with a size difference of four different categories.
We can refer to one of the sizes as small. This is the size that is meant for kids and preteens, these are youth-size Oakley eyewear. We can refer to the next size as a medium. The Oakley standard fit is meant for adults with a typical face. Much of Oakley's Asian sizing products also fall into this category. Then we have what we may call large.
These glasses are made with a larger lens width for a larger face. Sometimes a model might be rimless or have extended lens edges to create what one might call an Extra Large size with a lens width of more than 60mm.
What's the most famous Oakley sunglasses model?
The most famous model with the PRIZM lens is the Radar EV Path. Meanwhile, the most popular model among traditional square-shaped lenses is Holbrook.
What is the most common Oakley sunglasses size?
The most common size in the Oakley lineup is Medium, the size that is meant for the typical adult. The size is right in the middle of the different sizes and is built for eye sizes of 49mm to 58mm.
What is the biggest Oakley sunglasses size?
The biggest sizes are referred to as XL. They are the larger size of the two sizes meant for adults and are made with an eye size of more than 58mm.
Who wears Oakley sunglasses?
An Oakley pair of glasses are protective products for energetic and active individuals due to their durability and strength. Many athletes including Lance Armstrong, Jarmo Sandelin, and Tony Hawk regularly wear Oakley. The 2008 Winter Olympics is called the Oakley Olympics because 52 medalists wore a pair of Oakleys during the competitions.
The impact protection of the protective lenses of Oakleys makes them popular for a wide range of high-velocity circumstances. Their polarized lenses that do not disturb peripheral vision are another selling point.
Oakleys are the official sunglasses of ATV owners and the primary alternative for athletes who are into cycling, tennis, biking, hiking, skiing, climbing, snowboarding, skateboarding, and roller-skating.
What is the most expensive Oakley?
The most expensive sunglasses in the Oakley lineup is the model referred to as Elite C Six. 
Why are Oakley sunglasses so expensive and are Oakleys worth it?
Oakley's are definitely worth the cash. They are expensive, but you get the quality. This brings us to the first and most important reason for their price tags. Oakley sunglasses are designed specifically for that particular situation you are buying them for. They are not some sort of general sunglasses. They have been built to be used in each specific scenario.
That is a lot of research and development right there. The second reason is most likely, the prescription aspect. Remember that I said that they have been specifically built to be worn in a specific situation, you can make it more specific by getting them with your prescription lenses in them.
Now you don't need to have two pairs of glasses, one for the sun and one for the world. An Oakley can literally merge the two together.
Oakley sunglasses sizes explained (video)
Conclusion
Once you put on an Oakley you will know where you stand in the grand scale of things. The glasses are designed to sit on the face of the wearer comfortably. If the comfort is missing, you are definitely in the wrong size. If you are in a physical store, you can always try them on before you purchase, but if you are buying online, just follow the size chart above and you should be good.
Leave a comment about your Oakley journey so far, and please share the article to get the right word out there.
Picture in this post is by Austin P on Unsplash
Related Glasses size charts