HTC Headset Size Guide and Specs of Vive VR Goggles
This post was last updated on September 4th, 2023 at 06:19 am
HTC produces headsets and has a specific brand for them. While Oculus focuses on making accessible and affordable VR headsets for the masses with the Oculus Quest line-up, HTC is very much aiming for the top-tier, best-in-class VR experience (skip straight to the HTC Headset Size Chart).
These products are quite popular and are great contenders in the headset market. Let us give you a short rundown.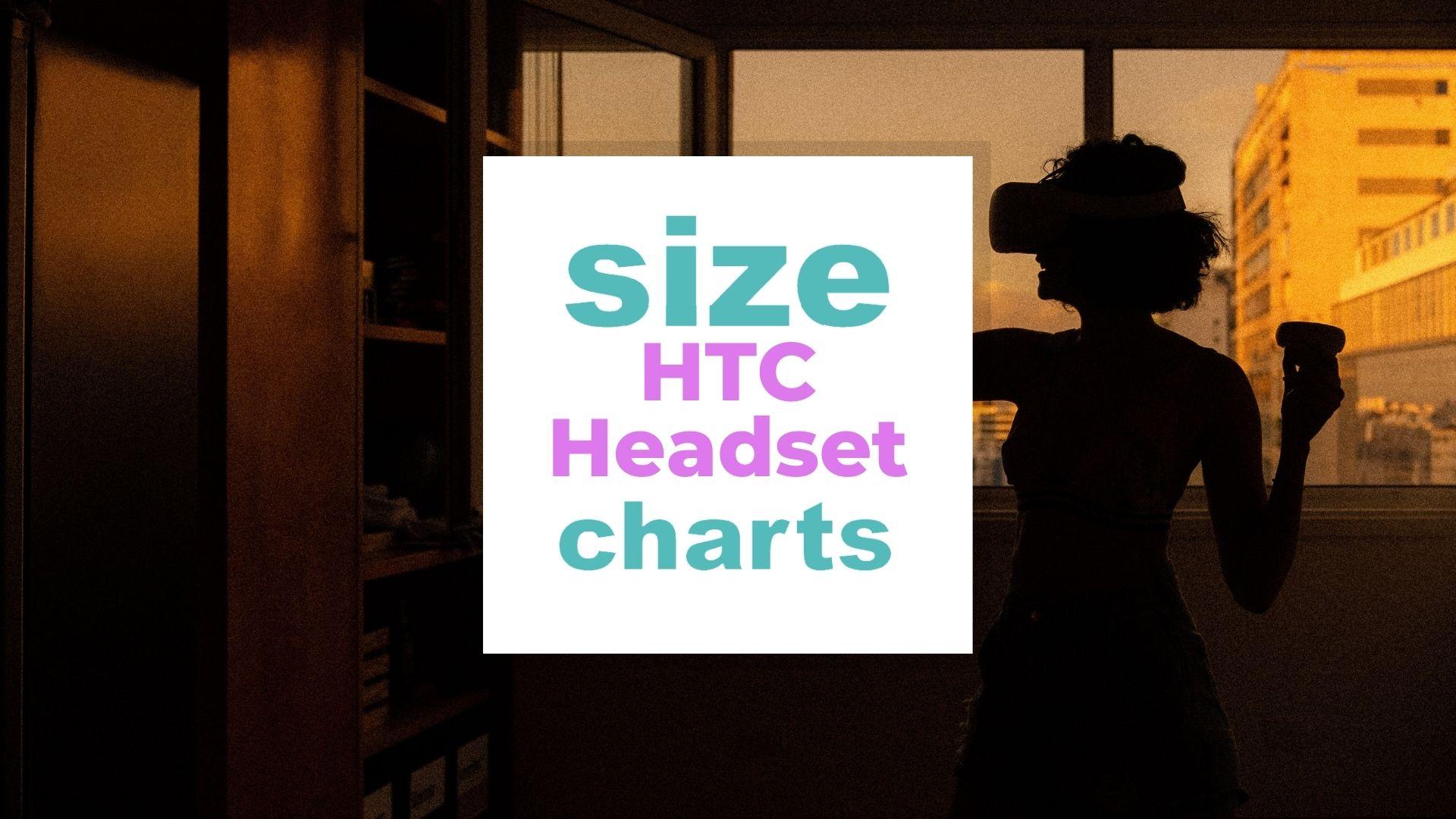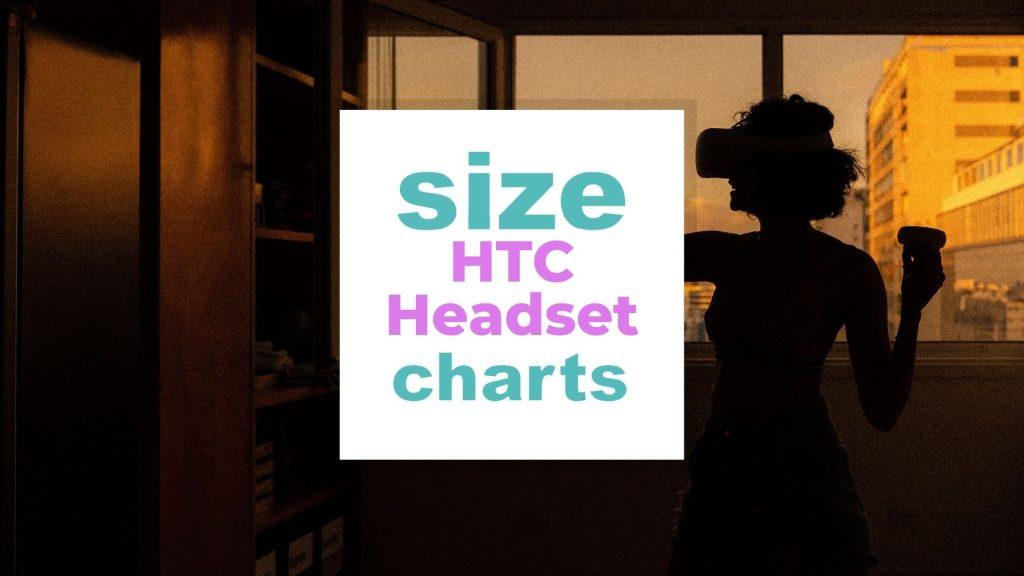 Jump right into the Frequently Asked Questions
Related: Google Pixel 6A size and dimensions guide, Apple Watch size and dimension: all Apple Watch series explained, Apple View VR Size and dimensions of Apple's first VR Headset, Samsung Headset Size Guide and Specs
HTC Headset – Table of content
What are HTC headsets?
VIVE sometimes referred to as HTC Vive, is a virtual reality brand of HTC Corporation. It consists of hardware like its titular virtual reality headsets and accessories, software and services, and initiatives promoting virtual reality applications in sectors like business and arts.
The brand's first virtual reality headset, simply called HTC Vive, was introduced as part of a collaboration with Valve Corporation, implementing its SteamVR hardware and software ecosystem. It was unveiled during HTC's Mobile World Congress keynote in March 2015. In February 2022, HTC unveiled Viverse. A secure metaverse offering that offers PC-powered VR headsets for the business market.
metaverse ecosystem comprising its 5G products, Vive VR devices, and related initiatives, as well as partners like ENGAGE and VRChat. VIVERSE is said to offer multiple routes into the metaverse by providing accessibility to virtual worlds from non-VIVE and non-VR devices like smartphones through software tools like VIVE Connect.  
Related: VR Headsets Size, a full guide for standalone, phone, thetered models
What Can I Use HTC Headsets For?
With great resolution, Vive headsets are a great option for watching videos and movies — it can actually make you feel as if you are sitting in a movie theatre, complete with seats and a screen.
Gaming is one area where VR has been used since the 1990s. However, 2016 is the year when VR gaming took off. There are so many games already available for different VR platforms. Improvements to smartphone displays and processing abilities have also opened up the way for smartphone-connected VR headsets for gaming.
Tourism is another major sector. Since VR shows a 360-degree view, using it for virtual tourism is a no-brainer. VR immersions of monuments, museums, and popular tourist destinations likely number in the thousands. Just search for VR in the app store and you'll find what you need to view some popular sites globally. VR can put you in a different place and time. This is perfect for scene simulation because it can help find and analyze something anywhere in the world without ever being there.
Speaking of scene simulations, how about you enter a new car? Many automotive enthusiasts would like to visit different car showrooms – take in the ambiance, sit inside, start up the engine, and so on. Apps like Relay Cars are already available and you can do exactly that. Step inside, look around view videos about the car and even start up the engine to hear what it sounds like. The sounds are sampled from the actual cars so what you hear is what you get. 
Maybe cars are not your thing, but what about shopping? Urban areas are rapidly moving to a delivery-only model. From clothes & shoes to groceries, everything is moving to apps. The next logical step is VR shopping. Large retail chains are already experimenting with virtual shopping where you could `walk' into a store, search for and examine the products you want and add them to your basket. They will be delivered home without you ever leaving the couch. This could also progress to a mall that will have multiple shops under the same virtual roof.
Drones are hot property and despite the ambiguity around their use in many parts of the world, numbers are only increasing. VR provides a way to control a drone even when you can't see it. It is now possible to send a drone on a mission flying through the next neighborhood – it will send a live feed from its cameras to your VR headset so that you can remotely control it. Companies like FLYBi, Ghost Drone, and CloudLightFPV have consumer-ready products out in this space.
We saved the best for the last, meditation.  With the Guided Meditation VR software, users can put on an Oculus headset and become immersed in various soothing environments. Vision and hearing are primary senses, and debasing them offers compelling evidence to your brain that you are actually occupying an entirely different space. Guided Meditation uses this aspect to great effect, and makes it easier than ever to get some peace by using your virtual reality headset.
Read more about Oculus headset in this article
Resolution Comparison of HTC Headset Vs. Other VR Headsets:
HTC Headset Size Chart
Related: Fat Shark Headset Size Guide
| | | | | |
| --- | --- | --- | --- | --- |
| Vive Product | Weight (Ibs) | Weight (grams) | Size (In) | Size (Cm) |
| Flow | 0.42 | 189 | 2×2.1×5 | 5.1×5.3×12.7 |
| Pro | 1.77 | 802 | 2×4×8 | 5.1×10.2×20.3 |
| Pro Eye | 0.41 | 187 | 2×3.5×6 | 5.1×8.9×15.2 |
| Pro 2 | 1.87 | 850 | 2×3.1×7 | 5.1×5.3×17.8 |
| Focus | 1.55 | 702 | 2×4×6 | 5.1×10.2×15.2 |
| Focus Plus | 1.53 | 695 | 2×3.5×5 | 5.1×8.9×12.7 |
| Focus 3 | 1.73 | 785 | 2×4.9×5 | 5.1×12.4×12.7 |
| Cosmos | 1.55 | 702 | 2×3.4×5 | 5.1×8.6×12.7 |
| Cosmos Elite | 2.0 | 907 | 2×4.7×7 | 5.1×11.9×17.8 |
Which HTC headset should I buy?
It all boils down to how much money you have and how much portability you want. 
Each consumer headset is designed to be a standalone headset. This mean, you can use it right out of the box. The external base stations serve as a power adapter to boot up the device. They all come with hi-res certificate headphones equipped with active noise cancellation.
As for the peripheral display, they all have high-resolution displays with an eye resolution of at least 1440 by 1300 pixels per eye. The lowest field of view is 90 degrees. A 110-degree field is common and the higher models offer a 120-degree field of view. The interpupillary distance can be adjusted for all models and the more advanced models such as the HTC VIVE Cosmos hit the sweet spot by allowing changeable pupillary distance for each eye without compromising the horizontal field of view.
Did I mention that some of these reverb VR headsets come with dedicated eye tracking and head positional tracking? The HTC Vive Pro Eye offered the same visual specifications as the Vive Pro. The only difference is in the way this headset tracks your eyes. The HTC Vive Pro 2 has lept forward even more with the offer of 4896 x 2448 pixels, a faster 120Hz refresh rate, and a wider field of view.
Featuring the latest Tobii®️ eye-tracking technology, the VIVE Pro Eye Office package enables you to see what your users see and create more natural, immersive experiences.
Connectivity is either via a wireless adapter or a 5-meter cable design. The powerful amplifier allows for haptic feedback from the controllers. Like we said earlier, the only true factor to worry about is how much money you have and how much physical size you can handle.
Check out this HTC Focus 3 Headset review (video)
Frequently Asked Questions of HTC Headset Size
Can I adjust my HTC headset size?
Yes, you can. HTC has taken consumer feedback and attached several methods of adjustability. All their headsets come with adjustable headphones and some even have a wireless adapter to provide more degrees of freedom.
A good example of adjustability is the HTC Vive Pro. HTC Vive featured three velcro straps that need adjusting to get the right fit, as an improvement, the Vive Pro had an updated design that includes a solid strap, integrated headphones, and a clever comfort system. This included a dial at the back that allows for easy fit and comfort adjustment.
HTC Vive Pro also features enhanced ergonomics to give a more balanced fit by decreasing weight on the front of your face while you play. 
Is HTC Vive better than Oculus?
Yes, it is. The answer is difficult, but we will give the Vive lineup the win due to a few points. the best VR headset is the Oculus Quest 2, now called the Meta Quest 2. 
The HTC Vive Pro is technically the most impressive headset available, beating both the standard Vive and Oculus Rift in display resolution and comfort. However, it's also the most expensive by far. The Vive Cosmos and Cosmos Elite are other options if you don't want to go down the Vive Pro pathway. Games and applications just appear and run smoother on Vive than on Oculus.
How many models of HTC headsets are there?
HTC's VR Lineup Has 11 Headsets but a model or two are actually modulations of other models. The models still in production and on the consumer market have been mentioned above.
Conclusion
The headsets are great for home and office use, making them popular in the consumer market. The business market in particular has been very generous towards the Vive lineup. Meanwhile, the gaming market is in-between the Vive lineup and the Oculus Rift.
Let the world know what you think and where you camp by leaving a comment, then share the Vive spirit by sharing this article.
Picture in this post is by Jesper Aggergaard on Unsplash
Related to HTC Headset Size