TikTok Video Size: All You Need to Know
This post was last updated on March 22nd, 2023 at 09:30 pm
The video size for TikTok is 1080×1920 px. TikTok is a rapidly growing social media app that is quickly overtaking other platforms like Instagram and Snapchat. Of course, some analysts argue that it's still too early to say if TikTok will completely overtake Instagram and Snapchat. They argue that platforms like Instagram and Snapchat have been around for much longer than TikTok, so they have a large established user base. In contrast, TikTok is still fairly new and most of its users are younger millennials or Gen Zers (skip straight to the TikTok Video Size Charts).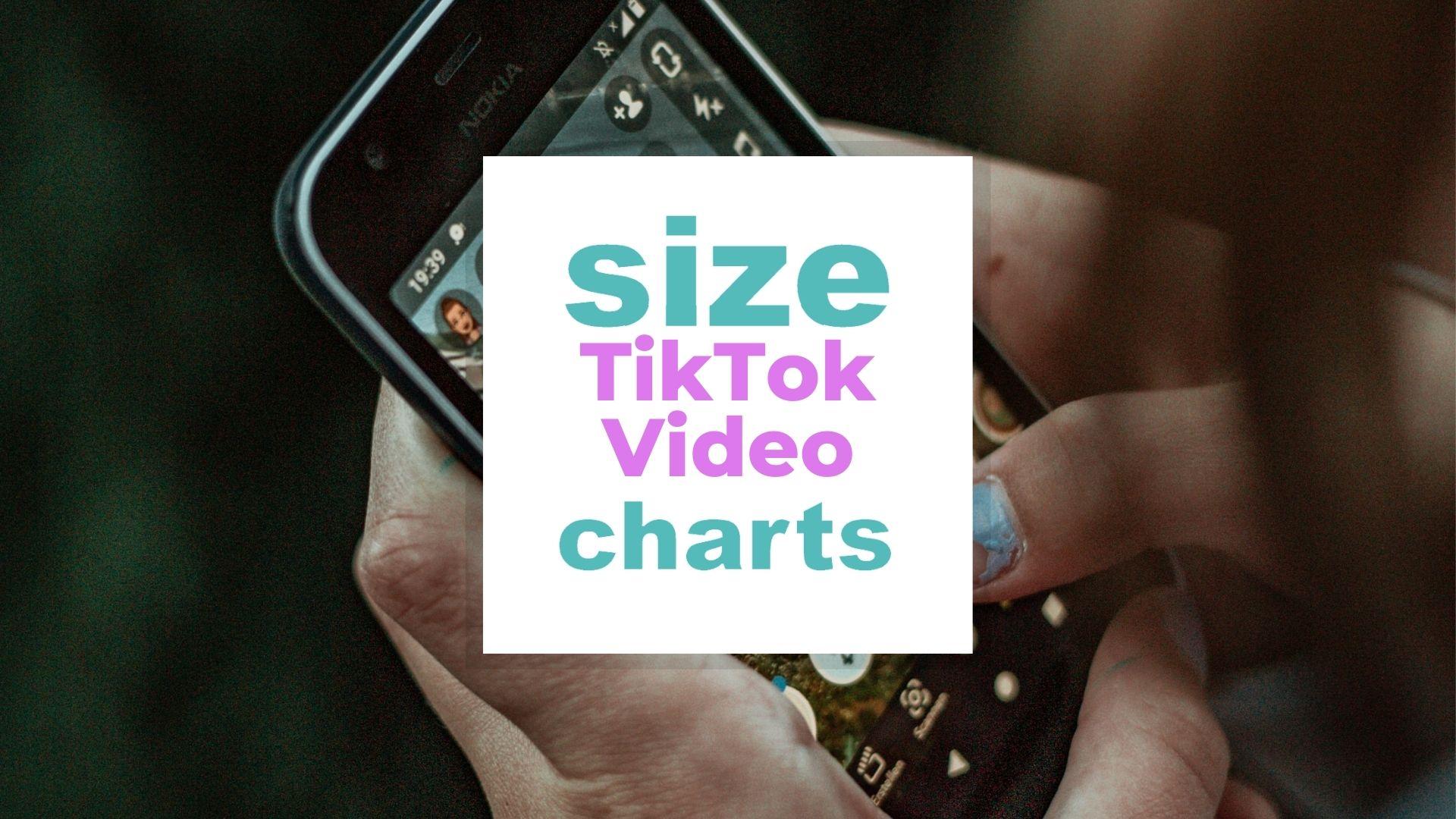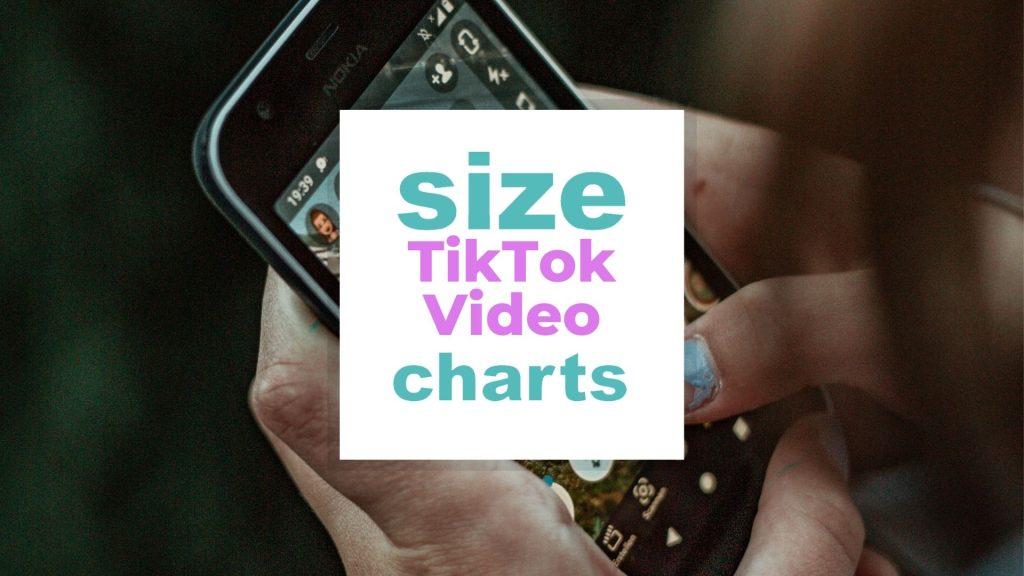 That said, TikTok has some features that make it more appealing to certain users than other platforms, which is a competitive advantage that makes it a massively popular app. 
For example, TikTok's algorithm is designed to show users more content they're interested in, keeping them engaged with the app for longer periods. Other types of algorithms that TikTok uses include the TikTok video length algorithm. 
Keep reading for a comprehensive guide and learn the secrets to getting it right on important aspects of a size such as TikTok video ad size.
Jump right into Frequently Asked Questions
Related: Snapchat Ads Size – scale your business with the right-sized ads, YouTube banner size – images, file and all relevant sizes explained, Etsy Banner Size – all sizes for cover, profile, icon images, Discord Size for emoji's – avatars – banners, Facebook image size – Easy to use size-chart for images, videos and more, Instagram size for pictures, photos and posts
TikTok Video Size Table of Content
What size does a video have to be for TikTok?
Related: Tiktok size for videos, ratios and formats to get the best results, Twitch banner size – all sizes you need for profile, video, badge sizes, Twitter banner size: a full guide of all Twitter image sizes, NFT File size guide
If you're wondering what is the video size for TikTok, you're not alone. For a long time, the preferred video size was 1080×1920. However, in late 2019 TikTok began specifying a new size of 640×1136. This new size is required for all videos that will be used in Premiere Pro and final cut pro exports. Videos that do not meet this requirement will be scaled down to fit the new dimensions. 
So, what are the best practices for creating videos that will work on TikTok?
Here are some guidelines to follow:
Keep your videos shorter than 60 seconds
Use a resolution of 640×1136 or higher
Export your videos as .mov or .mp4 files 
Use the below tables for the best video size:
| | |
| --- | --- |
| Video size dimensions & resolution | 1080×1920 |
| TikTok canvas size (width & height) | 1080×1920 |
| TikTok Maximum File size | 287.6 MB |
| TikTok Maximum File size for ads | 500 MB |
In-Feed Ad Specifications:
| | |
| --- | --- |
| Aspect Ratio | 9:16, 1:1, or 16:9 |
| Duration | Between 5 and 16 seconds |
| File Type | MP4, MPEG, MOV, or AVI files |
| Resolution | 720 x 1280 px, 640 x 640 px, or 1280 x 720 px. |
More related to TikTok video sizes
Frequently Asked Questions
How to crop the size of a video on TikTok?
You've probably shot a few videos on TikTok by now and are wondering how to crop the size of the video. Don't worry, it's easy! 
To crop the size of a video on TikTok, open the video and tap on the scissors icon in the top left corner. This will open up a menu where you can choose to crop the video to square, portrait, or landscape. Select the orientation you want, then drag the borders of the box to fit the part of the video you want to keep. When you're done, hit "Crop." 
Your video will now be cropped to that size! 
How to change the size of a video on TikTok?
So you've made a video with the perfect TikTok ad length, for example, but you want to make it a little bit bigger or smaller. No problem! You can easily change the size of your video on TikTok without having to re-record anything. 
The default size for a TikTok video is 1280×720, but you can choose to make it smaller or larger. Keep in mind that the larger your video is, the more storage it will take up on your phone. 
To make your video smaller, go to Settings and select "Change Video Size." Then select the size you want your video to be. 
To make your video larger, go to Settings and select "Change Video Size." Then select the "Pixels" option and enter the number of pixels you want your video to be. 
You can also use a third-party app like CapCut to change the size of your videos. CapCut is a free app that allows you to resize and edit your videos easily. 
What's the size of TikTok video?
The standard size for a TikTok video is 1080×1920, which is also the size for ads. Regarding TikTok video size, it's important to know the average dimensions so your videos look their best. However, if you have a longer video, it may be cropped to 1080×1920. 
TikTok also has a limit of 3 minutes for videos, but if you want to create longer videos, you can use our Premiere Pro extension to export videos up to 15 minutes long. Remember that the larger the file size, the longer it will take to upload. The average video size is 1080×1920 in frame. 
Width and height of TikTok video?
The ideal video size pixels for TikTok is 1080 x 1920 pixels. However, videos can be as short as 21 seconds or as long as 1 minute and 59 seconds. Keep in mind that your video will be cropped and distorted if it doesn't fit within these parameters. 
It's also important to note that square videos are more likely to be shared on TikTok than landscape or portrait videos. You can also consider using a TikTok video converter to reduce its size. 
Here's a great video on how to resize videos on TikTok:
Conclusion
TikTok is a great platform for creative content, and it's perfect for creating short, engaging videos. However, it's important to understand the basics of the platform before you start creating content. 
Hopefully, this guide has taught the most important things you need to know about the size of TikTok videos. By following these tips, you will stop worrying about what size a TikTok video is and use your time to create awesome videos that will engage your audience and get more followers. All the best and may you make stunning videos that will dazzle your audience on TikTok!
Picture in this post is by Josh Rose on Unsplash
Related to Digital Size Charts