YouTube banner Size – Images, File and All Relevant Sizes Explained
This post was last updated on August 31st, 2023 at 05:25 pm
The best YouTube banner size is 2560 x 1440 pixels. A YouTube banner, also called channel art, is a photo that sits horizontally across the top of your YouTube page. This image is also called a cover photo or header on other social media platforms like Facebook and Twitter. It provides an excellent way to show your viewers what to expect from your channel.
YouTube is one of the biggest social media platforms, with about 2.7 billion users worldwide. This makes it a great place to deliver video content to your followers. One of the tools you can use to relay who you are on YouTube is the banner.
YouTube users can identify what you offer before viewing your video content. As such, you can use an image depicting your products, services, or ideas to ensure you attract your target audience. Banners can also relay crucial information like upcoming event dates, offers, and announcements.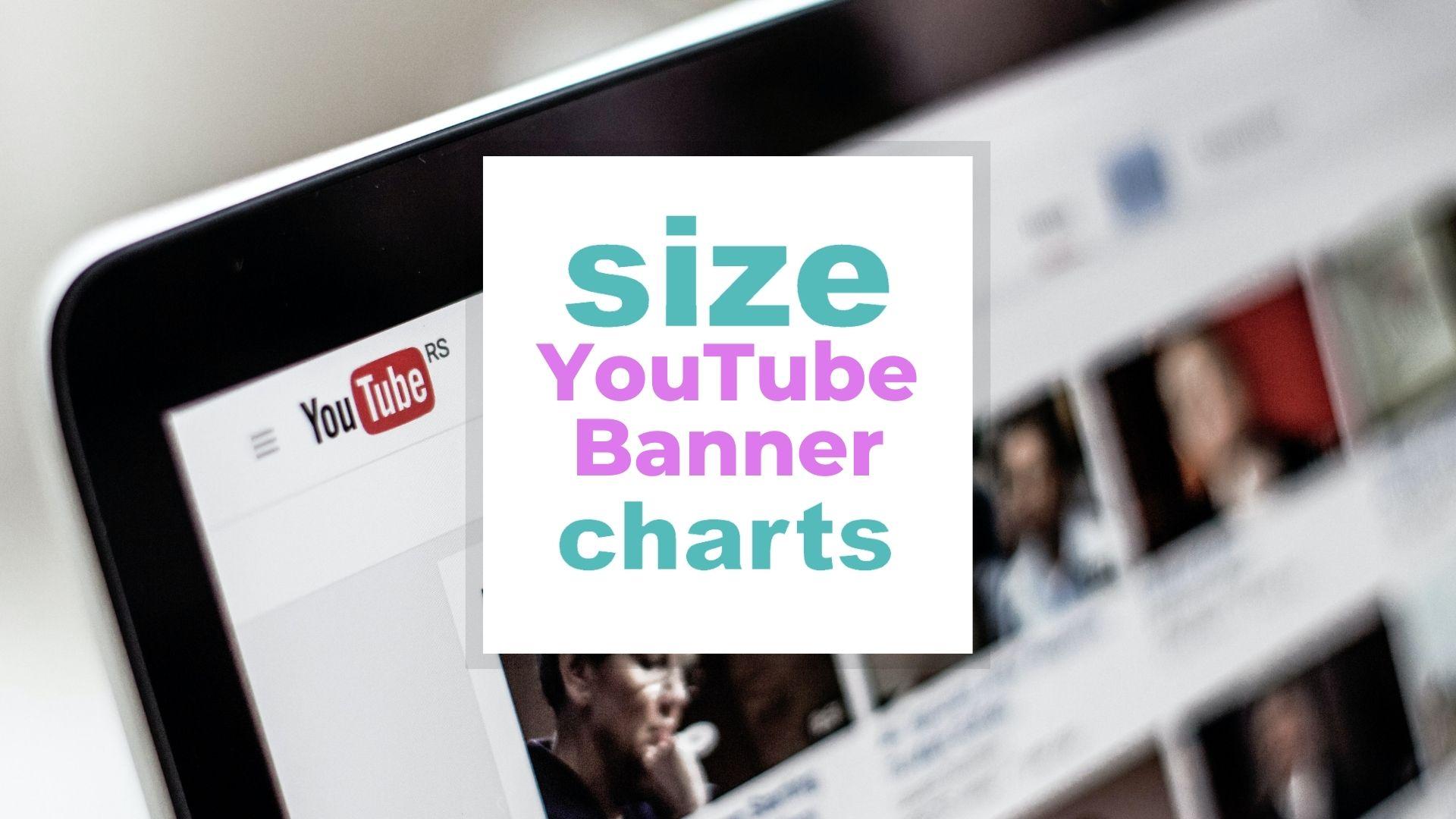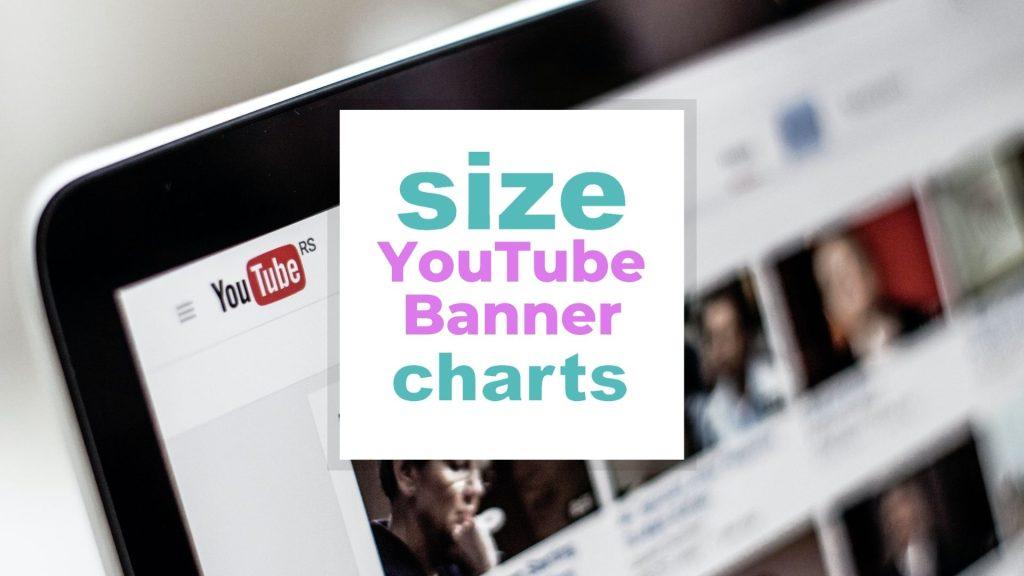 Promoting your YouTube channel means going social, so you're probably also looking for Looking for Instagram sizes, Twitter image sizes, Facebook image sizes, twitch sizes, Discord sizes, Etsy size, Snapchat ads sizes, Tiktok sizes..? check the links of the digital size charts. Find answers on your question in the FAQ section of our page
The size of your banner will determine the type of experience visitors have with your channel. That's why it's essential to learn the best YouTube banner size, and without further delay, let's get started.
Many of youtube movies are made with mobile phones, like Apple Iphone, Samsung Galaxy, or other electronic devices… check their screen sizes here
Table of Content of YouTube Banner Size Guide
YouTube Banner Size Guide
YouTube Channel Art Size Chart
| | |
| --- | --- |
| YouTube Banner Size Recommendations | 2,560 x 1,440 pixels |
| Minimum Image Dimensions | 2,048 x 1,152 pixels |
| Minimum Image Safe Area | 1,546 x 423 pixels |
| Maximum File Size | 6MB |
YouTube Image Sizes Chart
| | |
| --- | --- |
| YouTube image type | Dimensions in pixels |
| YouTube Banner / Channel Art | 2560 px x 1440 px |
| YouTube Thumbnail | 1280 px x 720 px |
| YouTube Channel icon | 800 px x 800 px |
| YouTube Intro | 1920 px x 1080 px |
| YouTube Outro | 1920 px x 1080 px |
| YouTube Display Ad | 300 px x 250 px |
| YouTube Display Ad Long | 300 px x 60 px |
| YouTube Overlay Ad | 480 px x 70 px |
How to Choose the Right YouTube Banner Size
Your channel banner or cover photo is the huge background image YouTube users will see on your channel. If you want to get the best impression from your audience, you'll need to get the banner image size right. The channel banner image will appear in different dimensions depending on the device the viewer is using.
Here's how a YouTube banner displays on different types of devices:
Tablets: 1855px x 423px
Mobile devices: 1546px x 423px
TV: 2560px x 1440px
Desktops: 2560px x 423px
If you want to ensure your banner looks good on all devices, the correct size for your channel art banner is 2560 x 1440 pixels. Nevertheless, the minimum image size is 2048 x 1152 pixels.
The banner safe area for your image is 1546 x 423 pixels, and you'll need to keep any texts, logos, and critical parts of the photo within these banner dimensions. This will ensure the important elements of your banner aren't cropped out when the image is resized for different devices which is usually the case for larger images.
Acceptable formats for a YouTube channel banner include JPEG, GIF, PNG, and BMP formats. Additionally, the maximum file size is 6MB, while the recommended aspect ratio is 16:9, typical for most social media platforms.
If you don't adhere to these YouTube banner size guidelines, your image will be rejected or will appear distorted on your channel.
The perfect YouTube Banner Size upload explained
The Best YouTube Media Sizes
There are other visual elements you can use on YouTube in addition to your banner art. Let's discuss their sizes below.
1. Channel profile picture size
Your profile image is the one that represents your channel when you release video content or make comments. You'll need to upload your image in a square format, but it'll display as a circle. So, it's crucial to keep the important details of your brand, logo, or image in the center to ensure it's still relevant even after the image is cropped.
The ideal size for your profile picture is 800 x 800 pixels, but it'll be displayed at 98 x98 pixels. Use a high-resolution image that won't look distorted even when the image shrinks.
2. Video thumbnails size
A thumbnail photo is an image representing the content inside your YouTube video. It's important because it's what viewers see when browsing in search of a solution on YouTube. Choosing an image that displays what your target audience is probably looking for will give you an advantage over your competitors.
The perfect size for your video thumbnail photo is 1280 x 720 pixels and the file shouldn't be larger than 2MB. JPEG, PNG, and GIF are the accepted file formats for YouTube thumbnails.
3. Video watermark size
Another way to deliver a consistent branding experience to your audience is by adding a video watermark to all your videos. Any content creator can add a branded image like a logo to the videos. This allows viewers to subscribe directly by clicking on the watermark.
The minimum size for YouTube watermark images is 150 x 150 pixels. It'll have to be a square image, and the file shouldn't be larger than 1MB.
Tips for Choosing a Great YouTube Banner
It doesn't have to be daunting to find the perfect banner for your YouTube channel. If you've been having a hard time, these tips will get you a cool banner in no time.
1. Use a solid background for text
People don't spend much time looking at banners when choosing YouTube channels to subscribe to. That's why you should ensure you create eye-catching banners that will encourage viewers to want to know more about you. One of the common mistakes that content creators make is using the same color for text and the background.
Details like the name of your channel and when to expect new videos can be handy on your banner. So, ensure the image has a solid color that creates contrast with the text you want to add. This will make it easier for viewers to remember your information without hassle.
2. Avoid a lot of text
Sometimes, there's a lot you want to say in your banner, like who you are, what you do, and why you are the best option for your viewers. Unfortunately, you can't include all these details in your banner without making it seem cluttered.
Ideally, if you want to include text, a line will do. This is because YouTube users aren't looking for answers in texts but in videos. As such, you should only include what is crucial in your banner and leave the rest for your website or other social media accounts.
3. Use consistent color schemes
The design elements of your banner can also determine how your audience responds to your posts. If there's a color that regularly appears in your websites, socials, and other accounts, you can use them to create consistency.
Having a definite color scheme can help you narrow down which images are a good fit for your banner.
4. Use one image for all social media channels
You can make it possible for your audience to follow you across different social networks. Using the same cover image for all your accounts will ensure your followers can identify your brand and posts instantly.
5. Choose high-quality images
When it comes to interacting with your audience online, the quality of your images will determine how professional and authoritative you look. Avoid low-quality photos that stretch or look out of shape after uploading them. A high-quality YouTube banner will ensure you get the right attention from your viewers.
Learn more about building your fan base on YouTube here.
Frequently Asked Questions
1. How do I make a YouTube banner fit?
To resize a YouTube banner, you'll need to use an online image editor with top-notch photo editing features like Canva or Adobe Express. If you don't know enough to resize the image yourself, you can always hire an experienced designer. Graphic designers use advanced graphic design tools to create gorgeous channel art images.
2. What is the best YouTube banner size?
The best channel art banner size is 2560 x 1440 pixels
Youtube Video and Banner size explained
Conclusion
A stunning banner is the first step to attracting a wider audience for your videos. Getting the right size for your channel banner is one of the challenges content creators face. If you choose the wrong size, the image will appear distorted, making viewers click away from your page.
The best size for your banner is 2560 x 1440 pixels. At this size, your image will look visually appealing and make a good impression on first-time viewers.
You can use the same banner for all your social media profiles for consistency in your branding efforts. This can make it easy for your audience to follow you on different platforms and benefit from all you can offer.
If you have any questions on this YouTube banner guide, ask them below, and we'll help you out as best we can.
Picture in this post by by Christian Wiediger on Unsplash
Related Digital and screen size charts