Twitch Banner Size – All Sizes You Need for Profile, Video, Badge Sizes
This post was last updated on June 18th, 2023 at 12:04 pm
The correct Twitch banner size is 1200 x 480 pixels, and it can be in a PNG, JPEG, or GIF file format. Twitch is one of the most popular live-streaming services online. It's mostly used for video game streaming, e-sports streaming and broadcasting creative content. With an average of 31 million daily streams, it's no surprise you want to get your name out there via Twitch.
The easiest way to take your Twitch channel to another level is by uploading a good banner. This can help you get the best impression from first-time visitors browsing your channel. It'll also provide a way to connect with your audience before they read anything about who you are and what you do.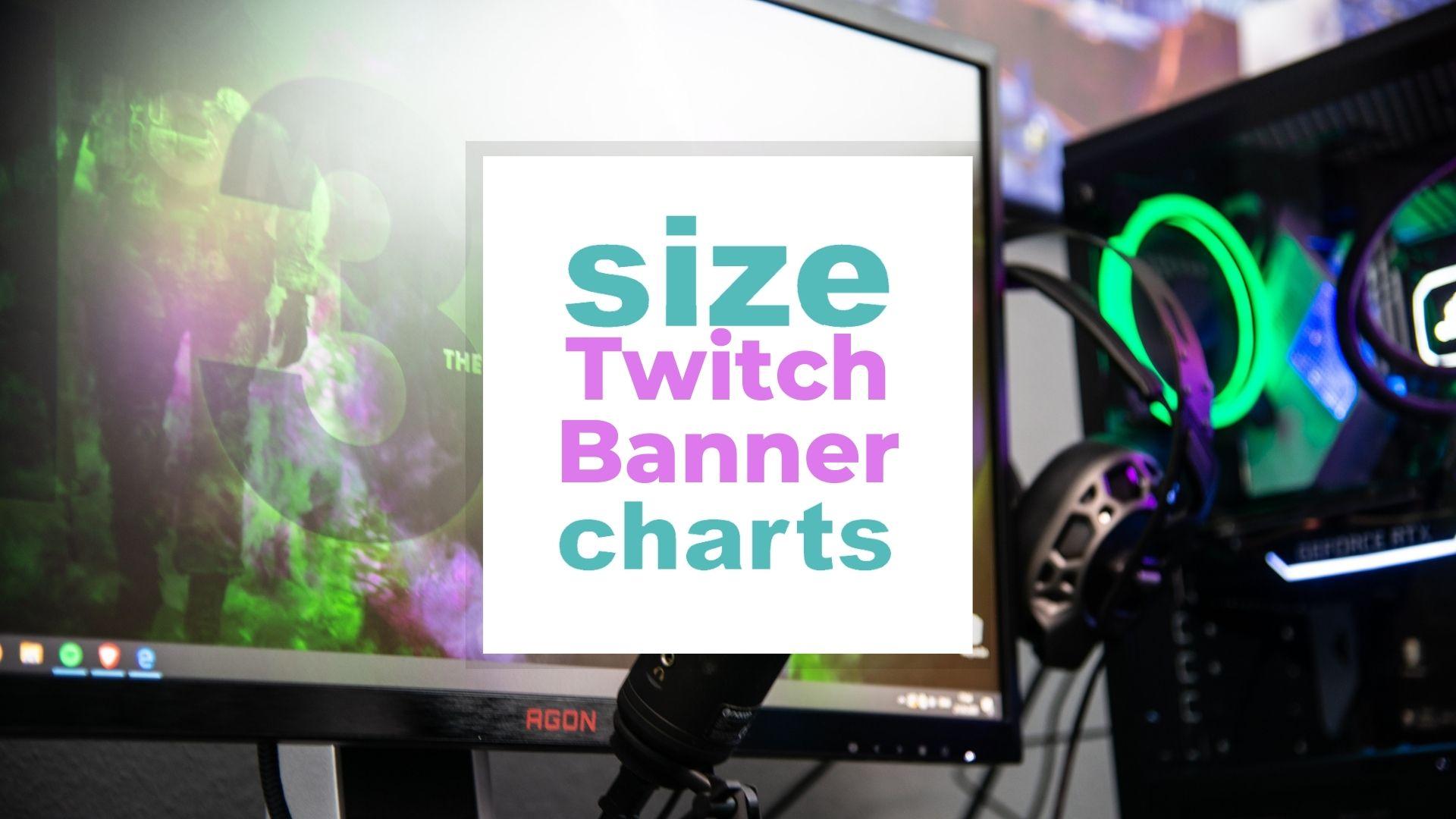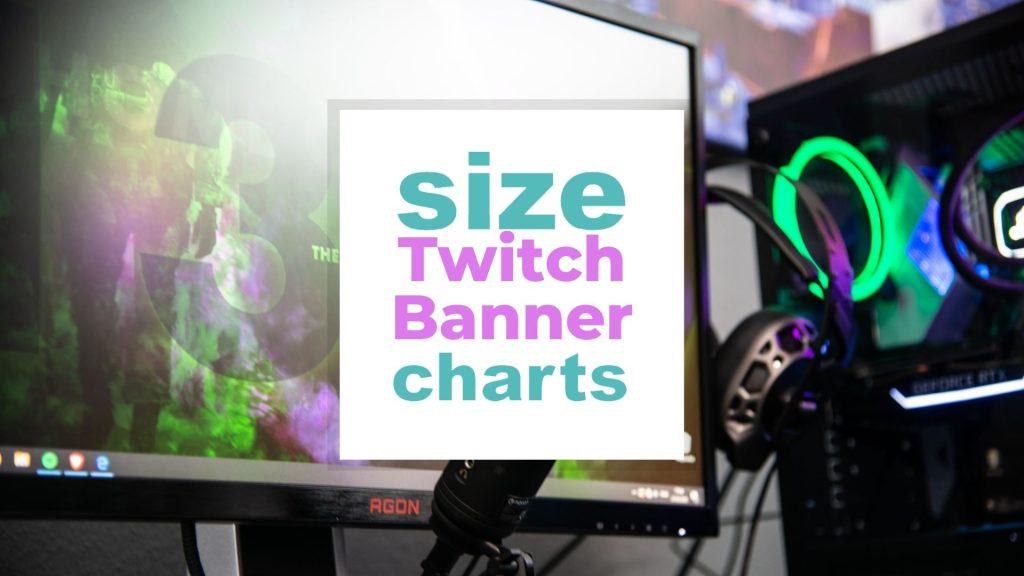 Looking for Instagram image sizes, Twitter image sizes, Facebook image sizes, Etsy sizes, Discord size, Youtube banner sizes, Tiktok size, Snapchat size ..? check the links of the digital size charts. Looking for specific questions on Twitch banners and image sizing? Go directly to the FAQ section of this page
Getting the size right for your banner can help you reach your full branding potential. Find out the ideal size for your banner. Let's get started!
Table of Content of Twitch Banner Size Chart
Twitch Banner Size Chart
Let's look at the graphic sizes of different Twitch media below.
| | |
| --- | --- |
| GRAPHIC | SIZE |
| Profile Photo | 800 × 800 px |
| Profile Banner | 1920 × 480 px |
| Video Player Banner | 1920 × 1,080 px |
| Video Thumbnail | 1280 × 720 px |
| Twitch Emote | 28×28 px 56×56 px 112×112 px |
| Sub Badge | 18 x 18 px 36 x 36 px 72 x 72 px |
| Overlay | 1920 × 1080 px |
| Alerts | 750 x 250 px |
| Info Panels | Minimum 320 × 60 px Maximum 320 × 600 px |
How to select a great Twitch banner
Your Twitch banner will affect the level of success you experience on the platform. Fortunately, if you keep the following factors in mind, you'll choose an excellent picture for your banner.
1. Consistent Color Schemes
The foreground and background colors you associate with your channel should be consistent even in your banners. This makes it easier for your followers and audience to identify your activity faster. If you haven't thought about having a consistent color scheme, you should do it now.
Avoid choosing an image that doesn't have relevant colors since this could water down your brand image. You can find some free banner templates right here.
2. Less Text
One of the common pitfalls for Twitch users is incorporating a lot of information into the banner. While you want your banner to attract and retain attention, you should avoid overloading it with lots of text. You'll find enough room to tell your subscribers all you are about other sections of your page.
3. Engaging Image
Lastly, you want to choose an image that will directly connect with your viewers. Getting the banner dimensions right won't be of much help if your audience feels detached from your brand. As such, you should use an image that shows the activities you engage in, like a picture of playing a particular game. This makes it easy for potential fans to find your channel.
How to Choose the Right Twitch Banner Size
The channel banner image, also known as the cover photo, is the one that appears on top of your profile. It takes up the most space on your Twitch page and is what viewers will see behind your profile. As such, you should ensure it catches the attention of your audience at first glance.
The correct banner size is 1200 x 480 pixels. A width of 900 px is ideal for small screens of mobile devices and standard monitors. However, you'll need a larger width if you want your banner to appear in high resolution on ultra-wide monitors and TVs. The accepted file formats are GiF, JPEG, and PNG, while the maximum file size is 10MB.
The Best Twitch Image Size For You
Selecting the right size for your Twitch banner is the first step in improving your personal branding style. There are different types of images you can upload to Twitch. In this section, we'll discuss the ideal size for each.
1. Twitch profile picture size
The profile picture of your Twitch channel is what searchers will find when they look for your page. You'll need to use an inviting profile picture to ensure you can keep your prospects engaged enough to keep scrolling in your channel. You'll need to ensure the dimensions of your profile picture are 256 pixels long by 256 pixels wide.
If you pick a photo with a higher pixel count, it'll be rejected automatically, and if you go with a lower count, the image quality will be compromised. The file could be as large as 10MB, and you can only use a JPEG or PNG format.
2. Twitch overlay size
Using your webcam for streams is an excellent way of enhancing your interaction with the audience. That's why the size of your webcam design is a crucial factor. The aspect ratios you can use for your video overlays are the 16:9 ratio and the 4:3 ratio. These translate to a recommended size of 1920×1080 pixels and 1600×1200 pixels, respectively.
If using a static webcam, the ideal format is PNG, while WEBM and GIFs are suitable for animated frames.
3. Twitch panel size
You can use Twitch panels to create a welcoming and attention-grabbing profile. These info panels appear under your live stream on your profile, and they display essential information to your viewers.
The ideal size for your panels covers a wide range. It could be between 320 x 60 pixels to 320 x 600 pixels. The size of the files should be below 2.9MB, and the recommended formats are PNG and JPEG. You can use your color palette to make your panels more appealing while providing crucial details about your brand.
4. Video player banner
The video player banner or offline screen banner is the one viewers find when they visit your channel while you are offline. It should be engaging and provide useful information about your page.
The correct size for your video player banner is 1920 x 1080 pixels at an aspect ratio of 16:9. At most, the file should be 10MB and the formats you should use include PNG, JPEG, and GIF. The upper and lower areas of your offline banner will have shadows, so if you are including any information, it should be at the center of the image.
5. Twitch alert size
Twitch alerts are one of the best tools for your stream schedule. If you use them correctly, these alerts can boost engagement with your followers, so getting the right size is crucial. We recommend you use an alert size of 750 x 250 pixels since it won't appear too small or big with these dimensions.
Animated alerts should be in WEBM or GIF formats, while static ones should be in PNG. The maximum file size is 10 MB.
6. Twitch emote size
If you've used Twitch chat rooms, you've probably noticed the emoji-like picture glyphs that tell your wins and losses. Emotes are useful because they allow your audience to express themselves without restriction on Twitch.
There are three ideal sizes for your emotes:
112 x 112 pixels
56 x 56 pixels
28 x 28 pixels
You can't adjust these sizes since they are predetermined on Twitch. The only format you can use is PNG, and the maximum size you can upload is 512KB. Twitch will have to approve a new emote before you can upload it.
How to size your twitch emote
7. Twitch sub badge size
Twitch offers subscriber badges to help distinguish visitors from your audience. When a Twitch user subscribes to your channel, they'll receive a Subscriber-only badge. Since subscribers directly contribute to your success on Twitch, it's nice to give them a badge to set them apart from the general audience.
Ideal sizes:
18 x18 pixels
36 x 36 pixels
72 x 72 pixels
The badges should be 25KB in size and in PNG format.
8. Twitch VOD thumbnail size
Your thumbnail photo is the small image that represents your video. It's like a quick snapshot of the most interesting part of your stream. Twitch VOD thumbnails allow you to improve traffic if you use them correctly.
The recommended size for your thumbnail is 1280x720px. The accepted formats are PNG and JPEG.
Frequently Asked Questions
How many pixels is a Twitch banner?
The correct Twitch banner size is 1200 x 480 pixels, and it can be in a PNG, JPEG, or GIF file format.
What size is Twitch offline banner?
The recommended size for your Twitch offline banner is 1920 x 1080 pixels.
What ratio is a Twitch Banner?
Your twitch banner should have an aspect ratio of 16:9 for maximum clarity in your display picture.
Conclusion
Twitch is among the best social media platforms for live streaming. It allows users to live stream video games, E-sports, and even music broadcasts. Improving your performance on Twitch could start with a step as simple as setting up a custom banner with the right dimensions.
The factors guiding which image you can use for your banner include personal preference, branding consistency, and your target audience. Once you upload your media to Twitch, you can expect better engagement and traffic on your channel.
If you have any questions or think this post was helpful, leave a comment in the section below.
Picture in this post by Caspar Camille Rubin on Unsplash
Related Digital and screen size charts