Etsy Banner Size – All Sizes for Cover, Profile, Icon Images
This post was last updated on June 17th, 2023 at 08:46 pm
When prospects find your Etsy shop online, the first thing they see is your Etsy banner image along with other specifics about your business. Getting the Etsy banner size right is important as you'll notice that the image extends across the top of your store because it represents who you are and what you do.  Using high-quality images in your branding strategy is one of the few ways to increase leads and sales. 
According to this article by MIT, our brand can process visual stimuli like images in as little as 13 milliseconds. This is a fraction of the time we use to read and understand texts which are why having an inviting cover photo is crucial to your success on Etsy.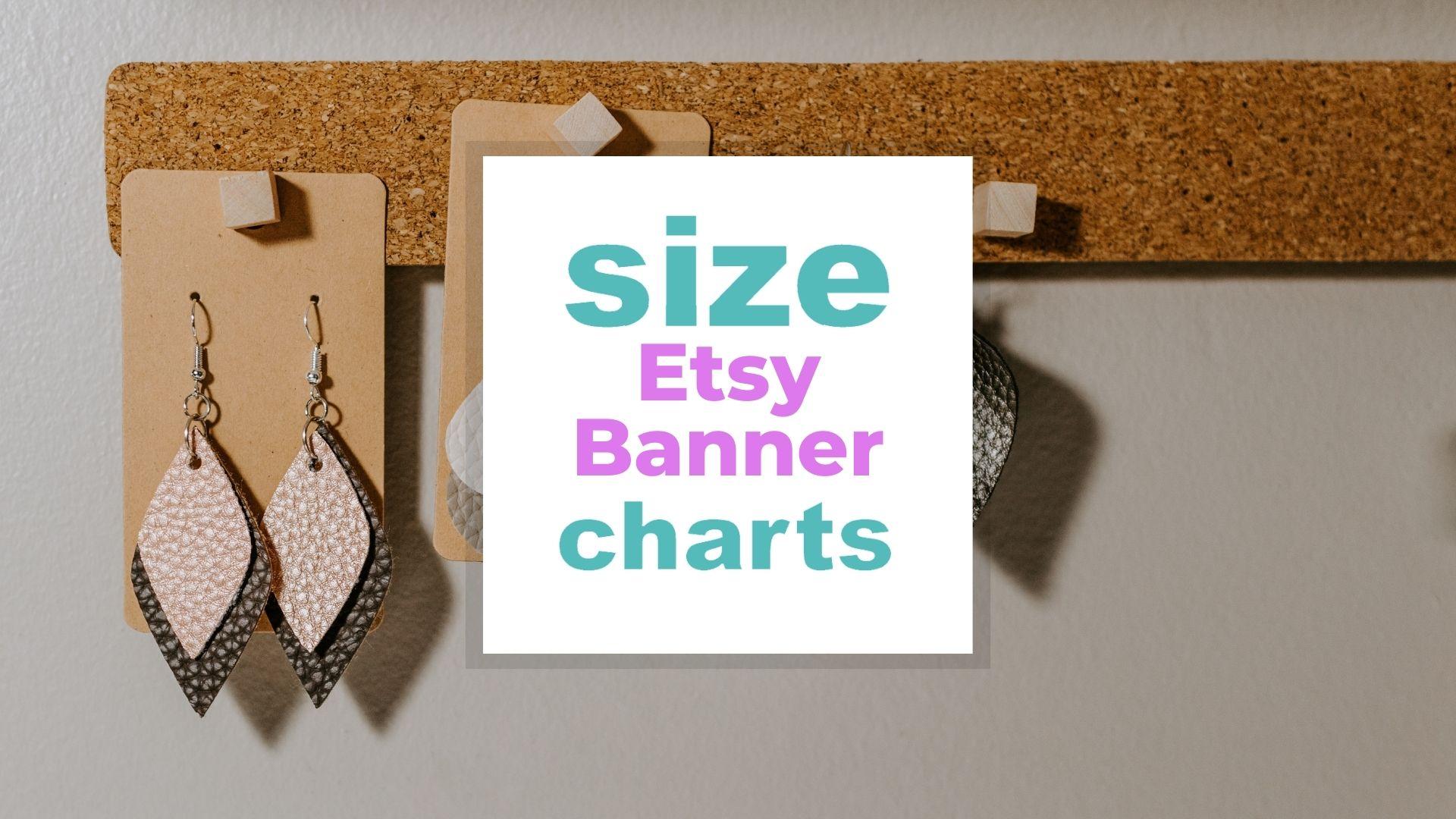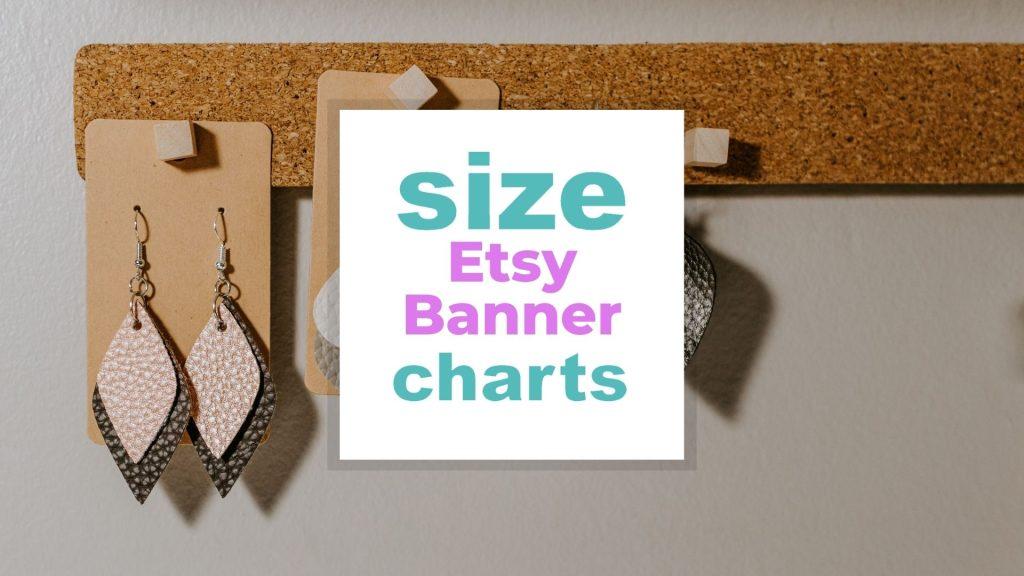 A shop banner provides a means to start engaging the viewer before they start reading the details of your business. That's why some prefer to hire professional designers to make a well-designed banner.  You can also set your products apart from competitors using interesting images. Just as you'd market your services outside your brick-and-mortar store, you need to use compelling visuals to grab the attention of your target audience. In this post, we'll cover the best size for your Etsy shop banner and other considerations you need to make. 
When you promote your Etsy shop you might be looking fo witter image sizes, Facebook image sizes, twitch sizes, Youtube banner sizes, Discord sizes, Etsy size, Snapchat ads sizes, Tiktok sizes….? check the links of the digital size charts. Looking for specific questions on Etsy image sizing? Go directly to the FAQ section of this page
Table of Content of Etsy Banner Size Charts
Etsy Banner Size Chart
Here's a guide to the ideal banner dimensions of Etsy banners.
| | |
| --- | --- |
| Etsy Graphic | Banner Size |
| Etsy Cover | 3,360 × 840 pixels |
| Etsy Profile Photo | 400 × 400 pixels |
| Etsy Shop Icon | 500 × 500 pixels  |
| Etsy Shop Banner | 760 × 100 pixels |
| Etsy Thumbnail | 570 × 456 pixels |
| Etsy Team Logo | 170 × 100 pixels |
| Etsy Item Listing | 800 × 1,000 pixels |
| Mini Shop Banner | 1600 x 213 pixels |
How to Choose the Right Etsy Banner Size 
Using the correct size of photos on Etsy is critical to presenting your business in the best light. In this section, you'll learn the minimum dimensions necessary for every type of banner on Etsy. 
Etsy Image Size Requirements
You can set up different images on Etsy to help you provide a cohesive branding experience for your customer base. So let's take a look at them below. 
1. Etsy Cover Photo
This is the hero image that appears as the face of your Etsy store. It takes up a large portion of the upper section of your page, so you should ensure it's an excellent picture. 
2. Shop Icon
Ideal size – 500 x 500px
Your shop icon is basically your business logo. This is one of the places you can benefit from the services of a graphic designer. You'll need to include alluring design elements so that you can catch the attention of Etsy shoppers. The color palette, font styles, and graphic designs you use will be part of your brand image and help your customers identify your products faster.
3. Profile photo
Ideal size – 500 x500px
The profile photo is an image of the owner of the shop, and it's essential to use the right dimensions when selecting and uploading your picture. It should be a high-quality picture that gives an inviting feel to prospects. 
4. Carousel Banners
Ideal size – 1200 x 300px
The option for carousel banners is exclusively available to members of Etsy Plus. It allows you to post four more images than the ones available on Etsy. You can use it to showcase your products from different angles to help the audience understand them better. Additionally, you can add links to carousel banners to direct web users to other sections or products. 
5. Product Listings
Ideal size – 2000px for the shorter side
Listing images are product photos that you display in your store. You'll have to use a comfortable size for your viewers to see. If it's hard for your audience to clearly identify what you are offering, they could look for an alternative elsewhere. 
6. Team Logo
Ideal size 170 x 100px
Team logos are designed for Etsy teams. These teams allow you to network and connect with other sellers on Etsy. This provides a great opportunity to collaborate and exchange ideas which could aid in growing your business. Your logo is among the considerations other sellers will have as they look at your page.  
7. Thumbnail
When potential customers look for you on Google, your business will appear with a thumbnail photo alongside it. As such, the image you choose should be consistent with the other photos representing your business to deliver a cohesive brand experience to your customers.
8. Collage Banners
Minimum size for 2 images 600 x 300 pixels
Minimum size for 3 images 400 x 300 pixels
Minimum size for 4 images 300 x 300 pixels
Much like carousel banners, this banner option is only available to members of Etsy Plus. Users can add up to four additional images in a photo collage which can be useful for products that require supportive visuals.
9. Order Receipt Banner
Ideal size – 760 x 100px
This is a mini banner that's used for order receipts and packing slips. 
Etsy Size Frequently Asked Questions
How to use Etsy banners for great visual representation
It can feel tricky to find the perfect banner for your Etsy shop, but the process doesn't have to be difficult. This is how to make a beautiful banner that can catch the eye of your prospects. 
1. Be consistent
Proper branding is crucial for an Etsy shop to thrive. You'll need to maintain a consistent color profile to ensure it's easy for your audience to identify your products. This could mean anything from using the same background color in your photos to repeating a specific color scheme. Once your audience is familiar with your brand image, you won't have a problem with converting leads. 
2. Say less, show more
A common temptation that Esty store owners face is explaining everything about your business on your banners and images. You don't have to crowd your visual media with information. Doing this could make your profile seem overwhelming to your audience. Instead, you should use simple graphics, fonts, and designs. Any information you include should be summarized to ensure the banner doesn't look cluttered. 
3. Provide social proof
It's also necessary to provide evidence of how well your product works. You can use pictures of customers with your product or screenshots of testimonials from your social media channels. This will take you a long way in establishing credibility with your customers.
How do I upload a banner for my Etsy shop?
Here are the steps to follow to set up your banner image on Etsy. 
Login to your Etsy account
Check for "Info and Appearance on the left side of your screen and click it.
Go down to "Shop Banner Image" and select the "Browse Button."
Choose the banner file you want to upload and then click "Open."
Return to the homepage and click "Save."
Finally, click on your Shop Icon to see how your banner looks. 
What are the dimensions of an Etsy banner 2022? 
The ideal size for a cover photo for your Etsy shop is 3360 x 840 pixels. If you want a small banner, you'll need an image measuring 760 x 100 pixels. Your Etsy banner appears in the same place as the cover photos. However, the cover photos are much larger and appear on mobile devices and PCs. The small banner only appears on computers.
How to size your Etsy images explained
How to size printable wall art (images) to sell on Etsy
This is a bit off-topic, but very relevant in the Etsy size guide. One of the most popular products on Etsy is printable wall art, so it's interesting to know how to size it properly.
Aside of the picture size, you need to know the standard paper sizes, poster sizes and picture frame sizes. These are all detailed paper size guides offered by Size-charts.
Conclusion
Your Etsy banner is the first thing your audience sees about your business. That's why it's the perfect tool to use for grabbing the attention of your customers. If you choose a high-quality image with the correct dimensions, you'll make it easier for customers to see what you have to offer. 
There are different types of images you can use on Etsy. You'll need to use the ideal size for each to ensure they deliver the intended message in representing your brand. 
Related screen and digital size charts