Discord Size for Emoji's – Avatars – Banners
This post was last updated on June 18th, 2023 at 06:15 am
Why is a good Discord size important?
Once you become a user, you will need to upload a good avatar, banners, emojis size, and pictures. All these create excellent visual content for your audience. Knowing the correct discord size for these elements is essential. This is especially necessary if you're running a business as it tells your target audience who you are and what your business is dealing with.
With over 150 million monthly active users, Discord is meeting the need of the hour in almost all spaces. It's a vital element in gaming communities, meme stock groups, connecting friends, and fan communities.
Looking for Twitter image sizes, Facebook image sizes, twitch sizes, Youtube banner sizes, Etsy size, Snapchat ads sizes, Tiktok sizes… ? check the links of the digital size charts. Looking for specific questions on facebook image sizing? Go directly to the FAQ section of this page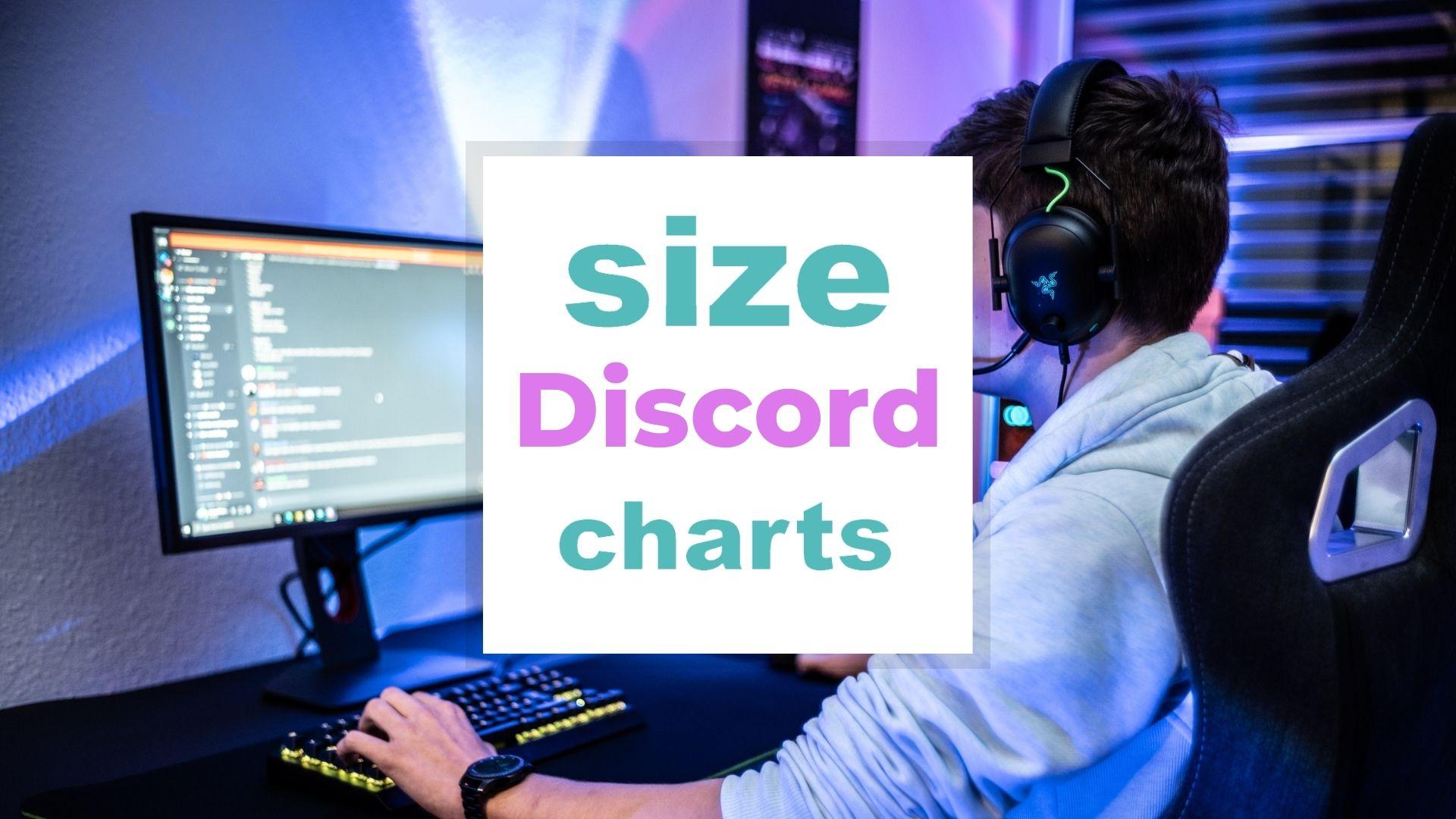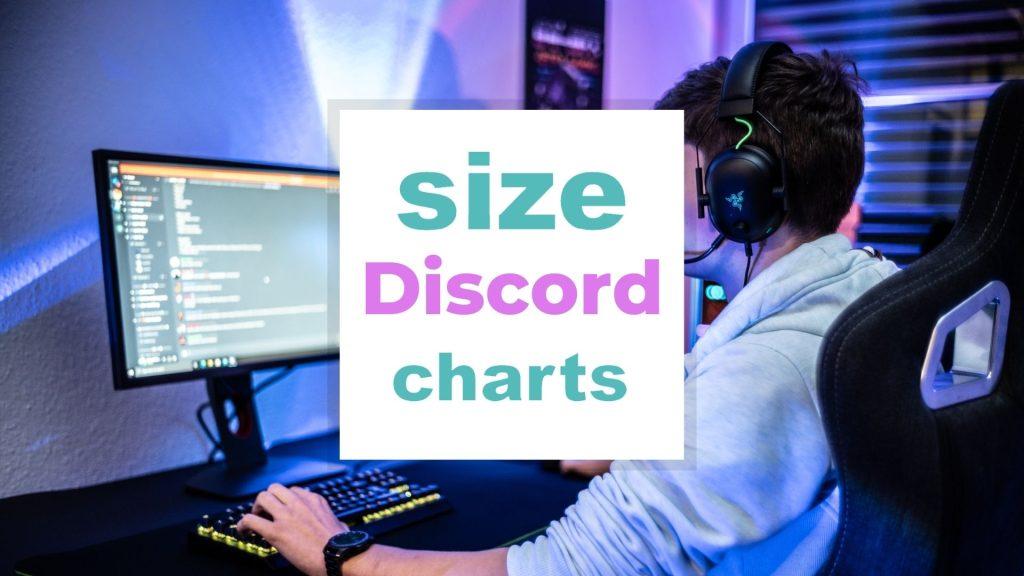 So what is Discord, and why do you need it?
If it's your first time encountering this term, you're perhaps wondering why you should bother yourself learning or interacting with it. Discord refers to a VoIP, digital distribution, and instant messaging platform.
Users use this massive multimedia messaging platform to communicate with video calls, voice calls, text messages, media, and files in communities and private charts. The versatility of this platform continues to attract millions of users daily, booming it speedily. So whether you want to keep in touch with your family or friends far from your residence, Discord connects you regardless of the distance.
Companies are leveraging Discord for phones or PC to boost their revenue as it connects them with relevant prospective customers. Since no one in this era wants to strain their eyes viewing low quality or blurred images, choose the appropriate Discord size for every element. This will captivate and sell your products or services to them.
Although creating great experiences for clients is important, families and friends enjoy good-sized emojis, avatars, icons, images, and GIFs. Want to learn the specific Discord App sizes you should use to create a great experience for your audience?
Let's delve in!
Table of Content of Discord Size Charts
Discord Size Chart
| | | |
| --- | --- | --- |
| File Type | Resolution | Discord Image Size Limit |
| Discord profile picture size | 128 x 128 pixels 1.3333 x 1.3333 inches | 8 MBS 8000 KBS |
| Discord icon size | 512 x 512 pixels 5.333 x 5.333 inches | 8 MBS 8000 KBS |
| Discord Emoji size | 32 x 32 pixels 0.333 x 0.333 inches | 0.256 MBS 256 KBS |
| Discord Server banner size | 960 x 540 pixels 10 x 5.625 inches | 8 MBS 8000 KBS |
| Discord server invite splash image size | 1920 x 1080 pixels 20 x 1125 inches | 8 MBS 8000 KBS |
| Discord chart image size | No limit | 8 MBS 8000 KBS |
How to Choose the Right Discord Size
Settling on the best Discord size limit can be difficult, especially if it's your first time interacting with this platform. Below is how to choose the best size by Discord file type.
Discord PFP Size
The best Discord pfp size is 128 x 128 pixels which has a 1:1 aspect ratio. Typical file types to use in this Discord item include JPG, GIF, and PNG. The recommended size for discord profile picture full size is 8 MB. Nevertheless, you can upload 50 MBs on Nitro which will be small, so you don't have to worry about adjusting it.
And you don't have to learn how to change size as the platform allows you to upload the image of your choice and cuts it down automatically to the appropriate size.
Don't get mixed up by the size for Discord avatar, Discord profile picture, and Discord pfp; all these terms refer to the same thing.
Discord Server Size
To start your server, you will need a Discord Server Logo. This acts as a Discord avatar or profile image. It's usually circular and appears in the community member's sidebar and other places where your avatar is exhibited for Discord users to view.
The best Discord file size limit for icons is 512 x 512 pixels. Similar to the pfp, it's cropped into a circle and supports file types such as JPEG, PNG, JPG, and GIF formats.
When setting this file, you can add a Discord server banner background and an Invite Splash image. The server background image recommended size is 960 pixels wide by 540 pixels tall. Server Splash Images should be 1920 pixels wide by 1080 pixels tall.
Discord Video Size
Discord videos can be anywhere between 8 MB and 2000 MB. However, working with the maximum limit can be challenging. That's why it's important to compress any large video size to 8 MB or below. Suppose you want to send videos larger than 8 MB, you have to buy Discord Nitro.
Discord Emoji Size
You can upload a Discord max file size of 128 x 128 pixels for emojis. However, the standard size is quite small, measuring 32 x 32 pixels. To ensure your image is top-quality, upload a larger image with high resolution.
Discord integrates different solutions with impeccable features to help you adjust the file sizes and resolutions. For instance, you can leverage editing options such as Text, Images, Mockups, Illustrations, Elements, Brandify, Icons, and Blend.
Frequently Asked Questions (FAQs)
How much storage does Discord use?
The community-based platform continues to gain more users daily, and with over 40 million messages daily, the platform has to store a lot of information. Initially, the Discord version built-in 2015 had a single MongoDB replica set. Unfortunately, this posed problems due to low RAM that could not accommodate the data and index.
Unpredictable latencies were also another issue that prompted Discord to find a storage solution that could fit the growing population. With consistent growth, Discord now uses 1TB storage on each node. This translates to 350 MB per hour Discord size for phone or even up to 900MB per hour.
How much MB is Discord download?
In a normal voice chat of between 3 to 10 members, Discord can download 300kb after 5 minutes. Upload usage is insoluble, usually 10 kb in 5 minutes. This record varies with time; in 3 hours, you may record a download of 20 MBS to 200MBS. The upload usage remains negligible, amounting to 1MB.
However, if you decide to download or upload consistently, the usage will continue to increase. Here is a table to give you a glimpse of different periods' download and upload data.
| | | |
| --- | --- | --- |
| Time | Discord File Download | Discord File Upload |
| 5 minutes | 0.3 MB 300KB | 0.01 MB 10 KB |
| 1 hour | 5 to 50 MB 0.005 to 0.05 MB | 1 to 25 MB 0.005 to 0.025 MB |
What size is my Discord channel?
Channels exist in Discord servers; hence they work within their usage. They are the storage spaces for texts and voices and have a high limit of up to 500 for every user. Depending on the channel you create, you'll have a different size. In addition, the channels on your Discord app determine the size of a single channel.
How to compress my discord video size explained
Conclusion
Planning to add a picture on Discord but can't figure out the ideal dimensions for Discord? A perfect image for your avatar should measure 128 x 128 pixel square. Although other elements don't follow the exact dimensions, most are squares; for instance, the Discord icon size is 512 x 512 pixels.
You can adjust Stock Images to the proper size and upload them to specific areas. While doing this, you have to follow the aspects of Discord to ensure you get a custom image. You can check out Discord support for help with resizing the dimensions of images.
The good thing is that the Discord server picture size and pfp support almost all file types, including PNG format. This allows you to obtain stunning pictures from different platforms, for instance, top sites.
And although Discord size android is high compared to other apps, you can observe the recommended sizes to ensure you leverage your space maximumly. Most files usually require a maximum size of 8 MBs except for the Discord emoji, which is 256 KB.
Heavy Discord servers will offer you enough space to ensure your channels store many chat messages. So, if you're in a Gaming community of thousands, Discord channels can help you connect and enjoy your gaming experiences flawlessly.
Whether you want to upload funny videos or images to your Discord for mobile, use the file requirements to get a perfect size, then post it. You can utilize solutions such as graphic design software to convert video to Discord size.
If you found this piece beneficial and have Discord inquiries, don't hesitate to ask in the comments below!
Picture in this post by Alexander Shatov on Unsplash
Related Digital and screen size charts