TikTok Size for Videos, Ratios and Formats to Get the Best Results
This post was last updated on June 9th, 2023 at 12:20 pm
The ideal Tiktok size for TikTok video dimensions and resolution: 1080×1920. The TikTok canvas size (width and height) is also 1080×1920. TikTok refers to a short-form video-sharing app that helps users create and distribute their content on all topics. This application usually limits its users to 15 seconds to 10 minutes long videos.
According to Statista, TikTok had 1 billion active monthly users out of 4.8 billion internet users across the globe. This was after a 45% increase from the previous year's statistic. With this kind of massive entertainers, educators, and businesses, you've to do everything right to be a leading TikToker.
Besides, it has attracted everyone's attention, including Millenials, Gen Z, and Gen X. Unlike before, when TikTok was popular as a Gen Z space, even company owners are adopting it for business purposes.
Looking for Instagram sizes, Twitter image sizes, Facebook image sizes, twitch sizes, Youtube banner sizes, Discord sizes, Etsy size, Snapchat ads sizes,… check the links of the digital size charts. Find answers on your question in the FAQ section of our page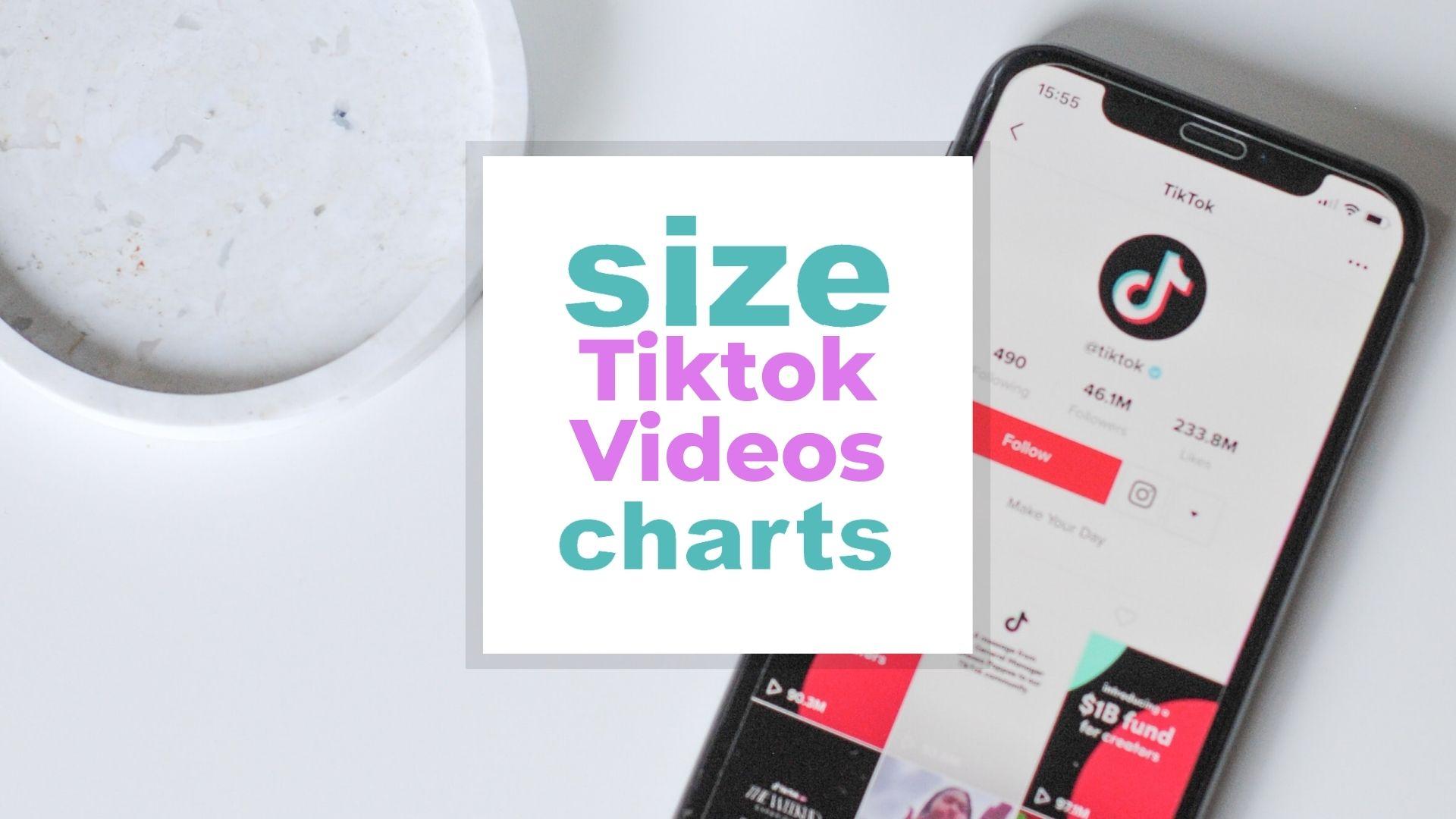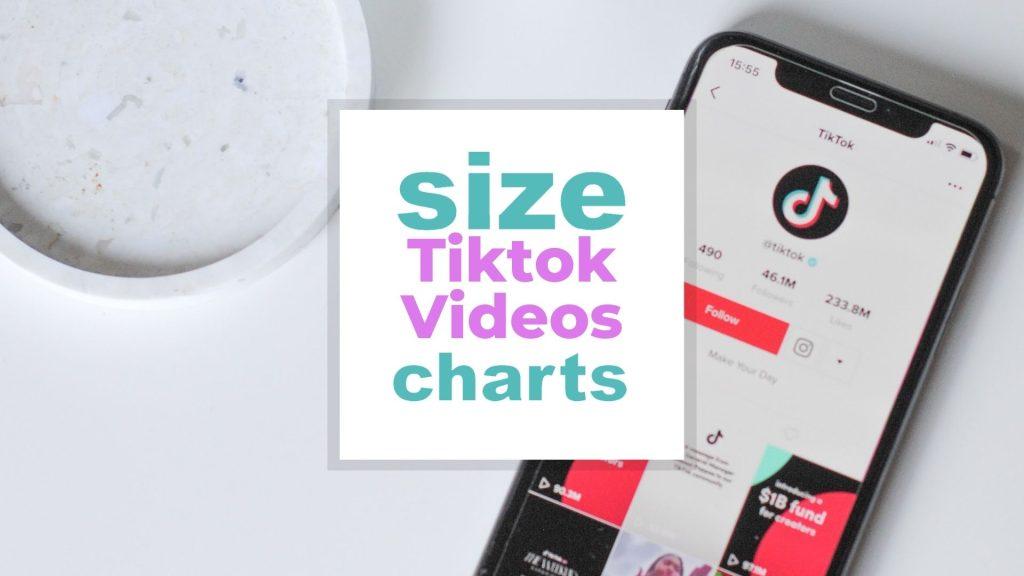 So, what is TikTok?
Owned by a Chinese company, ByteDance, the social networking service focuses on genres such as tricks, dance, pranks, dance, jokes, stunts, and entertainment. It is available in 40 languages and has a download size of 442.5 MB on iOS and 88.0 MB on Android.
Want to learn more about TikTok size dimensions? Read on!
Tiktok mainly works with mobile phones, like Apple Iphone, Samsung Galaxy, or other electronic devices… check their screen sizes here
Table of Content of TikTok Video Sizes
TikTok Size Table for all formats
With so many elements to complete on TikTok, most new users find it difficult to identify the right size of profile photos, videos, and images to upload to their accounts. Here is a table to help you demystify the specific dimensions for each section
| | | |
| --- | --- | --- |
| TikTok Element | Size | Aspect ratio |
| Feed Image | 1080 x 1920 pixels 11.25 x 20 inches | 9:16 or 1:1 |
| Feed Video | 1080 x 1920 pixels 11.25 x 20 inches | 9:16 or 1:1 |
| Profile Image | 200 x 200 pixels 2.0833 x 2.0833 inches | 1:1 |
How to Choose the Right TikTok Size
TikTok Video Size
TikTok provides News Feed and standard video ads to its users. Standard ads are comprised of video creative, ad display image, ad description, and brand or app name. The News Feed App Series Video Ads comprise video creative, app name, and ad description.
TikTok video size width and height vary for the two ad types. When creating standard videos, you should observe an aspect ratio of 9:16, 1:1, or 16:9. Usually, the 9:16 ratio is suitable for smartphones' TikTok screen size as it displays the entire content length. However, 1:1 may eliminate some of the elements in your content. This ad type also requires a resolution of 540 x 960 pixels, 640 x 640 pixels, or 960 x 540 pixels.
The News Feed App Series Video Ads require a 1:1 or 16:9 aspect ratio. Usually, these ads videos have no restricted resolution requirements. You can apply 720 x 1280 pixels, 640 x 640 pixels, or 1280 x 720 pixels.
| | | |
| --- | --- | --- |
| Dimensions | Standard Video | News Feed App Series Video Ads |
| Aspect ratio | 9:16, 1:1, or 16:9 | 1: 1 or 16:9 |
| Video resolution | 540 x 960 pixels 5.625 x 10 inches   640 x 640 pixels 6.667 x 6.667 inches   960 x 540 pixels 10 x 5.625 inches | 720 x 1280 pixels 7.5 x 13.333 inches   640 x 640 pixels 6.667 x 6.667 inches   1280 x 720 pixels 13.333 x 7.5 inches |
| File type | .mp4, .mpeg, .mov, and .3gp | mp4, .mov, .mpeg, .3gp, or .gif |
| Video duration | 0.83333 to 1 minute 5 to 60 secs | 0.83333 to 1 minute 5 to 60 secs |
| File size | 0.5 GB 500 MB | 0.5 GB 500 MB |
| Profile image | 1:1 | 1:1 |
Suppose you upload your content from your PC and crop the video to TikTok size 150 pixels from top to bottom and 64 pixels from left to right. If you're wondering how to convert video to TikTok size, there are numerous tools you can use to accomplish this. For instance, Flixier, Quick, and Magisto.
With the increased demand for social media marketing, influencers on this platform are earning high incomes by helping businesses boost their revenues. For instance, Charli D'Amelio and Dixie D'Amelio receive an annual salary of $17.5 Million and $10 Million annually.
Nevertheless, you have to use the appropriate TikTok size to attract a large audience. Some of them include the TikTok size ratio, TikTok size pixels, TikTok size frame, and TikTok size video. You don't have to panic at all these requirements, as this guide covers all the essential information and tips you need to create the perfect TikTok size image or video, depending on your needs.
Setting up a TikTok account is also easy and takes a few minutes. Once you are done opening the account, you can upload your TikTok profile picture size, connect with other users, and start sharing great content.
TikTok Profile Size
TikTok image size varies depending on the space you're uploading it to. To give a perfect view to your audience, you should upload a TikTok profile picture full size of 200 x 200 pixels. This will match your smartphone frame dimensions, ensuring maximum clarity.
TikTok Video sizes explained
Frequently Asked Questions
What is the TikTok size ratio?
TikTok video size works best in vertical positions. However, the social networking service accepts horizontal videos too. In a normal TikTok frame size screen, you have to use an aspect ratio of 9:16 for a perfect display. You can also apply 1:1 for your news feed or standard videos.
What is the TikTok screen size?
Your video quality determines your audience engagement. That's why you should adhere to the TikTok screen size to ensure you create amazing videos with perfect TikTok size and scale. The recommended size is 1080 x 1920 pixels which translates to 11.25 x 20 inches. Suppose your content does not fulfill these requirements; you will need to use a TikTok video size converter to adjust it.
Since TikTok was initially designed for smartphones, it fits the aspect ratio of 9:16 perfectly. You can also apply a 1:1 ratio, although you will not get exceptional results compared to the 9:16 aspect dimensions.
How do I change the screen size on TikTok?
Whether you want to accomplish a TikTok size cap cut or profile aspect ratio, you can use different techniques for the best results. For example, to fit the TikTok screen size, record your videos in portrait mode. Then trim them to be symmetrical; this will provide you with the best outcome.
What video format is TikTok?
TikTok video formats can either be mp4 or MOV files. When creating ads, you can apply gif and Avi formats too.
What is the best resolution for TikTok?
The best TikTok resolution is 1080 p. So when uploading content, ensure you resize it to get a perfect outcome.
How do I upload 4K TikTok?
Since the highest TikTok resolution is 1080 p, uploading higher dimensions can give average results. So when you record your video in 4k resolution, you need to resize it to 1080 p before uploading.
You can leverage superior converters to change video to TikTok size fast and easily. To accomplish this, start by analyzing whether the engine allows you to see the difference from 4K YUV 4:2:0 to 1080p YUV 4:2:2. Also ensure it can change the aspect ratio, to give you a perfect video.
Some converters help you adjust to capcut TikTok size of 60 seconds and merge different video clips. And if you want to convert them to mp4 or any other TikTok format, you can use premium tools online.
Conclusion
Getting the right social network sizes can help you accomplish incredible outcomes. That's why it's important to upload the perfect TikTok video size, white TikTok background size, profile picture, and images.
To give a perfect display to your audience, follow these steps on how to make TikTok video size. Some of the dimensions you will need to adhere to include 1080 x 1920 pixels videos with 9:16 resolutions. This will fit perfectly into the TikTok screen size, creating a great experience for your viewers.
Depending on the ad video you're creating, you can use different dimensions. However, you should follow the 16:9, 9:16, and 1:1 aspect ratios for standard videos. When creating News Feed Series video ads, you should ensure they are 16:9 or 1:1.
This will help you create unique content that will attract a massive audience. In addition, this will allow you to influence big brands such as Nike or other fashion brands, earning you a high income.
TikTok allows you to open an account in a few steps. The platform is easy to operate, so whether you want to boost your business income or educate a certain target audience, you can accomplish this on TikTok. The space accommodates all genres, including music, comedy, and lip-syncing. This allows every user to share as you don't have to train.
Do you have a question about TikTok video sizes? Please enquire in the comment below for fitting help to set up your TikTok images and videos.
Picture in this post by Hello I'm Nik on Unsplash
Related digital and screen size charts