Matching Rings Size Chart for Your Engagement or Wedding
This post was last updated on June 9th, 2023 at 12:38 pm
A heart promise ring, sometimes known as a pre-engagement ring, is a piece of jewelry given in a relationship to signify commitment. Finding the right Matching rings size is important to make the moment unique. Whilst, for many young couples, a promise ring means a commitment to an engagement ring to come, others may simply use it to show their loyalty and devotion to their partner.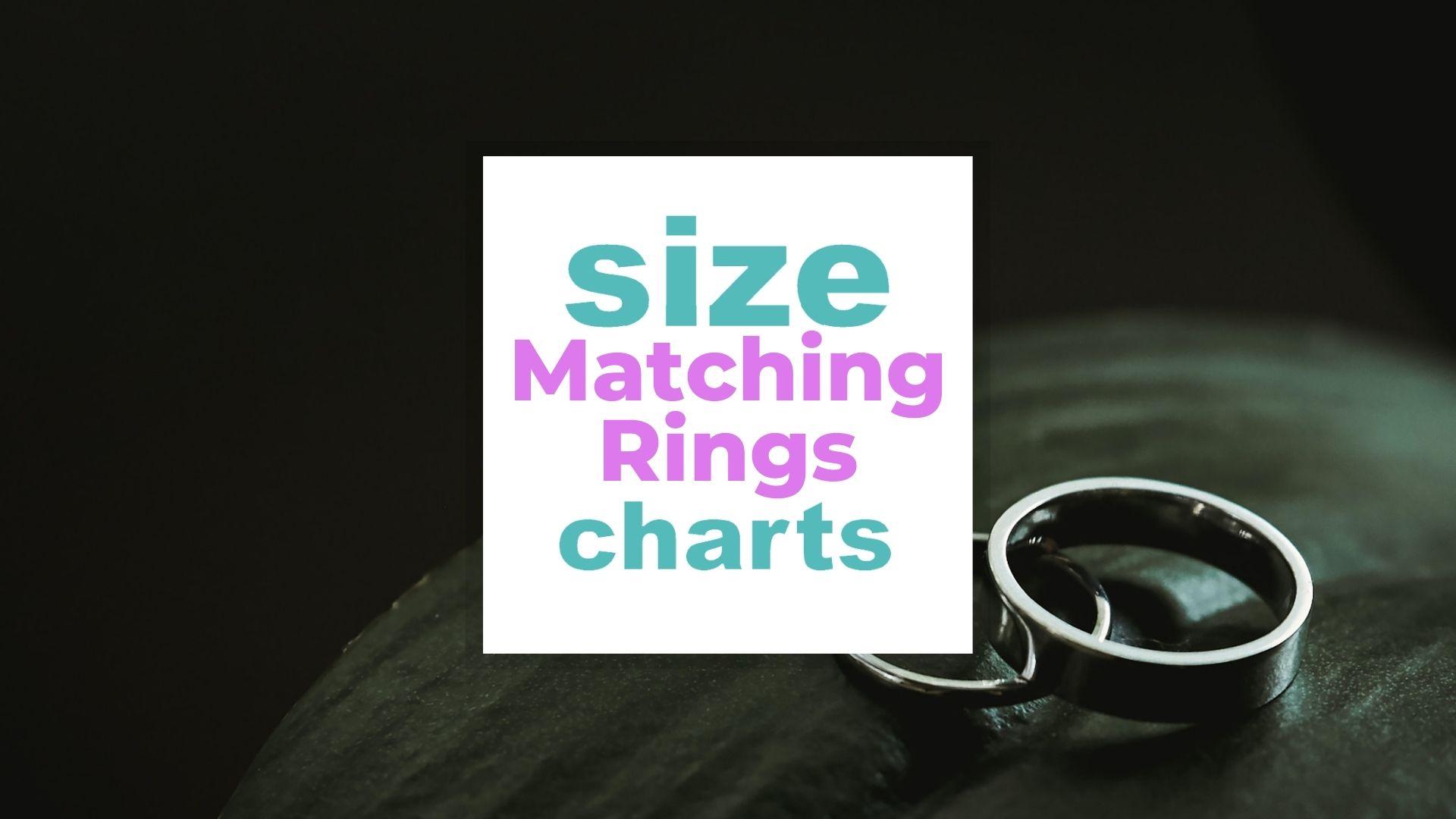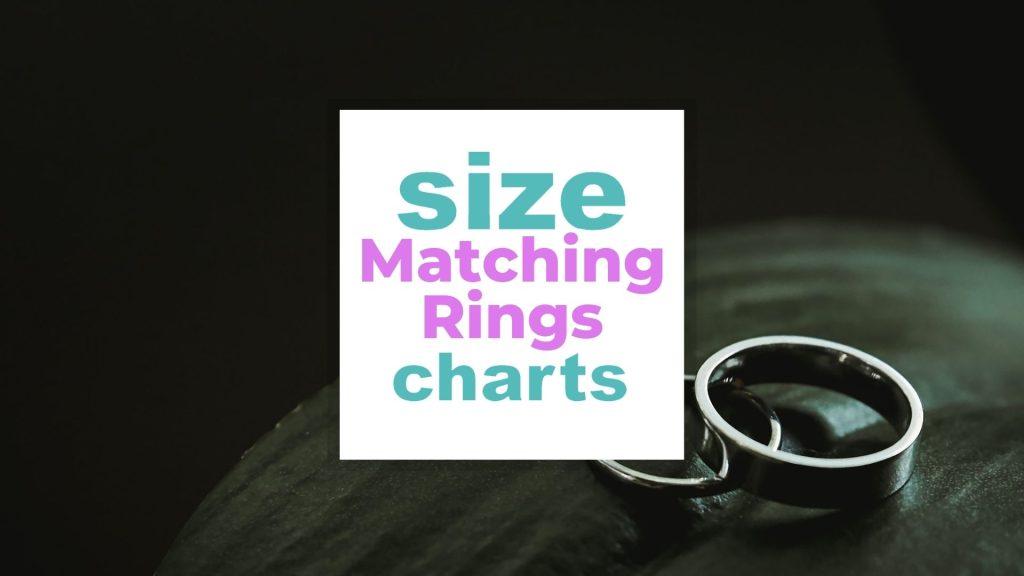 Then we have the engagement ring itself. Engagement rings may be given at a formal wedding engagement or any special moment. It symbolizes the promise of marriage, is the next type of ring are couples get one another. Lastly, there is the wedding ring band, exchanged at the altar when a couple gets married to signify a wedding relationship between the two. But do you know that there is one more set of rings that is also a great symbolism of love and loyalty? The matching ring.
Table of Content of Matching Rings Size Chart
What are matching rings?
They are known by many names including couples rings, friendship rings, lovers' rings, sun couple rings, moon couple rings, yin yang rings, cocktail rings, aircraft rings, and initial rings, but what exactly are these jewelry pieces ?
Just like couple bracelets, matching rings for couples are a modern concept and a way for couples at any stage of their relationship to celebrate the special moments that they have had together. They are a special symbol of connection and commitment between two people—think of them as wearing your love on your finger for the world to see. They are rings that are connected in design or style or even just material. For example, one person could be wearing a ring with a shape cut out of the band, and the other person is wearing a ring with the exact shape cutout present on the exact spot as the other person.
Popular designs of this couples jewelry include matching heart designs, minimalist ring designs such as an elevated heart and gold tiny rings, astral designs such as moon sun couple rings, and creative ring designs such as the adjustable butterfly matching rings which are really popular jewelry for women.
An engagement ring may follow a matching ring, to symbolize the promise of marriage. Adding to the appeal of matching rings is the fact that they allow you to get creative. Since the rings complement one another, it, therefore, goes without saying that the right sizes are important for both partners. It will ruin the mood and the entire love message if either of the partners can not wear their ring due to wrong sizing.
Matching Rings Size Chart
The size guide below is the primary size chart used by exclusive brands. These business brands manufacture the rings in bulk and usually make them adjustable so that a larger category of customers could buy them. In your locality, you might come across a jewelry company or two that offers the production of custom jewelry. Custom-built handmade matching rings are the only ones that can be to your exact measurements.
| | | | |
| --- | --- | --- | --- |
| Japan | US | EU | Diameter (mm) |
| 7 | 4 | 46.7 | 14.9 |
| 9 | 5 | 49.3 | 15.7 |
| 11 | 6 | 51.8 | 16.5 |
| 13 | 6.5 | 53.1 | 16.9 |
| 15 | 7.5 | 55.7 | 17.7 |
| 17 | 8.5 | 58.2 | 18.4 |
| 19 | 9.5 | 60.8 | 19.1 |
| 21 | 10.5 | 62.7 | 19.8 |
How To Measure For Matching Rings
For accurate ring sizing of fun couple rings, you can use a downloadable ring sizer. If you already know your actual ring size, just check the chart. But if you are new to the ring business or you just want to double-check your size, then follow the procedures below.
1. Wrap string or paper around the base of your actual ring finger (the finger that you plan on wearing the ring).
2. Mark the point where the ends meet.
3. Measure the string or paper with a ruler (mm).
4. Pick the closest measurement on the ring size chart to find your correct ring size.
How to choose matching ring for me and my girlfriend?
1. Measure your ring fingers. You can use a DIY ring sizer or a printable ring size chart or follow the procedure above.
2. Pick a set that reflects your personality, the sky is the limit. You can have custom ones made, you can make them engravable rings or just get a simple set like a band of gold lover rings.
3. When buying, buy the set that is closest to your measurements.
Can couples have different sizing of matching rings?
Yes, they can. Couple matching rings are designed after typical fingers but there is nothing odd in a couple not having identical sizing. You just have to choose different sizes when buying the rings. Sizes are interchangeable in any set.
Can matching rings be adjusted after you buy them?
Yes, if it is custom made then it can most likely be adjusted to a smaller size. But when not custom made, it has already been set to a particular size during manufacturing and is, therefore, more difficult to change in size. Although a good jeweler can still change the size, but it is better to incorporate size changes right from the start.
How to measure your matching rings size
Conclusion
Having a larger ring size or smaller ring size than the sizes on the chart can still wear a matching right. You just have to shop really hard or just have a pair made for you. Don't worry though, about 90% of sizes have been covered by the chart above.
Let others know how you found the ring that spoke your heart, leave a comment and help others find their lover ring by sharing the article.
Picture in this post by Sarah Drisk on Unsplash
Related ring size charts