Instagram Size for Pictures, Photos and Posts
This post was last updated on June 21st, 2023 at 07:25 am
The standard size of Instagram square photos is 1080 x 1080 pixels. Instagram is one of the most popular social media networks. It hosts one billion active users every month and is a great place to build your virtual presence. If you have products, ideas, or services that are best understood through visuals, Instagram is a place where you can meet with like-minded individuals and build a large following.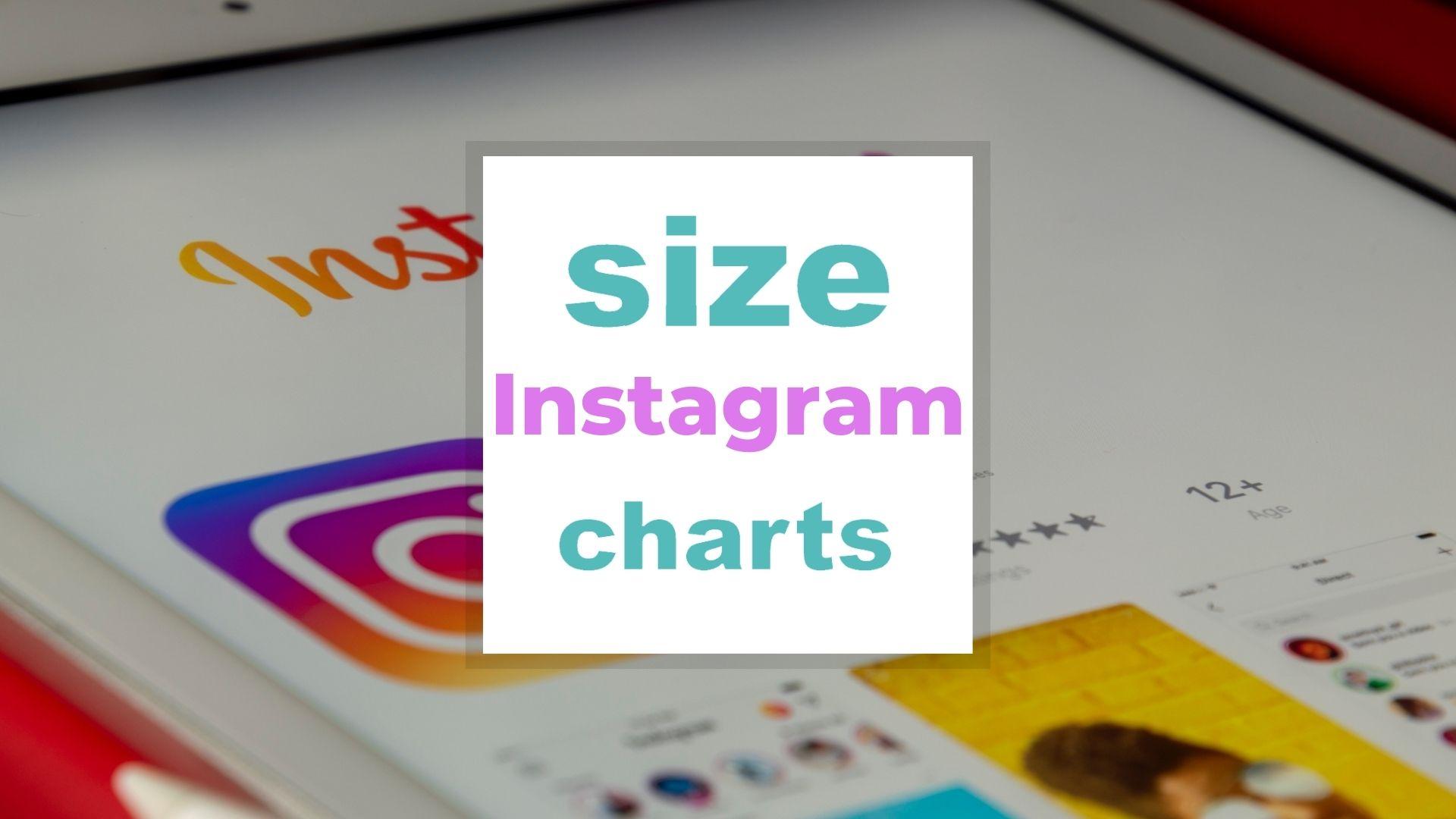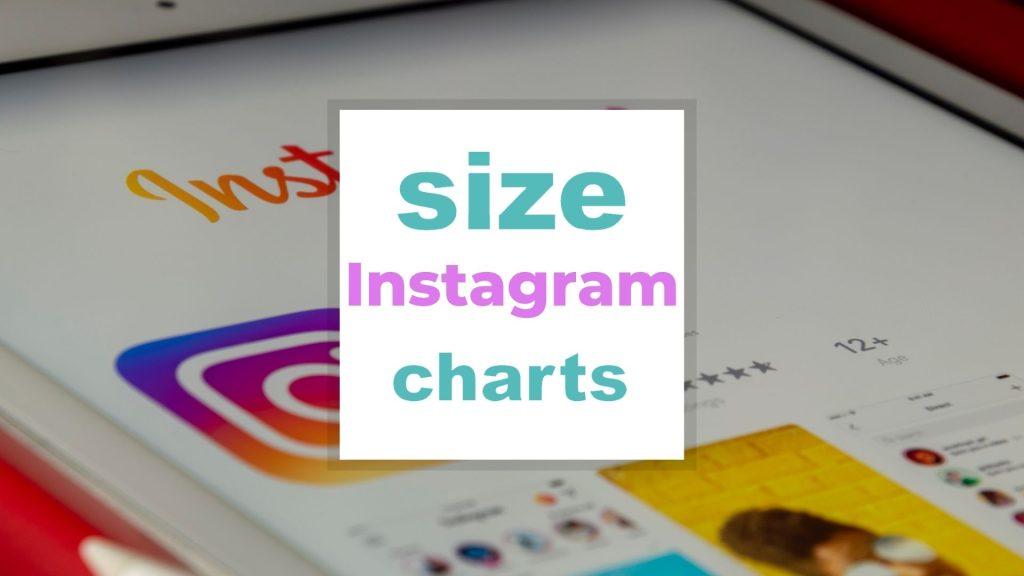 Looking for Twitter image sizes, Facebook image sizes, twitch sizes, Youtube banner sizes, Discord sizes, Etsy size, TikTok size, Snapchat ads size..? check the links of the digital size charts. Find answers on your question in the FAQ section of our page
You can set up business accounts on Instagram, which you can use to interact with your audience directly. Whether you are a start-up or a large company, there is much to reap from sharing visuals on a social network like Instagram. Posting images about what you do or your products can give Instagram users a reason to follow your account.
Instagram works with mobile phones, like Apple Iphone, Samsung Galaxy, or other electronic devices… check their screen sizes here
Any direct questions you can find answered in the Instagram sizing FAQ below. This Instagram size guide explains everything you should know about the right image and video size. Let's get started!
Table of Content of Instagram Size Guide
Instagram Post Size Guide
Here's a quick guide for the different sizes of Instagram photos and videos.
| | |
| --- | --- |
| Social media post type | Dimensions in pixels |
| Instagram Ad (single image or carousel) | 1080 x 1080 px |
| Instagram Post | 1080 x 1080 px |
| Instagram Profile Photo | 360 x 360 px |
| Instagram Landscape Photo | 1080 X 566 px |
| Instagram Portrait | 1080 x 1350 px |
| Instagram Story | 1080 x 1920 px |
| IGTV Cover Photo | 420 x 654 px |
| IGTV posts and Reel Video | 1080 x 1920 px |
How to Choose the Right Instagram Size
The Best Instagram Image Size for You
There are several ways to upload images to your Instagram account. Since the specific dimensions may vary from one image to another, here's a guide to Instagram photo sizes.
1. Instagram profile picture size
Your profile picture is the image that represents your account as you interact with other people on Instagram. It serves as your avatar and accompanies your account name on posts, mentions, and comments. It's basically the face of your account, and it's what will come to mind when your audience pictures your brand.
Depending on your account, you either have a personal profile picture or a business profile photo. You can make it easier for your audience to follow you across different social media platforms by using the same profile picture in all your accounts. 
This square image has a display of 110 x 110 pixels, but you can size it at 320 x 320 pixels for the best image quality. While your profile image will be a square, it'll appear as a circle on your account. So, you should make sure any necessary details are centralized to ensure your image doesn't lose meaning.
2. Instagram cover image size
The cover photo of your Instagram account is the banner that appears on top of your page. It's the largest image on your profile, and you can use it to tell your audience who you are and what you do. A good cover image will ensure you can build a larger following from people with a shared interest in your brand or ideas.
The recommended size for your cover photo is 420px by 654px at an aspect ratio of 1:1.55. You should ensure the image is catchy enough to get the attention of visitors so that you can grow your audience.
3. Instagram feed posts
When it comes to your regular feed, you can post vertical or horizontal photos. However, Instagram automatically crops your landscape and portrait photos into squares. The formats you can upload to your feed include JPG and PNG, and the maximum file size is 30MB.
Let's look at the image size specifications for your Instagram image posts:
Square posts
Minimum size – 600 x 600 pixels
Maximum size – 1936 x 1936 pixels
Aspect ratio – 1:1
Landscape photos
Minimum size – 600 x 315 pixels
Maximum size – 1936 x 1936 pixels
Aspect ratio – 1.91:1
Portrait images
Minimum size – 600 x 750 pixels
Maximum size – 1936 x 1936 pixels
Aspect ratio – 4:5
4. Instagram video posts
You can also add single videos to your feed to promote your content, ideas, or products. There are two options: landscape videos and portrait videos. The ideal size for vertical videos and horizontal videos is the same as the ones for the feed photos. However, the maximum file size for your video posts is 4GB.
The length of the video can reach up to 2 minutes, but if you want a better impact, you should go with shorter videos of about 15 seconds.
5. Instagram stories
Instagram stories are another feature that Instagram users consider popular. Unlike your feed videos, these have a limited lifespan and expire after 24 hours. This makes them great for providing exclusive offers, content, and ideas that are only shortly available.
Your story will appear on the entire screen of a mobile device and have a standard width of 500 pixels. The file shouldn't be larger than 30MB, but if you have a high-resolution video that's larger, you should compress it first to preserve the quality.
You should know that when you post stories videos, they run in 15-second intervals. So, your video will split into smaller parts of a quarter minute each.
6. Instagram Reels
Instagram Reels are short videos that you can use to express your creativity and individuality. Instagram users go to Reels to find new ideas, the latest trends, and people with a common interest. The recommended size for Reels is 1080 x 1920 pixels which comes at an aspect ratio of 9:16.
Unlike your Instagram stories, Reels don't have a 24-hour time limit. They also run for 15 or 30 seconds, making it easier to share video content with your followers.
7. Instagram carousel images
The carousel function allows you to place several images in one advertisement rather than one. The smallest number of carousel ads you can use is 2, but you can include as many as 10. Your minimum image size is 1080 x 1080 pixels which could be in PNG or JPG format.
For video carousel ads, you can only use the MP4 format, and the largest acceptable size is 4GB.  
8. Instagram TV/IGTV video
Previously known as IGTV, Instagram TV is the perfect choice when you want to share longer-form videos. Your video can be as short as 15 seconds and as long as 10 minutes. Those with verified or larger accounts can upload videos up to 60 minutes long.
In terms of video specs, the minimum resolution is 720 pixels. If your video is less than 10 minutes, the maximum file size is 650MB. However, if the video runs for up to an hour, the size limit is 3.6GB.
Best Instagram image size explained (video)
Frequently Asked Questions on Instagram sizes
1. What is the size of an Instagram photo?
The standard size of Instagram square photos is 1080 x 1080 pixels. Even horizontal and vertical images will be cropped to a square.
2. What is the Instagram size ratio?
Square posts appear at a ratio of 1:1, while vertical photos have a ratio of 4:5. A horizontal image will have a ratio of 1.91:1.
3. What size is the 4/5 ratio?
A 4:5 ratio translates to digital dimensions of 1080 by 1350 pixels.
4. How do I resize photos for Instagram?
To resize your photos for Instagram, you'll need to use a photo editing app like Adobe Express or Canva. There, you can use editing tools to resize your image dimensions.
Resizing Instagram photo sizes
5. What aspect ratio is 3×5?
At 300 dpi, this aspect ratio translates to 900 x 1500 pixels.
6. How do you post 16:9 on Instagram?
Even when you post a 16:9 image on Instagram, it'll be automatically resized to fit a square form.
Conclusion
Instagram is a platform that connects millions of daily users with information, products, and services. Whether it's for business or personal reasons, you can find people around the world with passions, interests, and experiences as you. This allows businesses and organizations to flourish on social media by using pictures and videos to relay messages.
The sizes you use for your images determine the experience of Instagram users who come across your account. You don't want your images to look distorted or stretched because this will probably push more followers away than it will attract. The optimal image sizes we've recommended will ensure your pictures and videos get the attention of your target audience.
With the right image sizes, consistent posting, and a social media marketing plan, businesses can thrive on Instagram. Plus, since Instagram and Facebook are powered by Meta, you can use the images across the two platforms without hassle.
If you have any questions on Instagram image sizes, feel free to ask them below.
Picture in this post by Solen Feyissa on Unsplash
Related Digital Size Charts