Playstation Controller Size and Comparison of Older Models
This post was last updated on April 16th, 2023 at 10:39 am
The PS games have advanced in various ways throughout the years, often setting the bar for video game competitors like Xbox and Nintendo. The ergonomic design of video game controllers keeps evolving to improve the player's performance. (skip straight to the PlayStation Controller Size)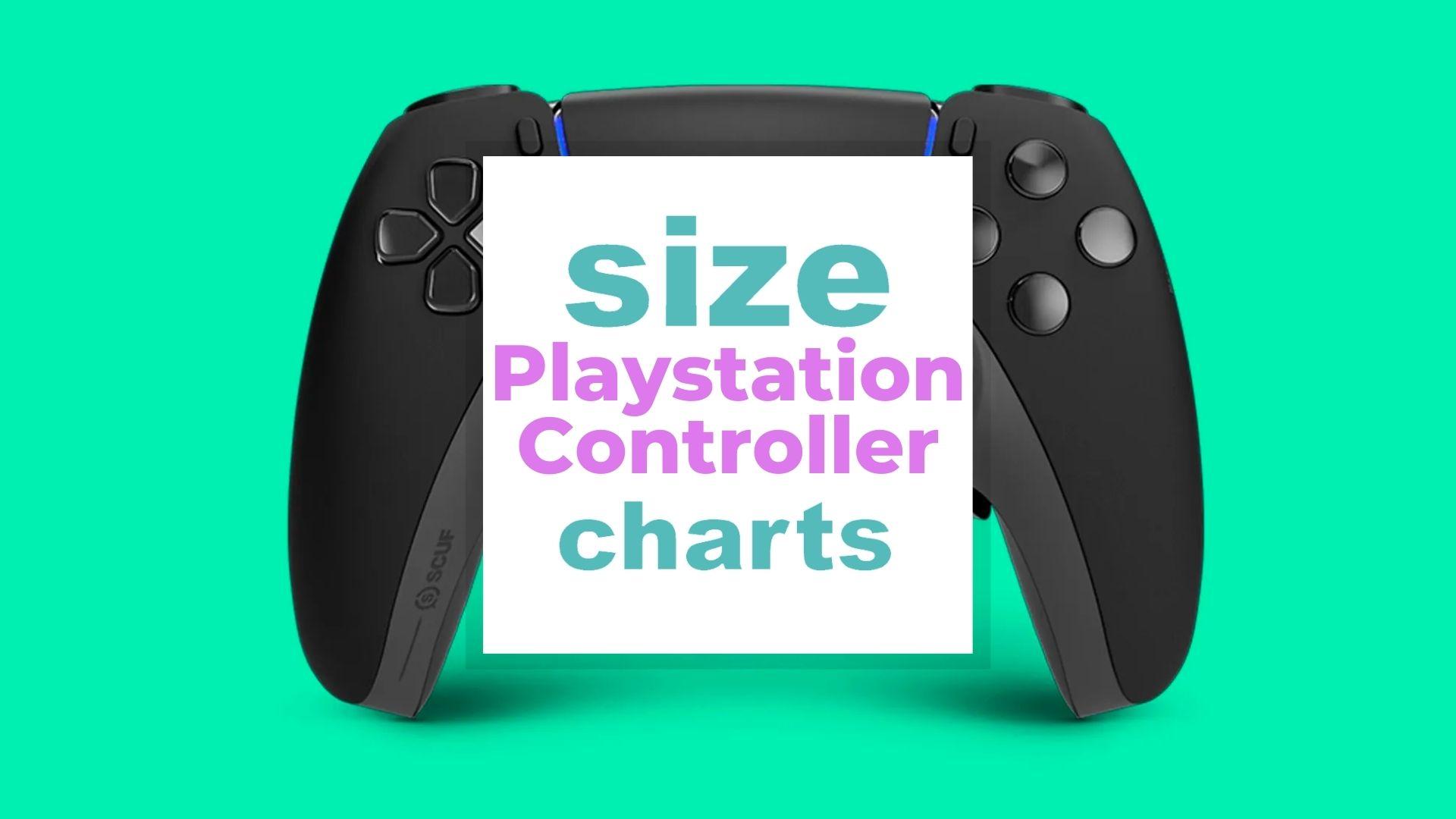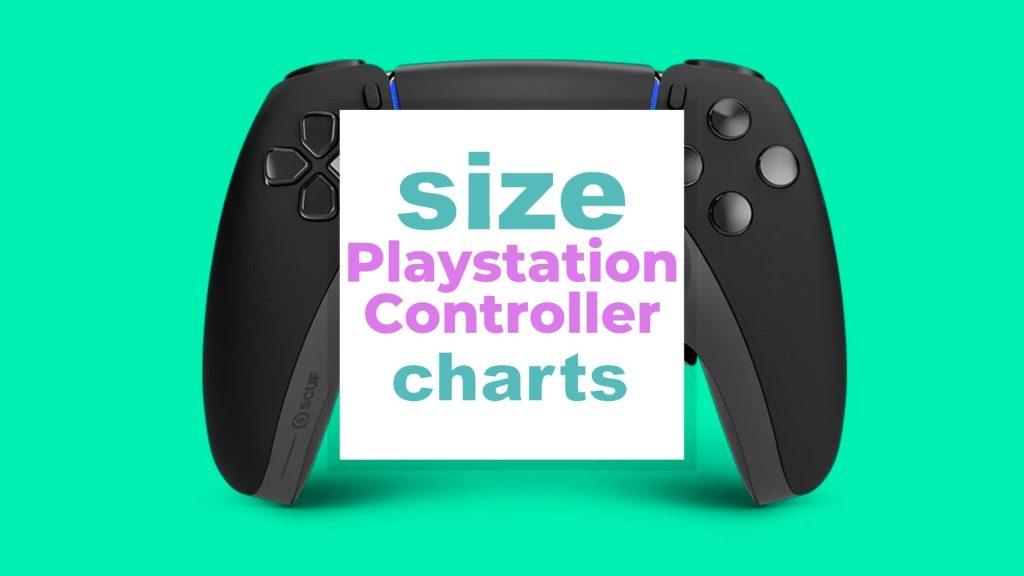 The handheld input accessories include their directional buttons (sets of buttons) with assistive buttons, console designs, share buttons, and the game menu (assortment of select games including game actions and racing games).
Other features such as improved power consumption and improved battery life, enhanced feedback, improved game textures, better game resolution, and compatibility with wireless controller, external headsets, analog sticks or thumb sticks, analog buttons (analog input), accessibility features, soft features, and 3D downloads and 2D image context.
Sony debuted the first Play Station in 2003, along with the PS1, PS2, and pocket station. No other gaming firm had ever been able to sell as many units (about 120 million) as these releases did. The PS Three, PS Four, and PS Five followed in 2006, 2016, and 2020, respectively, and each sold more than 100 million copies globally.
This page will answer the most frequently asked questions regarding Play station controllers on the internet and provide information on PS controllers' various shapes and sizes (imperial & metric).
Jump right into the Frequently Asked Questions
Related: Xbox Controller Size Guide and Tips, Apple View VR Size and dimensions of Apple's first VR Headset, Samsung Headset Size Guide and Specs, Fat Shark Headset Size Guide by Model
Table of Content of Playstation Controller Sizing
Playstation Controller Size
Related: Playstation Size Chart, VR Headsets Size, a full guide for standalone, phone, thetered models, Trust Headset Size Guide and Specs For the best headphone, Oculus Headset Size Guide and Specs vs other VR headsets
| | | | | | | | | | |
| --- | --- | --- | --- | --- | --- | --- | --- | --- | --- |
| Name of Gamepad Controller | Year of Release | Length (inches) | Length (mm) | Breath (inches) | Breath (mm) | Thickness (inches) | Thickness (mm) | Weight (g) | Weight (oz) |
| Original PS Controller | 1994 | 3.6 | 93 | 5.8 | 148 | 2.1 | 53.3 | 130 | 4.7 |
| DualShock Controller | 1998 | 7.1 | 180 | 4.6 | 116.8 | 3 | 76.2 | 317.5 | 11.2 |
| DualShock 2 Controller | 2000 | 3.74 | 95 | 6.18 | 157 | 2.16 | 54.9 | 210 | 7.4 |
| DualShock 3 Controller | 2007 | 3.78 | 97 | 6.2 | 160 | 2.2 | 55 | 190 | 6.7 |
| DualShock 4 Controller | 2013 | 3.94 | 100 | 6.34 | 161 | 2.24 | 57 | 210 | 7.4 |
| DualSense PS5 Controller | 2020 | 4.2 | 106 | 6.3 | 160 | 2.6 | 66 | 280 | 9.9 |
What's the difference between controllers for Playstation 4 and Playstation 5?
Related: Computer Monitor Size Chart: Which Size is the Best?, Pixel Watch Size Charts and Specs
While the DualSense controller is used by the Play Station 5, the Dual Shock 4 controller is used by the Play Station 4. The weights, heights, designs, and specifications of the Dual Shock 4 and Dual Sense are all different. Despite being larger than Dual Shock 4, the Dual Sense controller has a considerably sleeker look.
While both devices have strong pads and motion controllers, the Dual Sense also has additional features such as an integrated microphone, advanced feedback, adjustable triggers, and haptic feedback.
The Dual Sense is compatible with the PS5 console, a wide range of PC devices, and Android devices. Dual Shock 4, on the other hand, is compatible with Apple and Android devices, as well as several PC devices. While Dual Shock is compatible with PS 5, it can only e used to play PS 4 games.
Learn more about the differences between PS5 and PS4 Controllers Sizes (Video)
Frequently Asked Questions
What controllers can you use on Play Station 4?
The Dual Shock 4 controller is the recognized controller for Play Station 4. Dual Shock 4 was designed and produced by Sony Computer Entertainment Inc; the sector of the Sony company devoted to creating video games. Due to its lightness and amazing design, the controller remains a fan favorite. Dual Shock 4 weighs about 210g and has dimensions of 3.94 x6.34 x2.24 inches.
Other than these, other controllers have been found to be compatible with the PS 4. These include Thrustmaster eSwap Pro controller, Scuf Compact Impact, Hori Mini Wired Gamepad, and Quanba Obsidian Joystick. While Sony did not produce these, they work quite well with the PS 4.
Is there a smaller Play Station controller?
Although the original Play Station controller and the Dual Shock 3 controller are the smallest official Play Station controller, they are often incompatible with newer game releases, thus, people looking to get smaller controllers while using the latest consoles may find them unusable.
There are many smaller controllers on the market which are compatible with the PS consoles, some of these include the Macron Mini Wired controller and the Hori Mini Wired controller.
Is there a bigger Play Station controller?
Although the PS5 official controller, the Dual Sense controller, is the biggest controller released by Play Station in a long time, many players still search for even larger controllers to enhance their gaming experience. Small controllers can cause cramps for many people with larger hands; thus, getting an even bigger controller can help.
One famous controller known for its large size and compatibility with Play Station is the Thrustmaster Pro controller which has dimensions of 228 x 194 x 76mm and weighs about 385g.
What size are Play Station controller screws?
Although it is better to take your Play Station controller to a professional whenever it needs repair, some people prefer to do mild repairs alone. One of these can include replacing a misplaced screw on the PS controller. The PS controller uses the 6.0mm screws, which can be found in the Dual Shock 4 controller and other controllers.
What size audio jack on the Play Station controller?
All Play Station controllers are compatible with the standard 3.5mm audio jack. Players can thus, find the best earphone device on the market to provide them with the best gaming experience.
What is the size of the Play Station box?
The previous Play Station consoles were big, and bulky with low-quality screens while more recent versions are designed to be compatible with Androids, Apple devices, PCs, and TVs. In addition, the sizes of the Play Station box have reduced noticeably with slicker designs. The most recent designs, PS 4 and PS5 have the dimensions of 10.8 x 12 x 2.09 inches and 4.1 x 15.4 x 10.2 inches respectively.
Conclusion
Hopefully, you found this article on Play Station Controller Size useful. For many people, the size of a controller can impact the overall gaming experience. Smaller controllers can cause pain over time for players with larger hands. At the same time, larger controllers can be difficult for players with smaller hands.
The article above provided information on the different play station controllers released by the company over the years. Information on the various other controllers compatible with the PS games was also provided, as some players may find the official PS controllers too small or too large for them.
We love to read your comments so please leave a comment in the section below and we will reply to you as soon as we can.
Picture in this post is by JESHOOTS.COM on Unsplash
Related to Playstation controller size