Tiara Sizes and Different Styles
This post was last updated on February 13th, 2023 at 08:15 am
A tiara is a type of head ornament decorated with jewels. It looks a lot like a crown, but it has a semi-circular design. Wearing tiaras became popular in the 18th century all around Europe. Originally, the tiaras were made of precious metals like gold, silver, or platinum and accessorised with different gems (skip straight to the Tiara sizes chart).
In the past, women wore tiaras for formal occasions like weddings, and some people feel it's important to keep this tradition alive even today. As you can guess, tiaras represented the status of royal and noble women in society.
However, since times have changed, anyone can wear a cute tiara even if they don't come from a regal background.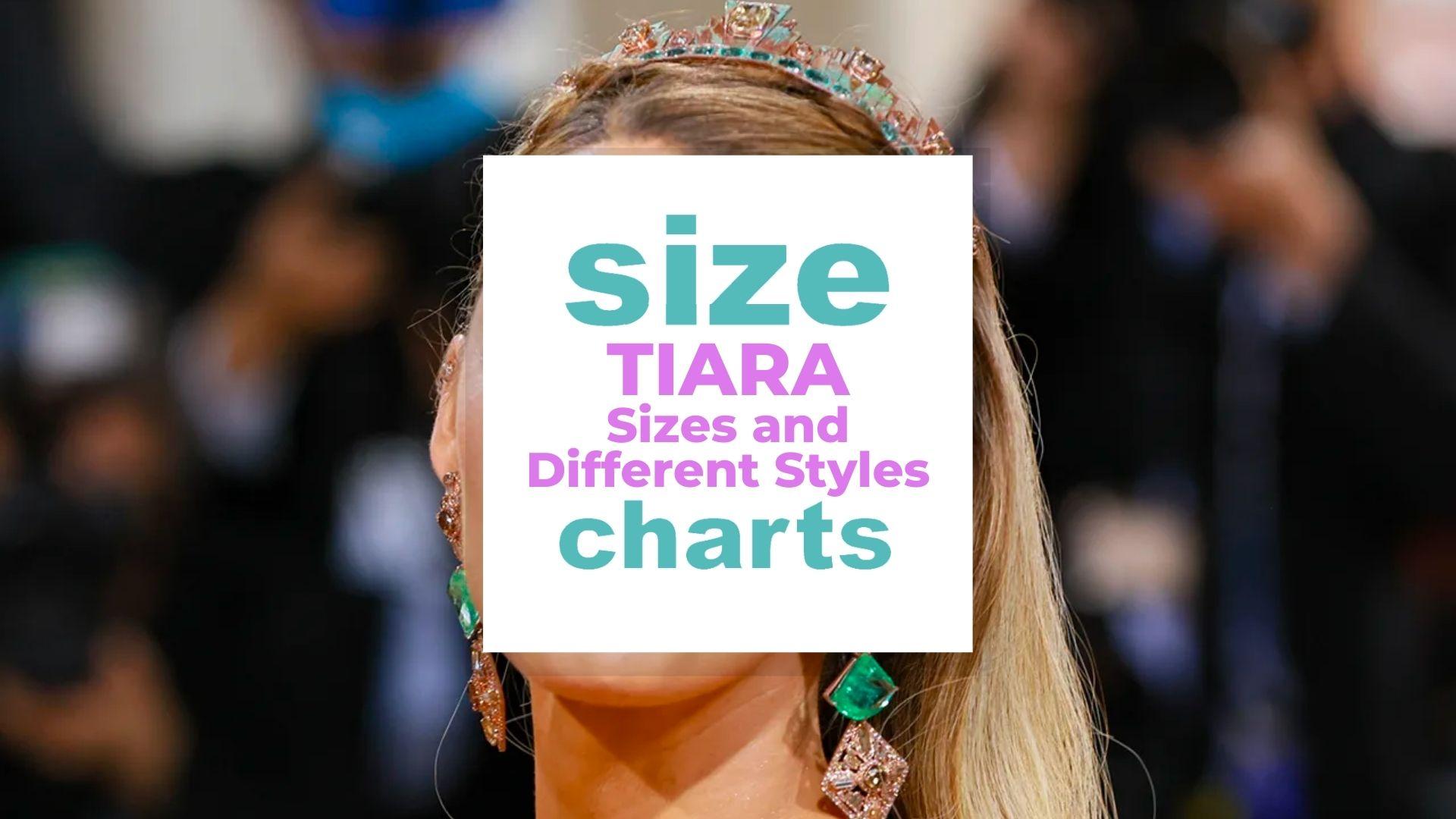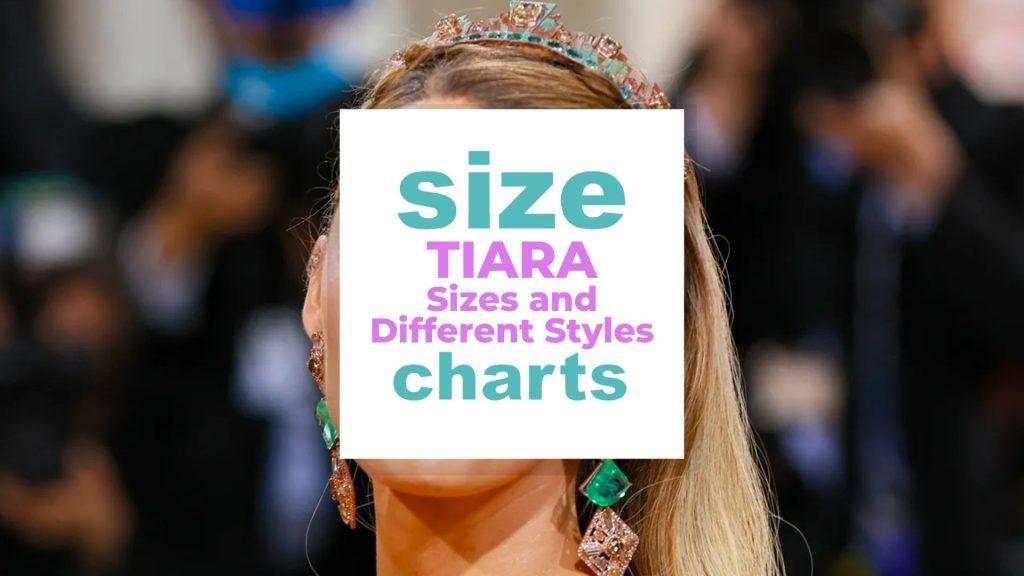 A tiara is a great accessory that can complete your bridal look and make you look like royalty on your big day. Tiaras come in different styles and prices, making it challenging to pick one that naturally suits you. This post will discuss tiara sizes and how you can choose the best tiara for your wedding day. 
Let's proceed!
Jump right into the Frequently Asked Questions
Related: Cartier Ring size charts, Louis Vuitton Belt Size Chart, Rolex Size Charts and Sizing Guide, Gucci Bracelet Size Chart and Fitting Guide Bracelet size chart : How do I know my bracelet size?
Tiara Sizes Table of Contents
Tiara Sizes Chart
Related: Pandora Bracelet Size Chart & Fitting Guide For Children & adults
| | | | |
| --- | --- | --- | --- |
| Size | Opening | Circumference | Width |
| One size cm | 14.7 cm | 30 cm | 10.7 cm |
| One size inch | 5.8 in | 11.9 in | 4.2 in |
Factors to Consider When Choosing the Best Bridal Tiara
Related: Bracelet size chart , Watch size: Which watch size fits my wrist size?
Picking the perfect tiara doesn't come naturally the first time. You need to consider several factors that can make your tiara a more effective accessory. This section discusses what to think about when choosing the best tiara. 
1. Your Wedding Dress
Everything you wear on your wedding day should help to make you a sight for sore eyes. Your dress is probably what most people will remember and is the centerpiece of your whole look. As such, it's important to look for a tiara that matches your gown. 
You don't want your tiara to compete for attention with your wedding dress. Instead, the headpiece should be the perfect companion to your gown, making your appearance more stunning. As such, you should ensure the color and style of your tiara harmonize well with the rest of your wedding outfit.
If your gown has ornaments like pearls, you can get a tiara that's also decorated with the same. This will ensure you have a cohesive look that makes you shine on your wedding day.
2. Bridal Jewelry
The size of your jewelry should be inversely proportional to your tiara. In other words, if you want a large tiara, you should get a smaller necklace or pair of earrings. This is because your jewelry will compete for recognition from your audience as much as your tiara. 
If a statement necklace is what you think will turn heads, then your tiara should be smaller. Nevertheless, the outfit, jewelry, and accessories should only make you look that brilliant.
3. The Shape of Your Face
Your face shape is another factor that determines the best tiara to wear. The tiara should make your facial features more appealing if it's the right design.

For instance, a round face is better paired with a tiara with an elongated shape like a wishbone. It will balance out the roundness of your face by adding height to your head. 
On the other hand, if you have an oval face, a shorter tiara will complement your appearance better than a longer one.
4. Bridal Veil
Something else to think about is whether you want a veil with your dress or not. Classic tiaras like a regal-style tiara go well with veils and sit on top without looking out of place.
However, modern tiara styles can be tricky to put on a veil and are best placed directly on your hair. 
5. Hairstyle
The amount of hair on your head and your preferred hairstyle can also help you choose an ideal tiara. Larger tiaras are an excellent choice for those with voluminous curly hair because they require a bigger platform to rest on.
Smaller tiaras are great if you have short hair since they can easily be seen. 
6. Budget
The amount of cash you've set aside for your tiara also dictates your options.
The most affordable tiaras can be as cheap as $20 because they are made from plastic. These tiaras don't feature jewels or precious stones but instead have rhinestones. The primary advantage of these tiaras is that they have a lightweight.
Mid-range tiaras come anywhere between $50 to $200. They are made of higher-quality materials, and a good example is a metal-alloy tiara. They look great but aren't as luxurious as high-end tiaras. If you want a sparkling tiara that doesn't cost a fortune, you can find it in this price range.
Premium-grade tiaras are priced in the thousands or tens of thousands of dollars. These pieces are so valuable that you can pass them on to your daughters as a family heirloom. For instance, a silver tiara ornamented with real diamonds will probably cost a huge chunk of cash.
Types of Tiaras
Related: Bracelet size chart , Watch size: Which watch size fits my wrist size?, Average Woman's Ring Size: How to find my ring Size
Tiaras have different designs which are suitable for different looks. Let's briefly cover the types of tiaras below. 
Regal tiaras – These are tiaras that are worn by a royalty on formal occasions. They feature a high design that is great for round faces. 
Wishbone tiaras – These classic-style tiaras can have one or two rows. They can be fitted with a variety of decorations and have an elegant look.
Double-band tiaras – These tiaras have two bands and are ideal for different types of dresses. You can even wear it in different locations on the head.
Headband tiara – Another minimalist-style tiara is the headband. It has a somewhat casual appeal that adds beauty to your look.
Bun wrap tiaras – These tiaras sit further back on the head. They have a formal appearance that makes them ideal for official scenes.
Wreath tiaras – These have a floral design that resembles the ancient Greek wreaths worn by royalty.
Video related to tiara sizes and the most expensive and beautiful tiaras in history
Frequently Asked Questions
1. Is there just one size of Tiaras for adults?
Yes. Tiaras don't come in different sizes for adults.
2. Can you resize a Tiara sizes?
You can resize your tiara by bending the arms of the bands gently. Unfortunately, it's easy to damage the tiara, so you can take it to an expert to have it resized.
3. What if your Tiara is too big?
You can make it a bit smaller by bending the arms of the band until it wears well on your head.
4. How can I know my Tiara sizes?
You can measure the opening with a ruler or tape measure.
5. Does the price of a tiara increase with size?
In most cases, yes. This is because larger tiaras have more decorations than smaller ones.
6. How do tiaras stay on?
They feature an elastic band that goes around your head to keep the tiara in place.
7. Which tiara sizes and height is the best for my face?
If you have a long face, a shorter tiara will work better, but if you have a round face, a long tiara can do.
Conclusion
A tiara is an excellent addition to your bridal look on your wedding day. These accessories come in different styles and prices, making it hard to tell which is best for you. If you choose a style that matches your outfit and face shape, you'll definitely look like a princess.
Please leave any questions about tiara sizes in the comment section.
Picture in this post is by Thomas Thompson on Unsplash
Related to Tiara Sizes