Teams Background Size Chart and Tips for Mobile and Desktop
This post was last updated on April 2nd, 2023 at 03:17 pm
Teams background refers to the visual content behind your image in virtual meetings; it acts as a backdrop. Like any other background, Microsoft Teams background size should serve its purpose well and follow certain requirements, including file format and minimum size limits.
The default pixel size of Teams backgrounds are 1920 x 1080 px, or any 16:9 ratio image of that size or larger.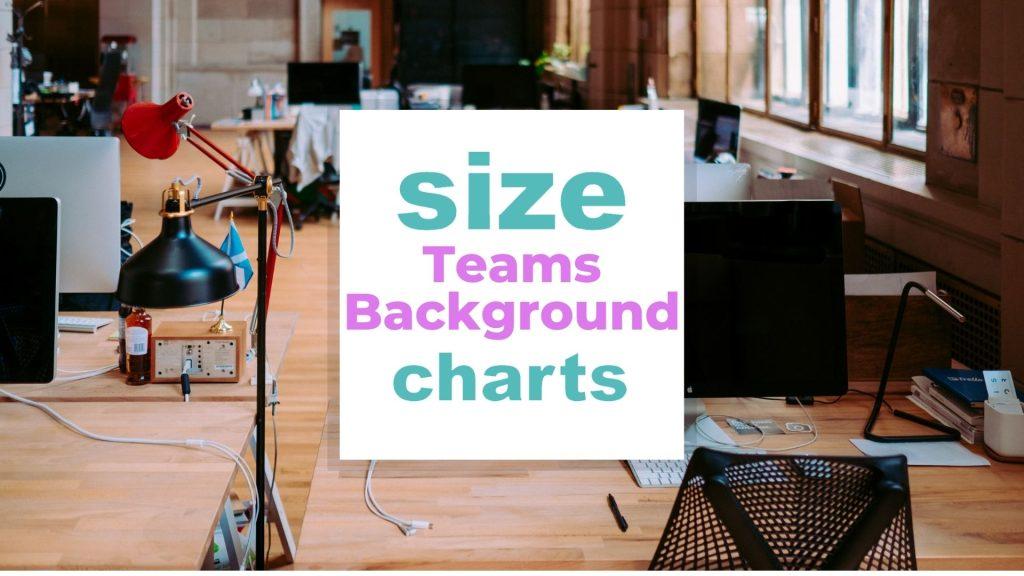 Let's face it, virtual meetings have become the order of the day and they won't stop any time soon. Thanks to apps like Microsoft Teams, Zoom, and Google Meet. These tech solutions have brought official and casual meetings to us' allowing you to report and communicate with your seniors and colleagues from the comfort of your sofa (skip straight to the Teams Background Size Charts).
So, why is the right Teams background size important? The appropriate background dimensions provide the finest clarity and resonate with the meeting's theme, giving you and your audience a great experience. 
To learn more about Teams meeting background requirements, read on.
Jump right into Frequently Asked Questions
Related: Snapchat Ads Size – scale your business with the right-sized ads, YouTube banner size – images, file and all relevant sizes explained, Etsy Banner Size – all sizes for cover, profile, icon images, Discord Size for emoji's – avatars – banners, Facebook image size – Easy to use size-chart for images, videos and more, Instagram size for pictures, photos and posts
Teams Background Table of Content
Teams Background Size Chart
Related: Tiktok size for videos, ratios and formats to get the best results, Linkedin Sizes: from Profile Image to Header!, Zoom Background Size: Upgrade Your Meetings!
Microsoft Teams Background image Sizes
| | |
| --- | --- |
| Min Size | 360 x 360 px |
| Ideal Size | 1920 x 1080 px |
| Max Size | 2048 x 2048 px |
| File Type | JPEG, BMP, PNG, JPG |
| Aspect Ratio | Above 4 |
How to set up MS Teams background
Related: Twitter banner size: a full guide of all Twitter image sizes, NFT File size guide
There are two ways to change your Teams background: before or during a meeting.
Setting up your background before a meeting on Desktop:
Begin setting up your video and audio before joining a meeting, click on "Background filters" right below the video. This will bring your background image options to the right of the screen.
You can blur your standard image by selecting "Blur," ensuring you are the only clear subject in the video.
The images provided will afford you some effortless options. However, if you have your image, click on "Add new" and choose JPG, BMP, or PNG formats from your PC to upload.
The background image you choose will automatically appear in all your calls and meetings until you decide to change it.
Setting up your background before a meeting on Mobile
If you are using your phone, here's how to upload your background image on Zoom.
As you set up your video and audio, select "Background effects," which will be at the top of your screen.
You'll see several background options below your video image, which you can place as your background.
If you want to blur your background, select "Blur." You can choose images that are not among those provided as long as they are JPG, BMP, or PNG files by clicking the plus sign (+).
Finally, click "Done," and you'll have uploaded your background image.
Setting up your background during a meeting on:
Here's what to do to change your background as the meeting goes on:
First, find your meeting controls and click on "More actions" and then "Apply background effects."
Select "Blur" if you want your image to appear blurred. You can choose an image from the options provided or upload your own as long as the format is acceptable.
Select "Preview" to see how your background will look before you finish uploading your image.
Lastly, click "Apply," and you're good to go.
Click on " More options " from the call and meeting controls, click on "More options," and proceed to "Background effects."
Choose an image from the available options or upload your own by clicking the (+) sign. You can blur your image if you want.
Once you've chosen an image, select "Done," and your background image will be set.
More related to changing your Teams background (video)
How To Choose the Right Teams Background Size 
Related: Twitch banner size – all sizes you need for profile, video, badge sizes, Zoom Background Size: Upgrade Your Meetings!
To choose the right background size, you have to follow the Teams background size best practices. Your background should adhere to the size limits provided by Microsoft. This will help you add clear formal, or fun background images that will improve your meeting session.
The right Teams background should also resonate with the Meeting's theme. So, if you are attending an official meeting, you can add an office image. And suppose you have a social gathering; you can use an attractive background that features gifs or images of the same.
Frequently Asked Questions
How to adjust Teams background size?
To adjust your Teams background sizes, click the Tools button and select the size option. This will provide you with a drop-down menu displaying a range of image sizes.
You can select the large image option from this size tab if you prefer custom background images with the highest quality. Once you get the desired image, right-click to save it. This Teams background will allow you to customize it anytime to other Teams' background size requirements.
Is Teams background size different on mobile and desktop?
No, there's no difference. Whether you want to add custom images or use the background blur feature, mobile and desktop allow you to customize your Teams Background according to your preferences. They also require the same file size and Teams background image dimensions. However, the customization process is usually different between the two devices. 
What is the best Teams background for a poorly lit person?
Poorly lit persons require a background that draws focus on their faces while avoiding distraction. You can use a background photo with contrasting colors or a virtual background option that does not include people or neon colors. This will help improve clarity while producing a professional appearance for your video conferences. 
Conclusion 
Teams Background helps you add a personal touch to your meeting images. Whether on video calls or conferences, it helps you appear more professional, for instance, when you add an image of an office as your background.
Nevertheless, you must follow all the Microsoft Teams background size requirements when setting your preferred image. This will allow you to offer the finest clarity and meeting experience for you and your audience.
Are you feeling uncertain about one of the Teams background elements? Don't hesitate to ask for help in the comments below; our friendly professionals are here to help you create the best Teams Meeting experience!
Picture in this post is by Mika Baumeister on Unsplash
Related to Teams Background Size