Zoom Background Size: Upgrade Your Meetings!
This post was last updated on September 4th, 2023 at 11:35 am
Understanding the correct Zoom background image size will ensure you choose a great image that will make the meeting more engaging. Fortunately, we've assembled everything you need to know about the best virtual background image size in this post. Read on to find the right Zoom background size!
Zoom Rooms background image requirements are a Minimum dimension of 960px and a Maximum dimension of 1920px. The Recommended dimensions are 1920px by 1080px (16:9 aspect ratio).
One of the biggest changes we've seen in recent years is in how we hold meetings, conferences and video calls. Nowadays, you can invite your team into your home or office using a virtual meeting space like Zoom. It's not always convenient to hold a meeting in your environment, and you might want some privacy, in which case you'll need a zoom background (skip straight to the Zoom Background Size Chart).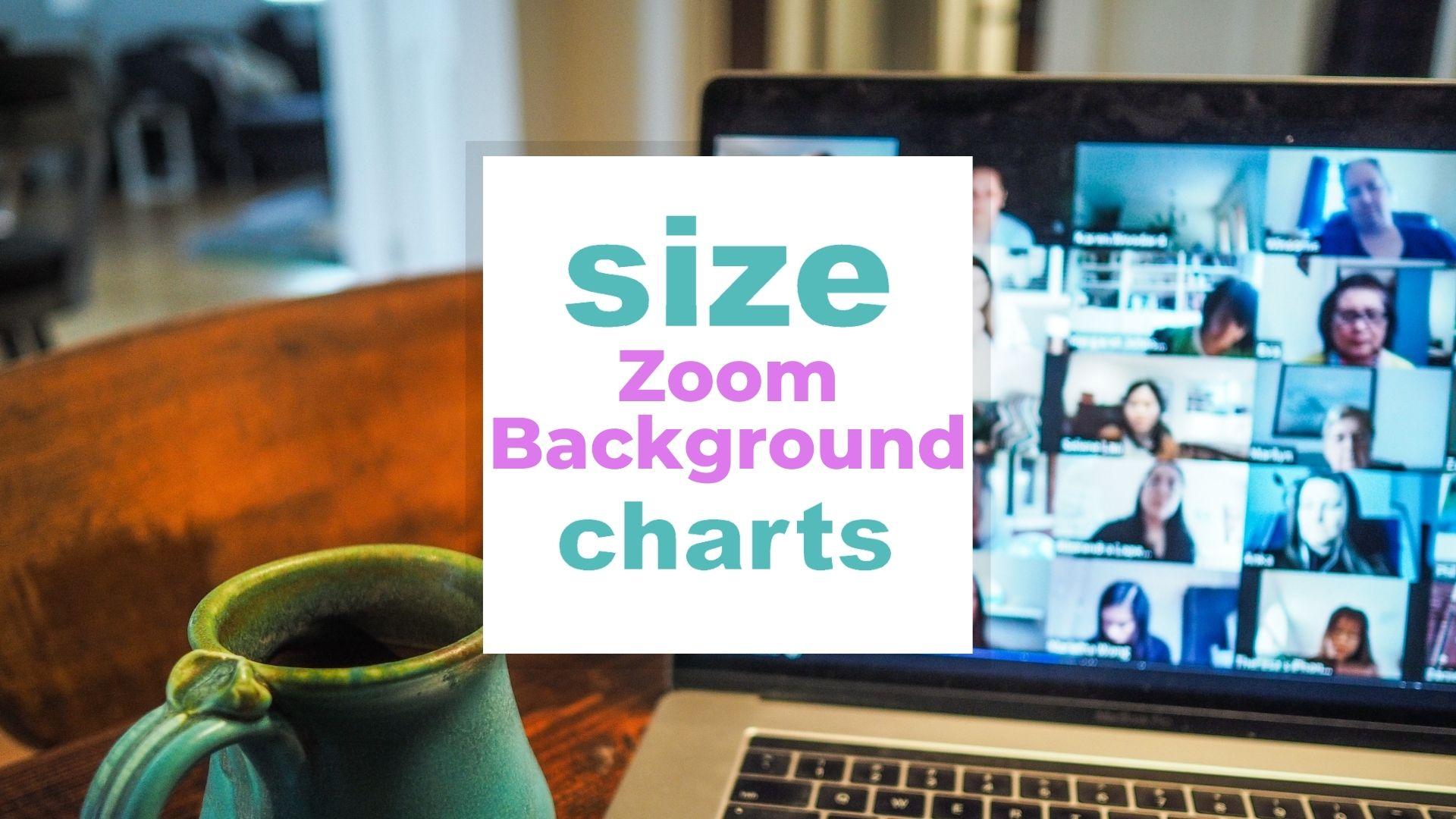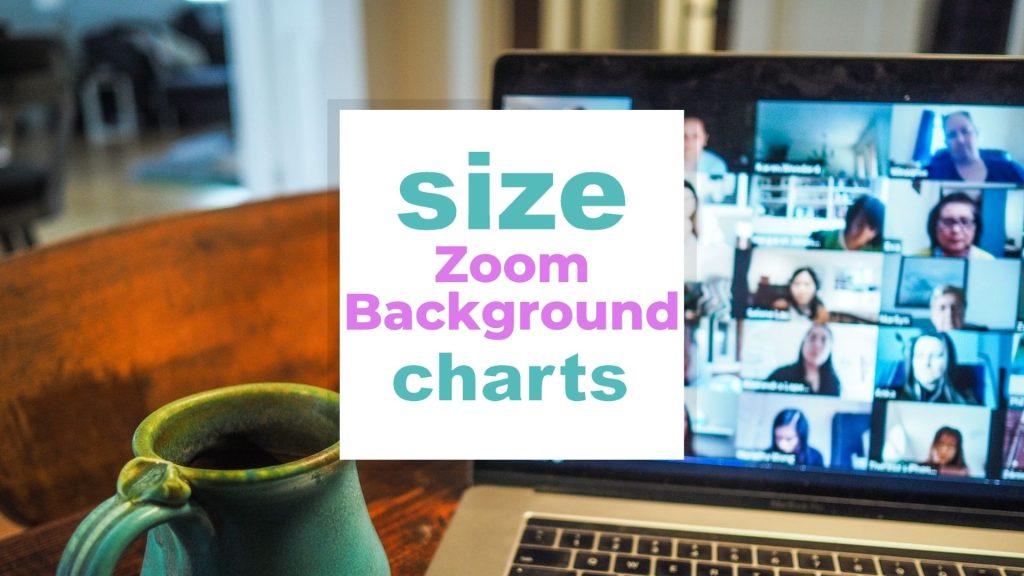 A Zoom background image can be useful in creating brand consistency. Having the same image as your background can make it easier for new participants to know whether they are in the right meeting. It also looks more professional than having a movie poster behind you as you host a work meeting. If you are having the meeting in a busy location, a background image will help reduce distractions and keep you at the center of the meeting. 
Jump right into Frequently Asked Questions
Related: Snapchat Ads Size – scale your business with the right-sized ads, YouTube banner size – images, file and all relevant sizes explained, Etsy Banner Size – all sizes for cover, profile, icon images, Discord Size for emoji's – avatars – banners, Facebook image size – Easy to use size-chart for images, videos and more, Instagram size for pictures, photos and posts
Zoom Background Table of Content
Zoom Background Size Chart
Related: Tiktok size for videos, ratios and formats to get the best results, Linkedin Sizes: from Profile Image to Header!
| | | | | |
| --- | --- | --- | --- | --- |
| Zoom Media | Ideal background dimensions | Minimum background dimensions | Aspect ratio | Accepted file formats |
| Zoom background image | 1920 x 1080 pixels | 1280 x 720 pixels | 16:9 | 24-bit PNG, JPEG/JPG |
| Zoom background video | 1920 x 1080 pixels | 480 x 360 pixels | 16:9 | MP4, MOV |
How to set up Zoom Background
Related: Twitter banner size: a full guide of all Twitter image sizes, NFT File size guide
You can set up your background on Zoom using your desktop or mobile phone. Here's how
First, sign in to Zoom and select your profile picture. 
Click on "settings" and go to "Backgrounds and filters."
If you don't have the "Virtual background" option, sign out of Zoom and sign in again.
Then select "Virtual background," and you'll notice several images provided below your video. 
If you click the (+) sign, you'll notice that you can upload your own video or image as your Zoom background. 
You might have to download the virtual background package if you don't have a physical green screen. 
For those using phones, follow the following steps:
Sign in to your Zoom mobile app
Go to the controls and select "More."
Tap on "Background and Effects"
There'll be several options you can choose from. If you want to upload your own image, tap on (+) and choose the file. 
Tap "Close" at the bottom of your screen, and you'll return to the meeting.
How to size Zoom background?
Related: Twitch banner size – all sizes you need for profile, video, badge sizes
If you want a great background for your Zoom meeting, you'll need to find a background photo that meets specific criteria.
Your surroundings will need to be uniformly lit and of a solid color. If there are several colors or shadows, the quality of the background will be poor. In reality, there is no restriction on the photo size you want to use, but you'll want to crop it to ensure it conforms to the recommended aspect ratio of 16:9.
If you don't know your camera's aspect ratio, you'll be safer choosing an image with a minimum resolution of 1280 x 720p. Otherwise, your Zoom background image could appear with black bars on the sides, which won't look natural.
How to make the Zoom background fit?
Before you begin, it's important to note that your Zoom Meeting virtual background should have an aspect ratio of 16:9. If you select an image with a different ratio, it'll form black bars on the sides of your screen because it won't deliver a perfect fit chop. There are three background options you can choose from; image, GIF, or video.
For videos, you'll need an MP4 or MOV format and a resolution of at least 480x360p. Setting up a virtual video background will be more demanding on your device, and you'll need to meet certain system requirements. You can find royalty-free photos for your background from websites like Pexels, Pixabay, or Unsplash. Images will be in JPEG and PNG formats.
Once you have a virtual background image you can use, the next step is to enable the virtual background feature. You can do this via the Zoom Web portal by going to the settings in the navigation panel, where you can activate the feature for business meetings on Zoom.
 Then, sign in to Zoom and go to Settings by clicking your profile picture. In the settings, go to Backgrounds and Filters and download the smart virtual background package if you don't have a physical green screen. Finally, click the plus icon (+) and add the meeting background image.
Learn more about how to set up a professional Zoom background (video)
Frequently Asked Questions
1. How to adjust Zoom background size?
The size of your Zoom background doesn't matter as much as getting the aspect ratio right. If you maintain the correct aspect ratio, your background won't have any issues. So you can adjust the size to as little as 1280 x 720 pixels since this resolution won't change the aspect ratio. 
2. Is Zoom background size different on Android and iPhone?
No, it's not. The zoom background requirements are the same across all smartphones, whether Android or IOS.
3. What is the best Zoom background for a poorly lit person?
If you are hosting a meeting in low-light conditions, you should use a light but solid color background for better contrast and clarity. A dark or dull color background will make it harder to see you in poorly lit environments. 
Conclusion
When hosting video conferences, calls, and meetings, Zoom is one of the best platforms to use. If you don't want the participants to see the inside of your home during meetings, you can apply a virtual background. The virtual background option allows you to set up an image behind you so that there are minimal distractions as you interact with your team. 
Choosing the right background for night and daytime meetings doesn't have to be a hassle. All you need is a photo that matches the 16:9 aspect ratio, and you'll be good to go. The maximum resolution for Zoom background images is 1920 x 1080 pixels, while the minimum is 1280 x 720 pixels. You'll also need to ensure the image doesn't exceed the 5MB maximum file size.
We'd be happy to answer any questions you have related to this topic in the comment section below. 
Picture in this post is by Chris Montgomery on Unsplash
Related to Zoom Background Size