iMac 24 Size, Weight and Box Dimensions
This post was last updated on May 24th, 2023 at 09:19 am
One of the most important factors to consider when choosing an iMac, including the iMac 24, is size. The Apple iMac 24 size (2021) has a height of 18.15" or 46.1 cm, a width of 21.54" or 54.7 cm) and a depth of 5.79" or 14.7 cm, The Imac 24 weighs 9.88 lb or 4.48 kg. The screen size has a diagonal of 24" or 61 cm with a resolution of 4480 x 2520 pixels at 218 ppi.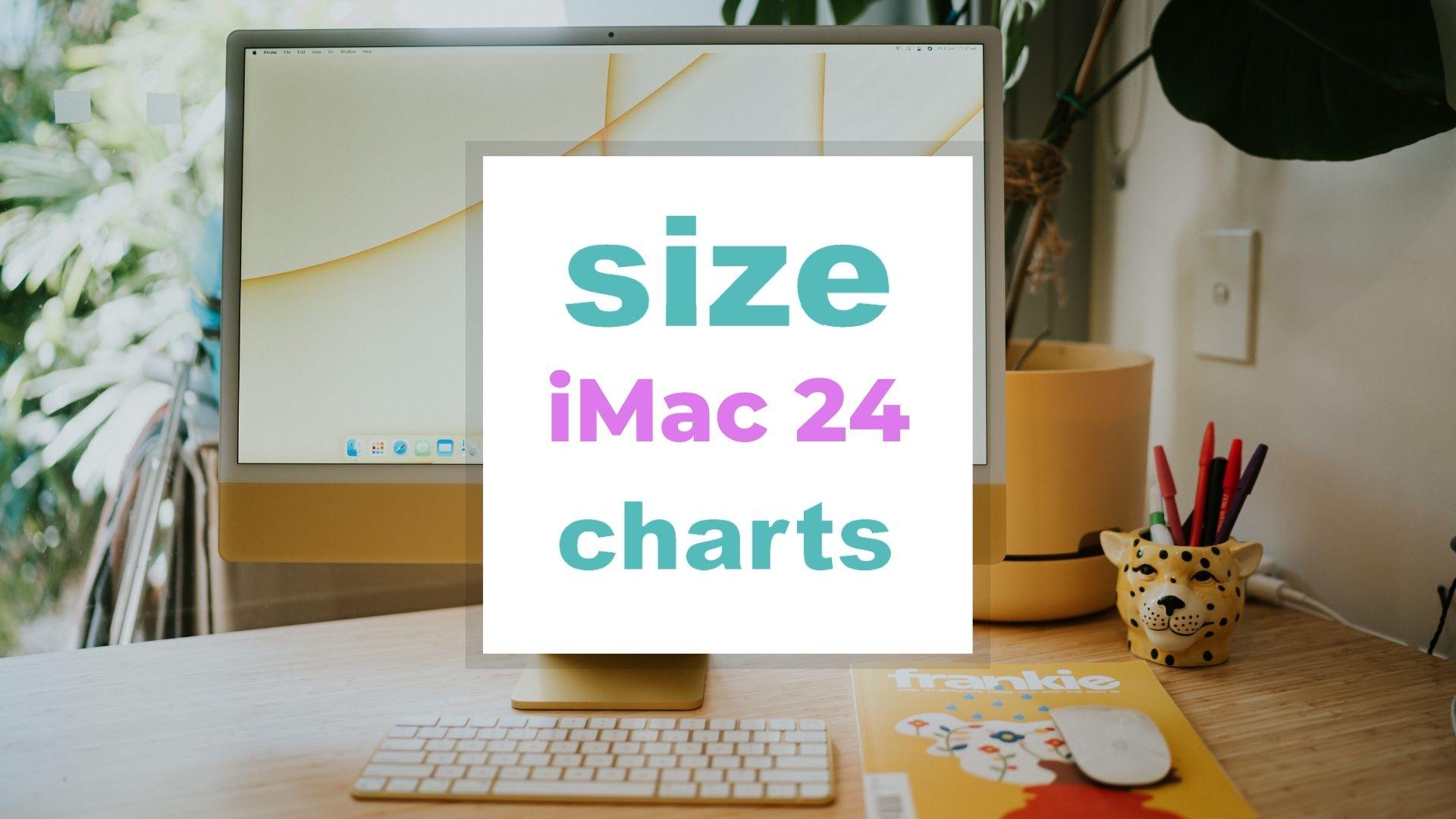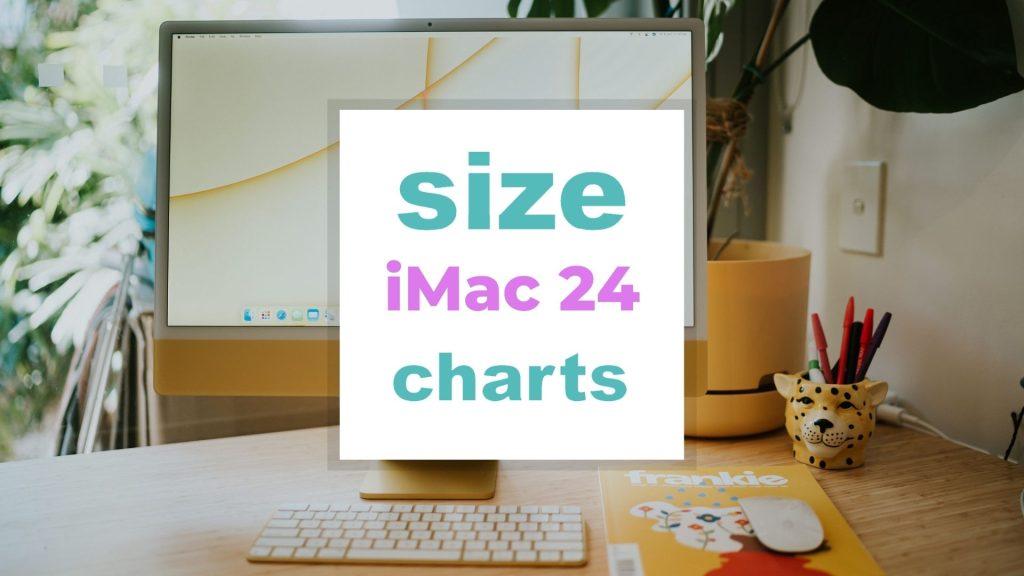 Looking for other screen sizes, click the link. Do you look for Iphone screen size, Ipad screen size (again just click the link to learn more)
The iMac 24 is big enough to provide a great experience for most users, but it's not so large that it's unwieldy. It's also a good choice for users who want to use their iMac for gaming or other resource-intensive activities. If you're not sure which size iMac to choose, the iMac 24 is a great option. It's a versatile computer that will serve most users well.
This guide is dedicated to tackling the iMac 24 size inside out, helping you make the most of this amazing machine. Jump to the frequently asked questions down this page
Table of Content of iMac 24 Dimensions
Apple iMac 24″ dimensions frequently asked questions
What is an iMac 24 exactly?
The iMac 24 is Apple's latest model in its 24-inch desktop line. It replaces the old iMac that was first introduced in 2007. The iMac 24 comes in a wide range of configurations, from higher-end models that can be configured with more powerful processors and bigger hard drives, to models with smaller hard drives and slower processors.
The design, build, and operation of the iMac 24 have changed dramatically in recent years. The most notable of these changes was the removal of the floppy disk drive in favor of an all-flash hard drive with no moving parts.
What is the iMac size?
These are the iMac 24 actual screen size, iMac 24 dimensions and weights;
Height of 18.15" (46.1 cm)
Width of 21.54" (54.7 cm),
Depth of 5.79" (14.7 cm)
Weighs 9.88 lb (4.48 kg)
The apple iMac 24 inch screen size is 24" (61 cm), with 4480 x 2520 pixels resolution at 218 ppi. Important to note that the iMac comes in four different sizes: 21.5-inch, 24-inch, 27-inch, and the latest model, the 5K iMac with a 27-inch screen.
What dimensions is the box of the iMac 24″?
Package Weight
27 lb or 12.2 kg
Box Dimensions (LxWxH)
26.75 x 23.5 x 6.75″
68 x 60 x 17 cm
What is the size of iMac 24 box?
The size of iMac 24 box is 26.75 x 23.5 x 6.75″ or 68 x 60 x 17 cm , same for iMac 24 2021 box size. This size allows for the computer, monitor, and all of the cords and accessories to be stored inside of it. The box is also sturdy enough to protect the contents from being damaged during shipping. When considering the size of a box for an iMac 24, this size is ideal. It will fit everything securely and will not take up too much space in your home or office.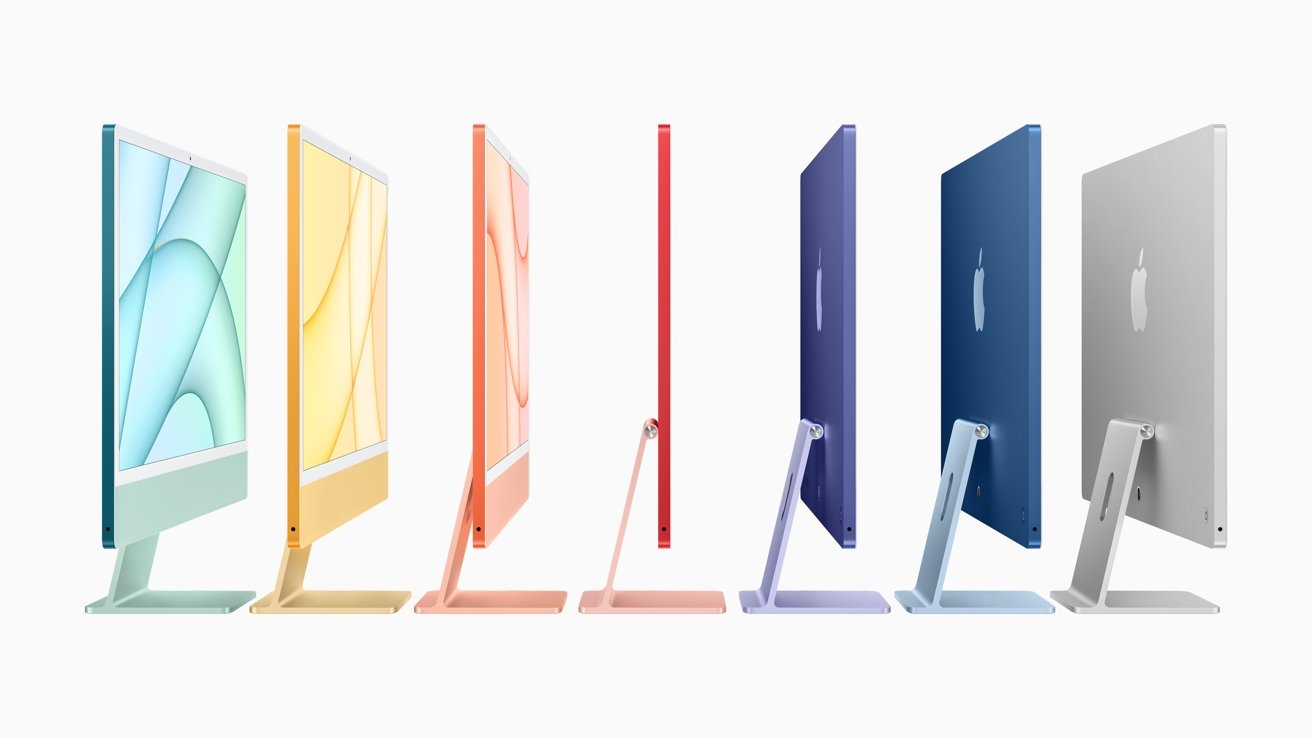 Apple iMac 24 inch screen size
For Apple iMac 24 size, the screen size is the first thing to consider when looking for a new computer. The 24-inch size is one of the most popular options and is great for both personal and professional use.
The iMac 24-inch screen size is perfect for those who want a large screen without having to deal with a bulky or heavy machine. It's also a great option if you want to use your computer for creative work or gaming, as the larger screen allows you to see more detail and makes it easier to multi-task.
iMac 24 2021 dimensions
The new iMac 24 has a sleek design and dimensions of 21.5 x 8.4 x 20.3 inches, making it the perfect size for any workspace. The sleek design is also very easy to clean, with just a simple wipe down being all you need to keep it looking its best.
The iMac 24 also comes with a built-in camera and microphone, as well as two thunderbolt 3 ports, making it the perfect device for video calls and online meetings.
What's the size difference between iMac 24 and iMac 27?
If you're trying to decide whether to get an iMac 24 or iMac 27, you're not alone. The two models are popular options, and each has its own set of benefits.
But which one is right for you? Let's start by taking a look at the size difference.
The iMac 24 is smaller than the iMac 27. It has a 21.5-inch screen, while the iMac 27 has a 27-inch screen. That's not to say that the iMac 27 is too large for some people – it just depends on your needs and preferences.
If you want a larger screen, then the iMac 27 is the obvious choice. But if you're looking for something more compact, the iMac 24 is a great option.
iMac 21.5 vs 24 size comparison
The biggest difference between the two sizes is the screen size. The iMac 21.5 has a 21.5-inch screen, whereas the iMac 24 has a 24-inch screen
Other than that, the internals of both machines is pretty much the same. So if you're deciding between the two sizes, it really comes down to whether you want a bigger screen or not.
If you're on the fence, we recommend going for the iMac 24 – it's only a little bit more expensive, but it's definitely worth it for that extra screen real estate.
iMac 24 vs 27 screen size
When it comes to choosing an iMac, one of the most important decisions is screen size and comparison is important here. The 24-inch iMac offers a more compact option, while the 27-inch iMac provides a little more real estate. So which one is right for you?
The biggest difference between the two models is, of course, the screen size. The 24-inch iMac has a 23.8-inch Retina 4K display with a 4096 x 2304 resolution. Meanwhile, the 27-inch iMac boasts a 27-inch Retina 5K display with a whopping 5120 x 2880 resolution. Obviously, the 27-inch model is going to be better for creative professionals who need as much screen space as possible. However, the 24-inch iMac is still no slouch in the resolution department, and it's actually quite a bit cheaper than its larger counterpart.
Another factor to consider is portability. The 24-inch iMac weighs in at just under 10 pounds, while the 27-inch model tips the scales at nearly 12 pounds. So if you plan on moving your iMac around frequently, the smaller model will be easier to transport.
Ultimately, the decision between these two sizes will also come down to persona preferences. Always start by understanding what you really want to achieve or what you like. Then look at these differences to help you single out the best for you.
iMac 24 size as external monitor
Did you know you can also use your iMac 24 as an external monitor for another device? This is perfect if you need to do a presentation or if you want to watch a movie on a bigger screen. All you need to do is connect your iMac to another device using a DisplayPort, mini DisplayPort, Thunderbolt 2 port, or HDMI cable.
Can the height of the iMac 24 be adjusted?
The height cannot be adjusted. You are able to tilt the screen back and forth though, or you put the whole unit on a computer stand
iMac 24″ size explained and compared with other iMacs
Conclusion
If you are looking for a desktop that has plenty of power and a large screen, the iMac 24 size is a great option. It offers plenty of space to work on multiple applications at once, and its performance is top-notch. Make sure to consider your needs and budget before making a purchase, though, as this model is not cheap.
If you're still not sure if the iMac 24-inch is the right size for you, we recommend heading to your nearest Apple store and taking a look at one in person.
Picture in this post by Jay Wennington on Unsplash
Related Digital and Screen Size Charts