Money Clips Size Guide
This post was last updated on September 4th, 2023 at 11:30 am
Money clips are simple gadgets invented to carry money in a convenient way. Where did it all begin, then? Around the 1800s, banknotes replaced coins as the favored method of storing money. Before that, the most typical method of transferring their riches, which were mainly composed of coins, was through purses and wallets. Although money clips didn't become popular until the 1900s. Men were still the more regular users even then.
Money clips were once a luxury item reserved for the upper middle and high class. People continued to desire to flaunt their wealth in the most overt manner far into the 20th century. For people who don't want to carry a wallet, a money clip is often used to keep cash and credit cards in a tiny way. The best way to use a money clip is you put it over the money folded over the folded end of it.
Money clips are straightforward accessories made to help you carry your cash and credit cards in an elegant and covert manner. Although businessmen and women who don't want to compromise their attire frequently like them, their advantages go beyond this.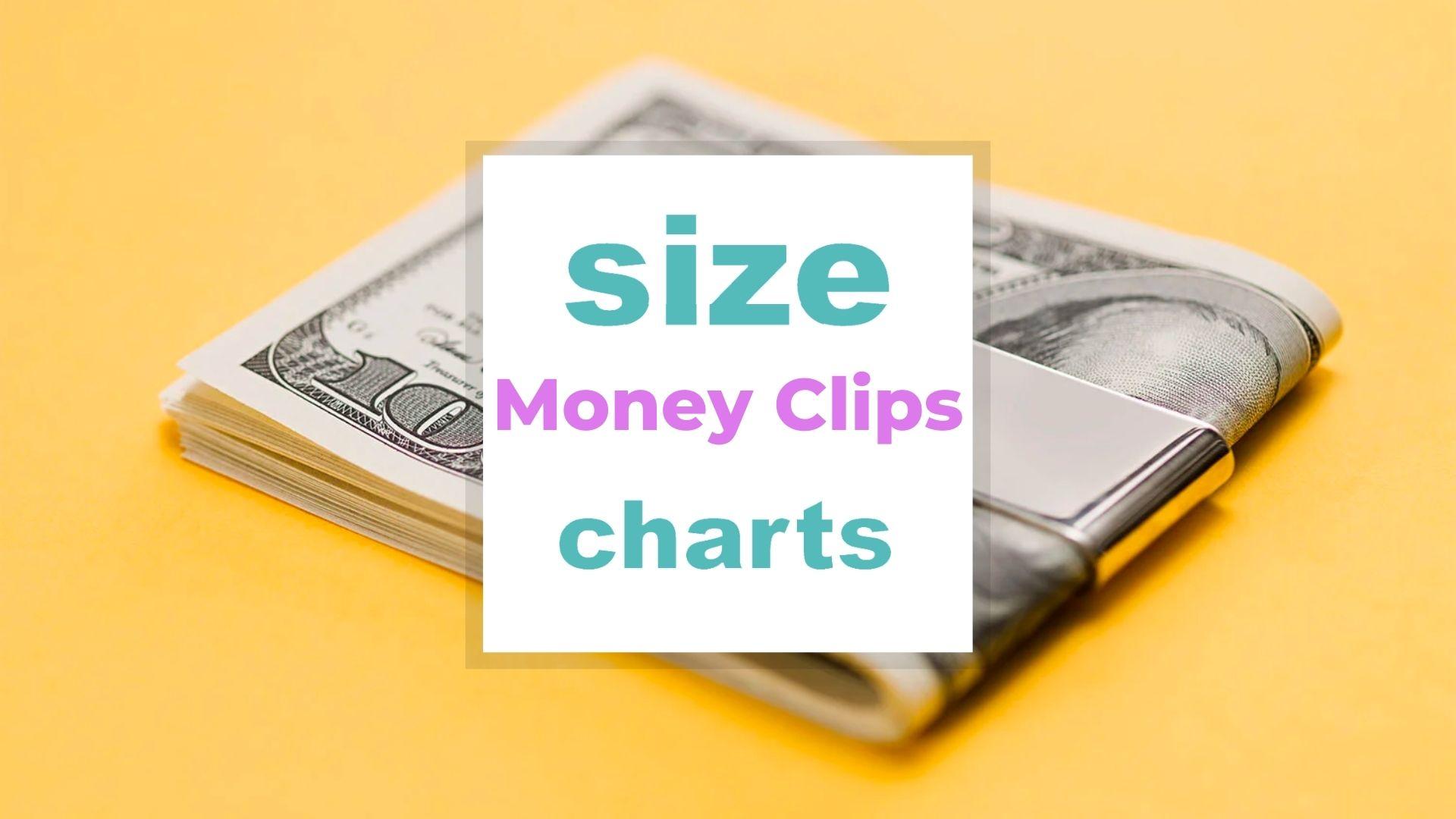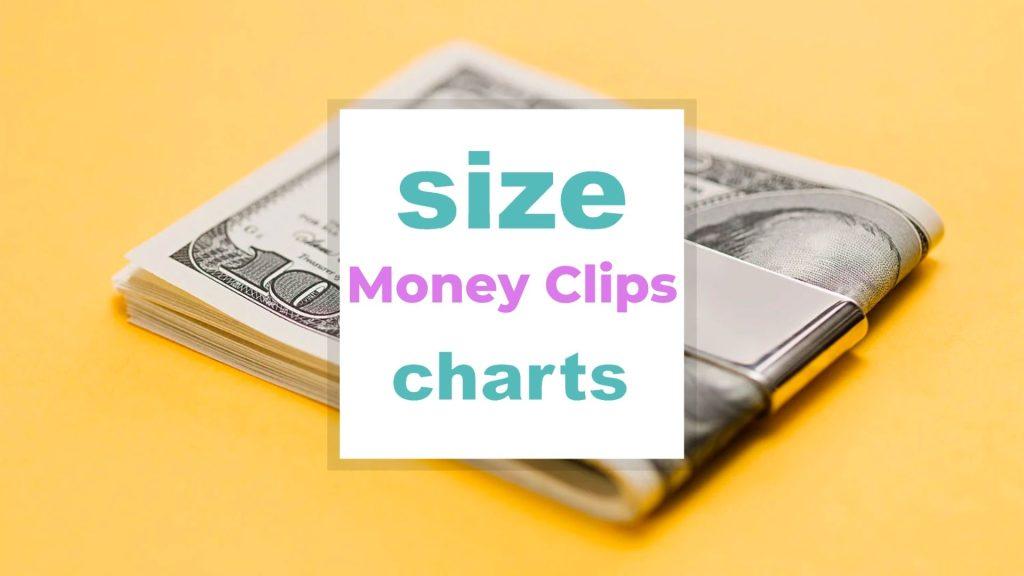 Wallets and money clips have long dominated the way we carry cash in the history of paper money. Although both have many advantages, many people think a wallet stuffed with gift cards, ATM slips, receipts, and credit cards is excessively big.
You've come to the perfect place if you're looking for a useful gift for a friend or family member. We describe the advantages of a money clip over a wallet and how to use one.
Jump right into the Frequently Asked Questions
Related: Travel Size Toiletries for Airplane Bags, Back Pack Size Chart for adults and kids, What Size is Carry On Luggage?
Money Clips Size Table of Contents
Money Clips size chart
Related: Mammut Bags and Backpacks Sizes
| | | |
| --- | --- | --- |
| Size | Dimensions | Capacity |
| Small size | 2.33 x 0.79 x 0.43 inches 5.92 x 2 x 1.1 cm | Holds up to 40 bills, a good choice if you carry little and prefer to slim money clip. |
| Medium size | 2.4 x 1.4 x 0.5 inches 6.2 x 3.6 x 1.27 cm | Holds up to 50 bills, holds 30 bills & 5 cards comfortably, perfect for daily use. |
| Large size | 2.76 x 1.38 x 1.04 inches 7.01 x 3.5 x 2.64 cm | Holds up to 120 bills, if you need to carry around 100 bills and some cards, this is for you. |
| Money clip wallet for men | 3.5 x 2.1 x 0.5 inches 8.89 x 5.3 x 1.27 cm | The total design is a perfect tool in the pocket. Holds up to 15 cards, minimal size, a very cool and stylish wallet with WFID Blocking. |
| Money clip wallet for women | 3.5 x 2.1 x 0.5 inches 8.89 x 5.3 x 1.27 cm | Slim like a credit card holds up to 15 cards, WFID Blocking keeps your cards safe. more girly color for women |
How to choose the right Money clips size
Related: North Face Bags & Backpacks Sizes, Louis Vuitton Luggage Sizes
A money clip is a kind gift for birthday for a loved one or for oneself, despite its simplicity. They are not only sleek and sophisticated but also practical and ageless. But when shopping for gifts, the enormous selection of fashionable accessories at jewellery stores might be perplexing. Therefore, it might be quite helpful to be aware of what the recipient needs.
So what factors should you consider while selecting a men's money clip wallet? Here are some pointers to assist:
Choosing the Material
The durability, design, and cost of the money clip are all influenced by the material you select. Others are made of materials like leather, while they are made of metals like gold, steel, and silver. Selecting a particular material aids in removing alternatives. If metals are your choice, think about their purity, color, length, and width.
In contrast to 14k gold, which is only 58% pure, 24k gold is 100% pure. To increase the durability of gold, jewellers frequently combine it with other metals. Consider a 14k or gold-plated money clip instead of pure gold as the latter is softer. You get a timeless item with aesthetic appeal in this way.
Not all clip wallets with gold- or silver-tone accents are made of these metals.
Getting the Right Color
Metals offer a variety of color options that enhance the overall appearance of stainless steel money clips. Black, brown, white gold, and yellow were traditionally popular choices for males. However, personal tastes for colors vary from person to person nowadays.
It's crucial to understand your spouse's preferences. What color would they say is their favorite? Keep in mind that color determines the occasion's tone and attitude. As a result, match it to the occasion. Is it a gift for Valentine's Day or a birthday? What color is then appropriate?
Decide on the Best Design
The clip you choose must be able to protect the user's credit cards and cash. So take the recipient's lifestyle into account. The clip must be strong enough to hold the recipient's bills if they lead an active lifestyle.
The best clips function with a twofold retention spring. Some leather clip wallets lack this feature, although most metal clips do. The greatest design, however, goes beyond ensuring a solid grasp.
The wallet needs to be strong, sturdy, and stylish. The slim form is an alternative to the big wallet that frequently drags on the back pockets. Now, without worrying about its weight, a person can carry a small money clip wallet in their side pockets where it will be secure. If it's a present, let the design emphasise its beauty.
Decide on Budget
While the budget is an important factor, your taste and style shouldn't be bound by it. Money clips for men don't cost a lot; buyers can purchase one for as little as $40. Upscale clips made of gold are discounted at jewellers like Ice carats.
Above all, the money clip you select should enhance the recipient's appearance. Think about any additional jewellery or accessories that an individual may have, such as a belt or watch. A golden money clip fits perfectly if they have gold jewellery such as rings and necklaces.
Even if one uses a regular wallet, a money clip may still be necessary. You can wear these classic accessories on special days or when you want something light. You'll be astonished by how much happiness a small but thoughtful present can spread.
Check out this video to learn more about top 5 money clips
Frequently asked questions
1. How big is a money clip?
Measurements are 1.8in. x 3.15in. x 0.5in.
2. What is the best type of money clip?
Victorinox Swiss Army Money Clip, Viosi Money Clip, CL Carbonlife Money Clip, Nite Ize Money Clip, Serman Brands Carbon Fiber Money Clip, Storus Money Clip, and Alaska Bear Money Clip.
3. How much money can I keep in my money clip?
Ideal for daily usage, holding up to 50 bills, easily fits 30 dollars and 5 cards. If you need to carry up to 120 cash plus a few cards, this is the bag for you. It can hold up to 100 bills.
4. Why money clips are better?
They are readily available and adaptable.
A clip is unquestionably the most practical accessory you will use if you carry cash with you at all times. You don't have to deal with zippers, inside pockets, separators, or divisions, unlike wallets and handbags.
It only takes a few seconds to remove the money clip to get cash.
5. From what materials can money clips be made of?
The most common materials used to make metal money clips are brass, stainless steel, silver, gold, titanium, or platinum.
6. Can I put cards on my money clip?
The thin design of the clip wallet makes it convenient to keep your folded cash, cards, and ID.
7. Why do people carry money clips?
Simple designs like money clips make it possible to carry a lot of cash without using a large wallet. They make it simple to access your money and can be put in any pocket without destroying your attire.
Conclusion
A money clip can be a perfect gift idea to put on a gift box. The ordinary money clip will avoid bulky wallets. They are an excellent product that makes your pocket organized. You can shop online or import for shipping charges which are pocket-friendly using your Email Address. These clips have a return policy in case you are not satisfied.
If you enjoyed reading our article, kindly share and leave a comment.
Picture in this post is by 30daysreplay Social Media Marketing on Unsplash
Related to Money Clips Size