Happy Feet Slippers Size Charts
This post was last updated on August 28th, 2023 at 10:03 pm
Happy Feet slippers are the perfect way to keep your feet warm and cozy. They are made of soft, comfortable fabric and come in a variety of colors and styles. The slippers feature a plush footbed that gives your feet extra cushioning and support. The soles of the slippers are slip-resistant and have an extra grip to keep you from slipping.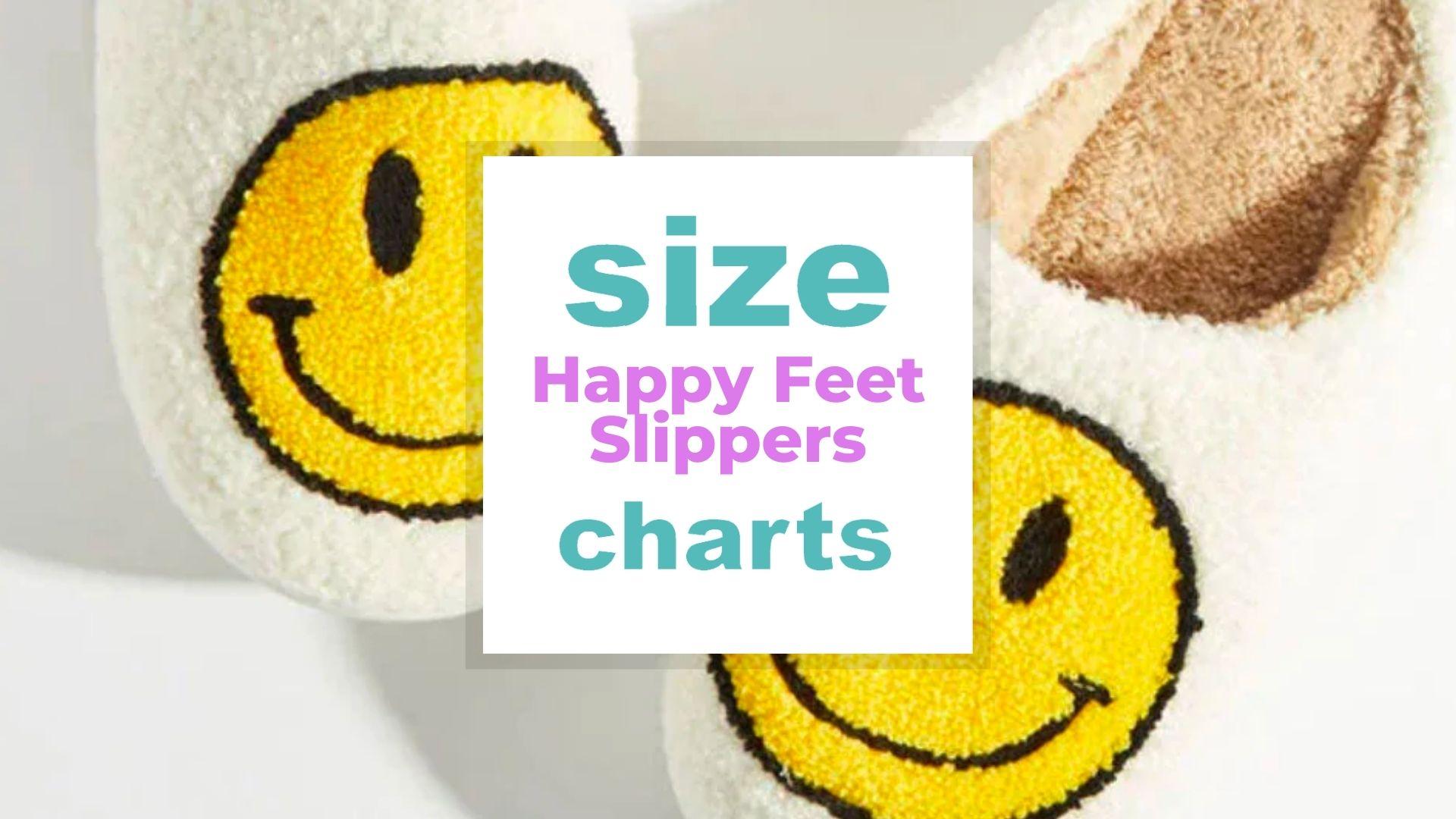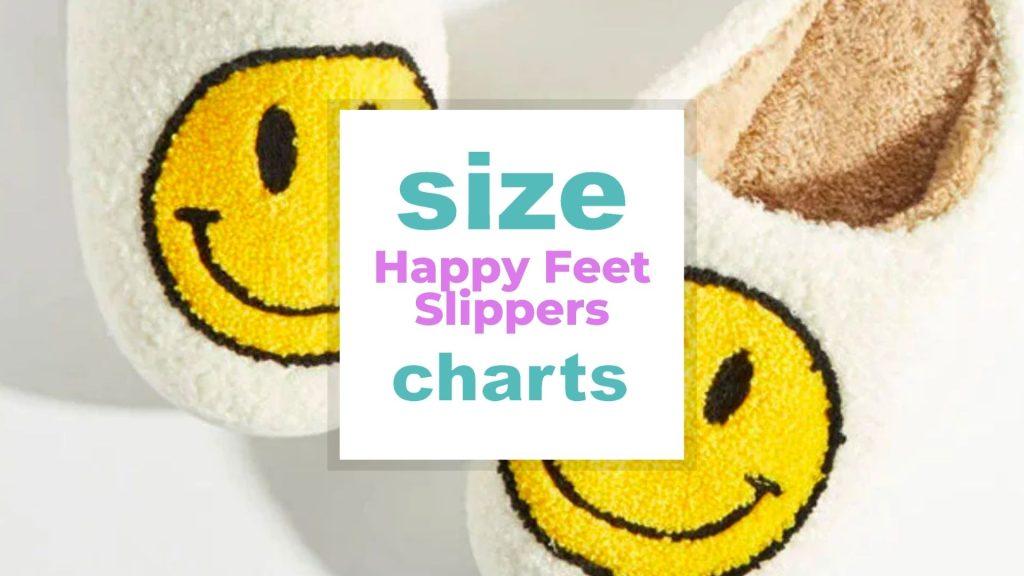 Whether you are lounging around the house or going out for a night on the town, Happy Feet slippers will keep your feet warm and comfortable.
Jump right into the Frequently Asked Questions
We reviewed Tommy Hilfiger Size, Sizing of Fashion Nova, Land's End sizes, Old Navy size charts, American Eagle sizing, Levi's Jeans size, Chico's Sizes, J Crew sizes, Zara Women's sizes, Forever 21 sizes, express sizing, shein Sizing, asos sizing, Ralph Lauren sizes, Lacoste , Aeropostale, and much more here.
Happy Feet Slippers Size Table of Contents
Happy Feet slippers size charts
Related: Sootheez Size Chart
| | | |
| --- | --- | --- |
| Size guide |   |   |
| Slipper Size ( US ) | Girls & Women | Boys & Men |
| Toddler | 7.5 – 12.5 | 7.5 – 12.5 |
| Small | 1-5 | 1 – 4 |
| Medium | 5.5 – 7.5 | 4.5 – 6.5 |
| Large | 8 – 10 | 7 – 9 |
| X-Large | 10.5 – 12.5 | 9.5 – 11.5 |
| XX-Large | 13 – 14 | 12 – 14 |
Related: Foot Size Charts for Adults and Kids: What's my shoe size?, Size Charts and Brands For Wide Women's shoes
| | | | | |
| --- | --- | --- | --- | --- |
| Conversion |   |   |   |   |
| US | EU | UK | Foot Length ( IN ) | Foot Length ( CM ) |
| 6 | 39 | 5.5 | 9.25 | 23.5 |
| 6.5 | 39 | 6 | 9.5 | 24.1 |
| 7 | 40 | 6.5 | 9.625 | 24.4 |
| 7.5 | 40 – 41 | 7 | 9.75 | 24.8 |
| 8 | 41 | 7.5 | 9.93 | 25.4 |
| 8.5 | 41 – 42 | 8 | 10.12 | 25.7 |
| 9 | 42 | 8.5 | 10.25 | 26 |
| 9.5 | 42 – 43 | 9 | 10.43 | 26.7 |
| 10 | 43 – 44 | 9.5 | 10.56 | 27 |
| 10.5 | 43 – 44.5 | 10 | 10.75 | 27.3 |
| 11 | 44 – 45 | 10.5 | 10.93 | 27.9 |
| 11.5 | 44 – 45 | 11 | 11.12 | 28.3 |
| 12 | 45 – 46 | 11.5 | 11.25 | 28.6 |
| 13 | 46 – 47 | 12.5 | 11.56 | 29.4 |
| 14 | 47 – 48 | 13.5 | 11.87 | 30.2 |
| 15 | 48 – 49 | 14.5 | 12.18 | 31 |
Learn more about Happy Feet Slippers Sizes and more (video)
Frequently Asked Questions
Are Happy Feet Slippers true to size?
According to numerous customer reviews, Happy Feet slippers fit wonderfully. Their sizes are accurate, which not only allows you to get what you want but gives you confidence as a buyer. Many clients return for more amazing deals as the brand keeps improving its products to suit the ever-changing demands world over.
Besides, Happy Feet slipper size charts are precise and easy to convert. Hence, it's up to you to know what you're supposed to do and do it best. This means that you need to have a handy tape measure with which you'll take your feet measurements and compare them with the size charts.
You want to be hawk-eyed when using the charts because they differ in age and sex. Since men's feet are generally bigger than women's, their size charts will reflect the same. Their slippers will not only be bigger but also wider for particular sizes, compared to women's.
If you weren't happy with what you got at Happy Feet, you might want to play your role very well next time. Very tiny details such as using other brands' size charts can affect your shopping experience. You also want to ensure that you don't leave out your tape measure every single time you want to take out a new pair of slippers at Happy Feet. Your feet might be an inch taller or shorter because of a health condition or any other reason.
Should I size up in Happy Feet slippers?
There should be no reason to size up with Happy Feet slippers because they are true to size. At Happy Feet, you'll find shoes that are not only big but also wide enough. This cuts across every size for both genders. Happy Feet knows that even though many women have slim feet, there are those who could need wide but small slippers. Meaning that you don't have to take out slim slippers that leave some parts of your feet out.
Unlike with other brands, your feet will fit like they were meant just for you. This is why you might forget and drive to the shopping store in them.
Happy Feet understands that customer satisfaction comes first. This is why it may also allow for the return of its products and size-ups. The brand gives room for mistakes, just in case the client took out the wrong size or just mixed things up. The client has the option of returning the slippers to the store they bought from physically or through a courier if they purchased from the online store. This is what makes it so easy to shop from this brand.
However, to avoid all this back-and-forth hassle, you may want to shop from the store physically so that when you walk out of the store, you're happy that you want to have to make unnecessary visits to the store. If buying for your kid, you have the option of bringing them to the store as well.
Will Happy Feet slippers shrink if I wash them in the machine?
Absolutely not! The slippers are machine-friendly and washing them the right way will not affect their size at all. First off, the slippers' fabric is something that you'd not need to wash every often. But when the time comes, and you have to use a washing machine, avoid using hot water at all costs. Hot water will make your slippers feel smaller by the day.
Since your slippers don't get as much dirt as your outdoor shoes, giving them a gentle cycle with warm water will be good enough to wash off all the germs and retain the slipper's original size. This also applies to the drying process. Give them a not-so-hot drying time. You'd rather take the slippers out when they are a little damp and leave them out in the sun for air drying than have shrunk unhappy slippers.
You might be asking whether handwashing your slippers will shrink them. This doesn't have to be a big deal if you don't want to risk using the washer. You'll only need to soak the slippers in cold/warm soapy water for 30 minutes. Go in with a very soft-bristled hand brush that scrubs the slippers so gently and then air dry them.
Be sure to use a detergent that's not so rough on stains so that your slippers don't lose their shine sooner than necessary. If you're dipping the slippers alongside your clothes in the machine, tie the slippers with a machine bag to separate them.
What's the biggest size in Happy Feet?
According to Happy Feet size charts, the slippers can be as big as size 7 UK which is size 41 in Europe, size 9 in the US, and has a length of 25.8cm. This size comes in different widths to accommodate different types of feet and their shapes. That means that a size 6 (UK) foot will not need to take out this size if they have wide feet. The more reason why it's important to visit the store when making the purchase is so as to try the different slipper widths under this size.
Unlike it is for other brands where you'll need to size up or down if your feet have unique width demands, you'll get literally everything that you need at Happy Feet. You also have the option of working with the store's customer service to have your slippers of choice made for you at affordable rates.
The key to taking out the right slipper sizes is knowing what you need and working with the comfy feet slipper size charts. You can never get it wrong in this way.
What are the smallest Happy Feet slippers?
Happy Feet can run as small as size 0.5 UK which is EU size 16, US size 1, with a length of 9.7cm; a size that fits newborns. The size and design of the slipper are meant to serve one purpose, to make the baby look cute. This is because the baby, as young as this, will not need shoes, leave alone slippers, according to the American Academy of Pediatrics. In fact, the baby can survive without shoes until they are old enough to stop crawling and start making a few steps.
You may need shoes when your baby starts using strollers or baby walkers where the feet will need protection from dirt and of course hurt.
The slippers are suited with warm fabric to ensure that the baby's feet not only look happy but are also warm. You may go ahead to add the pinkie tootsies on top of the baby's socks with confidence that the baby's feet and movement won't be affected in the future.
This is explained by the fact that Happy Feet newborn slippers fit like a glove and they can be a good replacement for socks. When the time comes for walking, the comfy slippers will not in any way affect their learning-to-walk process.
Conclusion
Happy Feet slippers offer an ideal collection that walks with you along life's journey, right from the moment you're born to your old age. The slippers are worth every penny and are durable enough to offer lasting comfort for your feet.
Hopefully, this guide gives you a good place to start when going shopping for Happy Feet slippers. If something is not very clear, please ask questions in the comments and we'll assist you swiftly. Thanks for reading!
Picture in this post is from TheGuardian.com
Related to Slippers Size Charts