Wizzair Sizes: Luggage Allowances, Seats
WIZZAir, also known as WIZZAir Hungary Ltd. is among the best European low-cost carriers for air travel. It's famous for facilitating travel to numerous cities around Europe as well as other destinations on different continents. If you are looking for an affordable way to explore Europe, you can count on WIZZAir (skip straight to the Wizzair Sizes).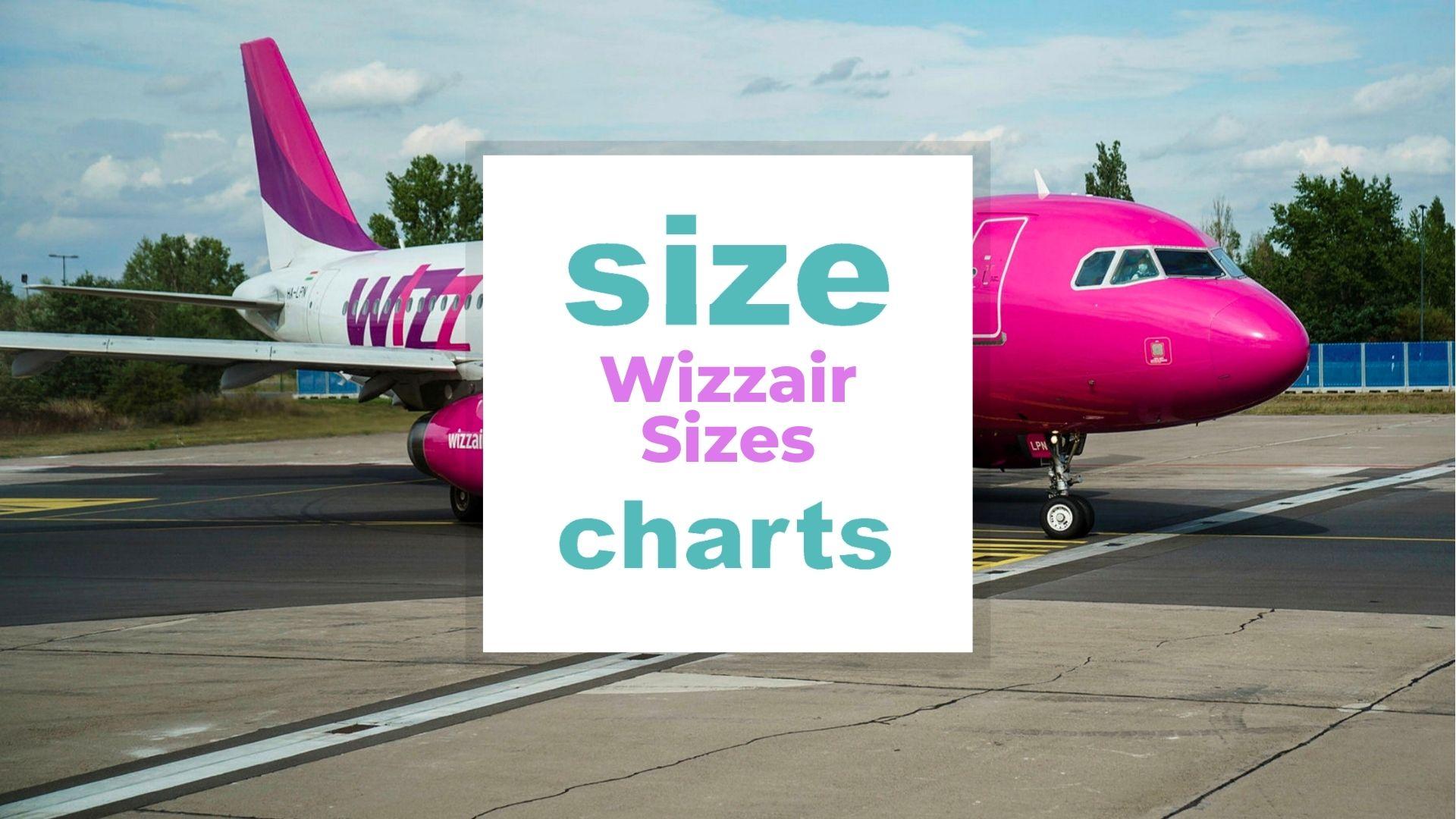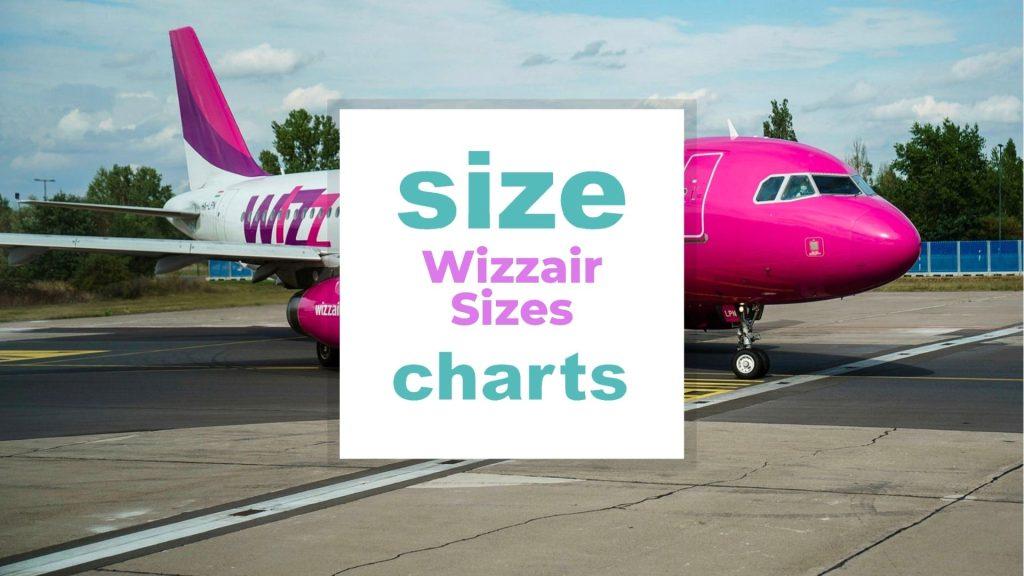 Before you pack up and head to the airport, you need to know the size and weight limitations for luggage in WIZZ Air. We'll cover this and even details about seat sizes in this post to ensure you are in the know concerning everything that matters.
Let's get started!
Jump right into the Frequently Asked Questions
Related: China Southern Airlines Sizes: Luggage, Seats…
Wizzair Sizes Table of Contents
WizzAir Sizes Charts
Related: Air Canada Sizes: Luggage, Seats…, American Airlines Sizes: Luggage, Seats…
Seats WizzAir Sizes
| | | | | | | | |
| --- | --- | --- | --- | --- | --- | --- | --- |
| Aircraft | Seat Pitch | Seat Width | Seat Type | Video Type | Laptop Power | Power Type | Wi-Fi |
| Airbus A320 (320) | 28 inches | 18 inches | Standard | None | None | None | No |
| Airbus A321 (321) | 28 inches | 18 inches | Standard | None | None | None | No |
Carry-OnWizzair Sizes
| | | |
| --- | --- | --- |
| Item | Dimensions | Maximum Weight |
| Carry-On | 40 x 30 x 20 cm | 10 kg |
| Trolley Bag | 55 x 40 x 23 cm | 10 kg |
Checked Bag Wizzair Sizes
| | | |
| --- | --- | --- |
| Bag Weight | Dimensions | Max. Number of Bags |
| 10 kg | 171 x 149 x 119 cm | 1 |
| 20 kg | 171 x 149 x 119 cm | 6 |
| 32 kg | 171 x 149 x 119 cm | 6 |
Carry-On Baggage Allowance
Related: Aeroflot Sizes: Luggage Allowances, Seats…
Wizz Air's carry-on luggage policy allows passengers to bring one personal item free of charge. This item should be no larger than 40 x 30 x 20 cm in size to ensure it can easily fit under the aircraft seat. The weight limit for carry-on luggage is 10 kg. If you need to bring an extra item on board, you should get Wizz Priority.
Wizz Priority passengers have an allowance for a trolley bag in addition to the carry-on item. This bag should measure 55 x 40 x 23 cm without wheels and handles. However, the wheels/handles shouldn't add more than 5 cm to the overall dimensions. The trolley bag should fit in the overhead bin in the cabin.
This isn't the only advantage of Wizz Priority since you also get to board the plane before other passengers. There's also a dedicated desk for Wizz Priority users so that you have a faster experience at the airport check-in.
If you don't want Wizz Priority, you still get to bring one item as long as it meets the carry-on luggage size requirements. Any bag that's larger than the provided dimensions will be subject to oversize charges.
You are allowed to carry liquids into the cabin as long as it's in a container with a maximum capacity of 100 ml. This container should be packed inside a 1 Litre transparent plastic bag that's resealable to ensure it can be screened without challenges at the airport.
Some additional items you can bring without paying extra fees include:
Your mobile phone
A coat or outer garment
A book, magazine, or similar reading resource
A small crib or foldable baby stroller
Food for a baby under two years
Mobility aids for disabled passengers
There are items that we recommend you carry on board the cabin rather than placing them in your checked luggage.
These belongings include:
Medication
Money
Valuable items like jewelry, precious metals, and precious stones
Liquids
Art pieces
Personal, identification, and official documents
Keys
Required travel documents
Checked-In Baggage Allowance
Related: Air France Sizes: Luggage, Seats…
Wizz Air Airlines allows passengers to bring up to six bags as checked-in luggage. The baggage size dimensions in L X W X H are 171 x 149 x 119 cm. There are three weight allowances for your bags so that you choose one that meets your needs conveniently. You can have a bag of 10 kg, 20 kg, and 32 kg.
There's a limited number of ways you can combine the different weight limits for checked-in bags.
Here's a brief overview of how many you can bring in each weight category:
10 kg – one bag
20 kg – six bags
32 kg – six bags
Keep in mind that you'll pay checked-in bag fees for each item you bring. You can only pay for three checked bags online; if you need more, you'll have to pay for them at the airport.
Special Luggage Allowance
Related: Turkish Airways Sizes: Luggage, Seats…
If you are traveling with items that don't automatically count as luggage, find out how you can carry them in this section.
1. Sports Equipment
Wizz Air allows you to enjoy air travel with your sports equipment at an affordable cost.
We've listed some of the common sports equipment you can transport on Wizz Air during your flight:
Ski equipment
Snowboarding equipment
Golfing equipment
Jumping poles packed in fabric sacks
Diving equipment
Bicycles
2. Musical Instruments
If you have a musical instrument, it'll have to be inside a hard case to qualify for travel in the cabin. Additionally, the recommended dimensions for the case should be 80 x 40 x 23 cm (L x W x H).
Unfortunately, the only way to bring an instrument as a carry-on item is with Wizz Priority benefits. The instrument will replace your trolley bag and sit inside the overhead cabin. You can't bring another item on board if you have a musical instrument.
Some examples of instruments that easily fit these requirements include:
violins
trumpets
clarinets
flutes
violas
ukulele
Of course, if your musical instrument doesn't adhere to the Wizzair baggage allowance, you'll need to check it in as luggage. If it still doesn't qualify as checked baggage because of its size and weight, you can book an extra seat for transporting it. When transporting an instrument on an aircraft seat, it'll have to be on the ones by the windows. You can't have it on the first row or the emergency exit row seats.
An instrument that's larger than a cello, eg. a harp or double bass, will need a "Limited Release" tag as you check it in. This tag is for items that Wizz Air won't accept liability for.
3. Cremated Remains
You are also allowed to carry ashes on Wizzair aircraft. However, you'll need a safe container to take it as your carry-on luggage. You'll need to have a certificate of cremation and a death certificate as you check in.
4. Electronic Devices
There's no issue if you want to use your electronic device on board. All you need to do is ensure it's on Flight Mode and you are good to go. However, when the plane is taking off and landing, you'll need to store large electronic devices like laptops.
If you can't use flight mode, you'll have to switch off your phone.
There are some electronic devices that you can use unrestricted during the flight such as:
Implanted medical devices
Heart pacemakers
Hearing aids
Electronic nerve stimulators
Unfortunately, you are not allowed to carry hoverboards or drones on the plane as carry-on or checked luggage.
5. Mobility Aids
If you are a passenger with a disability, you can carry or check in two pieces of mobility equipment without additional charges. This means that you won't have to pay for your wheelchair, crutches, or walking frames. Passengers with broken legs with plaster unable to bend their knees have to pay for two seats.
If you need a guide dog because of visual impairment, you are allowed to have one on the flight.
Traveling with Babies and Infants
Related: TUI Airways Sizes: Luggage, Seats…
Passengers with infants and babies afford some special privileges that make the flight more comfortable. For instance, these passengers get free priority boarding allowing them to choose seats ahead of others. They also get Security Fast Track to reduce the amount of time taken during security screening.
You also get to carry more items besides your carry-on allowance.
Check out the list below to see what you can carry for your infant:
A nappy for each hour of the flight
Baby clothes
Pacifiers
Baby wipes
Small toys
A foldable baby stroller
Luckily, you get to carry an extra bag measuring 40 x 30 x 20 cm to carry the baby's belongings. Plus, the stroller will be loaded into the plane's hold at no additional cost.
If you'd like your baby to fly in the comfort of a car seat, that can also be arranged. By paying for an extra seat at normal rates, you can take a car seat on board the aircraft. The car seat will need to have a rear-facing design to be accepted on the plane. It also needs a safety latch that can be used to secure it to the passenger seat with a seat belt.
You should know that the only place the car seat is allowed is on the window seat. It will not be installed in or around emergency exit rows. The cabin crew is not responsible for mounting the car seat in place so you'll have to do it yourself.
Learn more about Wizzair sizes in this video
Frequently Asked Questions
1. How strict is Wizz Air's carry-on size?
Your carry-on item must not exceed 40 x 30 x 20 cm. Otherwise, it won't fit under the seat in front of you.
2. Does WizzAir check baggage size?
Yes, it does. The checked bag should measure 171 x 149 x 119 cm.
3. Can you take a handbag on WizzAir?
Yes, you can. A handbag that measures 40 x 30 x 20 cm easily qualifies as a carry-on item.
4. How big are economy seats in WizzAir sizes?
WizzAir seats are 18 inches in width with a pitch of 28 inches.
5. How wide are the seats in Wizzair sizes?
The seats have a width of 18 inches.
6. How many airplanes does Wizzair have?
WIZZ Air has more than 150 airplanes in operation.
7. What is the weight limit for carry-on luggage?
Carry-on luggage shouldn't be any heavier than 10 kg.
Conclusion
WIZZ Air is among the best airlines for traveling across Europe. It offers affordable prices and a safe flying experience. There are different size and weight requirements for the luggage you can carry and our comprehensive guide can help you get them right.
If you have any questions about WIZZAir sizes, leave them in the section below.
Picture in this post is by Artur Voznenko on Unsplash
Related to Wizzair Sizes