Cooking Pot Sizes for Different Meals and by the Number of People
This post was last updated on April 2nd, 2023 at 06:42 pm
Cooking pots are an important piece of cookware that is round, flat-bottomed, and deep with two handles on the sides. They are excellent for cooking stock and soups, but you can also use them for boiling ingredients like potatoes. They can prove versatile in the kitchen and are quite useful (skip straight to the cooking pot sizes chart).
Even outdoors, you can use this cookware. If you love real cooking, you can take the pots with you on a family backpacking trip. Cooking tops are also great if you have frozen food that you can easily prepare by boiling.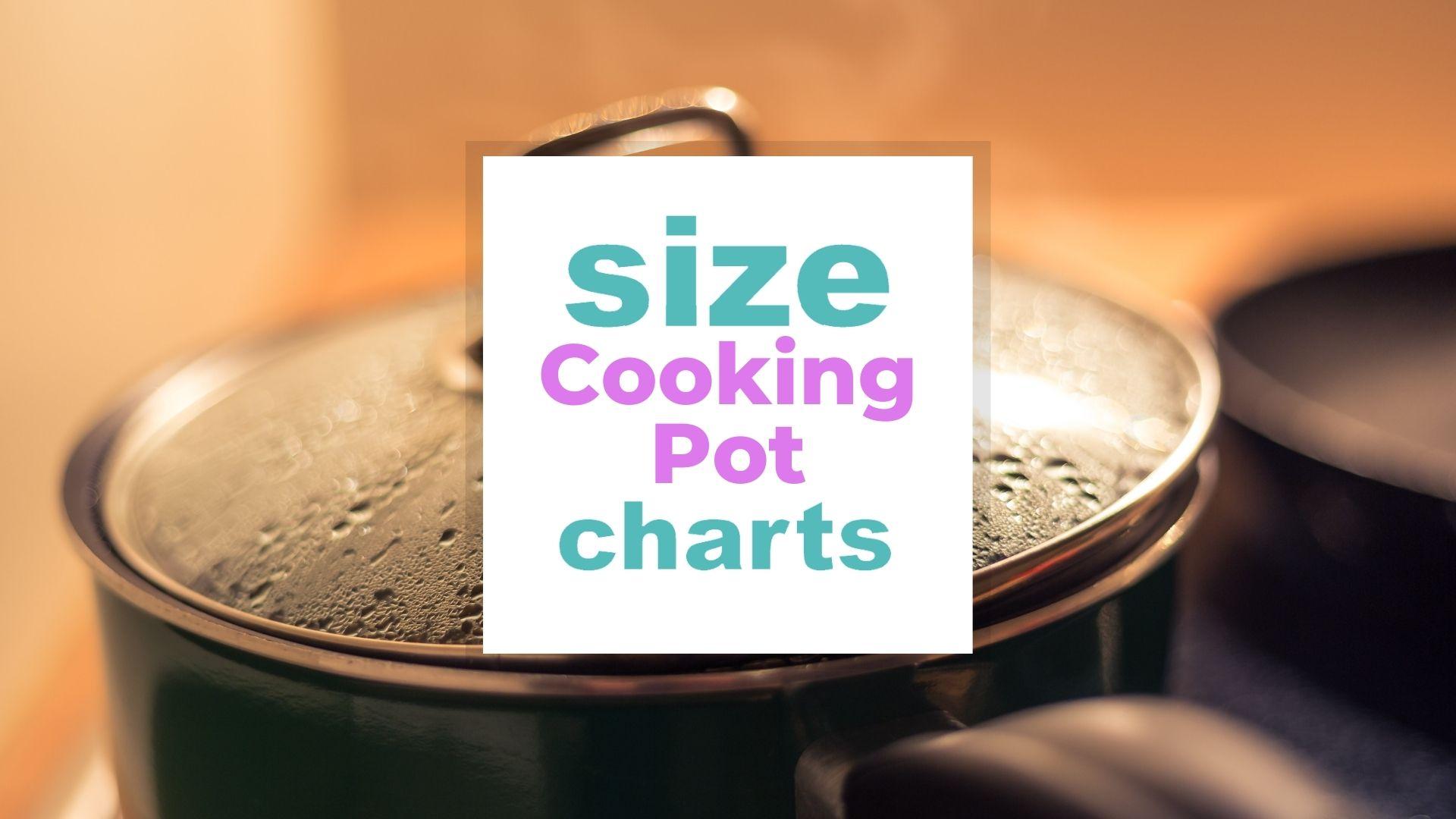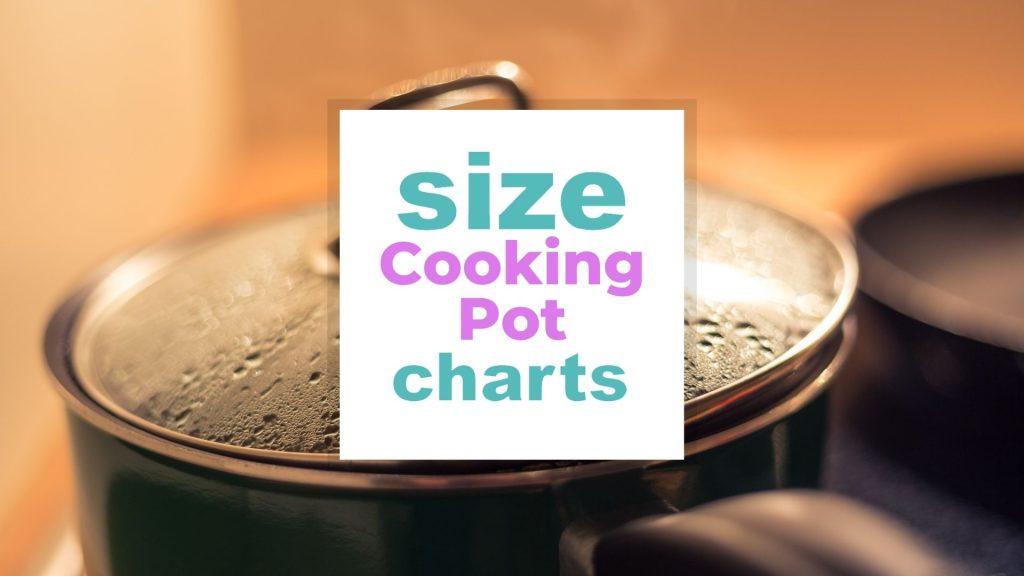 Choosing the best pot size could be the difference between preparing the right amount of food at once or cooking several batches. It's also beneficial because you'll know the cookware you need to carry when going on outdoor adventures. Luckily, we've assembled everything you need to know about cooking pot sizes in this post.
Enjoy!
Jump right into the Frequently Asked Questions
Related: McDonald's Cup Sizes Comparison, Gatorade Bottle Sizes explained by type and flavor
Cooking Pot Table of Content
Cooking Pot Size Charts
Related: Wine Bottle Sizes and Different Types
Common sizes of cooking pots
| | | |
| --- | --- | --- |
| Cook Pot Size | Diameter | Height |
| 6 Quarts | 11.25 in. (28. cm) | 4.25 in. (11.4 cm) |
| 8 Quarts | 10.5 in. (26.7 cm) | 5.5 in. (14 cm) |
| 12 Quarts | 11.25 in. (28.6 cm) | 9 in. (22.9 cm) |
| 16 Quarts | 11 in. (27.9 cm) | 10.25 in. (26 cm) |
Related: What size is a quart – easily explained by country in pints and cups
Cooking pot sizes according to servings and function
Related: Liquor bottle size by name, type and volume (with an easy size chart)
| | | |
| --- | --- | --- |
| Size | Serves | Ideal for |
| 6 quarts | 12 people | Soup, chili, stew, curry, and pasta |
| 8 qua ts | 16 people | Poultry stock and vegetable stock |
| 12 quarts | 24 people | Beef, pork, and game stock, steamed lobster, corn on the cob, and canning |
| 16 quarts | 32 people | Canning |
| 20 quarts | 40 people | Commercial kitchens, brewing beer |
| 24 quart | 48 people | Commercial kitchens |
| 32 quarts | 64 people | Commercial kitchens |
| 40 quarts | 80 people | Commercial kitchens |
How to Choose the Right Cooking Pot Size
Related: Hydro flask size chart by type, volume, and usage
There are several things t keep in mind when choosing the right cooking pot size. These include the size of your family, your cooking style, available storage space, and your budget. Let's discuss them in detail below.
1. Number of Servings
The first consideration is the size of your household or the number of people you'll be serving if you are hosting guests. It can be hard to estimate the amount of food necessary for multiple individuals if you don't have much cooking experience. As a standard, you should count 2.5 quarts for each adult and determine your required total capacity.
When cooking for a lot of people, you should take a larger cooking pot to avoid cooking smaller batches several times. On the other hand, a small cooking pot is ideal for fewer individuals. The larger cooking pots are mostly used in restaurants and catering events for larger batch cooking.
Once you determine the number of servings you need, you can find the perfect size cooking pot by checking out our size charts.
2. Storage space
Something else to think about is the amount of space you have in your kitchen. Usually, cooking pots can sit on top of your kitchen counter or inside the cabinets. So before choosing the biggest pot, you can see, you should determine if it'll fit in the available storage room.
Fortunately, some cooking pots are sold as a bundle in different sizes, which easily fit inside each other. This makes them easier to store since the size of t e largest pot will dictate the amount of space you require to store them. If the pots are for a backpacking trip, you'll need to check the easiest size to carry without hassle.
Related: Fridge Size Chart – dimensions and Buying Guide
3. Cooking Style
Your style of cooking also determines the appropriate cooking pot size. In most cases, cooking pots are ideal when you need to boil water as part of your cooking process. Since the cookware is deep and flat-bottomed, you can use it for soups, broths, and similar dishes.
To deep fry your foods, you should check out larger saucepans. Saucepans are more shallow and can help reduce the liquids in your sauce to make it thicker. When cooking food that needs to simmer for long, cook pots will get the job done.
The sides of the cooking pot should be tall enough to contain the contents without spillage. If you want to avoid a situation where soup boils over, the broth shouldn't pass 2/3 of t e pot's height. This will reduce the need for cleanups and the chances of accidental burns.
4. Price
Your budget will also affect the size of cooking pots you can buy. Larger cooking pots are naturally more expensive than their smaller counterparts. Finding the right balance of price and quality is critical wh n choosing a good cook pot size.
If an affordable price is your priority, then you should size down higher-quality cooking pots. The pricier options could offer better durability and safety features, making the cooking pots a long-term investment. Price differs among brands, so you should also compare different cookware before making your final decision.
The Best Type of Cooking Pot for You
In addition to size, other factors can make a cooking pot suitable or unsuitable for your use. They include:
1. Cooking Pot Material
A wide variety of materials are used to make cooking pots.
Stainless steel cooking pots are the most popular choice. These pots have a shiny appearance, are durable, and are easy to maintain. The surface of the pot won't react to acidic and alkaline meals you cook since it can resist corrosion. Unfortunately, these pots tend to be heavier than those made from other materials.
An anodized aluminum cooking pot offers great heat conductivity and is stronger than stainless steel. Unlike natural aluminum, it won't react to acidic foods and add a metallic taste to your meals. However, you can't use this cooking pot on an induction stovetop unless it has a stainless steel exterior.
If you want lightweight yet high-performance cooking pots that you can carry to different places, aluminum pots are the solution.
Titanium cookware has the great qualities of stainless steel but is much lighter. Heat transfers quickly from the stove to the food because titanium has maximum heat conduction.
As such, it's great for warming a freeze-dried meal on a backpacking adventure. Plus, you won't feel the extra weight in your backpacking gear compared to carrying stainless steel.
You can count on these cook pots when you want evenly cooked food or a shorter cooking time because of their even heat distribution benefits.
2. Non-Stick Surface
One of the best features to consider when choosing cooking pots is the non-stick coating. The most common type is an enamel coating which is great because it doesn't break down at high temperatures. This increases cooking efficiency even though enamel can eventually wear out and crack.
If you want an alternative to enamel, check out a ceramic non-stick pot. Ceramic non-stick coatings are great, but the material isn't the most durable.
One advantage of non-stick cooking pots is their ease of cleaning. Since food doesn't adhere to the surface, you can easily wash and wipe these pots clean.
3. Handles
When looking at handles, you want a pot that is easy to manage to reduce the chances of kitchen accidents. The handle attachment should be firm and provide a firm and comfortable place to hold the pot without feeling unstable. Some designs like foldaway handles make storing pots in cabinets easier.
Choosing a handleless design could leave you exposed to mishandling a hot pot. This could put you and your family at risk whenever someone prepares some stew.
4. Pot Sets
Some cooking pots are sold in sets rather than individual pieces. Usually, the cost of the set is a bit lower than buying the cookware one at a time. Of course, your budget will also factor into the equation, but if you can afford a set, it'll be more cost-effective than the alternative.
Learn more about how to choose the best size and type pot/pan for you (video)
Frequently Asked Questions
1. What are standard cooking pot sizes?
The common sizes are 6-quart, 8-quart, 12-quart, and 16-quart cooking pots.
2. How are cooking pot sizes measured?
Pot sizes are determined in two ways. The first is based on the capacity of food it can hold and the other on the diameter and height dimensions.
3. What is the largest cooking pot size?
Cooking pots can be as large as 40 quarts. However, the larger sizes are mostly used in commercial settings.
4. What is the smallest cooking pot size?
The smallest stock pot size is about 4 quarts.
Conclusion
Cooking pots are among the essential cookware pieces in the kitchen. Since you'll be using them regularly to prepare food for your household, it's wise to understand the different sizes available. Now that you know the common cooking pot sizes, you can choose one that meets your expectations.
If you have questions about cooking pot sizes, let us know in the comment section below.
Picture in this post is by Cooker King on Unsplash
Related to Cooking Pot Sizes