Prada Sunglasses Size and Fitting Guide
This post was last updated on March 30th, 2023 at 07:49 am
Prada is a luxury brand that rose to fame in the 18th century. She entered the eyewear industry in 1999 and quickly became one of the favorite designer brands of several icons of style (skip straight to the Prada Sunglasses Size Chart).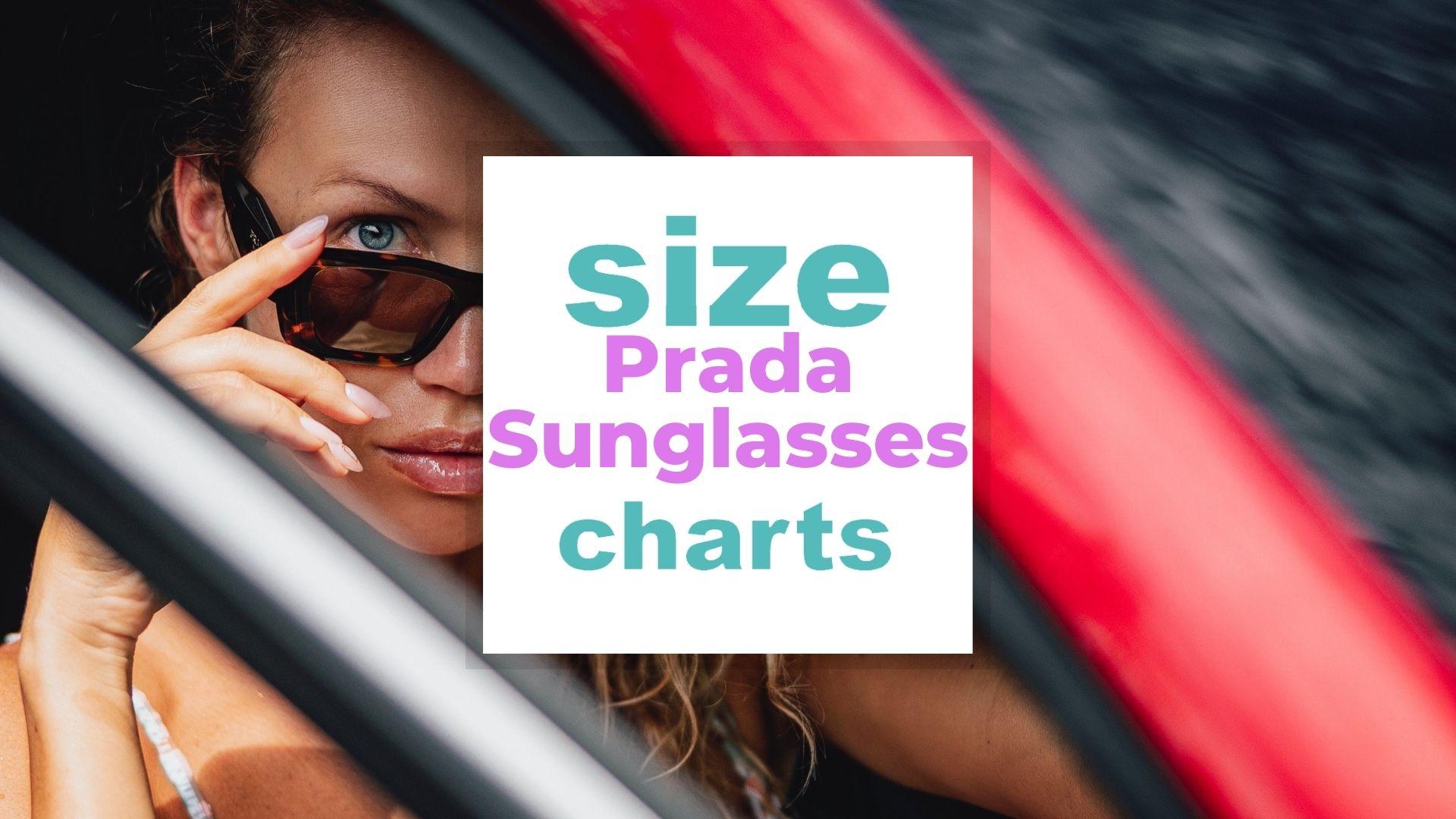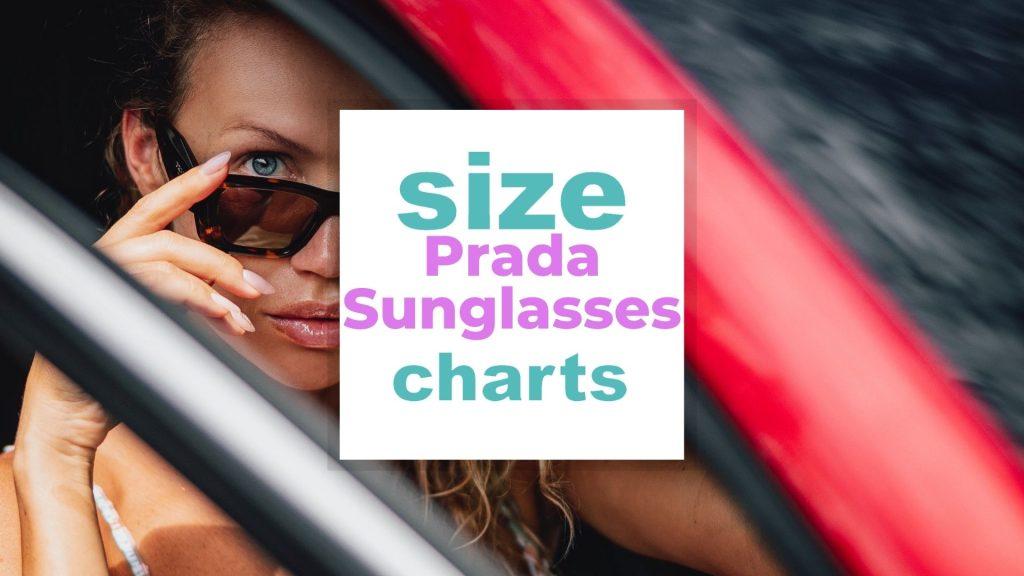 Prada has always tried to maintain a size fit all notion for all their sunglasses. This means that Prada has always focused more on different ways to make sophisticated and self-assured glasses. Among Prada's approaches is its wide options in frames. From oversized cat-eye frames to optical frames, from the hypoallergenic frame shape to the rectangular metal frame with an adjustable nose bridge. Prada is an expert on frames.
Prada has always focused on style and technology and has always tried to maintain the same size and weight.
Jump right into Frequently Asked Questions
Related: Sunglasses Size for Kids and adults, with frame – lens – bridge sizes, Wayfarer Sunglasses Size Chart, Carrera Sunglasses Size and Fitting Guide
Table of Content Prada Shades sizes
Prada Sunglasses Size Chart
Related: Eyeglass Frame Size Chart And Buying Guide
Despite Prada's attempt to maintain the same size for all popular frame types, a few keen people have found a slight difference between Prada's attention-grabbing frame styles. The difference between the sunglasses with framed lenses and those with unframed lenses (rimless lenses) is easier to notice. The difference is only in the lens width
| | |
| --- | --- |
| Noticed Size | Lens Width (mm) |
| Small | 49 – 55 |
| Large | 56 – 62 |
How To Measure Yourself For Prada Sunglasses
Related: Ray-Ban Aviator Size Guide , Carrera Sunglasses Size and Fitting Guide for men & women
Since there are only two sizes for Prada eyewear, you can easily know your size by using your credit card or debit card. What's more, the Prada sunglasses size difference is not so far apart. Try the steps below:
1. Stand in front of a mirror, close enough to see the edge of your eye.
2. Hold up the shorter side of your credit card right under your eye, and touch the side of your nose.
3. Check the mirror to see which is longer, your eye, or the shorter edge of your credit card.
If your eye is longer, try to buy the larger size. But if the credit card is longer or the same as your eye, then the smaller size is enough for you. 
The size description of Prada sunglasses has been designed to be comfortable on any face. This means that Prada's butterfly sunglasses will fit the same face as Prada's bar aviator sunglasses. All that remains apart from sizing fit is to look cool while wearing it.
Review of TOP 5 Prada Sunglasses for Women (video)
Review of TOP 5 Prada Sunglasses for MEN (video)
Related: Prada Shoes Size Chart and Fitting, Adidas x Prada Luna Rossa 21 Size Chart and Fitting
How do I check if my Prada sunglasses are authentic?
Authentic Prada sunglasses have a model number written inside the left temple. The model number starts with either an 'S' or 'V', showing that the product is either a part of the sunglass or vision eyewear collection. This is then followed by 'PR' (the PR stands for Prada) and a short 2-3 digit combination of numbers and/or letters. 
Apart from the model number, there is also the serial number. It is more difficult to see, but a small inscription is written inside the right lens's upper parts. This small writing is the serial number, and you must look very carefully.
Lastly, if the particular model you bought is polarized and you want to check to see if it truly is polarized, then just put it on. Put it on and stare straight at a reflection of light, maybe a glass panel or a mirror. Tilt your head from side to side, remember, tilt, not turn. As you gradually tilt your head side to side, the reflection should become dimmer at some angles. 
Learn more about how to check if your Prada sunglasses are authentic (video)
Frequently Asked Questions
Do all Prada sunglasses have serial numbers?
Prada just started putting serial numbers on their designer eyeglasses. The newer models have the serial number on the right lens and the Prada logo on the left.
What's the most famous Prada sunglasses model?
Currently, the most famous Prada sunglasses models are both from the Conceptual lineup. The PR 20US CONCEPTUAL and the Prada PR 18US CONCEPTUAL are the two most famous models. These models have a regular eye size of 53mm and a frame size of 140mm.
What are the most expensive Prada sunglasses?
Prices could get ridiculous when you are up and about with custom options, but the most expensive and readily available model is the Prada Linea Rossa. The Prada Symbole Blue Light closely follows this. The Linea Rossa has a regular eye size of 59mm while the Symbole Blue Light has a regular eye size of 53mm.
How many different sizes are there?
Prada refers to their glasses as one size, however, it is easy to pick out two different sizes. The different lens sizes are easier to detect when comparing framed lenses with rimless lenses. 
What is the most common size for Prada sunglasses?
The most common size is the width that comes with a typically framed lens. This is the lens size of 49 – 55mm.
Conclusion
Every Prada is an excellent pair of shades. This is the exact reason you must ensure that you purchased the right product that doesn't need an authenticity check. Purchase only from trusted outlets where there is little chance of buying a counterfeit product. If you purchase from large online stores like Amazon and AliExpress, make sure that the seller is legit. 
Whether you purchase square sunglasses with a chunky frame or something like the retro flat top aviator sunglasses, there is a high chance that your new pair of glasses will be perfectly your physical size.
Before you leave, please share the article and help a fellow Prada find some pride in their Prada. 
Picture in this post is by SunglassHut
Related to Sunglasses Size Chart