Carrera Sunglasses Size and Fitting Guide for Men & Women
This post was last updated on March 27th, 2023 at 07:50 pm
Like any designer glasses, the Carrera sunglasses size you choose would make or break your outfit. Generally, there are 3 sizes in the Carrera collection if measured by lens width: Small, medium, and big. These sizes range from 40mm to 60+mm. Notwithstanding the exceptional quality of Carrera products, selecting a sunglass size that doesn't work with your facial type or outfit would hurt your appearance and how people perceive you.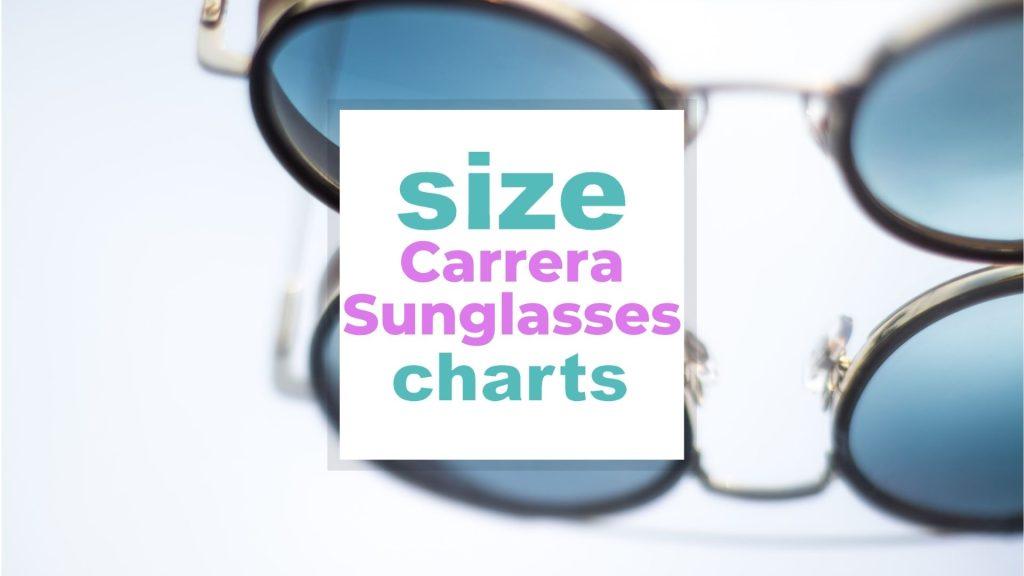 Carrera is one of the most recognized sunglasses brands worldwide. It is renowned for its exceptional combination of design, style, and function, with over 20 different designs in its eyewear collection.
Each design features a unique frame shape and lens size that appeal to the taste of millions of customers across the globe. Besides, Carrera has gone to a great length to provide a wide variety of lens sizes and frame dimensions for each sunglasses design in their collection.
This guide and the size chart provide the guidance you need If you find it difficult to select your perfect sunglasses.
Jump right into Frequently Asked Questions
Related: Sunglasses Size for Kids and adults, with frame – lens – bridge sizes, Wayfarer Sunglasses Size Chart
Carrer Sunglasses sizing table of content
Carrera Sunglasses Size Chart and Guide
Related: Eyeglass Frame Size Chart And Buying Guide
The table below presents a detailed overview of the most popular Carrera sunglasses in size and shape. This chart makes it easy for you to identify the sizes available in each design.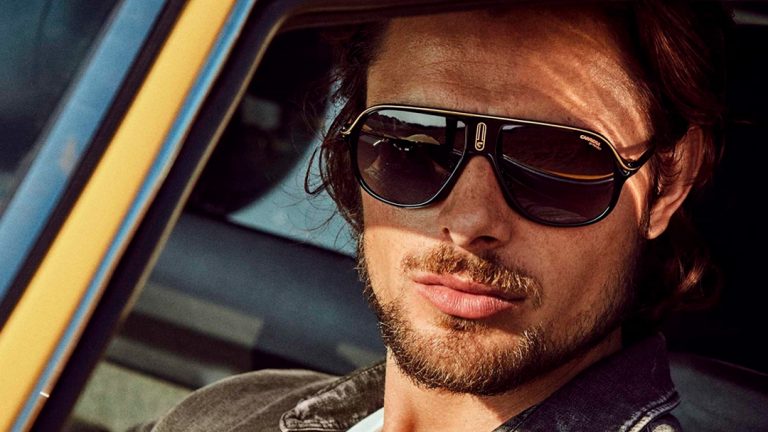 Carrera Lens Width (in mm)
| | | | |
| --- | --- | --- | --- |
| Sunglass Frame Shape | Small Size | Medium Size | Large Size |
| Aviator | 45-55 | 56-61 | 62+ |
| Wayfarer | 45-49 | 50-53 | 54+ |
| Clubmaster | 45-49 | 50-53 | 54+ |
| Butterfly | 45-49 | 50-53 | 54+ |
| Cat-eye | 45-50 | 51-56 | 56+ |
| Oval | 45-53 | 54-59 | 60+ |
| Oversized | 45-53 | 53-58 | 59+ |
| Rectangle | 45-55 | 56-61 | 62+ |
| Regular | 45-55 | 56-60 | 60+ |
| Round | 40-48 | 49-54 | 55+ |
| Shield | 40-58 | 58-65 | 65+ |
| Sports | one-size | one-size | one-size |
| Square | 45-52 | 53-58 | 59+ |
| Swimming | one-size | one-size | one-size |
Tips on picking the right Carrera Sunglasses Size
Related: Ray-Ban Aviator Size Guide
Other tips can help you find the perfect size that complements your face shape. This tip ranges from the relationship between your face and the frame to choosing the right frame shape. Here are some ##tips## to bear in mind
1) Round frames work best with square faces. They make you look quite softer than wearing angled glasses.
2) Rectangular frames are the most popular frame types for people who have a round face. It helps balance your soft look with sharp sunglasses. 
3) People with a Long face should opt for pair of sunglasses that breaks up their look. Going for glasses with extended frames will emphasize the long face. 
4) A wider forehead and slimmer chin work best with rectangular frames with a smaller lens. 
Learn more about different Carrera Sunglasses Designs (video)
Frequently Asked Questions
How to Choose the Right Carrera Sunglasses Size
There are several steps you can take when you are trying to figure out your perfect Carrera sunglasses size. However, below is an easy-to-follow procedure that you can use even in your room to determine the best size. After measuring at home, you can then proceed to the size chart above to know the sizes that work best for you.
How to know your ideal Carrera sunglasses size at home
You need a ruler to carry out the step below.  A tape measure or tape rule would also do.
Bridge Length
The first measurement to take is the bridge length. Look in the mirror and take the distance from the start of the nose bridge to the end. Try as much as possible to be accurate. Usually, this length is between 16mm-23mm in most cases. It can be more or less. 
Temple size
The second is to measure from one temple to another. Place the ruler across your face in front of the mirror. Note the value of this measurement. Once you have this number, Subtract the value of the bridge. The resulting number will give you the value of the two lenses. Divide this number by two to get the approximate lens width. 
Use the value of the lens width to determine the ideal Carrera Sunglasses size from the chart provided above. 
Arm length of the sunglasses
The final step is deciding the glasses' arm length that's ideal for you. In most cases, the arm length is usually optimized and mass-produced along with the pair of frames. You can simply try it on before buying to see the one that fits. 
The difficulty of deciding is figuring out your ideal bridge length and lens width. Once you have these two correct, the arm length is often sightly related to the temple length, usually by 15-20mm. You can always decide what works best by just trying it on. 
How many different Carrera sunglasses models are there?
There are over 77 different Carrera sunglasses available in the Carrera product line. However, the product design and frames come in approximately 15-20 different designs.
How many different Carrera sunglasses size are there?
There are 3 sizes in the Carrera collection if measured by lens width: Small, medium, and big. These sizes range from 40mm to 60+mm.
What's the most famous Carrera sunglasses model?
Carrera Hot Aviator Sunglasses is one of the most famous models of Carrera, especially the Carrera aviator-style sunglasses – Silver color. It has thousands of reviews on Amazon making it one of the company's best-selling models on Amazon. It is loved for its minimalist design of the Classic Aviator Glasses. Aviator glasses can be considered Carrera's most popular sunglass model.
What is the most common Carrera sunglasses size?
The medium and big Carrera Sunglasses sizes are the most common because the Carrera brand is more popular with men than women. 
What is the biggest Carrera sunglasses size?
The biggest Carrera sunglasses by lens size is 62+mm, the widest lens size. 
Who wears Carrera sunglasses?
Carrera sunglasses are ideal for every fashion-conscious customer: male and female. It is a unisex adult fashion accessory perfect for any gender and age group. It is well designed with a wide range of sizes and designs—some with eye-catching reflective lenses that are perfect for women. Anyone with any face shape would find perfect Carrera Sunglasses that fit their looks. 
Conclusion
You can rest assured that when you find the Carrera sunglasses that fit, you are guaranteed all-day comfort. There is no magic formula to finding the perfect Carrera Sunglasses size for you. You just need to have an idea that makes your search less strenuous and this is what we have done in this guide.
If you are still facing difficulties and you need further help with making a choice, drop your concerns in the comment below. And if you need clarification on any question, also feel free to as in the comment.
Plus, share this article with as many fashionistas as they would love to learn how to pick the perfect sunglasses for their next outing. They will definitely be glad you did.
Picture in this post is by Brian Tromp on Unsplash
Related to Carrera Sunglasses Size