Persol Sunglasses Size and Fitting Guide for Men and Women
This post was last updated on March 29th, 2023 at 10:56 am
Persol sizing for sunglasses is meant for adults or at least a person with an adult-sized face. The standard Persol size is a medium with 49-55mm lens and a 118-130mm frame width. Persol is a manufacturer of casual sunglasses with a history in pilot sunglasses (skip straight to the Persol Sunglasses Size Chart).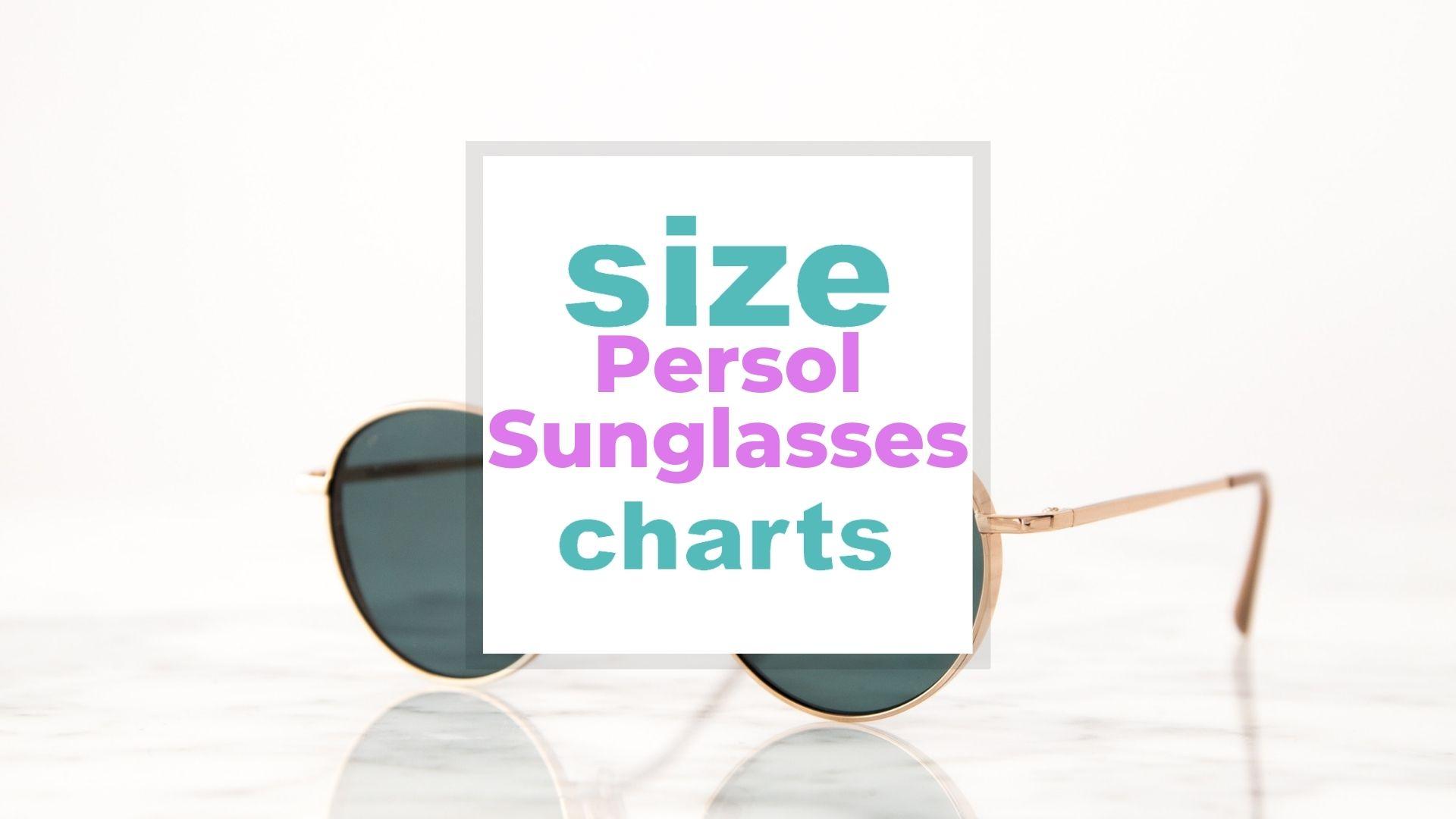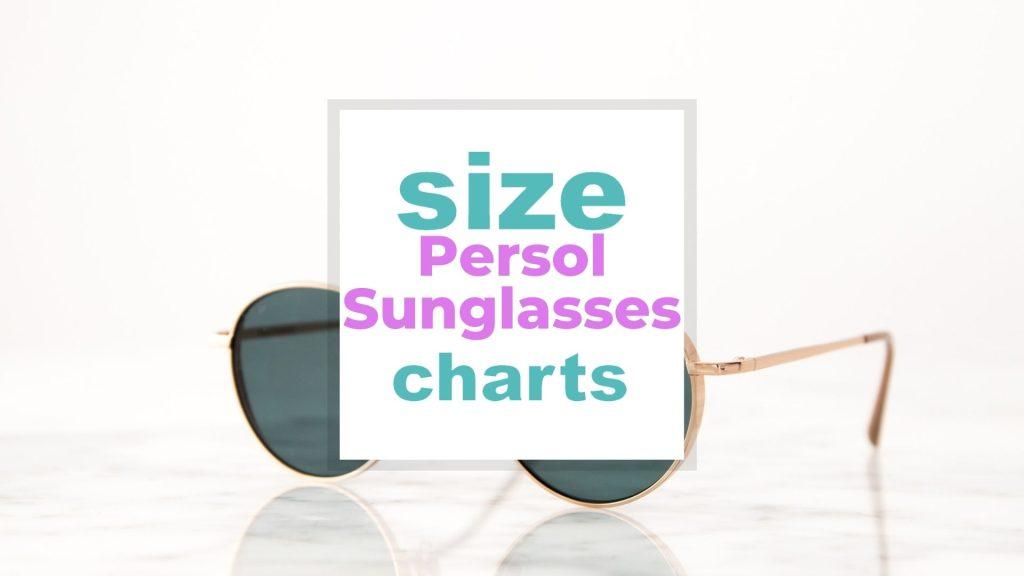 They have all the commonplace technology such as polarized lenses, clear-cut crystal lenses, acetate sunglasses, colored lenses, and unobscured peripheral vision. But what really makes Persol stand out is their ingenious chic design.
The irresistible appeal of their gorgeous style and their culture of excellence drives many eyewear enthusiasts to have a sunglasses style preference that Persol offers. We can refer to them as the experts of folding sunglasses. They use a double bridge acetate design to give any of their models a flexible stem design with foldable hinges at the nose bridge. If you ever see a person fold their shades, there is a high chance they are wearing a Persol.
Jump right into Frequently Asked Questions
Related: Sunglasses Size for Kids and adults, with frame – lens – bridge sizes, Wayfarer Sunglasses Size Chart, Carrera Sunglasses Size and Fitting Guide, Prada Sunglasses Size and Fitting Guide, Oakley Sunglasses Size and Fitting Guide
Summary
Persol Sunglasses Size Chart
Related: Eyeglass Frame Size Chart And Buying Guide
Persol size 49 to size 54 is considered regular size. Persol size 42 to 50 is small and Persol's big size begins at 55mm. To know the size of any Persol, just check the inside of the left temple. A dash separates three numbers. The three numbers are respectively lens size – bridge width -temple size. If there are only two, then the temple size is not included.
| | | |
| --- | --- | --- |
| Persol Sunglasses Size | Lens (mm) | The frame (mm) |
| Small | 40 – 48 | 95 – 115 |
| Medium | 49 – 55 | 118 – 130 |
| Large | 55 – 60 | 131 – 145 |
| Extra Large | 60+ | 148 – 160 |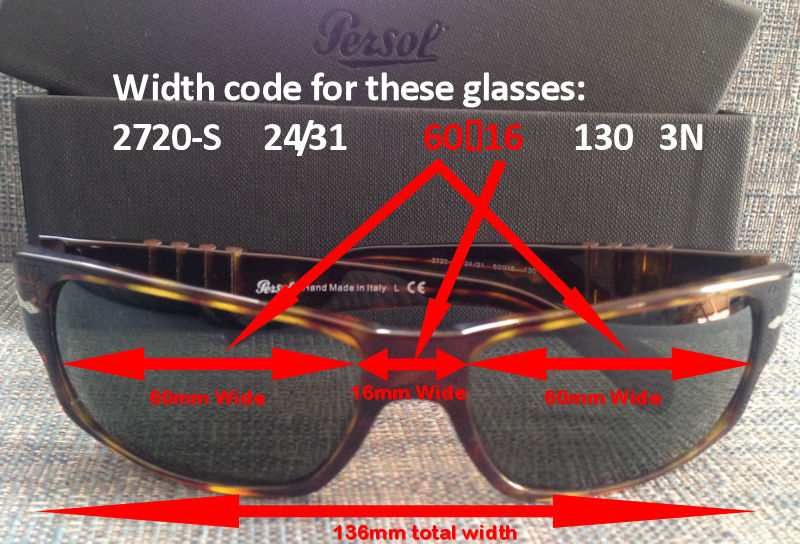 What's the most famous Persol sunglasses model?
Related: Ray-Ban Aviator Size Guide
Two models are competing for this position. If we consider popularity via a breakdown by star ratings of customers, then the most famous model has been a favorite model for some time now.
The Persol 649. This model became famous because it was worn in the movie "Divorce Italian Style".
Model 649 has now become an honored timeless design on which many other designs are based. There is a wide range of frames and lenses for the model and it remains one the bestsellers for men worldwide. The other famous Persol is the one worn by Steve McQueen, the Persol 714.
Learn more about different Persol sunglasses models (video)
How do I know authentic Persol sunglasses?
On the frame at the temple hinges will be the Persol arrow. A metallic design that is flat to the frame and cleans at the edges. Then there is the word "Persol" written in the top corner of the right lens. Then we have the final deal breakers inside the two temples.
The inside of the right time has the Persol logo, followed by 'Hand Made in Italy' and followed by the letters 'CE'. The inside of the left temple has the model code which is 3 or 4 numbers followed by a letter, this side also has the size written on it.
Learn more about how to check if Persol sunglasses are authentic (video)
Frequently Asked Questions
How many different Persol sunglasses sizes are there?
Three sizes are considered during production. Small frame size is made for those adults with smaller eyes (40-49mm). These narrower lenses are most common among young and growing individuals such as teenagers. Then we have the medium size eye lenses (50-55mm). This is the primary size meant for the vast majority of adults, about 89% of Persol wearers fall in this category. Finally, we have the large wider lenses (above 55mm) designed for those who need or want glasses with wider lenses.
What is the most common size?
The standard size of Persol's regular sunglasses commonly has the frame size that is right in the middle of the lineup. With a lens size of 50 to 55mm, about 90% of Persol's customers wear this size range.
Apart from the regular pair of sunglasses, some ambassadorial models are launched in collaboration with a different movie star every decade.
These have a specific size. The models of this decade are the "El Professor" and the "Professor Sergio" models, marketed in collaboration with the show "El Casa de Papel".
What is the biggest Persol size?
The biggest Persol sunglasses have a lens size bigger than 55mm, and some models' largest variants go to as high as 64mm.
Who wears Persol sunglasses?
The description of sunglasses by Persol is focused on design elements for people whose eyes need to survive the rush of wind and sudden changes in brightness. They are ideal for race drivers, pilots, and tram drivers. Persol is the eyewear of choice among several icons of style, and their pilot sunglasses have become popular among iconic models such as Ryan Gosling, Steve McQueen, Paul Newman, Cary Grant, Daniel Craig, Ryan Gosling, Leo DiCaprio, and Julia Roberts.
Conclusion
Persol has a returns policy that allows customers to return eligible items such as glasses that don't fit or meet any other requirements. As long as there is no noticeable difference in the package, they will accept it and refund your money or change the product. The problem here is that most of the time you will be buying from third-party sellers. These ones may not be very interested in returning or swapping.
Nothing is better than getting the right size to begin with. Unless you have measured yourself before or you are aware that your eyewear is smaller than or bigger than average, we can tell you that you will be fine with the standard size of Persol.
Picture in this post is by Howard Bouchevereau on Unsplash
Related to Persol Sunglasses Size