Pickleball Court Size Dimensions by Type in Foot and Meters
This post was last updated on September 4th, 2023 at 09:01 pm
Pickleball is a fun game that is played for recreational purposes or on an athletic level. The Pickleball Coirt size is smaller than a regular tennis court or Padel court. It is one of those competitive backyard games that increasingly gaining popularity at recreational centers and every country club (skip straight to the Size Chart For A Pickleball Court).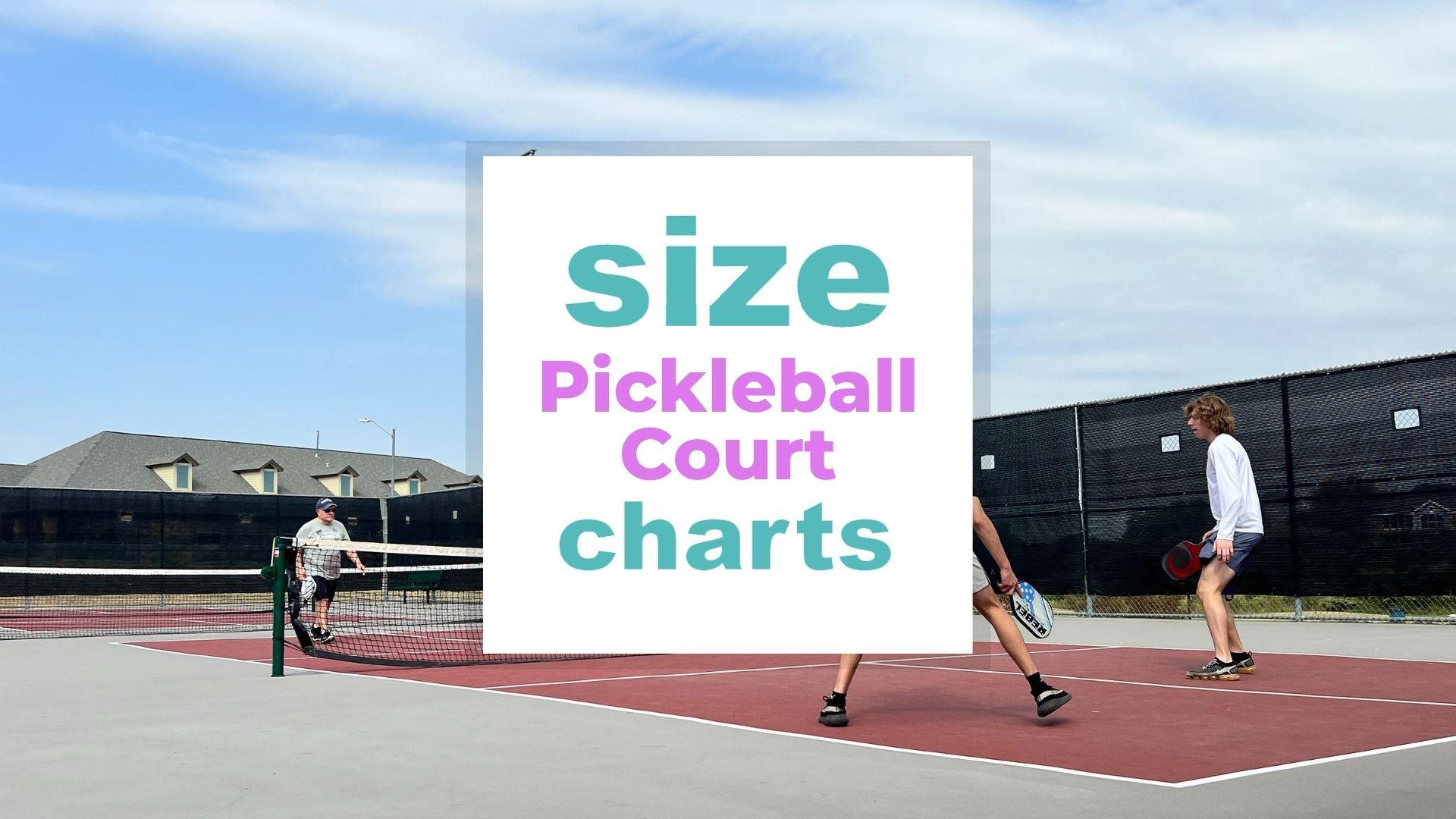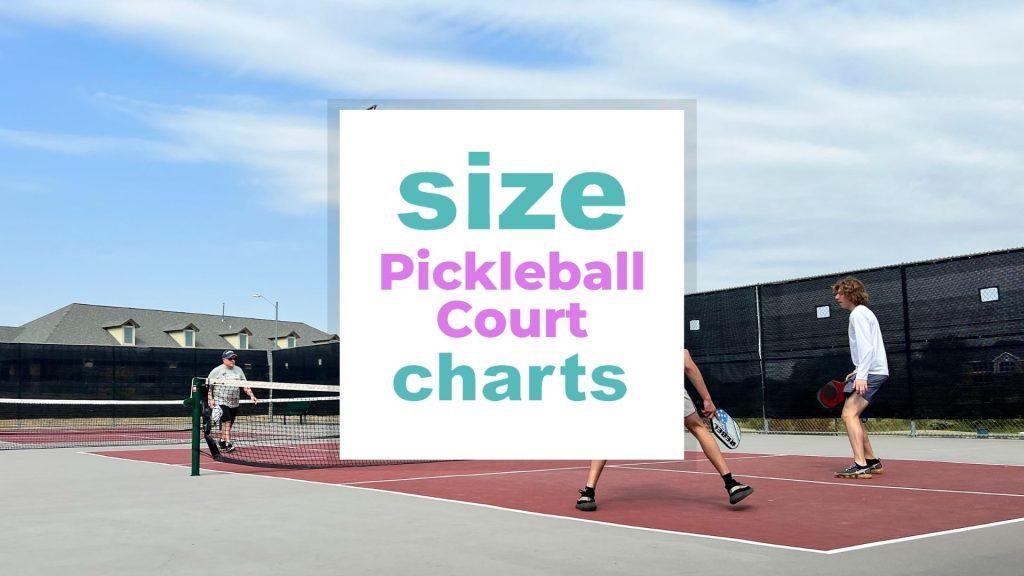 Outdoor pickleball courts are the best option for playing permanent pickleball and are preferred by every pickleball tournament. Any pickleball club will have a personalized pickleball court combo that might appear odd to beginner pickleball players and throw off pickleball pros for a moment or two.
Skip straight to the Frequently Asked Questions
Related: Paintball Gun size – guns, gear and caliber size chart, Kayak Paddle Size by type and height (size charts included), Pool Table Size Chart And Sizing Guide, Peloton Bike Size and Dimensions guide, Cornhole Board Size and dimensions guide
Pickleball court Dimensions table of content
Related Court dimensions:
Size Chart For A Pickleball Court
Related: Dart Board size – dimension and distance, Ping Pong Table size and dimensions: a complete guide, Snowboard Size Chart – Guide To Choosing A Snowboard
| | | | |
| --- | --- | --- | --- |
|   | Standard  | Mini | Portable |
| Length (Ft) | 64 | 60 | 44 |
| Width (Ft) | 40 | 30 | 20 |
| Area (Ft²) | 2560 | 1800 | 880 |
| Length (m) | 19.51 | 18.29 | 13.41 |
| Width (m) | 12.19 | 9.14 | 6.10 |
| Area (m²) | 237.8 | 167.2 | 81.8 |
Related: Padel Court size – a full guide in padel court dimensions, Badminton Court Size and dimensions guide, Basketball Court Size and dimensions guide, Volleyball Court Size and dimensions guide
Learn more about Pickleball Court Layout and size (video)
Frequently Asked Questions
What is the minimum size for a pickleball court?
You can build a temporary or portable pickleball court to any size as long as you maintain the ratio of the various lengths. However the least minimum size requirements that allow smooth and valid gameplay is a space that is 20′ wide (6.10 m) and 44′ long (13.41 m) inclusive of the court lines.
How big is the pickleball court compared to tennis court?
When given all its space measurements, the standard pickleball court dimensions is about 90% the size of a standard tennis court. However, if comparing the minimum playing surface, you can create two pickleball courts out of one tennis court. The net at the center strap of the tennis court will be the split between the two pickleball lines of both courts. It must be noted, however, that when multiple pickleball courts touch each other, there won't be enough space between them to use them both simultaneously.
How big should a pickleball court be?
The pickleball court measurements for playing normal pickleball are about the same size as a doubles badminton court and measures 44 feet long (inclusive of lines) and 20 feet wide (inclusive of lines). The net height is 36 inches high on the sidelines and 34 inches in the middle.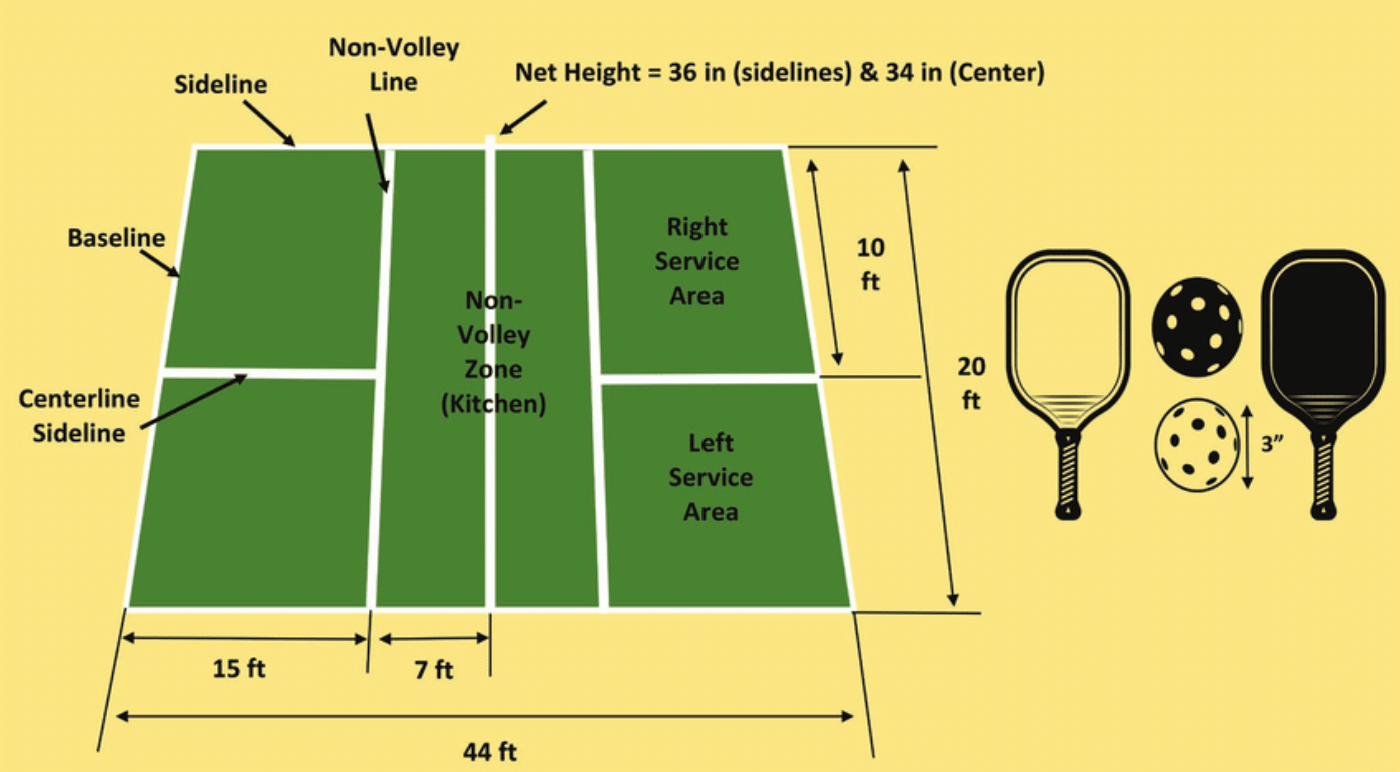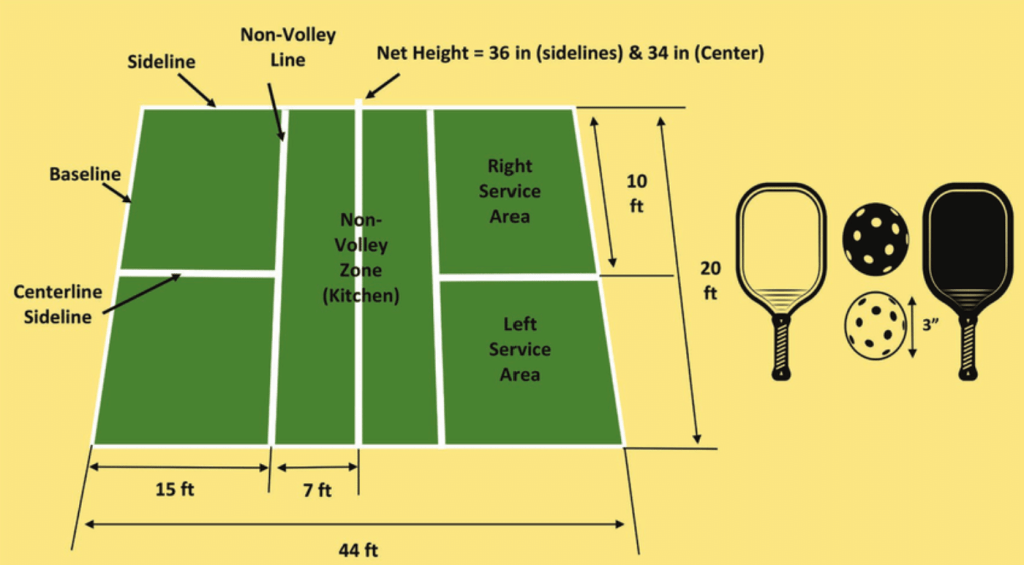 How can I build a pickleball court?
Commercial pickleball court construction especially for a recreation center focuses on outdoor courts. Construction materials for pickleball include a few casual games space permits, rust resistant materials for the different types of pickleball poles such as the high watt light poles, mesh fabric materials for the enclosure, and sidewalk chalk for drawing the lines for pickleball gameplay, these lines include center lines and edge demarcations.
One other important thing for the court is the floor. Wood floor surface materials are best used indoors where it is safe from the weather. Preferred pickleball flooring for outdoor courts is something made of a tough composite material such as a concrete surface.
To serve as a finish for an outdoor court surface, pickleball court tiles are made of a concrete base material. If everything so far sound too cumbersome for you, just call one of the many companies that construct these courts for a fee, shop the essential equipment that you need and kick back and relax
How much does it cost to build a pickleball court?
Depending on your location and choice of materials, it costs between $15 to $40 per square foot. This means around $45,000 for a 30′ x 60′ pickleball court. While additional upkeep can cost anywhere between 1,000 US dollars to 20,000 US dollars per year.
What is the smallest pickleball court?
A tiny official pickleball court can be created in almost any space. This is the size for portable pickleball and according to pickleball guidelines must be at least 20 feet by 44 feet (6.1 meters by 13.4 meters).
What is the size of a mini pickleball court?
By pickleball standards, a mini court is 30 feet wide and 60 feet long, and has a total playing area of 1800 square feet. This translates into being 9.1 meters wide and 18.3 meters long to give a playing area of about 238 square meters.
How much space do you need around a pickleball court? 
Non-volley zone refers to the part of the court in which the player can NOT serve or volley. It is properly marked on either sides of the net. To avoid a clumsy game and increase security for players you need to consider additional space.
The adequate space you need around the pickleball court lines and in-between any two courts is 10 feet (3.1 meters) clear around all boundaries. The non-volley line is as far as 7 feet from the edges of the net downwards the entire court.
Conclusion
Multi-court pickleball is common to watch wherever players are playing singles pickleball. A portable court is the smallest in dimensions and is supposed to be something like a tent. It is meant to be a construction that you put up yourself and later dismantle when you are done and keep somewhere safe.
If you can make the investigation, there is nothing better than building at least a mini court somewhere safe and secure. If you decide not to construct it yourself or never intend to build one, you can always eyeball the sizes if you ever need to play and there is no pickleball court around.
Now is also a good time to mention that a Pickleball to Tennis court combo actually exists. Wherever you see a tennis court, stand on one side of the net and divide this one side into two equal halves. This will give you a rough makeshift pickleball court.
We wish you a fun time as you go "pickleballing". It will be very sportsmanlike if you leave a comment or two and share the article with a fellow pickleball player.
Picture in this post is by Joan Azeka on Unsplash
Related to Hobby-related Charts