Fuzzy Bunz Diaper Size Chart
This post was last updated on September 3rd, 2023 at 01:01 pm
What is Fuzzy Bunz? Fuzzy Bunz is a simple, affordable, and eco-friendly method to diaper your kid, and they can be bought on Amazon. These one-size diapers are made to be trimmed, dry your baby's bottom, allow for different degrees of absorbency throughout the day and at night, and are easy to clean (skip straight to the Fuzzy Bunz Diaper Size Charts).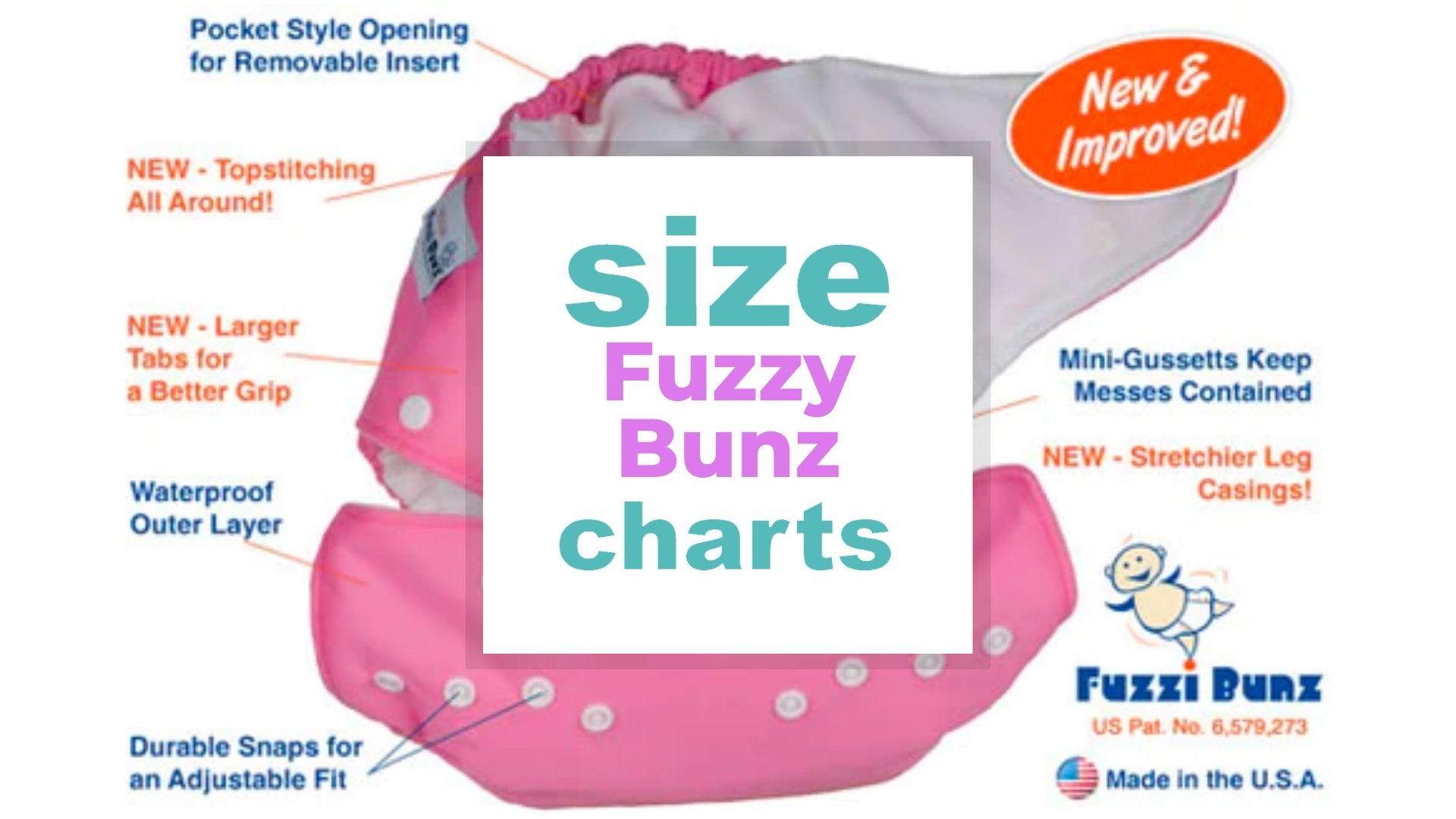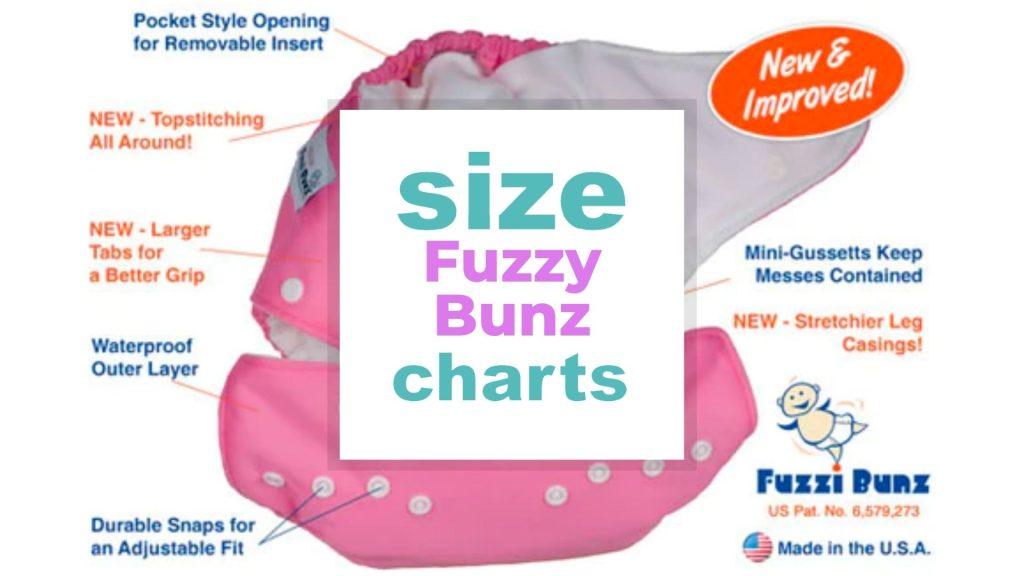 They are pocket diapers, which allow you to place the absorbent insert in the pocket that exists between the stay-dry fleece lining and the waterproof shell(s). The inserts absorb the moisture that seeps through the fleece layer. Furthermore, this two-part system keeps your baby's bottom dry while allowing quick and simple drying and adjustable absorbency.
Jump right into the Frequently Asked Questions
Table of Content of Fuzzy Bunz Sizing
Is It True That Fuzzy Bunz Diaper Size is One Size Fits All?
Related: Pampers Size Chart for all ages by type (size charts included)
The newborn inserts with Fuzzy Bunz are utilized as overnight soaker pads as soon as the infant outgrows the newborn adjustments.
Today's market is flooded with cloth diaper companies selling One Size diapers. Most of them are made to suit kids from the moment they're born until they can use the bathroom independently. However, this design has drawbacks. To start with, the fabric quality of the diaper must be such that it will comfortably suit the larger end of the spectrum to make a diaper that fits such a broad weight, size, and age range.
However, the bulkiness of One Size diapers is an issue for many users, both practically and aesthetically. It seems unlikely that a small newborn infant wearing a diaper that might fit a 40-pound kid would be able to keep his or her legs together. The extra fabric will have a ballooning effect that can cause the baby's hips and waist not to lie flat (which will be much of the time). Together, these elements risk misaligning the infant's developing body and causing overall pain.
Fuzzy Bunz Diaper Size Charts
Related: Huggies Size Chart for all ages by type (size charts included), Diaper size by kids age with easy to use size charts and tips
| | | | | | | |
| --- | --- | --- | --- | --- | --- | --- |
| Size | XS | Small | Medium | Large | Petite | XL |
| Weight | 4 – 12 lbs 1.8 – 5.4 kgs | 7 – 18 lbs 3.2 – 8.2 kgs | 15 – 30 lbs 6.8 – 13.6 kgs | 25 – 45+ lbs 11.3 – 20.4+ kgs | 20 – 30 lbs 9.1 – 13.6 kgs | 45+ lbs 20.4+ kgs |
| Average Build | | 7 – 18 lbs 3.2 – 8.2 kgs | 15 – 32 lbs 6.8 – 14.5 kgs | 30 – 45 lbs 13.6 – 20.4 kgs | | |
| Larger Build | | 7 – 16 lbs 3.2 – 7.3 kgs | 12 – 30 lbs 5.4 – 13.6 kgs | 25 – 45 lbs 11.3 – 20.4 kgs | | |
| Baby's Age | Pre – 4 months | 0 – 8 months | 6 – 36 months | 12+ months | 12+ months | 2+ years |
| Thigh | 4 – 6 in | 5 – 10 | 9 – 13 in | 12 – 16 in | 9 – 12 in | 15 – 18 in |
| Rise | 12 in | 13 in | 15 in | 16 in | 16 in | 18 in |
Cotton Babies Fuzzy Bunz Diaper Chart
| | | | | |
| --- | --- | --- | --- | --- |
| Size | XSmall | Small | Medium | Large |
| Weight | 4-12lb | 7-18lb | 15-30lb | 25-45+ lb |
| Age | Preemie | 0-8 mo | 6-36+ mo | 12+ mo |
Advantages of Fuzzy Bunz Diaper One-Size Pocket
Related: Graco Infant Car Seat Size and How to Install It, Pampers Size Chart for all ages by type (size charts included), Shoe size for Babies and Toddlers
Adjustable
You may adjust the Fuzzy Bunz One Size to accommodate newborns weighing 7 and 35 pounds. It has a waist casing that can modify with buttons and leg casings. In addition to the many different snap settings you may choose from, the leg casings can be adjusted to 8 or more button settings, and the waist can be adjusted to 4 or more button settings. Never before has a cloth diaper been able to be adjusted in such a wide range of sizes.
Snug-Fitting
The high level of adjustability ensures that you will always have a good fit. There will be no uncomfortable diaper fits here!
Snaps
The usage of sturdy snap closures may be expected to last for more than three years!
Replaceable Elastic
If the button-adjusted elastic gets worn out for any reason, it can be readily changed in less than five minutes and without the need for any stitching!
Colorful
Your child will be the envy of his or her playgroup if you dress him or her in the trendiest diapers in the neighborhood. Available in a dazzling array of the season's hottest hues!
Dependable
Because they do not leak when properly cared for, these diapers are one of the most trustworthy one-size cloth diapers that have ever been developed.
Trusted
Did you know that one of the earliest contemporary diapers was a product called Fuzzy Bunz? They established their business in 1999, and ever since then. They have been rising from strength to strength. You may have faith that they will continue to support their products, including their warranties and diapers, for a very long time.
About the Adjustments and Durability of One Size
Related: Britax car seat size chart by model, weight and age, Baby Strollers Size and Different Models by weight, Britax Strollers Size Guide and Different Models
Adjustments
Because the Fuzzy Bunz One Size method is not the same as your typical one-size diaper, many parents are perplexed by it. Fuzzy Bunz is unlike any diaper since you can adjust it in three different ways. The following is how these one-size diapers can be adjusted:
Casings for the legs that can be altered with buttons: You may customize the fit of these One Size diapers by using the elastic buttonhole modifications to size the diapers up or down. There are over eight different options for adjusting the leg casings.
The waist of the Fuzzy Bunz One Size diapers may be adjusted: This may be done using the buttons located along the waistband. Imagine it as a waist-cincher that pulls in the waist to make it suit smaller newborns and then lets it out as the baby becomes bigger. There are three or more button settings for the waist.
Snaps that can be adjusted at the waist: These snaps provide additional last-minute adjustability so that the diaper cover may suit newborns as they grow without needing to modify the hidden button adjustments.
Durability
Fuzzy Bunz knows that durability is vital to its clients. Hence, the Fuzzy Bunz One-Size cloth diapers are designed to survive everyday use and washing and have a lifespan of at least three years.
They also sell inexpensive elastic that can be replaced, which takes around ten minutes and can be done at home. There is no need for stitching or seam tearing!
Learn more about Fuzzy Bunz Diaper Sizes (video)
One Size Chart
Related: Baby crib size chart for the best sleeping experience of your newborn, Pacifier Size Guide for Kids, Adult Pacifier Size and Other Specifications
| | | | |
| --- | --- | --- | --- |
| Weight | Size | Waist | Leg |
| Newborn – 10 lbs (4.5 kgs) | XS | 4 | 6 |
| 7 – 18 lbs (3.2 – 8.2 kgs) | S | 3 | 4 |
| 15 – 30 lbs (6.8 – 13.6 kgs) | M | 3 | 3 |
| 30 lbs (13.6 kgs) | L | 2 | 2 |
Frequently Asked Questions
1. What exactly is a diaper of a single size?
One-Size Cloth Diapers are cloth diapers designed to be used from birth until the child is ready to use the toilet. In most cases, they are adjusted using three rows of snaps that go down the front of the diaper (not FuzziBunz). The elastic in the Fuzzy Bunz legs and waist may also be replaced just in case it wears out before your baby is ready to toilet train.
2. What exactly are "pocket diapers"?
Pocket diapers are cloth diapers with a stay-dry inside made of ultra-plush polar fleece. This lining helps keep newborns drier and makes it simpler to clean up messy situations. The "pocket" stores an absorbent insert, which can be removed for simple washing and drying.
3. How many are required for full-time diapering?
When diapering a baby full-time and washing them every other day, we suggest using anything from 18-24 diapers on the low end to 36 on the high end.
4. Where should I put all of the poop?
Do not be terrified of poop. It is not necessary to do anything other than flush the solid waste down the toilet and wash the diapers like you would any other piece of laundry. To a large extent, you will rely on your washer to do all the jobs.
5. Is Fuzzy Bunz easy to use?
Quite simple. It is just as simple to use as a throwaway alternative since there is no need for an extra stay-dry lining, pins, or cover. These diapers have received praise from moms, dads, and even grandparents. In most cases, It may complete the whole process in less than a quarter of a minute.
6. Where do we stand with wipes?
When you start using cloth diapers, you'll quickly realize that using cloth wipes is also a good idea for several reasons. You won't need to continue purchasing and disposing of wipes since you can just wash them with your diapers.
7. Is Fuzzy Bunz hot??
No! It would make sense that a baby's clothing made of fleece would help keep them warm. During the colder months, it will help to keep them warm and comfortable, and during the warmer months, it will help to keep them cool and at a pleasant temperature. The state of Louisiana is the birthplace of Fuzzi Bunz, yet the product has never had any issues with heat.
Conclusion of Fuzzy Bunz Diaper Size
Fuzzy Bunz is still the market diapers with the trimmest fit, and their fit is most comparable to disposable diapers. However, unlike disposable diapers, Fuzzy Bunz does not cause feelings of guilt or waste associated with using disposable diapers. Their diapers are designed to have the ideal fit to contour to your child's body and move with them when they move, so your child is always comfortable and content.
The Switch from disposable diapers to Fuzzy Bunz results in significant financial and environmental benefits. This chart does not consider the possibility of reusing a set of Fuzzy Bunz diapers for another kid, which would result in a multiplication of the savings.
Do you have any questions? Leave a comment below and we'll answer them for you!
Picture in this post is from indonetwork.co.id
Related to Fuzzy Bunz Diaper