Keg Size Chart & Dimensions Compared: What are the Keg Sizes?
This post was last updated on April 19th, 2023 at 06:39 pm
If you regularly drink, you probably wonder why having a good keg size is crucial. Well, beer is sold in a variety of shapes and sizes. You may buy nearly any quantity of beer that your heart (or, more correctly, your liver and money) wants in cans, bottles, or kegs. When you buy beer by the keg to have draft beer at home, it might be difficult to tell precisely how much you're getting because there are so many different keg sizes available (skip straight to the Keg Size Chart).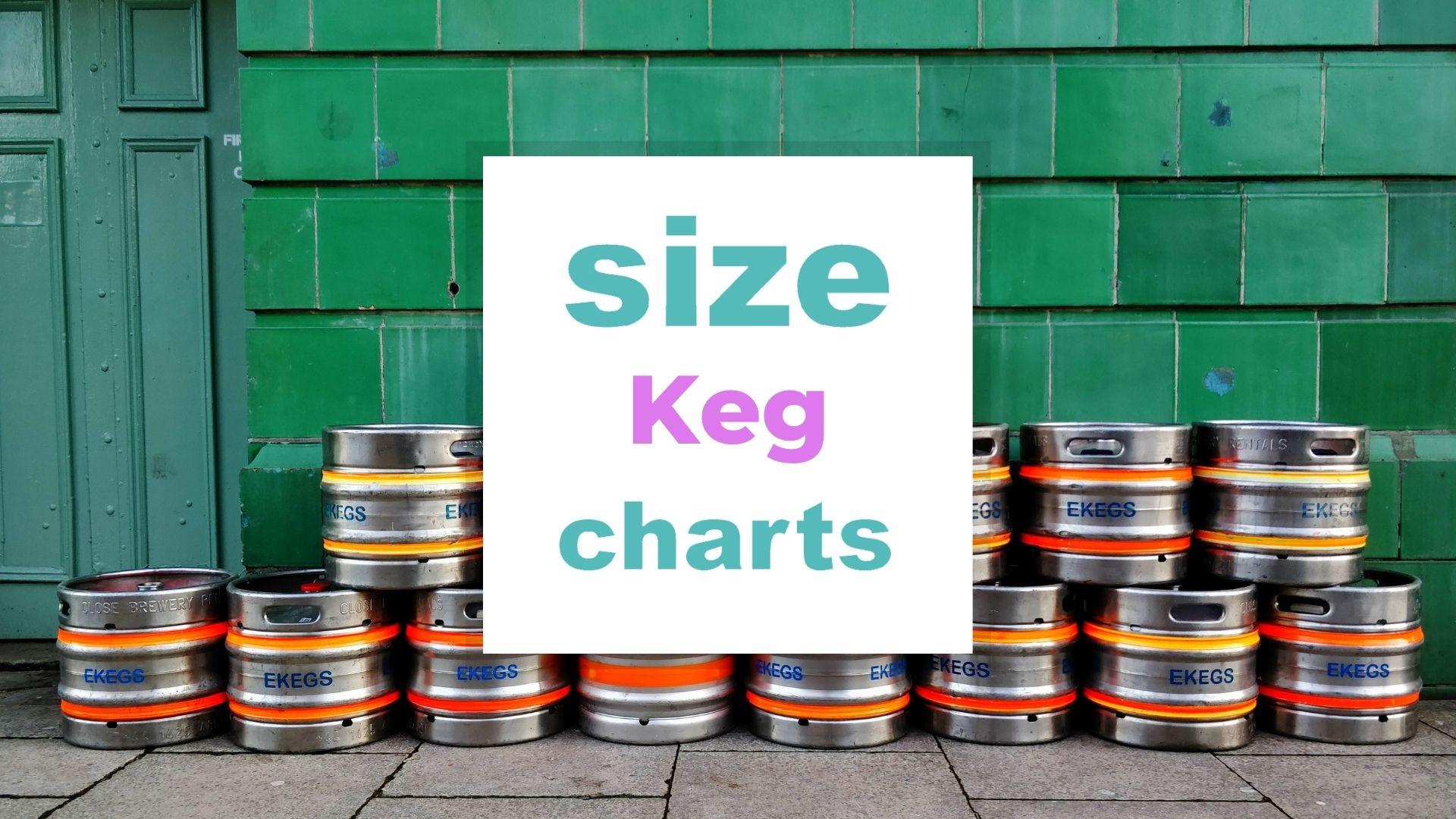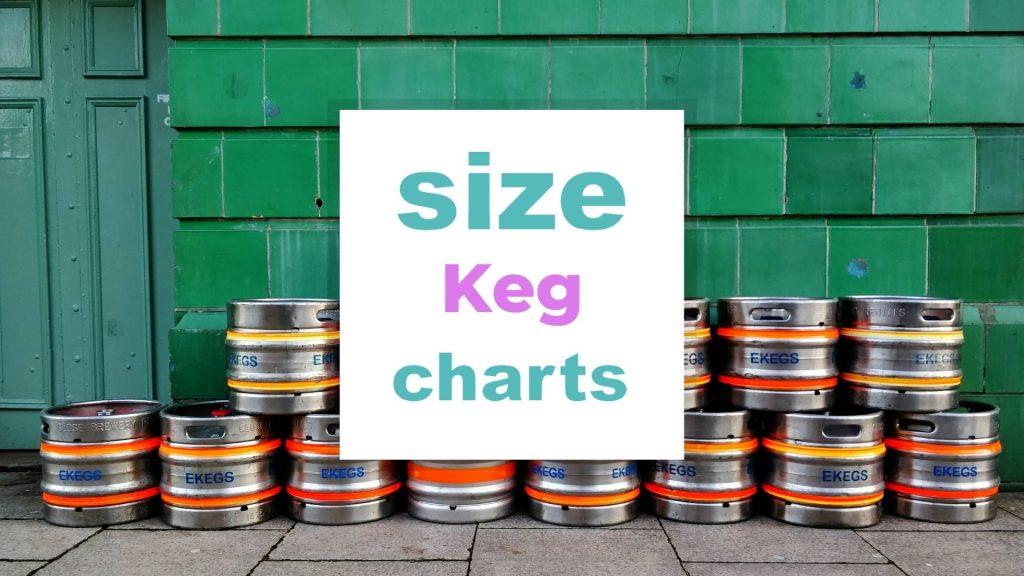 We created this helpful guide and some simple visuals to make comparing the various keg sizes easier. Now that standard keg size specifications are available; it is simple to determine the dimensions, weights, and several beers each keg can store.
Jump right into the Frequently Asked Questions
Related: Wine Bottle Sizes & Different Types by Name & amount of glasses Blackstone Griddle size and barbecue dimensions, Bath Size Chart and Sizing Guide , Liquor bottle size by name, type and volume (with an easy size chart)
Table of Content of Keg Size Chart
Keg Size Chart
Related: The complete Stove size chart with tips to get the best out of your kitchen, Pallet Dimensions and Types by industries in inches & centimeters
The following is the beer keg size chart that compares eight popular keg varieties, including the amount of beer each, can contain, their overall size, shape, and measurements, as well as the most popular usage and nicknames you may have heard.
| | | | | | |
| --- | --- | --- | --- | --- | --- |
|   | Capacity (oz / gal) | Bottles / Cans 9 12 oz) | Pints (16 oz) | Weight / Height | Width (Diameter) |
| Cornelius Keg | 640 / 5.0 | 53 | 40 | 49lbs. / 23" | 9" |
| Mini Keg | 169 / 1.32 | 14 | 10.6 | 13lbs. / 9 ⅞"  | 6 ¾" |
| Quarter Barrel | 992 / 7.75 | 82 | 62 | 87lbs. / 13 ⅞"  | 16 ⅛" |
| Sixth Barrel | 661 / 5.16 | 56 | 42 | 58lbs. / 23 ⅜"  | 9 ¼" |
| Slim Quarter | 992 / 7.75 | 82 | 62 | 87lbs. / 23 ⅜" | 11 ⅛" |
| Rubber Barrel | 992 / 7.75 | 82 | 62 | 87lbs. / 13 ⅞" | 17" |
| Half Barrel | 1984 / 15.5 | 165 | 124 | 161lbs. / 23 ⅜"  | 16 ⅛" |
| Beveled Barrel | 992 / 7.75 | 882 | 62 | 87lbs. / 13 ⅞" | 17" |
Detailed Keg Sizes
While the comparison keg size chart above provides a simple method to contrast various keg sizes, below, we have provided more information on each type of keg.
Related: What size is a quart – easily explained by country in pints and cups
Cornelius Keg Dimensions
Cornelius kegs, which are frequently used by homebrewers as a substitute for bottling their beer, were initially created by the soft drink industry. Even if Coca-Cola and Pepsi have used them, those who make their beer or soda at home have helped them gain popularity. They are simple to clean and fill. 
The Cornelius keg can be connected to two different types of connectors: pin-lock and ball-lock. You would need to get used to the many connectors that each has. 
Nicknames: Homebrew Keg, Corny Keg, Soda Keg
Uses: Kombucha, Wine, Coffee, Home Brewing
Capacity: 640 ounces / 5.0 gallons
Dimensions: 23″ x 9
Mini Keg Dimensions
This size keg, which is intended for mini kegerators, can only hold 5 liters of beer, or precisely 169.07 ounces. This size keg is ideal for occasional use and portability. This could be hosting a modest dinner party for family and friends, going camping for the weekend, or watching the game with a few buddies. 
Nickname: Bubba Keg
Uses: Portable Usage, One-time Applications
Capacity: 169 ounces / 1.32 gallons
Dimensions: 9 ⅞" x 6 ¾"
Quarter Barrel Dimensions
The Quarter barrel keg is small and stubby, measuring the same width (1618″) as a full barrel but about ten ′′ shorter in height. This popular keg size, sometimes known as a "Pony Keg" or "Stubby Keg," can store the equivalent of 62 pints or 82 bottles of beer.
Nicknames: Stubby Quarter, Pony Keg
Uses: Small Gatherings
Capacity: 992 ounces / 7.75 gallons
Dimensions: 16 ⅛" x 13 ⅞" 
Sixth Barrel Dimensions
The sixth barrel, frequently utilized for personal use in dual or triple-tap kegerators, is similar in size to the Corny Keg but a tiny bit bigger. This smaller-sized keg performs the same functions as its larger counterparts; the only distinction is that it can hold less beer than other keg sizes. This size keg is also a wonderful option for bars and/or restaurants with limited space but a high demand for a wide beer selection.
Nicknames: Torpedo, Sixtel, Log
Uses: Home Brewing, Dual-Tap Kegerators, Individual Application
Capacity: 661 ounces / 5.16 gallons 
Dimensions: 23⅜" x 9¼"
Half Barrel Dimensions
The half-barrel size of beer kegs comes to mind when you think of your typical beer keg. Without a doubt, you have undoubtedly seen a keg of this size at a party or significant occasion. 
The largest keg that is now accessible to you and the one that is frequently used in pubs and restaurants throughout the globe is this full-size keg. This size keg fits in the majority of household kegerators. However, craft beer lovers often prefer smaller sizes.
Nicknames: Barrel of Beer, Full-Size Keg, Full Keg
Uses: Large Events, Home Bar, Frat Parties, Business
Capacity: 1984 ounces, 15.5 gallons
Dimensions: 16⅛" x 23⅜"
Slim Quarter Dimensions
The Slim Quarter holds the same amount of beer as the Quarter mentioned above barrel but is larger and more like a sixth barrel keg in size and shape. It is a popular option for anyone using a dual-tap kegerator due to the size variety. 
The Slim Quarter has the same height as the Sixth barrel and has a slightly wider build due to its tall and lean stature. Thanks to the wider container, it can store an additional two gallons, equal to an additional 27.5 beer bottles.
Nicknames: The Slim, Tall Quarter
Uses: Small Parties, Dual-Tap Kegerators
Capacity: 992 ounces / 7.75 gallons
Dimensions: 11⅛" x 23⅜"
Learn more about keg size chart and torpedo keg (video)
How To Choose The Right Keg Size
Related: Hydro flask size chart by type, volume and usage, Bar Sink Dimensions and Measuring Guide for Kitchen Sink sizes, Rebar Sizes Chart and Different Types
For individuals wishing to buy their direct draw serving equipment and kegerators for their bar, restaurant, or home, keg sizes have evolved into a fairly perplexing subject over time. Choosing the right-sized kegs is made easier by commonly accepted regional standards, even though keg sizes are not formally standardized from one location to the next. 
You must first determine how much beer you will put in the keg. When picking kegs for your direct draw equipment, physical size is a crucial factor to consider. Therefore, you need to know each type's dimensions and capability. By this, you can determine the right type for you.
How many beers in a Keg explained (video)
Frequently Asked Questions on keg size chart
How Many Different Size Kegs Are There?
There are eight different keg varieties, including the Cornelius keg, mini keg, quarter, sixth, slim quarter, rubber barrel, and half a barrel. The sizes of each keg differ.
How Big Is A Keg Australia?
The typical beer keg in Australia holds 50 liters.
What Is A 50-Litre Keg?
Thirty-two gallons, 105 pints, and 140 12-ounce bottles equal 50 liters. It is constructed of stainless steel 304 and is durable for a long time.
How Big Is A 30l Keg?
A 30L keg is equal to 8.1 gallons, 64 pints, or 86 12 oz. bottles.
What Size Kegs Do Bars Use?
Sixth barrel keg is frequently utilized in dual or triple-tap kegerators to offer a range of alternatives without needing additional kegerators. This is perfect for small homes, bars, and restaurants.
How Many Pints Are In A 30l Keg?
There are 64 pints in a 30L keg.
Conclusion
Kegs come in various sizes and forms, as you can see, and there are various types of kegs. Each one has a unique purpose, but they all have the same thing: the tasty beer inside! So, grab a beer to celebrate now that you are an expert on kegs! Simply forget to bring the keg back to the brewery when you're done.
If you have any questions, feel free to comment.
Picture in this post is by Nick Page on Unsplash
Related to Keg Size Chart