Tree Skirt Size Chart And Buying Guide: What size do I need?
This post was last updated on November 7th, 2022 at 08:03 am
The holiday season is known for high spirits, good moods, and memorable moments. This is when many desire to decorate their homes with exciting decorations such as Christmas trees, and why not! How do you calculate the size of a tree skirt? Based on our research, we recommend measuring the width of your Christmas tree's lowest branches and adding 4-6″ to determine the suitable tree skirt size. A lovely, graceful Christmas tree can look "choked" by a tree skirt that is too small!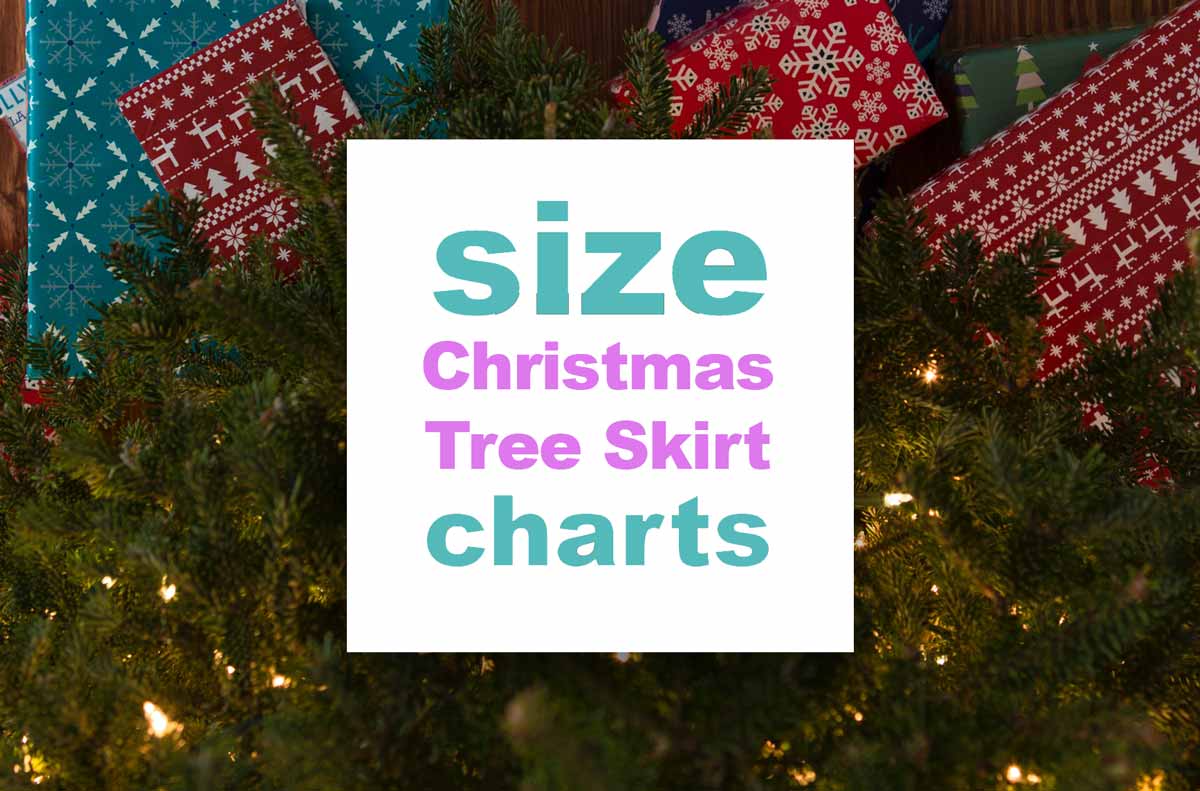 If you are the type that loves to go with the moment and fill your home with decorations, then most likely you already know that a tree skirt is essential whenever a Christmas tree is concerned, being one of the most common decorations that all of us love to have. The tree sizing must be correct; this is where a tree skirt size chart comes in.  
Use a Christmas tree skirt that is at least 6 inches wider than the width of your tree as a general guideline for size. So, if your tree is 54 inches diameter, you need a tree skirt that is 60 inches.

P.Noel
Jump immediately to the FAQ section of this page
Looking for a useful Christmas tree size overview? check here
What is a Tree Skirt?
A tree skirt is a functional and decorative cover-up for a Christmas tree stand. A tree skirt will make your tree look more colorful and presentable if you put a Christmas tree inside your home or house this holiday season. 
A typical tree skirt has an opening part that allows watering of the fresh-cut trees although some prefer to close it up with velcro tape. A tree skirt is one of the best decorations to hide the unsightly 'legs' of the tree stand and any wires used to supply current to the tree lights. The tree skirt also aids in packing up the tree after festivities, depending on the tree's body mass. (Need of inspiration? Get some nice Xmas Tree skirts here)
Did you know that tree skirts originated in Germany? The Germans were the first innovative people when it came to Christmas trees. They began by attaching candle-lit bowls to the trees, which gave birth to tree skirts.
Related: Plant Size – Complete Guide From house plants to trees
Tree Skirt Size Chart and Buying Guide
You require a tree skirt size chart and buying guide to help you shop for the perfect tree skirt. 
Tree skirt size chart: How do I know the right size? 
We will all agree that deciding and settling for a tree-size skirt can be quite a task. This immense difficulty is why a tree skirt size chart comes in handy!
Here is an easy tree skirt size chart, demonstrating how sizes vary in height and width based on different shapes.
Tree Skirt Diameter



Best for
INCHES
CM
72″
182 cm
Great for trees 8′ and up and for spacious rooms
56″
142 cm
Larger artificial trees, 9′ and higher
Live trees 7.5′ and higher can use a 56″ tree skirt
48″
122 cm
Great for 7.5′ Christmas trees
42″ – 48″
107 – 122 cm
Ideal for 4.5′ – 6.5′ trees
20″- 30″
50 – 76 cm
Mini tree skirts are for tabletop 2-3′ trees
A tree skirt size guide will help you select the right material, quality, size, and style of a tree skirt that suits your tree. You will also be able to match your house's color scheme with the perfect style of the tree skirt.
Need inspiration? Get some nice Xmas Tree skirts here
For instance, a small Christmas tree placed on a table will need a skirt with tassels or pleated material due to its small size as compared to a large 72 inch tree skirt or a larger size tree placed at a corner. A tree skirt buying guide will also aid you in choosing the right tree theme and size depending on your floor space.
Related: Sofa Size and dimension guide for all kind of couches
Frequently Asked Questions
How to Choose the right Xmas Tree skirt size?
Determining the right tree skirt size
To determine the right size of the tree skirt to buy, start by measuring the tree's diameter from the tips of the outer branches.
The tree skirt ramp angle should be wider than the diameter of the tree stand but narrower than the diameter of the largest individual branches all around unless you use tree collars to close the gap in between.
Use a slightly larger size than the diameter of the tree branches for trees with spaces between branches. Ensure the skirt is not too large to avoid people tripping over when placing or picking the gifts. This equally helps to minimize storage space.
Related: Printable ruler in inches with free download and tips
How big should your tree skirt be?
A tree skirt is at its best when it extends 4-6" beyond the widest branches of your tree so you can see it without being hidden with gifts or low-hanging branches. Measure your tree and use it in the above size charts
What is the most common tree skirt size?
7.5-9′ feet trees are the most common Christmas trees and by consequence, the most popular tree skirt size is between 48″ and 56″
What size tree skirt do I need for a 7.5-foot tree?
A 7.5 ft Christmas tree is best with a 48 to 60-inch (100-150cm) Tree skirt. If you're unsure what size tree skirt you'll need, we've discovered that 48 to 60 inches are the perfect fit for a conventional 7.5-foot Christmas tree.
What size tree skirt for a 4ft Xmas tree?
36-inch tree skirts are intended for trees ranging from 4 to 6 feet (depending on fullness).
Is it possible for a tree skirt to be too large?
A Christmas tree skirt can be too small, but not too large. The skirt should be large enough to cover the tree stand beneath it. Because it will have to fall to the floor, the skirt should extend beyond this by at least several inches. The skirt should not be wider than the average width of the tree branches.
Xmas Tree skirt sizing and dimensions explained (video)
Need inspiration? Get some nice Xmas Tree skirts here
How do I choose where to place the tree skirt? 
First, you must identify the most suitable place to set the tree before purchasing. Consider the factors below to help you decide where to place the tree.
1. Convenience
The most practical place for convenience would be near electric sockets to avoid the ugly sight of lots of wires and cables around.
2. Visibility
Consider the most visible place for attraction purposes and also ease when placing gifts. Consider a table-top tree if the size does not matter, or for tight spaces. You can also add colored lights and tree ornaments to create a glittery look for the entire tree.
3. Location
Do you want to place the tree inside the house or outside? This depends on the weather in your area. You might consider having the tree inside the house if it's chilly or rainy. If you prefer outside, you can consider using a real tree instead of artificial trees. An electric tree is better placed inside the house.
Related: Rug Size for Living room use, compared to table and sofa size
4. Tree skirt alternatives
The tree skirts come in many options depending on the material used and the style. There are several alternatives of tree skirts to choose from, including:
5. Gray Wicker tree skirt
The Gray Wicker tree skirt has more of a rustic look. It is more suitable for country homes as compared to modern townhouses. Metal tree collars best accompany this, although it all narrows down to personal preference.
6. White wicker tree skirt
This is woven from the natural willow to give rustic vibes. From its name, it is usually white. It is most suitable for pre-lit artificial trees as the bright white reflects light, creating a cheerful look.
7. The reindeer tree skirt
This is adorned with reindeers all around and is usually gray in color. It is the perfect pick for a winter wonderland home and gives the tree realism especially if it's artificial.
8. Faux fur tree skirt
This particular tree skirt has a soft feel compared to the others as it is made of synthetic fur. It is quite attractive to the eyes and gives the room a warm touch.
9. Velvet tree skirt
This tree skirt is purely made of velvet material. It goes well with a rattan tree ring due to its vintage nature. A velvet tree skirt works well with natural trees such as Fraser fir.
10. Gold tree skirt
Gold tree skirts are the most common due to their shiny nature, giving the room an exciting mood. The central color(gold) works better on dull rooms this, bringing that lit effect and making them the most trending trees during festive seasons.
What Items Make up a Tree Skirt?
A tree skirt basically consists of the fabric that drips over the tree base. Most often it is secured with ties, velcro, or left open. Sometimes tree skirts are accompanied by tree collars (also known as tree rings), that look like bands.
Tree collars are placed at the neck of tree skirts and are part of the tree display. They mostly suit trees with spaces and a stiffer flex for maximum grip. Magnetic tree collar spices up the decor as small magnetic stickers can be placed on it. 
Need inspiration? Get some nice Xmas Tree skirts here
Before You Buy
If you are a fan of Christmas trees, you want to ensure that you not only buy the best of Christmas trees but also accompany them with a fitting tree skirt.
Always remember the following key items before setting out to the market to purchase a tree skirt;
The nature of the house determines the tree skirt style. e.g a modern townhouse will not look great on a rustic tree skirt.
Accompanying your tree skirt with a tree collar gives the best look to your tree skirt.
Look for a material that is not slippery to avoid skids and possible injuries while placing and picking gifts on the tree skirt.
For outdoor trees, please get a fabric that does not cringe in the cold or when rained at. It should be an all-weather fabric type for artificial tree size. Artificial tree tops will come in handy as well.
The tree collar should not be too large to cover the tree skirt. For houses with a high ceiling height, use tall lifelike trees with a tree topper to give the real tree illusion.
Consult your retailer for tree decoration ideas or check online for a color tree pallet for a perfect match if undecided on the hue.
What do you need to know about Tree skirt dimensions when you make one yourself? (video)
Related: Crochet Hook Size Chart – A Handy Conversion Guide, Knitting needle size chart by type of needle (including size conversion)
Conclusion
Once again, be sure to a tree skirt size guide just before you purchase a tree skirt for best results.  You want a tree that will complement the happy holiday moods, help you forget all the happenings of the year, and just let you focus on the moment with family and friends as you so wish. 
Did you enjoy reading the article? Kindly like, share, and leave a comment or ask any questions through the comments section below.  May this holiday season be special where you will find happiness and create memories you will always live to remember!
Picture in this post by Amira Hegazy on Unsplash
Related House Size Charts